Full name: René François Armand Prudhomme
Born: 16 March 1839; Paris, France
Died: 6 September 1907 (aged 68); France
Occupation: Poet and Essayist
Nationality: French
Notable awards: Nobel Prize in Literature in 1901.
Rene Francois Armand Prudhomme was the son of a French shopkeeper. He wanted to become an engineer, but an eye disease terminated his training at a polytechnic institute. He studied literature, and after a brief and unsuccessful interlude in industry, he took up law, though without much conviction, and worked in a solicitor's office. Sully Prudhomme was a member of the «Conference La Bruyère», a distinguished student society, and the favourable reception that his fellow members gave to his juvenilia encouraged him to go on writing poetry.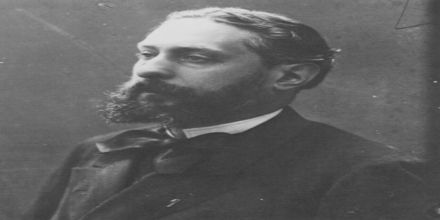 Sully Prudhomme was born in Paris. After an eye disease forced him to discontinue engineering studies, he supported himself for a while as a lawyer. He had already begun writing poetry as a student, and his debut came in 1865. In time he became a respected poet, particularly through induction into the French Academy in 1881. As time passed, his health declined and he lived alone in his home in the southern suburbs of Paris, where he died in 1907. Sully Prudhomme used the money from his Nobel Prize to establish a fund for publishing young French poets.
Work
Sully Prudhomme belonged to the French Parnassian school, a group of poets that, in the tradition of Théophile Gauthier, wanted to write in a classic and formally elegant style. The movement got its name from La Parnasse Contemporain anthology. Sully Prudhomme's poetry combined a Parnassian regard for formal perfection with an interest in science and philosophy. According to the Swedish Academy, his elevated poetry fit in Alfred Nobel's formulation about works in an ideal direction
Nobel Prize
The first writer to receive the Nobel Prize for Literature (given "in special recognition of his poetic composition, which gives evidence of lofty idealism, artistic perfection and a rare combination of the qualities of both heart and intellect"), he devoted the bulk of the money he received to the creation of a poetry prize awarded by the Société des gens de lettres. He also founded, in 1902, the Société des poètes français with Jose-Maria de Heredia and Leon Dierx.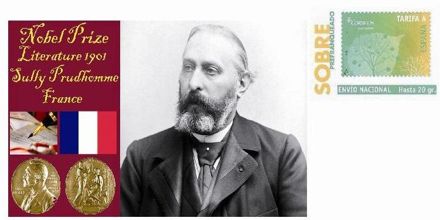 The first Nobel Prizes were awarded in 1901, five years after Alfred Nobel donated 94% of the fortune in his will to recognize individuals who "have conferred the greatest benefit on mankind." Prudhomme's contemporaries that year were Jacobus H. van't Hoff (Chemistry), Wilhelm C. Rontgen (Physics), Emil A. van Behring (Medicine), and Jean H. Dunant with Frederic Passy (Peace). Their accomplishments included the development of pressure laws and thermodynamics, which are considered the most important and comprehensive laws in natural science; the discovery of the first X-rays; the development of antitoxin for diphtheria and tetanus; and the establishment of the International Red Cross.
The Nobel Prize was only one of several honors Prudhomme earned during his life in literature. He was elected a member of the French Academy in 1881, serving on the 40-member board for 26 years. In 1895, he was awarded the highest decoration in France when he was named a Knight in the French Legion of Honour.
Writing
His first collection, Stances et Poèmes ("Stanzas and Poems", 1865), was praised by Sainte-Beuve. It included his most famous poem, Le vase brisé. He published more poetry before the outbreak of the Franco-Prussian War. This war, which he discussed in Impressions de la guerre (1872) and La France (1874), permanently damaged his health.
During his career, Prudhomme gradually shifted from the sentimental style of his first books towards a more personal style which unified the formality of the Parnassus school with his interest in philosophical and scientific subjects. The inspiration was clearly Lucretius's De rerum natura, for the first book of which he made a verse translation. His philosophy was expressed in La Justice (1878) and Le Bonheur (1888). The extreme economy of means employed in these poems has, however, usually been judged as compromising their poetical quality without advancing their claims as works of philosophy. He was elected to the Académie française in 1881. Another distinction, Chevalier de la Légion d'honneur, was to follow in 1895.
After, Le Bonheur, Prudhomme turned from poetry to write essays on aesthetics and philosophy. He published two important essays: L'Expression dans les beaux-arts (1884) and Réflexions sur l'art des vers (1892), a series of articles on Blaise Pascal in La Revue des Deux Mondes (1890), and an article on free will (La Psychologie du Libre-Arbitre, 1906) in the Revue de métaphysique et de morale.
Death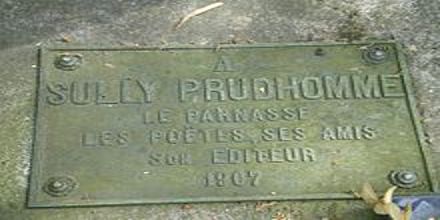 Late in his life, Prudhomme gave up verse. He lived in the suburbs of southwest Paris and suffered from attacks of paralysis while writing essays almost exclusively about philosophy and free will, and working on his book about the religious notions of Blaise Pascal (La Vraie Religion selon Pascal, 1905). He died suddenly on September 6, 1907 and was buried at the Pere Lachaise Cemetery in Paris.