Biography of Ayodele Awojobi
Ayodele Awojobi – Nigerian academic, author, inventor, social crusader and activist.
Name: Ayodele Oluwatuminu Awojobi
Date of Birth: 12 March 1937
Place of Birth: Oshodi, Lagos State, Nigeria
Date of Death: 23 September 1984 (aged 47)
Occupation: Author, Inventor
Father: Chief Daniel Adekoya Awojobi
Mother: Comfort Bamidele Awojobi (née Adetunji)
Spouse/Ex: Iyabode Mabel Awojobi
Early Life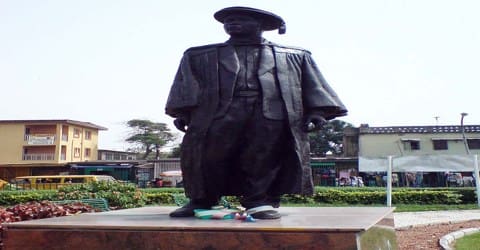 A Nigerian academic, author, inventor, social crusader and political activist, Ayodele Awojobi was born on 12th March 1937, in Oshodi, Lagos State, Nigeria. His father Daniel Adekoya Awojobi was a stationmaster at the Nigerian Railway, and his mother Bamidele Awojobi was a petty trader. He was born in a middle-class family and grew up to be one of the most influential personalities of Africa. A remarkable student, he excelled in academics and was also recognized as a brilliant dramatist which earned him the nickname of 'Macbeth'.
After completing school education with first-rate grades, Ayodele earned scholarships for his graduate as well as post-graduate degrees and was also funded for his doctoral degree which he earned from the University of London. He went on to obtain a Doctor of Science (DSc) degree in Mechanical Engineering with his groundbreaking research in the field of 'Vibration'. He imparted knowledge at various other levels too, even as he worked at his day job as a full-time professor and university lecturer. His students nicknamed him 'Dead Easy' around the campus because of his simple and effective teaching style. Along with being a teacher, he was also an inventor and envisioned his country to become more technologically advanced through Autonov I, a hybrid vehicle designed by him which had the ability to reach high speeds within seconds. As a social and political activist, he raised his voice against the perceived corrupt Nigerian government and also authored several books concerning the issue. He was a remarkable educator who devoted his entire life towards the establishment of honest and knowledgeable society.
Childhood, Family and Educational Life
Ayodele Awojobi, in full Ayodele Oluwatuminu Awojobi, also known by the nicknames "Dead Easy", "The Akoka Giant", and "Macbeth", was born on 12th March 1937, in Oshodi, Nigeria, to Chief Daniel Adekoya Awojobi, a stationmaster at the Nigerian Railway, and his wife, Comfort Bamidele Awojobi, a minor trader.
Between 1942 and 1947, Ayodele Awojobi attended St. Peter's Primary School, Faji, Lagos. After finishing primary school, Ayodele went on to study at the CMS Grammar School in Lagos. There his academic talents flourished.
In 1955, Ayodele was a straight-A's secondary school student, while at the CMS Grammar school, passing his West African School Certificate examinations with a record eight distinctions. He proceeded to the Nigerian College of Arts, Science and Technology, Ibadan, for his General Certificate of Examinations, GCE (Advanced Level), where in 1958 he sat for and obtained distinctions in all his papers: Physics, Pure Mathematics, and Applied Mathematics. In 1962 Awojobi was awarded his first degree in Mechanical Engineering a BSc (Eng) London, with first-class honors, at the then Nigerian College of Arts, Science and Technology, Zaria (now Ahmadu Bello University, Zaria).
Ayodele Awojobi enrolled at the Imperial College of the University of London to study Mechanical Engineering. He defended his thesis and was awarded a Ph.D. in Mechanical Engineering, in 1966. After finishing his Ph.D., Ayodele went to teach at the University of Lagos for a brief time and then went back to Imperial College London to research the field of vibration. He was awarded Doctor of Science degree.
Personal Life
Ayodele Awojobi married Iyabode Mabel Awojobi and had children.
Career and Works
Ayodele Awojobi returned from England in 1966 and was appointed as a professor in the Faculty of Engineering, University of Lagos. His teaching methods earned him the respect of his engineering students and he soon became quite famous around the campus. He quickly rose through the ranks and became the Head of Mechanical Engineering Department at the university. Awojobi went back to London to study for his Doctorate.
In 1974, Ayodele returned and was made an associate professor in mechanical engineering at the University of Lagos. However, one week after having been appointed associate professor, the University of Lagos Senate, after receiving news that Ayodele had just been awarded the degree of Doctor of Science (DSc), immediately appointed him professor in mechanical engineering, making him the youngest professor in the Faculty of Engineering, University of Lagos and the first ever to be expressly promoted from associate to full professorship within a week.
In later years, Ayodele became the head of the department at the university. He was also a chairman of the Lagos State School's Management Board and concerned himself with ways to improve the problems in secondary school education. His vision was that all children would go to public schools and education would be equally distributed across different social strata.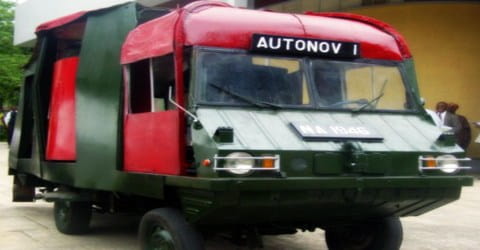 In the early 1970s Ayodele's natural tendency to educate motivated him to become a quiz-master on national television. He hosted the quiz-show, 'Mastermind', which consisted of weekly contestants facing questions on a variety of topics. Ayodele was also an inventor and while serving as a lecturer at the university, he successfully performed an experiment with his own family car, an Opel Olympia Rekord, and converted it from a right-hand drive to a left-hand drive. He researched further with motor engines and was able to re-design the vehicle so that it was able to move in both forward and backward directions with all four pre-existing gears. This gave the hybrid vehicle, which he named 'Autonov 1', the ability to achieve its highest speeds in a moment, in the normal reverse direction.
Ayodele Awojobi also served as a political activist and raised his voice through the national newspapers and magazines, going as far as suing the Federal Government of Nigeria for what he strongly believed was a widespread election rigging. With all his court cases against the Nigerian government thrown out of court, he delved into the law books, himself being only a mechanical engineer, claiming that he would earn his law degrees in record time, to enable him better argue with the opposition at the federal courts. He used the universities as a bastion, going from campus to campus to make speeches at student-rallies, hoping to sensitize them to what he perceived as the ills of a corrupt government.
Ayodele Awojobi authored several political books over the course of his ideological struggles against a perceived, corrupt federal government. These books were usually made available during his public rallies or symposiums. Any intention Ayodele Awojobi ever had of entering partisan politics, was revealed by the man himself when he spoke on national television, saying: "At the age of 65, I will have built the infrastructure. There would be very few illiterates in Nigeria when I mount the soapbox. Then, I will go into proper politics".
Awards and Honor
Ayodele Awojobi was the first African to be awarded the 'Doctor of Science' degree in Mechanical Engineering, at the Imperial College London. He received the degree at the age of 37, which is considered a major accomplishment, as the degree is only exceptionally and rarely awarded to a scholar under the age of 40.
Death and Legacy
On 23rd September 1984, at the age of 47, Ayodele Awojobi died in the morning of Sunday. His death made headline news in most of the national newspapers for days following and he was laid to rest at Ikorodu Cemetery, Lagos. He was survived by his wife, Mrs. Iyabode Mabel Awojobi (née Odetunde), and children.
Ayodele Awojobi was an inventor par excellence. He converted his own family car from right-hand drive to a left-hand drive. He also made a hybrid vehicle which was able to move in both forward and backward directions with all four pre-existing gears. He named the vehicle 'Autonov 1'.
In October 2009, the governor of Lagos State Babatunde Fashola dedicated a statue of Awojobi at Onike Roundabout, Yaba, Lagos, in a garden named after him. On 23rd September 2010, Birrel Street a prominent street in Yaba Local Government Council Area was renamed "Prof. Ayodele Awojobi Avenue", a further tribute to Awojobi's memory.
Information Source: