Michael Phelps – American Former Competitive Swimmer
Full name: Michael Fred Phelps II
Nickname(s): "The Baltimore Bullet", "Flying Fish"
National team: United States
Date of birth: June 30, 1985 (age 31)
Place of birth: Baltimore, Maryland, U.S.
Height: 6 ft 4 in (193 cm)
Weight: 194 lb (88 kg)
Father: Michael Fred Phelps
Mother: Deborah 'Debbie' Phelps
Spouse: Nicole Johnson (m. 2016)
Children: Boomer Robert Phelps
Early Life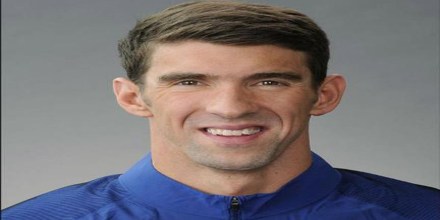 Michael Phelps, in full Michael Fred Phelps II was born on June 30, 1985, in Baltimore, Maryland, U.S. He is an American former swimmer, who was the most-decorated athlete in Olympic history with 28 medals, which included a record 23 gold. At the 2008 Games in Beijing, he became the first athlete to win eight gold medals at a single Olympics.
Phelps is the long course world record holder in the 100 meter butterfly, 200 meter butterfly, and 400 meter individual medley as well as the former long course world record holder in the 200 meter freestyle and 200 meter individual medley. He has won a total of 83 medals in major international long course competition, totaling 66 gold, 14 silver, and 3 bronze spanning the Olympics, the World, and the Pan Pacific Championships. Phelps's international titles and record-breaking performances have earned him the World Swimmer of the Year Award eight times and American Swimmer of the Year Award eleven times as well as the FINA Swimmer of the Year Award in 2012 and 2016. His unprecedented Olympic success in 2008 earned Phelps Sports Illustrated magazine's Sportsman of the Year award.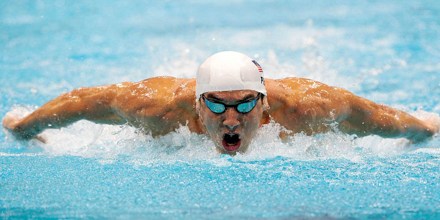 After the 2008 Summer Olympics, Phelps started the Michael Phelps Foundation, which focuses on growing the sport of swimming and promoting healthier lifestyles. Phelps retired following the 2012 Olympics, but in April 2014 he made a comeback. At the 2016 Summer Olympics in Rio de Janeiro, his fifth Olympics, he won five golds and one silver. Phelps was chosen to be a captain of the 2016 US Olympic team, and was also voted by his team to be the flag bearer of the United States at the 2016 Summer Olympics Parade of Nations.
Childhood and Educational Life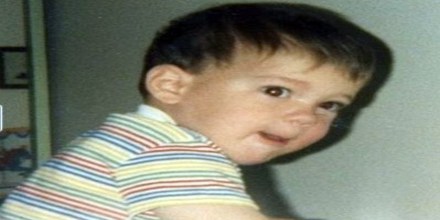 Michael Phelps was born to Michael Fred Phelps and Deborah Sue 'Debbie' in Baltimore, Maryland. He has two elder sisters: Hilary and Whitney. While his father was employed as a state trooper, his mother was into the profession of teaching. Young Michael gained his education from Towson High School.
It was Fred's strong athletic capabilities that the children acquired soon enough. Hilary, Whitney and Michael got into swimming at an early age. Though Hilary showed great promise, she opted out of the sport. Whitney took to it for a little longer duration than her sister, even trying her luck to gain admission in the US Olympic team in 1996. However, it was young Phelps who not only took to the sport, but also excelled in it.
Phelps took to swimming at the age of seven. Initially scared of putting his face in the water, he took to floating in the pool and no sooner mastered backstroke. Just when Phelps seemed to get on with his fear, he was diagnosed with attention-deficit hyperactivity disorder (ADHD). However, he worked his way through the condition along with the help of his mother Debbie.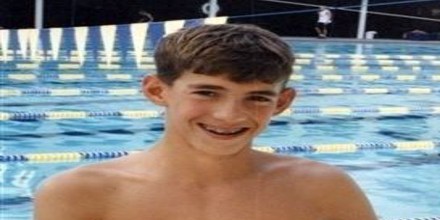 In the early days, swimming to Phelps was more the result of the influence cast by his sisters and his requirement for an outlet to let go of his bundled energy. It was while watching Tom Malchow and Tom Dolan compete in the 1996 Summer Games in Atlanta that Phelps dreamt of making it big by turning swimming into his professional choice.
By the age of 10, he held a national record for his age group (in the 100-meter butterfly) and began to train at the North Baltimore Aquatic Club under coach Bob Bowman. More age group records followed, and as of 2016 Phelps still holds 12 age group records (nine in long course and three in short course).
Just weeks following his triumph in Athens (2004), Phelps was arrested for driving under the influence of alcohol in Salisbury, Maryland, after cruising through a stop sign. He pleaded guilty to driving while impaired, was sentenced to 18 months probation, fined $250, ordered to speak against drinking and driving to high school students, and ordered to attend a Mothers Against Drunk Driving meeting. Michael called it an "isolated incident," but admitted to letting himself and his family down.
Phelps soon followed coach Bowman to the University of Michigan in Ann Arbor, studying sports marketing and management. Bowman coached the Wolverines' swim team and guided Club Wolverine, of which Phelps was once a member.
Personal Life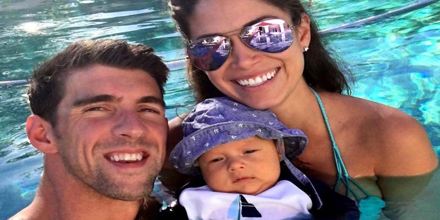 In February 2015, Phelps popped the question to girlfriend Nicole Johnson. The couple have been dating on and off since 2011. On May 5, 2016, Phelps and his fiancee became parents to a baby boy they named Boomer Robert Phelps. The couple were married in a private ceremony on June 13, 2016 in Paradise Valley, Arizona, but their wedding was kept secret until TMZ broke the news in October 2016.
Swimming Career
At the age of 15, Phelps became the youngest American male swimmer to compete at an Olympic Games in 68 years. While he didn't win a medal at the 2000 Summer Olympics in Sydney, Australia, he would soon become a major force in competitive swimming.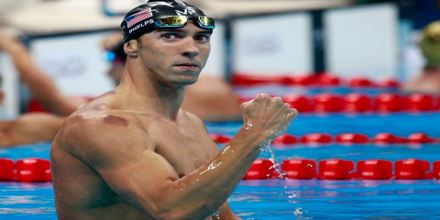 In the spring of 2001, Phelps set the world record in the 200-meter butterfly, becoming the youngest male swimmer in history (at 15 years and 9 months) to ever set a world swimming record. He then broke his own record at the 2001 World Championships in Fukuoka, Japan, with a time of 1:54:58, earning his first international medal. Phelps continued to set new marks at the 2002 U.S. Summer Nationals in Fort Lauderdale, Florida, establishing a new world record for the 400-meter individual medley, and U.S. records in the 100-meter butterfly and the 200-meter individual medley. The following year, at the same event, he broke his own world record in the 400-meter individual medley with a time of 4:09.09.
Year 2002 witnessed Phelps' participation in the Pan Pacific Championship. While at the selection process, he broke numerous world records, at the main event, Phelps securely brought home three gold medals and two silver medals. Much to the disappointment, while he won the 400-meter individual medley and 200-meter individual medley, he stood second at what he did best — the 200-meter butterfly.
Shortly after graduating from Towson in 2003, 17-year-old Phelps set five world records, including the 200-meter individual medley at the World Championships in Barcelona, Spain, with a time of 1:56:04. Then during the U.S. trials for the 2004 Summer Olympics, he broke his own world again in the 400 meter individual medley, with a time of 4:08:41.
Following these victories, Phelps entered the 2003 World Aquatics Championships in great spirits bagged himself four gold medals and two silver medals. What's more, he broke five world records, each time bettering his own personal best. Phelps phenomenal success was unmatchable and already rang warning sirens for veterans to keep up with the pace of this shinning teen sensation!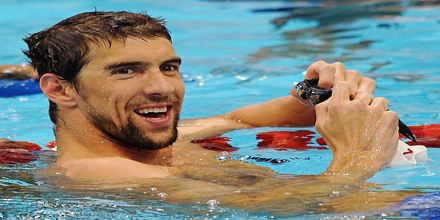 Phelps became a superstar at the 2004 Olympic Games in Athens, Greece, winning eight medals (including six gold), tying with Soviet gymnast Aleksandr Dityatin (1980) for the most medals in a single Olympic Games. Phelps scored the first of six gold medals on August 14, when he broke his own world record in the 400-meter individual medley, shaving 0.15 seconds off of his previous mark. He also won gold in the 100-meter butterfly, 200-meter butterfly, 200-meter individual medley, 4-by-200-meter freestyle relay and 4-by-100-meter medley relay). The two events in Athens, in which Phelps took bronze medals, were 200-meter freestyle and the 4-by-100-meter freestyle relay.
At the 2004 Olympics, Phelps had six gold and two bronze medals in his kitty, thus becoming the second-best performance ever at a single Olympics, behind Mark Spitz's seven gold medals. Also, he became the second male swimmer ever to win more than two individual titles at a single Olympic Games with four, tying Spitz's four from 1972. He even broke a couple of world records thus raising his stardom at the sport to an elevated level.
Furthermore, his unselfish gesture of giving teammate Ian Crocker a chance have a shot at Olympic gold medal by opting out of the 4×100 meter medley relay finals added a star to the already booming reputation of Michael Phelps. The American medley team set a world record and won the gold and Phelps too was awarded the gold medal since he has raced in the preliminary heat of the medley relay.
The triumphant and glorious days of Phelps after the Athens Olympics were marred by his futile drinking and driving expedition. Sentenced to 18-month probation with a $250 fine, he immediately realized that stardom came with its share of pitfalls as well.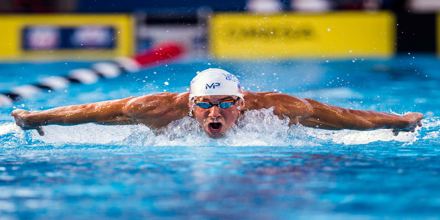 Phelps continued to establish world records at the 2006 Pan Pacific Championships in Victoria, British Columbia, and the 2007 World Championships in Melbourne, Australia. At the 2008 Olympic Games in Beijing, China, Phelps won gold in the 4-by-100-meter medley relay, 4-by-100-meter freestyle relay, 200-meter freestyle, 200-meter butterfly, 4-by-200-meter freestyle relay, 200-meter individual medley and 100-meter butterfly. Every gold medal performance set a new world record, except the 100-meter butterfly, which set an Olympic record. Phelps also set the all-time single Olympics gold-medal record, surpassing swimmer Mark Spitz's 1972 record of seven golds; he had won his 14th career gold medal, the most gold won by any Olympian.
At the 2009 National Championships, Phelps drastically shortened his program, swimming in only three individual events. In his first event, the 200-meter freestyle, Phelps won with a time of 1:44.23. In his second event, the 200-meter butterfly, Phelps easily won with a time of 1:52.76, 0.88 seconds ahead of the second-place finisher. In his third event, the 100-meter butterfly, Phelps won with a world-record time of 50.22.
At the 2009 World Aquatics Championships, Phelps won a total of 6 medals, 5 golds and 1 silver. In his first event, the 4×100-meter freestyle relay, Phelps swam the lead-off leg in 47.78, well off his 47.51 performance in Beijing, but the American team was able to edge out Russia and France for the gold.
At the 2010 National Championships, Phelps competed in five individual events. In the 200-meter freestyle, Phelps won ahead of Ryan Lochte in a time of 1:45.61. About an hour later, Phelps returned to the pool to win the 200-meter butterfly. But Phelps was not happy with his performance and called it the "worst" 200-meter butterfly of his life. In the 100-meter butterfly, Phelps won his 50th national title in 50.65. After the race, Phelps said he was "fairly pleased" with the result. In the 200-meter individual medley, Phelps finished second to Lochte 1:55.94 to 1:54.84. It was the first time Lochte had beat Phelps in a major national meet. In the 200-meter backstroke, Phelps finished in 4th place in 1:56.98.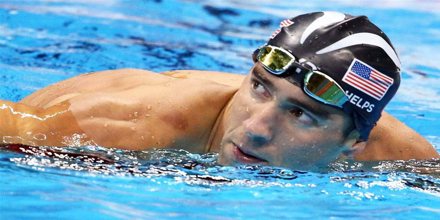 In his first event at the 2011 World Aquatics Championships in Shanghai, Phelps won bronze in the 4×100-meter freestyle relay with Garrett Weber-Gale, Jason Lezak, and Nathan Adrian. This was Phelps's first bronze in a World Aquatics Championships.
In 2012, Phelps's Olympic medal count increased to 22, setting a new record for most Olympic medals (beating gymnast Larisa Latynina's prior record of 18). At the 2012 Olympic Games, held in London, he won four gold medals, in the 4-by-200-meter freestyle relay, 200-meter individual medley, 100-meter butterfly and 4-by-100-meter medley relay; and two silver medals, in the 4-by-100-meter freestyle relay and 200-meter butterfly. Phelps also holds the record for the most gold medals won in a single Olympics (eight gold medals at Beijing in 2008).
After the 2012 Olympics, Phelps retired from swimming, stating: "I'm done. I'm finished. I'm retired. I'm done. No more," and that "I just wanted to be done with swimming and didn't want anything to do with the sport anymore." Phelps, however, gave some indication of a possible return in July 2013.
In April 2014, Phelps announced he would come out of retirement, and would enter an event later that month. In May 2014, he won the 100-meter butterfly event at the Arena Grand Prix in Charlotte, North Carolina. Phelps was reportedly motivated by the national team's failure to win the men's 4 × 100 m freestyle relay since their Beijing 2008 and Rome 2009 titles.
After having been dropped from the team for the 2015 World Aquatics Championships for a DUI, Phelps instead competed in the US National Championships (long course) in San Antonio as his target meet of the summer. He won gold medals in the 100-meter butterfly (50.45 s), 200-meter butterfly (1:52.94), and the 200-meter individual medley (1:54.75). In each of these events he swam the fastest time in the world for 2015.
In December 2015 at the Winter Nationals in Federal Way, Phelps won titles in the same three events, again in long course, bringing his career total to 62 national titles.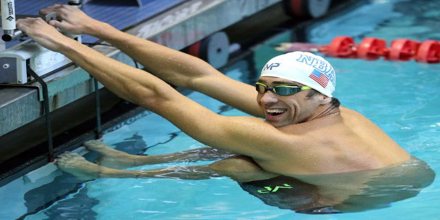 Despite his personal issues, Phelps was ready to make history and headlines again: He was going to Rio. On June 29, 2016, Phelps celebrated a huge comeback when he became the first American male swimmer to earn a spot on five Olympic teams. After finishing first in the men's 200-meter butterfly event at the U.S. Olympic trials at a time of 1:54:84, he clinched his spot on the team headed to the 2016 Olympics in Rio. "That means the most tonight," Phelps said after his win. "With everything that's happened, being able to come back, that's probably harder than any swim I've had in my life."
On August 7, 2016, Phelps clinched his 19th Olympic gold medal in Rio when he swam an impressive second leg of the men's 400 freestyle relay. On August 9, Phelps made history again when he won gold in both the 200-meter butterfly and as the anchor in the 4×200-meter freestyle relay along with Conor Dwyer, Townley Haas and Ryan Lochte. Phelp's 200-meter butterfly win was an important comeback for the swimmer, who had lost the 2012 Olympic gold in this race to South African swimmer Chad Le Clos. Clos did not medal in the 2016 race. "There wasn't a shot in hell I was losing that tonight," he told reporters.
Phelps went on to compete in the 200-meter individual medley, an event dubbed "the Duel in the Pool" because he faced off against friend, teammate and rival Ryan Lochte, the world record holder in the race. Phelps dominated the race, winning gold in over a body-length at 1:54.66 seconds, right behind Lochte's record of 1:54.00. Lochte failed to medal. Phelp's victory made him the first swimmer to win four consecutive golds in the same event.
After his victory in the 200-meter individual medley, Phelps competed in the 100-meter butterfly, tying for the silver medal with Laszlo Cseh of Hungary and Chad le Clos of South Africa. Joseph Schooling of Singapore, a 21-year-old swimmer who idolized Phelps when he was boy, won the gold.
On August 13, in the 4 × 100-meter medley relay, Phelps ended his career with another gold medal, his 23rd at the Olympics and his 28th medal overall. Together with Ryan Murphy, Cody Miller, and Nathan Adrian, swimming as the butterfly leg of the medley, they broke the Olympic record, and won the United States' 1001st all time Olympic gold medal, in accordance with the USOC.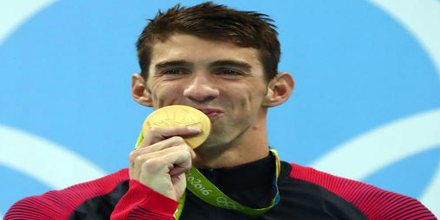 Phelps's performance in the Rio Olympics was unique in "winning multiple gold medals at 31 years old, well beyond the typical peak for male swimmers". Phelps is considered one of the greatest Olympians of all time.
Philanthropic Works
Capitalizing on his 2008 Beijing Speedo bonus of $1 million, Phelps set up a Michael Phelps Foundation, which aimed to increase the awareness of swimming as a sporting activity and focussed on promoting healthy lifestyle.
Two years later, the foundation, along with Michael Phelps Swim School and KidsHealth.org, conducted an 'im' programme for Boys & Girls club members. The programme stressed on the importance of active living and gave impetus to the young bloods to focus on the sport of swimming. It also promoted the importance of planning and goal setting in life.
After the super success of the programme, the foundation initiated two more programs, Level Field Fund-Swimming and Caps-for-a-Cause.
Awards and Honours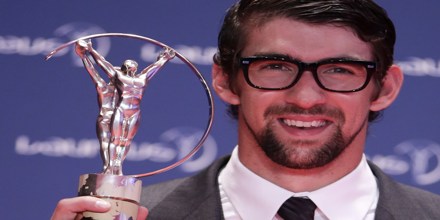 Phelps was a USA Olympic team member in 2000, 2004, 2008, 2012 and 2016, and holds the records for most Olympic gold medals (23), most such medals in individual events (13), and most such medals at a single games (8, in Beijing 2008). A street in his hometown of Baltimore was renamed The Michael Phelps Way in 2004. On April 9, 2009, Phelps was invited to appear before the Maryland House of Delegates and the Maryland Senate, to be honored for his Olympic accomplishments.
Phelps has also received the following awards:
Swimming World World Swimmer of the Year Award: 2003, 2004, 2006, 2007, 2008, 2009, 2012, 2016
Swimming World American Swimmer of the Year Award: 2001, 2002, 2003, 2004, 2006, 2007, 2008, 2009, 2012, 2015, 2016
Fédération Internationale de natation swimmer of the year (since 2010): 2012, 2016
Golden Goggle Male Performance of the Year (since 2004): 2004, 2006, 2007, 2008, 2009, 2016
Golden Goggle Relay Performance of the Year (since 2004): 2006, 2007, 2008, 2009, 2016
Golden Goggle Male Athlete of the Year (since 2004): 2004, 2007, 2008, 2012, 2014, 2015, 2016
Golden Goggle Impact award: 2016
USOC SportsMan of the Year Award: 2004, 2008, 2011–12, 2016
James E. Sullivan Award: 2003
Gazzetta dello Sport Sportsman of the Year: 2003, 2004
Laureus World Sports Sportsman of the Year Award (nominated): 2004, 2005, 2008, 2009, 2013
Sports Illustrated Sportsman of the Year: 2008
Associated Press Athlete of the Year: 2008, 2012
Marca Leyenda (2008)