Biography of Edward Jenner
Edward Jenner – English physician and scientist.
Name: Edward Jenner
Date of Birth: 17 May 1749
Place of Birth: Berkeley, Gloucestershire, England
Date of Death: 26 January 1823 (aged 73)
Place of Death: Berkeley, Gloucestershire, England
Spouse: Catharine Kingscote (m. 1788–1815)
Children: Edward Robert Jenner, Catherine Fitzhardinge Jenner, Robert Fitzhardinge Jenner
Early Life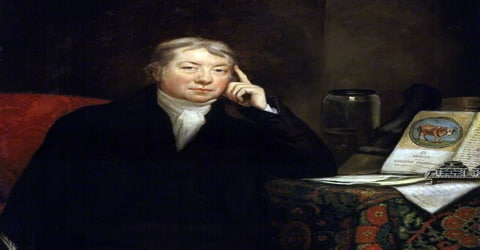 Edward Jenner, FRS FRCPE was an English doctor famous for his role in defeating smallpox. In the 18th century smallpox was a terrible disease which killed many people. Even if the patient survived they were often scarred. He was also known as the "Father of Immunology". His work is said to have "saved more lives than the work of any other human".
Jenner was born on 17 May 1749 in Berkeley in Gloucestershire, England. He was the son of Reverend Stephen Jenner and his wife Sarah. The couple had 9 children but 3 of them died in childhood.
He went to school in Wotton-under-Edge and Cirencester. During this time, he was inoculated for smallpox, which had a lifelong effect upon his general health. (Crucially this meant that he underwent variolation and not vaccination.) At the age of 14, he was apprenticed for seven years to Daniel Ludlow, a surgeon of Chipping Sodbury, South Gloucestershire, where he gained most of the experience needed to become a surgeon himself.
Jenner was an English scientist and is famous for his discovery of the smallpox vaccine. This was the first successful vaccine ever to be developed and remains the only effective preventive treatment for the fatal smallpox disease. His discovery was an enormous medical breakthrough and has saved countless lives. The terms "vaccine" and "vaccination" are derived from Variolae vaccine (smallpox of the cow), the term devised by Jenner to denote cowpox. He used it in 1796 in the long title of his Inquiry into the Variolae vaccine known as the Cow Pox, in which he described the protective effect of cowpox against smallpox.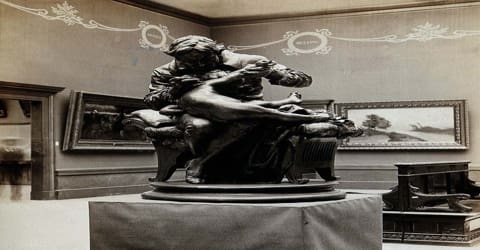 Jenner and others formed a medical society in Rodborough, Gloucestershire, for the purpose of reading papers on medical subjects and dining together. He also published useful papers on angina.
Returning to London in 1811, Jenner observed a significant number of cases of smallpox after vaccination. He found that in these cases the severity of the illness was notably diminished by previous vaccination. In 1821, he was appointed physician extraordinary to King George IV and was also made mayor of Berkeley and justice of the peace. He continued to investigate natural history, and in 1823, the last year of his life, he presented his "Observations on the Migration of Birds" to the Royal Society.
In 1980, the World Health Organization declared smallpox an eliminated disease.
Childhood, Family and Educational Life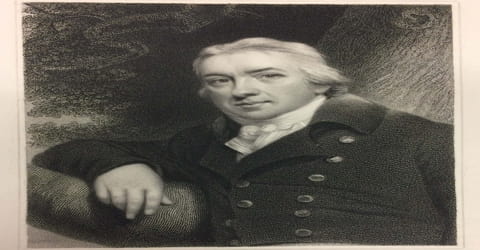 Edward Jenner was born on May 17, 1749, in Berkely, Gloucestershire, England. He was the son of Reverend Stephen Jenner and his wife Sarah. His father, the Reverend Stephen Jenner, was the vicar of Berkeley, so Jenner received a strong basic education. He received his training at Chipping Sodbury, Gloucestershire for seven years as an apprentice to Daniel Ludlow (a surgeon).
Edward attended local schools and in 1764 he became an apprentice to a surgeon. He studied at St Georges Hospital in London between 1772 and 1774. After finishing his studies, he returned to Berkeley to set up a medical practice where he stayed until his death.
He earned his MD from the University of St Andrews in 1792. He is credited with advancing the understanding of angina pectoris. In his correspondence with Heberden, he wrote, "How much the heart must suffer from the coronary arteries not being able to perform their functions."
Personal Life
Jenner married Catherine Kingscote (died 1815 from tuberculosis) in March 1788. He might have met her while he and other fellows were experimenting with balloons. Jenner's trial balloon descended into Kingscote Park, Gloucestershire, owned by Anthony Kingscote, one of whose daughters was Catherine.
Neither fanatic nor lax, Jenner was a Christian who in his personal correspondence showed himself quite spiritual; he treasured the Bible. Some days before his death, he stated to a friend: "I am not surprised that men are not grateful to me, but I wonder that they are not grateful to God for the good which he has made me the instrument of conveying to my fellow creatures." However, his contemporary Rabbi Israel Lipschitz in his classic commentary on the Mishna Tiferet Yisrael wrote that Jenner was one of the "righteous of the nations," deserving a lofty place in the World to Come, for having saved millions of people from smallpox.
Career and Works
In 1721, Lady Mary Wortley Montagu had imported variolation to Britain after having observed it in Constantinople. Voltaire wrote that at this time 60% of the population caught smallpox and 20% of the population died of it. Voltaire also states that the Circassians used the inoculation from times immemorial, and the custom may have been borrowed by the Turks from the Circassians.
By 1768, English physician John Fewster had realized that prior infection with cowpox rendered a person immune to smallpox. In the years following 1770, at least five investigators in England and Germany (Sevel, Jensen, Jesty 1774, Rendell, Plett 1791) successfully tested in humans a cowpox vaccine against smallpox. For example, Dorset farmer Benjamin Jesty successfully vaccinated and presumably induced immunity with cowpox in his wife and two children during a smallpox epidemic in 1774, but it was not until Jenner's work that the procedure became widely understood. Jenner may have been aware of Jesty's procedures and success. A similar observation had also been made in France by Jacques Antoine Rabaut-Pommier in 1780.
Working in an agricultural community, Jenner knew of the country folklore that milkmaids never caught smallpox. They were known for their relatively flawless complexions, which were unmarked by smallpox scarring. However, they inevitably caught cowpox through their close work with cows. Jenner speculated that a bout of cowpox produced immunity against smallpox and even encountered locals who claimed to have deliberately infected themselves to provoke such a response. As a forward-thinking doctor who liked to experiment, Jenner wanted to prove his theory.
In the 18th century, many people realized that if milkmaids caught cowpox they then became immune to smallpox. On 14 May 1796, Edward Jenner took cowpox material and introduced it into an 8-year-old boy named James Phipps. (Jenner was not the first man to think of this idea, a Dorset doctor named Benjamin Jesty had tried it earlier but it was due to Jenner that it became a common practice). Jenner carried out more vaccinations and he eventually published his findings in 1798.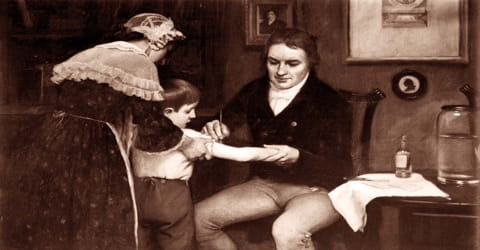 In 1798 after carrying out more successful tests, he published his findings: An Inquiry into the Causes and Effects of the Variolae Vaccinae, a Disease Known by the Name of Cow Pox.
The success of his discovery soon spread around Europe and was used en masse in the Spanish Balmis Expedition (1803–1806), a three-year-long mission to the Americas, the Philippines, Macao, China, led by Dr. Francisco Javier de Balmis with the aim of giving thousands the smallpox vaccine. The expedition was successful, and Jenner wrote, "I don't imagine the annals of history furnish an example of philanthropy so noble, so extensive as this." Napoleon, who at the time was at war with Britain, had all his French troops vaccinated, awarded Jenner a medal, and at the request of Jenner he released two English prisoners of war and permitted their return home. Napoleon remarked he could not "refuse anything to one of the greatest benefactors of mankind."
Jenner's continuing work on vaccination prevented him from continuing his ordinary medical practice. He was supported by his colleagues and the King in petitioning Parliament and was granted £10,000 in 1802 for his work on vaccination. In 1807, he was granted another £20,000 after the Royal College of Physicians confirmed the widespread efficacy of vaccination.
In 1853, 30 years after Jenner's death, smallpox vaccination was made compulsory in England and Wales.
Honors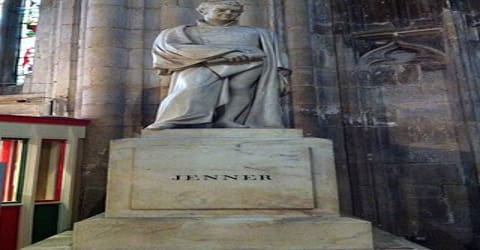 Jenner was also elected a foreign honorary member of the American Academy of Arts and Sciences in 1802 and a foreign member of the Royal Swedish Academy of Sciences in 1806. In 1803 in London, he became president of the Jennerian Society, concerned with promoting vaccination to eradicate smallpox. The Jennerian ceased operations in 1809. Jenner became a member of the Medical and Chirurgical Society on its founding in 1805 (now the Royal Society of Medicine) and presented several papers there. In 1808, with government aid, the National Vaccine Establishment was founded, but Jenner felt dishonored by the men selected to run it and resigned his directorship.
Jenner's house in the village of Berkeley, Gloucestershire, is now a small museum, housing, among other things, the horns of the cow, Blossom.
A statue of Jenner by Robert William Sievier was erected in the nave of Gloucester Cathedral. Another statue was erected in Trafalgar Square and later moved to Kensington Gardens. A statue of Jenner was erected at the Tokyo National Museum in 1896 to commemorate the centenary of Jenner's discovery of vaccination. A monument outside the walls of the upper town of Boulogne Sur Mer, France.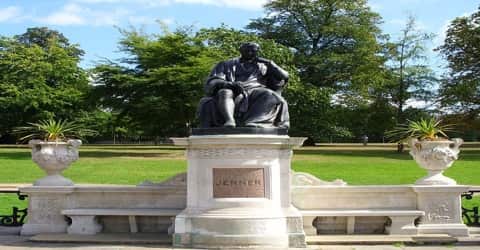 Near the Gloucestershire village of Uley, Downham Hill is locally known as "Smallpox Hill" for its possible role in Jenner's studies of the disease.
Death and Legacy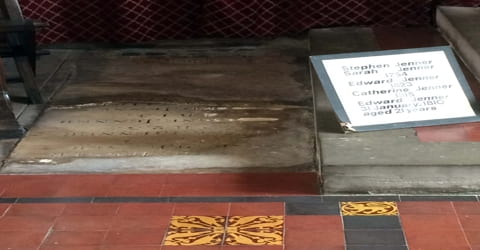 Jenner was found in a state of apoplexy in January 1823, with his right side paralyzed. He never fully recovered, and finally died of an apparent stroke on 26 January 1823, aged 73, in Berkeley, Gloucestershire, England. He was survived by his son Robert Fitzharding (* 1797; † 1854) and his daughter Catherine (* 1794; † 1833), his elder son Edward (* 1789; † 1810) having died of tuberculosis aged 21.
In 1979, the World Health Organization declared smallpox an eradicated disease. This was the result of coordinated public health efforts, but vaccination was an essential component. Although the disease was declared eradicated, some pus samples still remain in laboratories in Centers for Disease Control and Prevention in Atlanta in the US, and in State Research Center of Virology and Biotechnology VECTOR in Koltsovo, Novosibirsk Oblast, Russia.
Jenner's vaccine laid the foundation for contemporary discoveries in immunology. In 2002, Jenner was named in the BBC's list of the 100 Greatest Britons following a UK-wide vote. The lunar crater Jenner is named in his honor. Jenner was recognized in the TV show The Walking Dead. In "TS-19", a CDC scientist is named Edwin Jenner.
Information Source: