Biography of Bruce Forsyth
Bruce Forsyth – British presenter, actor, comedian, singer, dancer, and screenwriter.
Name: Sir Bruce Joseph Forsyth-Johnson
Date of Birth: 22 February 1928
Place of Birth: Edmonton, London, United Kingdom
Date of Death: 18 August 2017 (aged 89)
Place of Death: Wentworth Estate, United Kingdom
Occupation: Presenter, Actor, Comedian, Singer, Dancer, Screenwriter
Father: John Thomas Forsyth-Johnson
Mother: Ada Forsyth-Johnson
Spouse/Ex: Penny Calvert (m. 1953–1973), Anthea Redfern (m. 1973–1979), Wilnelia Merced (m. 1983–2017)
Children: Charlotte Forsyth, Debbie Matthews, Jonathan Joseph Forsyth, Julie Forsyth, Laura Forsyth, Louisa Forsyth
Early Life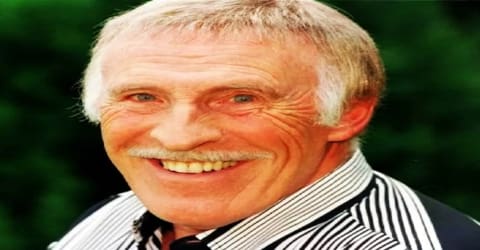 A British actor, comedian, presenter, dancer, singer, and screenwriter, Bruce Forsyth was born on Victoria Road in Edmonton, Middlesex (today part of the London Borough of Enfield) on 22 February 1928, the son of Florence Ada (née Pocknell) and John Thomas Forsyth-Johnson. Best known as the presenter of some of the U.K.'s biggest game shows as well as his string of catchphrases, Sir Bruce Forsyth was perhaps the most popular and enduring all-round entertainer of his generation.
Forsyth worked in the entertainment industry for over 75 years and even made a Guinness World Record for having the longest TV career as a male entertainer. Forsyth hosted several shows in his career, such as 'Sunday Night at the London Palladium', 'The Bruce Forsyth Show', 'The Generation Game', 'You Bet', 'Play Your Cards Right' and 'Bruce's Price Is Right', to name a few. He also co-presented a number of shows like 'Strictly Come Dancing', 'The Royal Variety Performance' and 'Bruce and Ronnie'. As a singer, Forsyth released the albums 'The Musical Side Of Bruce', 'Come Get It', 'Mr. Entertainment' and 'These Are My Favourites'. He also contributed to numerous hit singles including "I'm A Good Boy", "Saturday Sunshine", "I'm In Charge", "I'm Backing Britain", "Didn't He Do Well". On a personal note, the British artiste married thrice in his lifetime and fathered six children.
Forsyth came to national attention from the mid-1950s through the ITV series Sunday Night at the London Palladium. He went on to host several game shows, including The Generation Game, Play Your Cards Right, The Price Is Right and You Bet!. He co-presented Strictly Come Dancing from 2004 to 2013.
Childhood, Family and Educational Life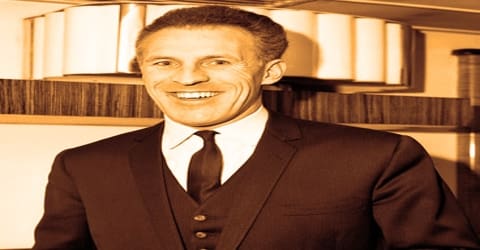 Bruce Forsyth, by name of Sir Bruce Joseph Forsyth-Johnson, was born on Victoria Road in Edmonton, Middlesex (today part of the London Borough of Enfield) on 22 February 1928, the son of Florence Ada (née Pocknell) and John Thomas Forsyth-Johnson.
His family owned a car repair garage, and as members of the Salvation Army, his parents played brass instruments and his mother was a singer. His great-grandfather Joseph Forsyth Johnson (1840–1906) was a landscape architect who worked in multiple countries, and great-great-great-great-grandfather William Forsyth (1737–1804) was a founder of the Royal Horticultural Society and the namesake of the plant genus Forsythia. During World War II, his older brother John, a pilot in the Royal Air Force, was killed in 1943 during a training exercise at RAF Turnberry.
Bruce Forsyth attended the Latymer School. After watching Fred Astaire in films at age eight, he trained in dance in Tottenham and then Brixton.
Personal Life
Bruce was married to Penny Calvert from 1953 to 1973 and had three daughters, Julie, Laura, and Debbie with her. In 1973, Forsyth married Anthea Redfern. The couple had two daughters, Louisa and Charlotte, before separating in 1979. After this, Forsyth married Wilnelia Merced in 1983 and had a son named Jonathan Joseph. The couple remained married until Forsyth's death in 2017.
Bruce Forsyth lived at the exclusive Wentworth Estate in Surrey. Until 2000, he also occupied a flat in Nell Gwynn House, Sloane Avenue, Chelsea. He was a supporter and ambassador for the children's charity Caudwell Children, regularly appearing at many of their fundraising events.
In August 2014, Forsyth was one of 200 public figures who signed a letter to The Guardian expressing their hope that Scotland would vote to remain part of the United Kingdom in September's referendum on that issue.
Career and Works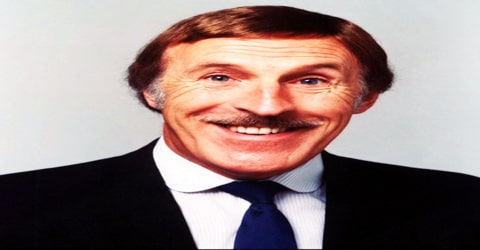 Bruce Forsyth started his live public performances aged 14, with a song, dance and accordion act called "Boy Bruce, the Mighty Atom". His first appearance was at the Theatre Royal in Bilston, with The Great Marzo at the top of the bill. He had made his television debut in 1939 as a child, singing and dancing on BBC talent show Come and Be Televised, broadcast from Radiolympia, and introduced by Jasmine Bligh.
Forsyth developed a passion for dancing at a young age thanks to the films of Fred Astaire, and after performing in summer seasons, pantomimes, and dance acts throughout his youth, he landed his big break in 1958 when he was asked to compare the hit TV show 'Sunday Night at the London Palladium'.
Forsyth hosted the show for two years, followed by a year's break, then returned for another year. His schedule of stage performances, which continued throughout the 1960s, forced him to give up the job of host. He appeared in the London production of Little Me, along with Avril Angers in 1964. In the musical film Star! (1968), a biopic of stage actress Gertrude Lawrence, he played alongside lead performer Julie Andrews as Lawrence's father.
Forsyth recorded his single "I'm Backing Britain" in 1968, supporting the campaign of the same name, written by Tony Hatch and Jackie Trent, and sung by Forsyth. The chorus included "The feeling is growing, so let's keep it going, the good times are blowing our way". All involved in making the single took cuts in their fees or royalties so that the single sold for 5s. instead of the going rate of 7s. 4½d. Forsyth happily endorsed the campaign, saying "The country has always done its best when it is up against the wall. If everyone realizes what we are up against we can get out of trouble easily." The song did not make the charts, selling only 7,319 copies.
On 7 October 1968, Forsyth was top of the bill on the opening night of the Golden Garter nightclub, Wythenshawe. Two years later, he played Swinburne in the Disney fantasy film Bedknobs and Broomsticks. In 1976, he appeared on The Muppet Show, where he took on the famous duo of Statler and Waldorf.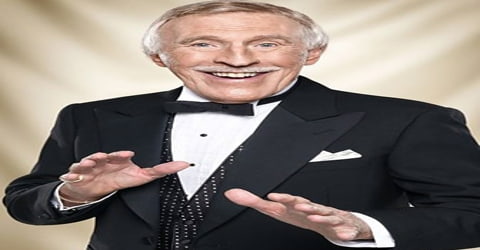 From 1971–77, Forsyth hosted 'The Generation Game'. The following year, he presented 'Bruce Forsyth's Big Night'. Then from 1980 to 1987 and from 1994 to 1999, he did the game show 'Play Your Cards Right'.
In 1977 Forsyth announced that he was leaving television to take the starring role in a new musical, The Travelling Music Show, based on the songs of Anthony Newley and Leslie Bricusse. The show did reasonably well in provincial theatre but got bad reviews when it moved to London and closed after four months in July 1978.
In the year 1986, Forsyth hosted ABC's 'Bruce Forsyth's Hot Streak'. That year, he was also cast for the sitcom 'Slinger's Day'. From 1988 to 1990, the British host did the show 'You Bet'. Five years later, he was given the 3rd version of 'The Price Is Right'. In 2003, he served as a guest presenter on a quiz show titled 'Have I Got News for You'.
Forsyth fronted the third version of The Price Is Right (1995 to 2001). His unsuccessful gameshows include Takeover Bid (1990 to 1991), Hollywood Or Bust (1984), and Didn't They Do Well! (2004). During the 1970s Forsyth featured in the Stork margarine adverts on television, and then during the 1980s and 1990s, he appeared in an advertising campaign for the furniture retailer Courts, in which he dressed as a judge. Forsyth celebrated his 70th birthday in 1998 and appeared in a week-long run of his one-man show at the London Palladium. In 2000, Forsyth hosted a revived series called Tonight at the London Palladium.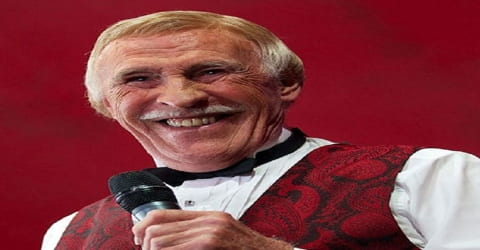 Forsyth was rarely absent from the screen thereafter, hosting the hugely successful The Generation Game, Play Your Cards Right, and The Price Is Right, but it was in 2004 when he landed, arguably, his most high-profile role as co-presenter of BBC One's 'Strictly Come Dancing'. Forsyth also sporadically pursued a music career, releasing Both Sides of Bruce (Live) and Come Get It! in the late '70s, Mr. Entertainment in 2007, and his only chart entry, These Are My Favourites, in 2011, the same year he was awarded a knighthood for his services to entertainment and charity. He chose the songs for their personal and musical importance, including a duet with his granddaughter, Sophie Purdie. These Are My Favourites also includes a recording of "Paper Moon" with Nat King Cole.
Awards and Honor
Bruce Forsyth was appointed Officer of the Order of the British Empire (OBE) in the 1998 Birthday Honours, and Commander of the Order of the British Empire (CBE) in the 2006 New Year Honours.
In 2008, Forsyth received the BAFTA Fellowship. In 2009, he was awarded the Theatre Performer's Award at the annual Carl Alan Awards. Hosted by the International Dance Teachers' Association, the awards are voted for by the leading dance organizations in the United Kingdom and recognize those who have made an exceptional contribution to the world of dance and theatre.
Forsyth received a Royal Television Society Lifetime Achievement Award on 17 March 2009. On 26 January 2011, he received the National Television Awards special recognition award.
In July 2012, Forsyth was given the honor of carrying the Olympic flame through London, as it finally reached the city on the penultimate day of the London 2012 Torch Relay.
Death and Legacy
In ill health toward the end of his life, Bruce Forsyth died at his home in Wentworth Estate, Surrey in August 2017; he was 89 years old. Several celebrities paid tribute to Forsyth following his death, including his former Strictly Come Dancing co-host Tess Daly; his friends Michael Parkinson, Jimmy Tarbuck, and Des O'Connor, the BBC director general Tony Hall, and Prime Minister Theresa May. BBC One aired Sir Bruce Forsyth – Mr. Entertainment, in place of the scheduled The One Show, in tribute.
Forsyth was cremated on 5 September 2017 in a private ceremony attended only by close family and friends. A few days later, on 9 September 2017, when that year's series of Strictly Come Dancing began, it paid tribute to Forsyth with a special ballroom dance routine from their professional dancers. On 14 December 2017, BBC announced that it would produce a tribute show to Forsyth at the London Palladium on 21 February 2018. Hosted by Tess Daly, Sir Bruce: A Celebration was broadcast on BBC One on 11 March 2018. On 18 August 2018, exactly a year after he died, Forsyth's ashes were laid to rest beneath the stage in a private ceremony at the London Palladium.
Information Source: