Glenn McGrath – Former Australian International Cricket Player
Full name: Glenn Donald McGrath
Date of birth: 9 February 1970 (age 47)
Place of birth: Dubbo, New South Wales, Australia
Nickname: Pigeon, Millard, Kuly, Ooh Ah
Height: 196 cm (6 ft 5 in)
Batting style: Right-handed
Bowling style: Right arm fast-medium
Role: Bowler
Spouse: Jane Louise (m. 2001), Sara Leonardi (m. 2010)
Children: James, Holly and Madison Mary Harper McGrath
Early Life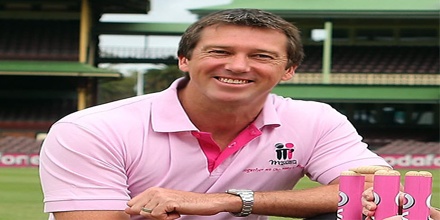 Glenn McGrath was born on February 9, 1970 in Dubbo, New South Wales, Australia as Glenn Donald McGrath. He is a former Australian international cricketer and a commentator for Channel Nine's cricket coverage. He was a fast-medium pace bowler and is considered one of the greatest bowlers in cricketing history, and a leading contributor to Australia's domination of world cricket from the mid-1990s to the early 21st century.
Glenn McGrath wasn't the quickest or the canniest ever, but in a career spanning over 14 years, he had the simplest of toolkits for menacing returns – scalping a staggering tally of 563 Test wickets to end up statistically, if not otherwise, as the greatest ever fast bowler. His famous partnership with Shane Warne bullied oppositions, crippling them mentally to engineer improbable victories that helped an all-time great Australian side sustain its warfare.
Always a thinking player, his ability to precisely control the ball subtly by varying its pitch and flight, even at good pace, made him one of the hardest to face and he challenged all the Great batsmen of his time. In the twilight of his career when his pace was fading he took this talent to a new height by what has been described as 'metronomic precision' to his bowling.
McGrath is the director of MRF Pace Foundation, Chennai, replacing Dennis Lillee, who served for 25 years. He currently serves as the Co-Founder and President of the McGrath Foundation, a breast cancer support and education charity he founded with his deceased first wife, Jane.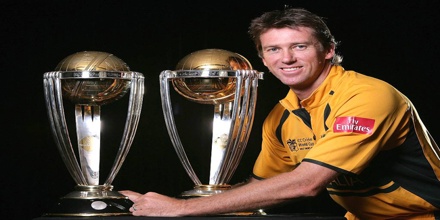 Glenn McGrath, along with Rahul Dravid, was honoured during the seventh annual Bradman Awards function in Sydney on November 1, 2012. He was inducted into ICC Hall of fame in January 2013.
Childhood Life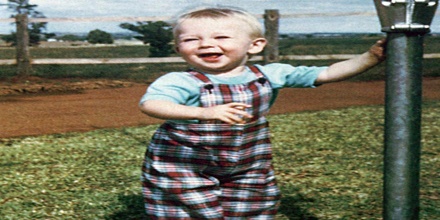 Glenn McGrath is a former Australian cricketer born to Beverly and Kevin McGrath on February 9, 1970 in Dubbo, New South Wales. He grew up in Narromine, New South Wales (NSW) where he first played cricket and his potential was spotted by Doug Walters. He was going to Narromine Primary; Narromine High School.
Personal Life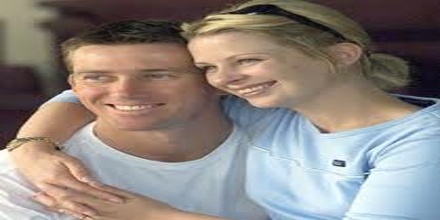 (Glenn McGrath with his first wife)
Glenn's first wife, Jane Louise (née Steele), was born in the United Kingdom and had worked as a flight attendant before their marriage. Glenn and Jane met at a Hong Kong nightclub called "Joe Bananas" in 1995, and married in 2001. They had two children, James and Holly. Jane McGrath fought recurrent battles with metastatic breast cancer, having been first diagnosed in 1997. On 26 January 2008 (Australia Day) Glenn and Jane McGrath were both made Members of the Order of Australia. Jane McGrath died, aged 42, on 22 June 2008 from complications following cancer surgery.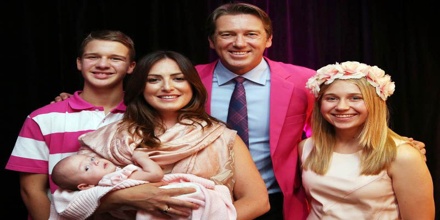 Glenn McGrath met Sara Leonardi, an interior designer, during the 2009 Indian Premier League. They married at home in Cronulla on 18 November 2010. In April 2011 McGrath put his home on the market for $6 million. In May 2015, the couple announced they are expecting their first child together, due in October. On September 4th, 2015, they welcomed a daughter, Madison Mary Harper McGrath.
In 2002 Glenn and Jane founded the McGrath Foundation, a breast cancer support and education charity in Australia, which raises money to fund McGrath Breast Care Nurses in communities right across Australia and increase breast awareness in young women. Following the death of Jane, his wife, in June 2008 due to breast cancer. Glenn accepted the voluntary role of Chairman of the Board of the McGrath Foundation, and participates in many activities in support of the Foundation to ensure the fulfilment of the Foundation's vision. As of April 2016, the McGrath Foundation has placed 110 McGrath Breast Care Nurses around Australia, who have helped support more than 33,000 Australian families.
Playing Career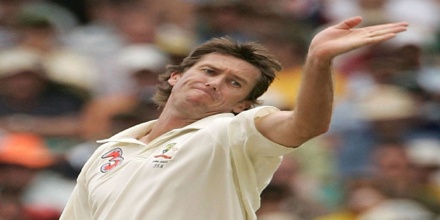 Glenn McGrath made his Test debut for Australia against New Zealand in Perth, on November 12, 1993. In 2004, he emerged as the first Australian fast bowler to play in 100 Tests. In the first innings of the International Cricket Council (ICC) Super Series Test match held in 2005, Glenn McGrath surpassed the record of Courtney Walsh to become the greatest wicket-taker among fast bowlers in Test cricket. He completed his career as the most successful fast-bowler and the third highest wicket taker in Test cricket. In the Frank Worrell series against the West Indies, his scintillating hat-trick dismissed Sherwin Campbell, Brian Lara marking his 300th wicket, followed by the West-Indian captain, Jimmy Adams. Interestingly in an interview prior to the match, he mentioned the names of Sherwin Campbell and Brian Lara as targets for his 299th and 300th wickets respectively. Mike Atherton of England has been dismissed 19 times by Glenn McGrath, becoming the first batsman to be dismissed the most number of times by a single bowler in cricket history. On 23 December, 2006, Glenn McGrath announced his retirement from Test matches. He has played in 124 Test matches taking 563 wickets, his best bowling figures in a match being 10 for 27, at an excellent economy rate of 2.49.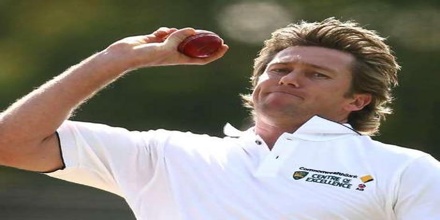 Glenn McGrath made his One Day International (ODI) debut on December 9, 1993 in Melbourne against South Africa. In the 2007 Cricket World Cup, Glenn McGrath became the leading wicket taker in the World Cup history after picking 26 wickets. His splendid performance in the World Cup campaign won him the Player of the Tournament award. He retired from international cricket following his brilliant display in the successful 2007 Cricket World Cup. He has played in 250 ODIs picking 381 wickets, his career best being 7 for 15, at an economy of 3.88.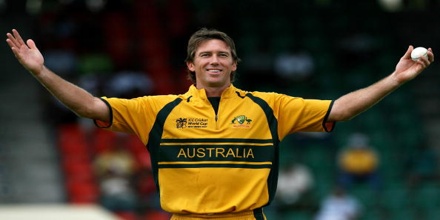 McGrath had a penchant for marquee occasions and for scissoring out the best players on biggest of stages. He reached the 300 landmark with Lara's wicket sandwiched in a hat-trick, hit the 500 mark on Day 1 at Lord's in 2005, took 2/13 in the 1999 World Cup final and could often keep a belligerent Lara under check. His many battles with Tendulkar though were routinely rendered subtle under the Warne clout.
Glenn McGrath made his First-class debut during the 1992-93 season, when he played for Worcestershire in the 2000 English County Championship and a few matches for Middlesex in 2004. He has played in 189 First-class matches taking 835 wickets and has made 303 List A appearances picking 458 wickets.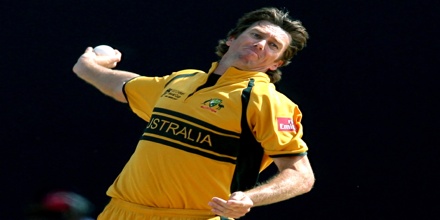 Glenn McGrath made his Twenty20 International (T20I) debut for Australia against New Zealand on February 17, 2005 in Auckland. He represented the team in two T20I matches during his career, 3 for 31 is his best in a T20I match.
In the inaugural season of the Indian Premier League (IPL) 2008, Glenn McGrath was selected to be a part of the Delhi Dare Devils team. He was signed for $350,000 by the Delhi Dare Devils team. Glenn McGrath bowled 54 overs picking 12 wickets in the 2008 IPL and won the Man of the Match award for his brilliant performance against Bangalore Royal Challengers on April 30. Glenn McGrath displayed his best bowling against Bangalore Royal Challengers earning 4 wickets for 29 runs.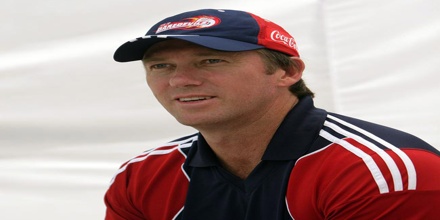 Sure of his skill, he challenged himself in the formative Sydney Grade competition and quickly found success with his high stump-to-stump action, bounce and pace. He exuded a palpable sense of commitment whether representing his Club, State or Country and gave no batsman any quarter in the spirit of the true fast bowler.
Awards and Honours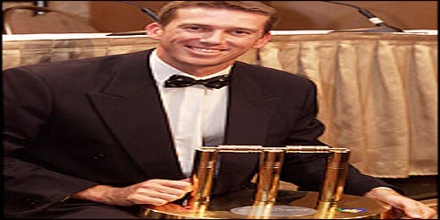 In 2001, McGrath was one of just twenty-one Australian athletes inducted into the Australian Institute of Sport Best of the Best list.
McGrath was named a Member of the Order of Australia on 26 January (Australia Day) in 2008 for "service to cricket as a player", and along with his wife for "service to the community through the establishment of the McGrath Foundation." In 2008 McGrath was also named the NSW Australian of the Year. On 31 December 2012, he was inducted into the ICC Cricket Hall of Fame.
McGrath was inducted into the Sport Australia Hall of Fame in 2011 and the ICC Hall of fame in January 2012.
McGrath was inducted into ICC Hall of fame in January 2013.
Sporting Achievements
McGrath holds seven highest tenth wicket partnerships, and two tenth wicket partnerships of 100 plus.
McGrath held the record for conceding the least runs in a test best 5-wicket haul (until Stuart Broad's 8/15), and the best 10-wicket haul in a test match (Broad never bowled in the second innings).
At the time of his retirement he held the record for most runs scored as a number eleven batsman (603). This record has since been surpassed by Muttiah Muralitharan.
After his dismissal for a duck in the fourth test of the 2006–2007 Ashes series, McGrath claimed the record of having scored more ducks in test cricket than any other Australian cricketer (35 – one more than Shane Warne).
McGrath holds the record for dismissing the most batsmen for ducks in test cricket (104).
His win-loss record at World Cup tournaments is impressive; he's been in four tournaments (1996, 1999, 2003 and 2007), two less than the record. Australia won three of those (1999, 2003 and 2007) and were runners-up in 1996 to Sri Lanka. He also holds most bowling records in ICC Cricket World Cup, including most wickets, most wickets in a single tournament, best bowling figures, bowling average and most maiden overs.
Mcgrath holds a unique record of picking a wicket of his last ball of Test career, last ball of ODI career and last ball of his last ODI in Australia.