Joe Paterno – Coach, Athlete, Football Player (1926–2012)
Full name: Joseph Vincent Paterno
Date of birth: December 21, 1926
Place of birth: Brooklyn, New York
Date of death: January 22, 2012 (aged 85)
Place of death: State College, Pennsylvania
Sport(s): Football
Early Life
Joe Paterno, byname of Joseph Vincent Paterno, also called JoePa  was born on December 21, 1926, Brooklyn, New York, U.S. He was an American collegiate gridiron football coach, who, as head coach at Pennsylvania State University (1966–2011), was the winningest major-college coach in the history of the sport, with 409 career victories, but whose accomplishments were in many ways overshadowed by a sex-abuse scandal that occurred during his tenure.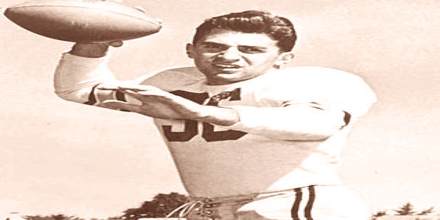 In 1966, Paterno was named as Engle's successor. He soon coached the team to two undefeated regular seasons in 1968 and 1969. The team won two national championships—in 1982 and 1986. Paterno coached five undefeated teams that won major bowl games and, in 2007, was inducted into the College Football Hall of Fame as a coach. In all, he led the Nittany Lions to 37 bowl appearances with 24 wins while turning down offers to coach National Football League (NFL) teams, including the Pittsburgh Steelers and the New England Patriots.
Born in Brooklyn, New York, Joe Paterno was first a star athlete in his own right before spending decades leading others to victory. He served in the U.S. Army during World War II. After the war, Paterno went to Brown University. There he dominated the gridiron as the school's quarterback and led his team to a 8-1 season in his senior year.
Paterno's life changed in November of 2011 for more reasons than one. After the arrest of Paterno's long-time assistant coach on child sexual abuse charges, Penn State trustees fired Paterno mid-season.
An investigation conducted by former FBI director Louis Freeh concluded in July 2012 that Paterno concealed facts relating to Sandusky's sexual abuse of young boys.
On July 23, 2012, the NCAA vacated all of Penn State's wins from 1998 through 2011 as part of its punishment for the child sex abuse scandal, eliminating 111 of the games Paterno had coached and won, dropping him from first to 12th on the list of winningest NCAA football coaches. State senator Jake Corman and state treasurer Rob McCord launched a lawsuit against the NCAA in January 2013 to overturn the sanctions on Penn State, on the basis that Freeh had been actively collaborating with the NCAA and that due process had not been followed, and as part of the settlement the NCAA reversed its decision on January 16, 2015 and restored the 111 wins to Paterno's record.
Paterno died of complications from lung cancer on January 22, 2012, only two months after being fired by the university.
Personal Life
Joe Paterno was born December 21, 1926, in Brooklyn, New York. He was attended Brown University, where he played football both ways as the quarterback and a cornerback. Originally planning to be a lawyer, he instead signed on as an assistant football coach at Penn State in 1950, persuaded by his college coach Rip Engle who had taken over as Penn State's head coach.
While serving as an assistant coach, Paterno met freshman coed Suzanne Pohland, a Latrobe native 13 years his junior and an English literature honors student, at the campus library. They married in 1962, the year she graduated. They had five children: Diana, Joseph Jr. "Jay", Mary Kay, David, and Scott. All of their children are Penn State graduates, and Jay Paterno was the quarterbacks coach at Penn State until his departure following the hiring of new head coach Bill O'Brien on January 7, 2012. The Paternos had 17 grandchildren.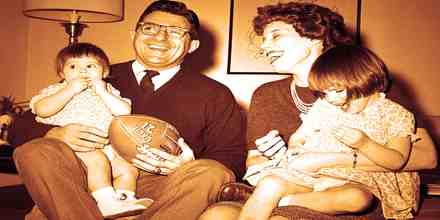 (Joe Paterno and his family)
Paterno and his wife co-authored the children's book We Are Penn State!, which takes place during a typical Penn State homecoming weekend.
Career
In 1966, Paterno became the coach for Penn State University. His first season was a draw, with 5 wins and 5 losses, but he worked hard to build up the school's football program. Before long, Paterno racked up impressive scores, including coaching the team to two undefeated regular seasons in 1968 and 1969.
Paterno had one Heisman Trophy winner, John Cappelletti, who took the award in 1973.
Paterno coached five undefeated teams that won major bowl games and, in 2007, was inducted into the College Football Hall of Fame as a coach. In all, he led the Nittany Lions to 37 bowl appearances with 24 wins while turning down offers to coach National Football League (NFL) teams, including the Pittsburgh Steelers and the New England Patriots.
Paterno's abbreviated 2011 season was his 62nd on the Penn State coaching staff, which gave him the record for most seasons for any football coach at a single university. The 2009 season was Paterno's 44th as head coach of the Nittany Lions, passing Amos Alonzo Stagg for the most years as head coach at a single institution in Division 1.
Paterno led the Lions to two National Championships—in 1982 and in 1986. In recognition of his contributions to his winning team, he earned the Sportsman of the Year honor from Sports Illustrated in 1986.
In 1995, Paterno apologized for a tirade directed at Rutgers head coach Doug Graber at the end of a nationally televised game. Paterno was accused of "making light of sexual assault" in 2006 by the National Organization for Women which called for his resignation, though Penn State later categorized this incident as being "taken out of context" and never seriously considered asking for Paterno's resignation.
Paterno announced in a speech in Pittsburgh on May 12, 2005, that he would consider retirement if the 2005 football team had a disappointing season. "If we don't win some games, I've got to get my rear end out of here", Paterno said in a speech at the Duquesne Club. "Simple as that". However, Penn State finished the season with a record of 11–1 and were champions of the Big Ten in 2005. They defeated Florida State 26–23 in triple overtime in the 2006 Orange Bowl.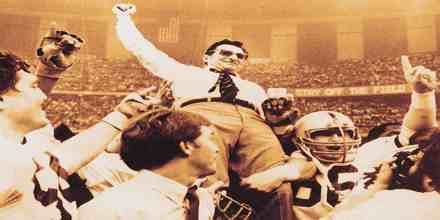 The Pennsylvania State Employees' Retirement System (SERS) revealed Paterno's salary in November 2007: $512,664. He was paid $490,638 in 2006. "I'm paid well, I'm not overpaid," Paterno said during an interview with reporters Wednesday before the salary disclosure. "I got all the money I need".
In all, Paterno had an impressive record as the Lions' coach. In 46 seasons, he led his team to 37 bowl appearances with 24 wins. In October 2011, Paterno set a record of his own when Penn State defeated Illinois.
Penn State under Paterno won the Orange Bowl (1968, 1969, 1973 and 2005), the Cotton Bowl Classic (1972 and 1974), the Fiesta Bowl (1977, 1980, 1981, 1986, 1991, and 1996), the Liberty Bowl (1979), the Sugar Bowl (1982), the Aloha Bowl (1983), the Holiday Bowl (1989), the Citrus Bowl (1993 and 2010), the Rose Bowl (1994), the Outback Bowl (1995, 1998 and 2006) and the Alamo Bowl (1999 and 2007).
After Penn State joined the Big Ten Conference in 1993, the Nittany Lions under Paterno won the Big Ten championship three times (1994, 2005 and 2008), with the last two of those still awaiting official restoration to the record. Paterno had 29 finishes in the Top 10 national rankings.
Paterno was a long-time advocate for some type of college football playoff system. The question was posed to him frequently over the years, as only one of his five undefeated teams was voted national champion
Paterno initially preferred not to play true freshmen, but later in his career he did play redshirts in order to refrain from being at a competitive disadvantage. Some Penn State recruits, like recruits at many other schools, now graduate from high school a semester early so that they can enroll in college during the spring semester and participate in spring practice. Several team members from the recruiting class of 2005, including Justin King, Anthony Scirrotto, and Derrick Williams, received considerable playing time as true freshmen during the 2005–2006 seasons.
In 2010, Paterno and former Chicago Bears head coach Mike Ditka suggested that concussions and other injuries in the NFL and college football might be reduced if face masks were eliminated.
In 2002, 76-year-old Paterno chased down referee Dick Honig in a dead sprint following a 42–35 overtime home loss to Iowa. Paterno saw Tony Johnson catch a pass for a first down with both feet in bounds on the stadium's video replay board, but the play was ruled an incompletion. This being after Penn State had rallied from a 35–13 deficit with 9 minutes left in the game to tie the score at 35, and were driving on their first possession in overtime (a touchdown would have tied the game at 42). Penn State failed on fourth down and Iowa held on for the win.
Political Career
Paterno was a political conservative and a personal friend of President George H. W. Bush, endorsing him as a candidate in a speech at the 1988 Republican National Convention.
Paterno was also a close friend of President Gerald R. Ford, and introduced President George W. Bush at a campaign rally before the 2004 presidential election. Before the 1974 Pennsylvania gubernatorial election, a group of Pennsylvania Republican Party leaders briefly considered Paterno for Andrew Lewis' ticket as the candidate for lieutenant governor.
In 2004, his son Scott Paterno, an attorney, won the Republican primary for Pennsylvania's 17th congressional district but lost in the November general election to Democratic incumbent Tim Holden. "I brought my kids up to think for themselves since day one," Joe Paterno said in 2008. "I got a son who's a Republican, who ran for Congress, Scott. I'm a Republican. I've got a son, Jay, who's for Obama. I've got a daughter, who I'm pretty sure she's going to be for Hillary Clinton. So God bless America."
Death
Paterno, then 79 years old, suffered a fractured shin bone and damage to knee ligaments. In November 2008, Paterno had successful hip replacement surgery after spraining his leg while trying to demonstrate onside kicks during a practice session.
Paterno was injured again in August 2011, after colliding with a player during practice. He sustained hairline fractures to his hip and shoulder. No surgery was required, but Paterno began the 2011 regular season schedule in a wheelchair.
On January 13, 2012, Paterno was hospitalized in State College for complications relating to his cancer treatment. He was died on January 22, 2012, at Mount Nittany Medical Center in State College, Pennsylvania.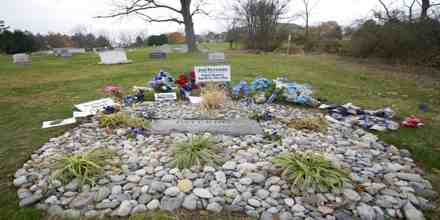 Paterno's funeral was held in State College on January 25, 2012. About 750 mourners attended the private ceremony, after which thousands of mourners lined the route of the funeral procession. Paterno was buried in Spring Creek Presbyterian Cemetery just outside the town. Approximately 12,000 people attended a public memorial service that was held at the Bryce Jordan Center on January 26, 2012.
Honours and Awards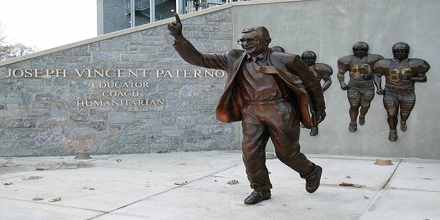 On May 16, 2006, Paterno was elected to the College Football Hall of Fame after the National Football Foundation decided to change its rules and allow any coach over the age of 75 to be eligible for the Hall of Fame instead of having to wait until retirement.
In 2009, Paterno was named to Sporting News' list of the 50 greatest coaches of all time (MLB, NBA, NFL, NHL, college basketball, and college football). He is listed in position 13.
In 2010, the Maxwell Football Club of Philadelphia established the Joseph V. Paterno Award, to be awarded annually to the college football coach "who has made a positive impact on his university, his players and his community."
Also in 2010, the Big Ten Conference established the Stagg-Paterno Championship Trophy as the annual trophy to be awarded to the winner of the conference football championship.
However, on November 14, 2011, the trophy name was changed to the Stagg Championship Trophy in light of the Sandusky child abuse scandal.
Paterno was also nominated for the Presidential Medal of Freedom.
Sports Illustrated Sportsman of the Year – 1986
Amos Alonzo Stagg Coaching Award (United States Sports Academy (USSA)) – 1989, 2001
Amos Alonzo Stagg Award (AFCA) – 2002
AFCA Coach of the Year – 1968, 1978, 1982, 1986, 2005
Associated Press College Football Coach of the Year Award – 2005
Bobby Dodd Coach of the Year Award – 1981, 2005
Eddie Robinson Coach of the Year – 1978, 1982, 1986
George Munger Award (Div. I Coach of the Year) – 1990, 1994, 2005
Paul "Bear" Bryant Award – 1986
Sporting News College Football Coach of the Year – 2005
The Home Depot Coach of the Year Award – 2005
Walter Camp Coach of the Year Award – 1972, 1994, 2005
Dave McClain Big Ten Conference Coach of the Year – 1994, 2005, 2008
NCAA Gerald R. Ford Award – 2011 (revoked by NCAA)