Biography of Howard Hughes
Howard Hughes- American business magnate, investor, record-setting pilot, engineer, film director, and philanthropist.
Name: Howard Robard Hughes Jr.
Date of Birth: September 24, 1905
Place of Birth: Humble, Texas, United States
Date of Death: April 5, 1976 (aged 70)
Place of Death: Houston, Texas, United States
Occupation: Business Magnate, Engineer
Father: Howard Robard Hughes Sr.
Mother: Allene Gano
Spouse/Ex: Ella Botts Rice (m. 1925-1929), Terry Moore (m. 1949-1976), Jean Peters (m. 1957-1971)
Early Life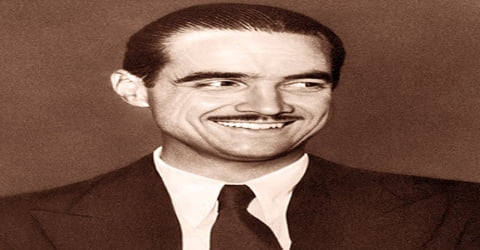 An American business magnate, manufacturer, aviator, and motion-picture producer and director who acquired enormous wealth and celebrity from his various ventures but was perhaps better known for his eccentricities, especially his reclusiveness, Howard Hughes was born in Houston, Texas, U.S. on 24th December 1905, the only child of Howard Robard Hughes and Alene Gano Hughes. During his lifetime Hughes was one of the most financially successful individuals in the world. He used an inherited fortune to achieve a national reputation in the motion picture and aviation industries.
Hughes gained eminence in Hollywood from the late 1920s, making big-budget and often controversial films such as The Racket, Hell's Angels, Scarface, and The Outlaw. He was one of the most significant aviators in history. Besides designing and building planes, he risked his own life several times testing planes and setting new world air speed. While he is credited with many aviation innovations such as the first retractable landing gear, he is also remembered for one of his biggest flops the Spruce Goose. He acquired and expanded Trans World Airlines, which later merged with American Airlines. He established the Howard Hughes Medical Institute in Miami, Florida, something close to his heart since losing his mother as a child.
Hughes first became prominent as a film producer, and then as an influential figure in the aviation industry. Later in life, he became known for his eccentric behavior and reclusive lifestyle oddities that were caused in part by a worsening obsessive-compulsive disorder (OCD), chronic pain from a near-fatal plane crash, and increasing deafness. At the time of his death, Hughes was one of the wealthiest people in the world and perhaps the loneliest.
Childhood, Family and Educational Life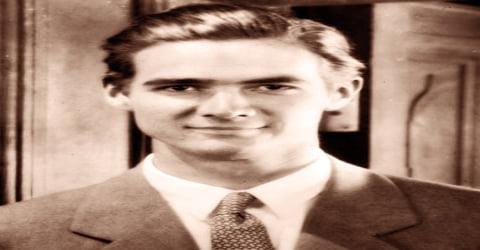 Howard Hughes, in full Howard Robard Hughes, Jr., was born on 24th December 1905 to Howard R. Hughes, Sr., and Allene Stone Gano who were industrialists. His birthplace is uncertainly recorded as either Humble or Houston, Texas. However, his certificate of baptism, recorded on 7th October 1906 in the parish register of St. John's Episcopal Church in Keokuk, Iowa, listed his date of birth as 24th September 1905, without any reference to the place of birth. His father earned millions by inventing special machinery for the oil industry.
Howard Hughes attended private schools in California and Massachusetts and was very inventive as a child. At the age of twelve, he made a radio transmitter out of an electric doorbell, and later he made a self-starting motor for his bicycle. At the age of fourteen, he made his first airplane flight. He later attended math and aeronautical engineering courses at Caltech. The red-brick house where Hughes lived as a teenager at 3921 Yoakum St., Houston became the headquarters of the Theology Department of the University of St. Thomas. Hughes then attended the Rice Institute in Houston and the California Institute of Technology.
Hughes mother died in March 1922, when Hughes was sixteen and his father just two years later, leaving him an orphan with an estate worth $871,000 and a patent (right to ownership) for a drill bit used in most oil and gas drilling that brought large revenues to the family's Hughes Tool Company, manufacturers of the bit.
Personal Life
Howard Hughes married twice; on 1st June 1925 he married Ella Botts Rice, daughter of David Rice and Martha Lawson Botts of Houston. They moved to Los Angeles, where he hoped to make a name for himself as a filmmaker. Hughes' wife, Ella, returned to Houston and filed for divorce, in 1929.
Hughes married actress Jean Peters on 12th January 1957, at a small hotel in Tonopah, Nevada. The couple met in the 1940s before Peters became a film actress.
Howard Hughes dated many famous women, including Billie Dove, Faith Domergue, Bette Davis, Ava Gardner, Olivia de Havilland, Katharine Hepburn, Hedy Lamarr, Ginger Rogers, Janet Leigh, Rita Hayworth, Mamie Van Doren, and Gene Tierney. He also proposed to Joan Fontaine several times, according to her autobiography No Bed of Roses. Jean Harlow accompanied him to the premiere of Hell's Angels, but Noah Dietrich wrote many years later that the relationship was strictly professional, as Hughes apparently personally disliked Harlow.
This maverick aviator once dated 3 ladies at the same time and the same place and would have gotten away except one of them got suspicious with his frequent excuses to leave the table.
From a young age, Howard Hughes became a proficient and enthusiastic golfer. He often scored near-par figures, played the game to a two-three handicap during his 20s, and for a time aimed for a professional golf career. Hughes used to play golf every afternoon at LA courses including the Lakeside Golf Club, Wilshire Country Club, or the Bel-Air Country Club. Partners included George Von Elm or Ozzie Carlton. After Hughes hurt himself in the late 1920s, his golfing tapered off, and after his F-11 crash, Hughes was unable to play at all.
Career and Works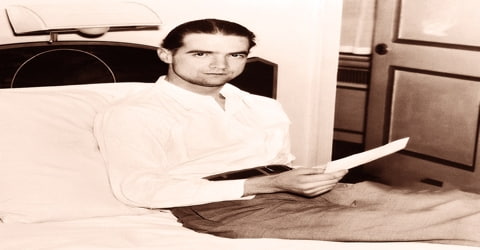 Howard Hughes left school to take control of the company when his father died, he used its profits to finance a variety of projects, which he hoped would make him a legend in his own time. He enjoyed a highly successful business career beyond engineering, aviation, and filmmaking, though many of his career endeavors involved varying entrepreneurial roles. The Summa Corporation was the name adopted for the business interests of Howard Hughes after he sold the tool division of Hughes Tool Company in 1972. The company serves as the principal holding company for Hughes' business ventures and investments. It is primarily involved in aerospace and defense, electronics, mass media, manufacturing, and hospitality industries, but has maintained a strong presence in a wide variety of industries including real estate, petroleum drilling, and oilfield services, consulting entertainment, and engineering. Much of his fortune was later used for philanthropic causes, notably towards health care and medical research.
Howard Hughes moved to Los Angeles, where he hoped to make a name for himself making movies. When his first attempt failed, he hired Noah Dietrich to head the movie subsidiary of his tool company. His first two films, Everybody's Acting and Two Arabian Knights, were financial successes – the latter (directed by Lewis Milestone in 1928), won an Academy Award for Best Comedy Direction. He produced the crime film 'The Racket' in 1928 and 'The Front Page', a comedy film, three years later. Both the films were nominated for the Oscars.
Hughes entered the motion picture business, in 1927 and produced such films as Scarface (1932), and The Outlaw (1941), and the box-office smash Hell's Angels (1930). He discovered actors Jean Harlow (1911-1937) and Paul Muni and made Jane Russell (1921) a well-known star. While living in Hollywood, California, the multimillionaire movie producer led a relatively quiet lifestyle. He lived in small apartments or rented homes and rarely participated in Hollywood's social world of the rich and famous. Hughes spent US$3.8 million to make the 1930 flying film, Hell's Angels and earned nearly $8 million above production and advertising costs. It received one Academy Award nomination, and its aviation sequences remain unequaled.
In 1943, 'The Outlaw' premiered but was not released nationally until 1946. The film featured Jane Russell, who received considerable attention from industry censors, this time owing to Russell's revealing costumes. Although Hughes never directed another film, he continued to work as a producer.
In 1948 Howard Hughes bought a controlling interest in RKO Pictures Corporation but sold the shares in 1953. The following year he bought the whole company only to sell it again in 1955. According to Noah Dietrich, Hughes made a $10,000,000 profit from the sale of the theaters and made a profit of $1,000,000 from his 7-year ownership of RKO. Hughes remained chairman of the board of RKO until 1957 when he left the film industry. The studio lots in Hollywood and Culver City were sold to Desilu Productions later that year for $6.15 million.
Howard Hughes founded the Hughes Aircraft Company in Glendale, California, in 1932. Under the pseudonym "Charles Howard" he got a job as a baggage handler for American Airlines and became a co-pilot within weeks.
On 13th September 1935, Hughes set a new land speed record of 352.46 M.P.H. at Santa Ana, California, in the Silver Bullet, the world's fastest plane, built by Hughes Aircraft. He made the world's greatest long-distance speed flight in 1937, setting a new transcontinental record from Los Angeles to Newark, New Jersey, of seven hours, twenty-eight minutes – an improvement over his own record. In 1938, Hughes flew around the world in a record three days, nineteen hours, and seventeen minutes, with four crewmen, in a Lockheed Model 14 twin-engine transport and returned home to a ticker-tape welcome. He quietly purchased a majority share of TWA stock for nearly US$7 million and took control of the airline in 1939, but was forced by the federal courts to sell his shares later.
Howard Hughes began work on an experimental military aircraft in 1939, and in 1942 he received a contract to design and build the world's largest plane, a wooden seaplane, later nicknamed the "Spruce Goose." It was supposed to serve as a troop carrier in World War II (1939-45). Hughes suffered a nervous breakdown in 1944 and was critically injured in the crash of his experimental military plane in 1946, but he recovered and flew the huge seaplane the next year. As a result of these aviation activities, Hughes became a popular public figure because his image represented the traditional American qualities of individuality, daring, and imagination. He was named to the Aviation Hall of Fame in 1973.
Hughes flew the Hughes XF-11, a reconnaissance plane, on its maiden test flight in 1946 and suffered a nearly fatal accident. The Hercules, an eight-engine wooden flying boat intended to carry 750 passengers, was not finished until 1947. That year Hughes was brought before a Senate committee investigating war profiteering. In the highly publicized hearing, he sparred with Sen. Owen Brewster and ultimately prevailed. Hughes subsequently piloted (1947) the Hercules, popularly known as the Spruce Goose, on its only flight 1 mile (1.6 km).
In 1948, Howard Hughes created a new division of the company: the Hughes Aerospace Group. The Hughes Space and Communications Group and the Hughes Space Systems Division were later spun off in 1948 to form their own divisions and ultimately became the Hughes Space and Communications Company in 1961. In 1956 Hughes loaned $205,000 to future President Richard Nixon's (1913-1994) brother Donald in a successful effort to influence an Internal Revenue Service (IRS) ruling on the medical institute.
Hughes made secret contributions of $100,000 to the successful Nixon presidential campaign in 1970 and was able to prevent enforcement of the Tax Reform Act against the medical institute. Hughes continued to use profits from the tool company for other ventures, including the creation of Trans World Airlines (TWA), in which he had begun investing in 1939.
The Howard Hughes Medical Institute sold Hughes Aircraft in 1985 to General Motors for $5.2 billion. In 1997, General Motors sold Hughes Aircraft to Raytheon and in 2000, sold Hughes Space & Communications to Boeing. A combination of Boeing, GM, and Raytheon acquired the Hughes Research Laboratories, where it focused on advanced developments in microelectronics, information & systems sciences, materials, sensors, and photonics; their workspace spans from basic research to product delivery. It has particularly emphasized capabilities in high performance integrated circuits, high power lasers, antennas, networking, and smart materials.
In 1966 Hughes bought the Desert Inn, a resort casino in Las Vegas. He reportedly made the purchase after being told to vacate its penthouse. This sparked a buying spree that included other casinos and large swathes of undeveloped land; in the 1950s he had purchased property outside Las Vegas, and it would later become the planned community known as Summerlin. Hughes subsequently played an influential role in Las Vegas's development, changing the city's image which was strongly linked to the Mafia and bringing more corporate investment.
Hughes acquired San Francisco-based Air West and renamed it Hughes Airwest, in 1970. Air West had been formed in 1968 by the merger of Bonanza Air Lines, Pacific Air Lines, and West Coast Airlines, all of which operated in the western U.S. By the late 1970s, Hughes Airwest operated an all-jet fleet of Boeing 727-200, Douglas DC-9-10, and McDonnell Douglas DC-9-30 jetliners serving an extensive route network in the western U.S. with flights to Mexico and western Canada as well. By 1980, the airline's route system reached as far east as Houston (Hobby Airport) and Milwaukee with a total of 42 destinations being served.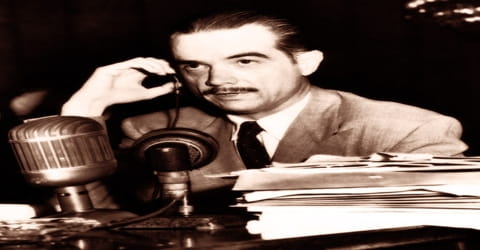 Howard Hughes left the United States in 1970 and moved from place to place the Bahamas, Nicaragua, Canada, England, and Mexico. He always arrived unannounced in luxury hotels and took extreme precautions to ensure privacy. Hughes saw only a few male aides, worked for days without sleep in a black-curtained room and became emaciated (thin from starvation) from the effects of his diet and the excessive use of drugs.
Shortly before the 1960 Presidential election, Richard Nixon was alarmed when it was revealed that his brother, Donald, received a $205,000 loan from Hughes. It has long been speculated that Nixon's drive to learn what the Democrats were planning in 1972 was based in part on his belief that the Democrats knew about a later bribe that his friend Bebe Rebozo had received from Hughes after Nixon took office. The Hughes conglomerate (a group of diverse businesses) became involved with the Central Intelligence Agency (CIA), and in 1975, built an undersea exploratory drilling ship which was actually used by the CIA to attempt to recover a sunken Soviet (Russian) submarine.
Awards and Honor
In 1939, Howard Hughes was awarded the Congressional Gold Medal, in recognition of his achievements in advancing the science of aviation and thus bringing great credit to his country and the world.
Hughes was presented with the Octave Chanute Award in 1940 for an outstanding contribution made by him as a pilot or test personnel to the advancement of arts, science and technology, and aeronautics.
Between 1952 and 2003, Howard Hughes was inducted into the Aviation Hall Of Fame, International Aerospace Hall Of Fame and Nevada Business Hall Of Fame, the last two posthumously.
Death and Legacy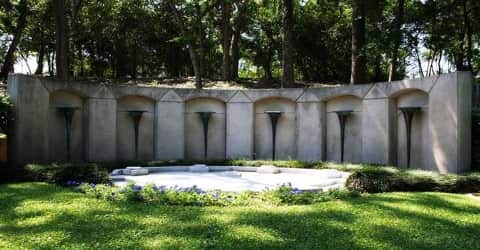 Howard Hughes died on 5th April 1976, on an airplane that was taking him from Acapulco, Mexico, to a hospital in Houston for medical attention. Hughes was controversial even after his death. Several wills appeared, one of which was found in the Mormon Church in Salt Lake City, Utah, but all were later declared to be forgeries. Hughes is buried next to his parents at Glenwood Cemetery in Houston.
After his death there arose considerable legal debate over the disposition of his estate. Several "wills" appeared, including one found in the offices of the Mormon church in Salt Lake City, but all were eventually declared to be forgeries.
Approximately three weeks after Hughes' death, a handwritten will was found on the desk of an official of The Church of Jesus Christ of Latter-Day Saints in Salt Lake City, Utah. The so-called "Mormon Will" gave $1.56 billion to various charitable organizations (including $625 million to the Howard Hughes Medical Institute), nearly $470 million to the upper management in Hughes' companies and to his aides, $156 million to first cousin William Lummis, and $156 million split equally between his two ex-wives Ella Rice and Jean Peters. Hughes' $2.5 billion estate was eventually split in 1983 among 22 cousins, including William Lummis, who serves as a trustee of the Howard Hughes Medical Institute.
In 2004, his early life was depicted in the feature film The Aviator, played by Leonardo DiCaprio who was nominated for an Academy Award for his portrayal of the aviator.
Information Source:
thefamouspeople.com
wikipedia