Diego Maradona – Football Player
Full name: Diego Armando Maradona
Date of birth: 30 October 1960 (age 56)
Place of birth: Lanús, Buenos Aires, Argentina
Nationality: Argentine
Height: 1.65 m (5 ft 5 in)
Playing position: Attacking midfielder, Second striker
Spouse: Claudia Villafañe (m. 1984–2004)
Children: Dalma Maradona, Diego Sinagra, Giannina Maradona, Diego Fernando Maradona Ojeda, Jana Maradona
Early Life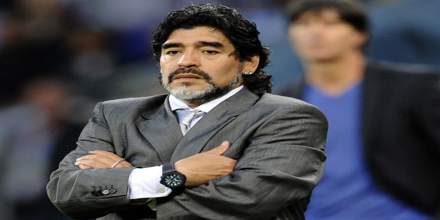 Diego Maradona, in full Diego Armando Maradona was born on October 30, 1960, in Lanus, Buenos Aires, Argentina. He is a retired Argentine professional football (soccer) player who is generally regarded as the top footballer of the 1980s and one of the greatest of all time. Renowned for his ability to control the ball and create scoring opportunities for himself and others, he led club teams to championships in Argentina, Italy, and Spain, and he starred on the Argentine national team that won the 1986 World Cup.
Excellent dribbling action, powerful assists, accurate passes and impressive footwork made Diego Mardona rise up to the ranks, within a short period, to become the greatest football player of all times. Argentina's national hero and pride, this exceptionally talented young man was born to play the sport. As such, despite coming from a humble background with lack of financial stability, he made his way to the football field at the age of ten and made his professional debut by 16. His compact physique and great physical strength gave him the edge over other players and helped him achieve the pinnacle of success. In a career spanning over 21 years, he rose from being an inexperienced club player to the most coveted soccer player. He scored 34 goals in 91 international appearances. It was through his sheer display of brilliance on the field that he was awarded FIFA Player of the 20th Century award. He is the only player to appear sixteen times as the captain of a World Cup team, which in itself is a World Cup record.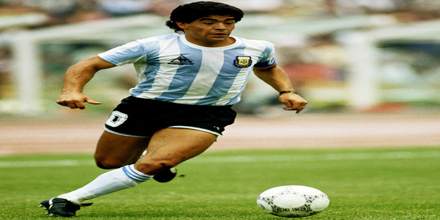 Maradona's exceptional vision, passing, ball control, dribbling skills, speed, reflexes and reaction time was combined with his small size (1.65 m or 5 ft 5 in tall) giving him a low center of gravity which allowed him to be more maneuverable than most other football players; he would often dribble past multiple opposing players on a run. His presence on the pitch had a great effect on his team's general performance, while he would often be singled out by the opposition. A precocious talent, Maradona was given the nickname "El Pibe de Oro" ("The Golden Boy"), a name that stuck with him throughout his career.
Maradona played in four FIFA World Cups, including the 1986 World Cup in Mexico where he captained Argentina and led them to victory over West Germany in the final, and won the Golden Ball as the tournament's best player.
Maradona became coach of Argentina in November 2008. He was in charge of the team at the 2010 World Cup in South Africa before leaving at the end of the tournament. He coached Dubai-based club Al Wasl in the UAE Pro-League for the 2011–12 season. In August 2013, Maradona joined Argentine Primera D club Deportivo Riestra's staff as "spiritual coach".
Childhood and Personal Life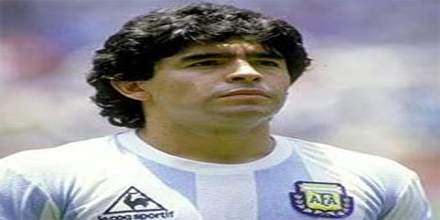 Diego Armando Maradona was born on October 30, 1960, in Villa Fiorito, a province of Buenos Aires, Argentina. He has three elder sisters and two younger brothers. His family was a close knit one but suffered from poor financial condition.
He was the fifth child and first son of Diego Maradona "Chitoro" (d. 2015) and Dalma Salvadora Franco 'Doña Tota' (1930–2011). Maradona's parents were both born and brought up in the town of Esquina in the north-east province of Corrientes Province, living only two hundred metres from each other on the banks of the Corriente River.
He received his first soccer ball as a gift at age 3 and quickly became devoted to the game. He took to playing soccer from a very tender age. His phenomenal talent soon caught the attention of a talent scout who inducted him in Los Cebollitas, the junior team of Buenos Aires's Argentinos Juniors.
At 10, Maradona joined Los Cebollitas, a youth team of Argentinos Juniors, one of the biggest clubs in Argentina. Showing his prodigious ability at an early age, Maradona led Los Cebollitas to an incredible 136-game unbeaten streak. He made his professional debut for the senior team shortly before his 16th birthday.
He named Brazilian playmaker Rivelino and Manchester United winger George Best among his inspirations growing up.
(Diego Maradona and his family)
He walked the aisle with his long time sweetheart Claudia Villafane on November 7, 1984. The couple was blessed with two daughters, Dalma Nerea and Giannina Dinorah. The couple divorced in 2004. During the proceedings, he confirmed having an illegitimate son, Diego Sinagra, who presently is a footballer in Italy.
He was blessed with another son, Diego Fernando, in 2013 from his ex-long term partner Veronica Ojeda.
From 1980s until 2004, he remained a drug addict, which negatively affected his health and performance. Though he relocated to Cuba and tried following a drug rehab plan, things did not seem to better as he suffered a major myocardial infarction following a cocaine overdose in 2004.
In March 2009, Italian officials announced that Maradona still owed the Italian government €37 million in taxes; €23.5 million of which was accrued interest on his original debt. They reported that thus far, Maradona has paid only €42,000, two luxury watches and a set of earrings.
Playing and Coaching Career
A short but fearless midfielder renowned for his ability to create scoring chances for himself and others, Maradona led club teams to championships in Argentina, Italy and Spain.
In 1976, a little before his sixteenth birthday, he made his professional debut with Argentinos Juniors. He spent five years at Argentinos Juniors, from 1976 to 1981, scoring 115 goals in 167 appearances before his US$ 4 million transfer to Boca Juniors. Maradona signed a contract with Boca Juniors on 20 February 1981.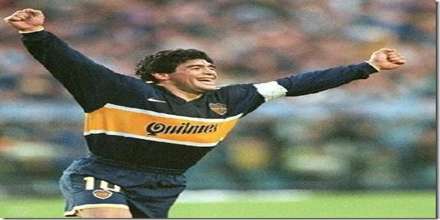 After the 1982 World Cup, in June, Maradona was transferred to Barcelona in Spain for a then world record fee of £5 million ($7.6 million). In 1983, under coach César Luis Menotti, Barcelona and Maradona won the Copa del Rey (Spain's annual national cup competition), beating Real Madrid, and the Spanish Super Cup, beating Athletic Bilbao.
The end of the 1983–84 season included a violent and chaotic fight Maradona was directly involved in at the 1984 Copa del Rey final at the Santiago Bernabéu against Athletic Bilbao.
He led the club to win the Serie A Italian Championships twice in 1986-87 and 1989-90. Additionally, Napoli efficaciously attained the Coppa Italia in 1987, the UEFA Cup in 1989 and the Italian Supercup in 1990. In the 1987-88 and 1988-89 Serie A Italian Championships, the club was placed in the second position with him being the top scorer in 1987-88.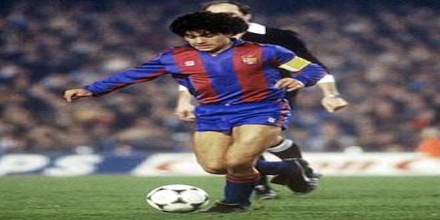 During his two injury-hit seasons at Barcelona, Maradona scored 38 goals in 58 games. Maradona transferred to Napoli in Italy's Serie A for another world record fee, £6.9 million ($10.48M).
The pinnacle of his career came as a member of the Argentinean national team that won the 1986 World Cup. His performance there included two memorable goals in a quarter-final victory over England: The first was scored illegally with his left hand, which Maradona later claimed was the work of "the hand of God"; the second required no supernatural help, other than an otherworldly ability to dribble past an onslaught of defenders to find the back of the net. Altogether, Maradona played in four World Cups, and scored an impressive 34 goals in 91 international appearances for Argentina.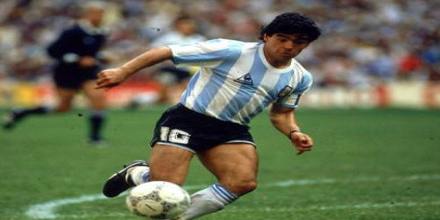 Despite his unquestioned brilliance on the pitch, the emotional Maradona became equally well known as a highly controversial figure. He became addicted to cocaine while playing in Spain in the 1980s and received a 15-month suspension after testing positive for the substance in 1991. Maradona endured another high-profile suspension three years later, this time for testing positive for ephedrine during the World Cup.
In the 1990 FIFA World Cup, he continued his role as a captain of the Argentina team, with the only difference being he was less dominant. He led his team to a World Cup final against West Germany but unlike 1986, he could not replicate the success as his team lost by 1–0. This marked the steep decline of the once-flourishing career.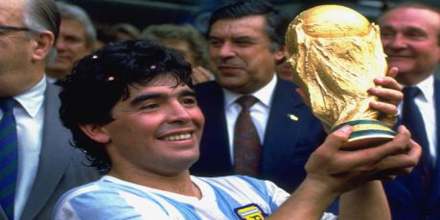 In 1992, he left Napoli to join Sevilla of Spain, where he played for a year. Following year he played for Newell's Old Boys.
In the 1994 FIFA World Cup, he played just two games scoring one goal before being ousted for failing an ephedrine drug test. This also marked an end to his international career which spanned for 17 years. In the 91 games that he played, he scored 34 goals.
In 1995, he returned to Boca Juniors and played with the club for two years, before announcing his retirement in 1997 on the eve of his birthday.
On 22 June 2005, it was announced that Maradona would return to former club Boca Juniors as a sports vice president in charge of managing the First Division roster (after a disappointing 2004–05 season, which coincided with Boca's centenary). With Maradona fostering a close relationship with the players, Boca won the 2005 Apertura, the 2006 Clausura, the 2005 Copa Sudamericana and the 2005 Recopa Sudamericana.
An internet poll conducted by the Fédération Internationale de Football Association named Maradona the top player of the 20th century, but even that event was marked by controversy.
Maradona chafed when a special panel was created to ensure that Pelé would be jointly honored, and then refused to share the stage with the Brazilian legend.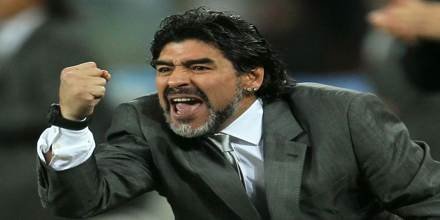 In 2008, Maradona was hired to coach the Argentinean national team. Although the Argentines boasted a talented squad headlined by Lionel Messi, perhaps the best player in the world, they were bounced from the 2010 World Cup with a 4-0 thrashing by Germany in the quarter-finals, and Maradona's contract was not renewed.
Despite the public disappointments, Maradona remains beloved in Argentina as a native son who rose from humble beginnings to reach the apex of stardom on an international stage.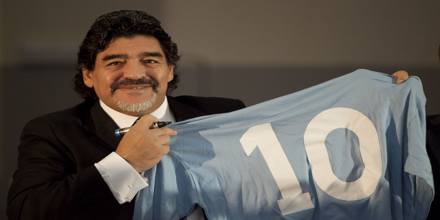 A classic number 10, Maradona was renowned for his dribbling ability, vision, close ball control, passing and creativity, and is considered one of the most skillful players ever. He had a compact physique, and with his strong legs and low center of gravity he could withstand physical pressure well while running with the ball. He could manage himself effectively in limited spaces, and would attract defenders only to quickly dash out of the melee (as in the second 1986-goal against England), or give an assist to a free teammate. Being short, but strong, he could hold the ball long enough with a defender on his back to wait for a teammate making a run or to find a gap for a quick shot. He showed leadership qualities on the field and captained Argentina in their World Cup campaigns of 1986, 1990 and 1994.
He joined Argentine Primera D club Deportivo Riestra in 2013 as its 'spiritual coach'.
Other Activities
He attempted to work as a coach alongside former Argentinos Juniors midfield team mate Carlos Fren. The pair led Mandiyú of Corrientes (1994) and Racing Club (1995), but with little success. In May 2011 he became manager of Dubai club Al Wasl FC in the United Arab Emirates. Maradona was sacked on 10 July 2012.
Having previously been vocal in his support of neoliberal Argentine President Carlos Menem and his Harvard University-educated economist Domingo Cavallo, Maradona has shown sympathy to left-wing ideologies. He became friends with Cuban leader Fidel Castro while receiving treatment on the island with Castro, stating, "Diego is a great friend and very noble, too. There's also no question he's a wonderful athlete and has maintained a friendship with Cuba to no material gain of his own."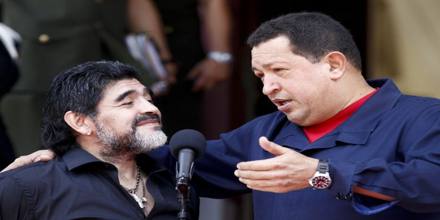 Maradona was also a supporter of former Venezuelan President Hugo Chávez. In 2005, he came to Venezuela to meet Chávez, who received him in the Miraflores Palace.
In December 2007, Maradona presented a signed shirt with a message of support to the people of Iran: it is displayed in the Iranian Ministry of Foreign Affairs' museum.
In October 2015, Maradona thanked Queen Elizabeth II and the Houses of Parliament in London for giving him the chance to provide "true justice" as head of an organisation designed to help young children. In a video released on his official Facebook page, Maradona confirmed he would accept their nomination for him to become Latin American director for the non-governmental organisation Football for Unity.
Awards and Honours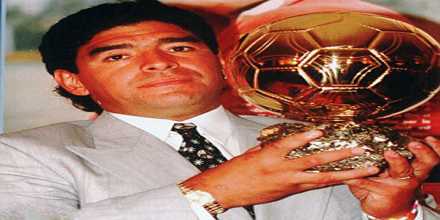 In 1990, the Konex Foundation from Argentina granted him the Diamond Konex Award, one of the most prestigious culture awards in Argentina, as the most important personality in Sports in the last decade in his country.
In 1990, the Konex Foundation from Argentina granted him the Diamond Konex Award, one of the most prestigious culture awards in Argentina, as the most important personality in Sports in the last decade in his country.
Club
Boca Juniors
Argentine Primera División: 1981 Metropolitano
Barcelona
Copa del Rey: 1983
Copa de la Liga: 1983
Supercopa de España: 1983
Napoli
Serie A: 1986–87, 1989–90
Coppa Italia: 1986–87
UEFA Cup: 1988–89
Supercoppa Italiana: 1990
Country
Argentina Argentina
FIFA World Youth Championship: 1979
75th anniversary FIFA Cup: 1979
FIFA World Cup: 1986; Runner-up 1990
Artemio Franchi Trophy: 1993
Individual
Argentine Primera División top scorers (5): 1978 Metropolitano, 1979 Metropolitano, 1979 Nacional, 1980 Metropolitano, 1980 Nacional
FIFA World Youth Championship Golden Ball: 1979
FIFA World Youth Championship Silver Shoe: 1979
World Player of the Year (Guerin Sportivo): 1979
Argentine Football Writers' Footballer of the Year (4): 1979, 1980, 1981, 1986
South American Footballer of the Year (2): (official award) 1979, 1980
Olimpia de Oro (2): 1979, 1986
Guerin d'Oro (Serie A Footballer of the Year): 1985
Onze de Bronze (2): 1985, 1988
FIFA World Cup Golden Ball: 1986
FIFA World Cup Silver Shoe: 1986
FIFA World Cup Most Assists: 1986
FIFA World Cup All-Star Team (2): 1986, 1990
Onze d'Or (2): 1986, 1987
Argentine Sports Writers' Sportsman of the Year: 1986
L'Équipe Champion of Champions: 1986
United Press International Athlete of the Year Award: 1986
World Soccer Awards Player of the Year: 1986
South American Player of the Year (4): (unofficial award) 1986, 1989, 1990, 1992
Capocannoniere (Serie A top scorer): 1987–88
Coppa Italia top scorer: 1987–88
FIFA World Cup Bronze Ball: 1990
Onze d'Or (top player of the year for the Onze Mondial French newspaper): 1994
FIFA World Cup All-Time Team: 1994
South American Team of the Year: 1995
Ballon d'Or for services to football (France Football): 1996
World Team of the 20th Century: 1998
World Soccer The Greatest Players of the 20th century: (#2) 1999
Argentine Sports Writers' Sportsman of the Century: 1999
Marca Leyenda: 1999
Number 10 retired by Napoli football team as recognition to his contribution to the club: 2000
FIFA Player of the Century: 2000
FIFA Goal of the Century (for his second goal against England in 1986 FIFA World Cup quarter-final): 2002
FIFA World Cup Dream Team: 2002
Golden Foot: 2003, as football legend
FIFA 100 Greatest Living Footballers: 2004
Argentine Senate "Domingo Faustino Sarmiento" recognition for lifetime achievement: 2005
World Soccer Greatest XI of all time: 2013
Napoli all-time Top Scorer
L'Équipe's top 50 South-American footballers in history: #2
Globe Soccer Awards Player Career Award: 2012