Biography of Hedy Lamarr
Hedy Lamarr – Austrian-born American film actress and inventor.
Name: Hedwig Eva Maria Kiesler
Date of Birth: November 9, 1914
Place of Birth: Vienna, Austria
Date of Death: January 19, 2000 (aged 85)
Place of Death: Casselberry, Florida, United States
Occupation: Actress, Inventor
Father: Emil Kiesler
Mother: Gertrud Kiesler
Spouse/Ex: Fritz Mandl (m. 1933; div. 1937), Gene Markey (m. 1939; div. 1941), John Loder (m. 1943; div. 1947), Teddy Stauffer (m. 1951; div. 1952), W. Howard Lee (m. 1953; div. 1960), Lewis J. Boies (m. 1963; div. 1965)
Children: 3
Early Life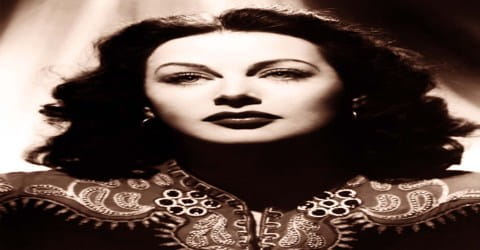 An Austrian-born American film actress and inventor, who was known mostly for being an elegant actress, being one of the MGM stars during the "Golden Age" and a well-known face during those years; Hedy Lamarr was born on 9th November 1913, in Vienna, Austria. Apart from being a crowd darling, she helped invent spread-spectrum communication techniques using frequency hopping. This technology is still used today, and it was the Austrian actress and inventor who contributed to its pilot development.
A very famous actress of her time, Lamarr is credited to be one of the most beautiful women to have ever graced the silver screen. Fascinated by cinema from childhood, she decided early on to become an actress and began her acting career as a teenager after being discovered by a film producer. An Austrian by birth, she eventually moved to America after meeting MGM head Louis B. Mayer, who offered her a movie contract in Hollywood. A very glamorous and talented lady, she soon established herself as one of the most sought after actresses in Hollywood. Because of her sex appeal, Lamarr was invariably typecast as the glamorous seductress and appeared opposite the era's most popular leading men such as Spencer Tracy, Clark Gable, and James Stewart. But Hedy Lamarr was no dumb beauty she was a highly intelligent and smart woman with a keen interest in scientific pursuits.
Her MGM films include Lady of the Tropics (1939), Boom Town (1940), H.M. Pulham, Esq. (1941), and White Cargo (1942). Her greatest success was as Delilah in Cecil B. DeMille's Samson and Delilah (1949). She also acted on television before the release of her final film, The Female Animal (1958). She was honored with a star on the Hollywood Walk of Fame in 1960.
Along with the composer George Antheil, Lamarr co-invented the technology for spread spectrum and frequency hopping communications but did not receive immediate recognition for this invention. The significance of the invention was realized decades later and she was inducted into the National Inventors Hall of Fame in 2014.
Childhood, Family and Educational Life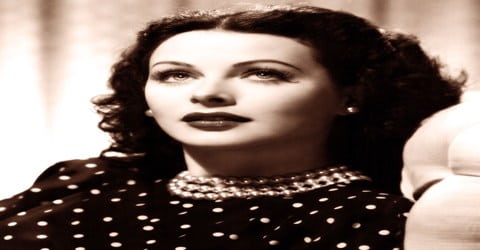 Hedy Lamarr, original name Hedwig Eva Maria Kiesler, was born on 9th November 1914, in Vienna, Austria-Hungary. She was the only child of Emil Kiesler, a successful bank director, and Gertrud "Trude" Kiesler, a pianist. Her birth name was Hedwig Eva Maria Kiesler. She was of Jewish descent, her mother being a Budapest native who originally came from the "Jewish haute bourgeoisie." Her father, who was born in Lemberg, was a secular Jew.
Lamarr attended schools in Vienna and was sent to a finishing school in Switzerland as a teenager. By that time she was already unusually beautiful, attracting the attention of both prospective lovers and film producers. After an unsuccessful audition with the famed stage director, Max Reinhardt, from whom she had taken acting lessons, Lamarr moved into films.
As a child, Lamarr showed an interest in acting and was fascinated by theatre and film. At the age of 12, she won a beauty contest in Vienna.
Personal Life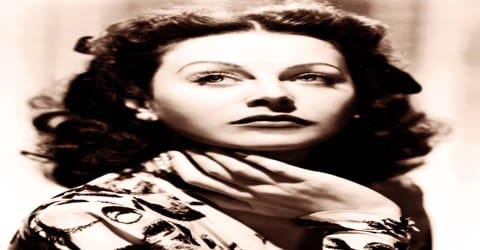 In 1933, Hedy Lamarr married Friedrich Mandl, a wealthy merchant, while she was still a teenager. Her husband was too controlling and thus she ended this marriage in 1937. In her autobiography Ecstasy and Me, she described Mandl as an extremely controlling husband who strongly objected to her simulated orgasm scene in Ecstasy and prevented her from pursuing her acting career. She claimed she was kept a virtual prisoner in their castle home, Castle Schwarzenau in the remote Waldviertel near the Czech border.
Lamarr was briefly married to screenwriter and producer, Gene Markey, from 1939 to 1941. She adopted a son during this marriage. Her third marriage to actor John Loder, in 1943, produced two biological children. This marriage too ended in divorce in 1947. Lamarr writes about her marriage:
I knew very soon that I could never be an actress while I was his wife. … He was the absolute monarch in his marriage. … I was like a doll. I was like a thing; some object of art which had to be guarded and imprisoned having no mind, no life of its own.
Hedy Lamarr married three more times but none of these marriages too lasted for long. Her last three husbands were Ernest "Ted" Stauffer (married 1951-1952), W. Howard Lee (married 1953-1960), and Lewis J. Boies (married 1963-1965).
Lamarr became estranged from her adopted son, James Lamarr Loder when he was 12 years old. Their relationship ended abruptly, and he moved in with another family. They did not speak again for almost 50 years. Lamarr left James Loder out of her will, and he sued for control of the US$3.3 million estates left by Lamarr in 2000. He eventually settled for US$50,000.
Career and Works
In 1930, Hedy Lamarr made her motion picture debut in Geld auf der Strasse (1930; Money on the Street). She achieved both stardom and notoriety in the Czech film Extase (1932; Ecstasy), in which she briefly but tastefully appeared in the nude. Her burgeoning career was halted by her 1933 marriage to Austrian munitions manufacturer Fritz Mandl, who not only prohibited her from the further stage and screen appearances but also tried unsuccessfully to destroy all existing prints of Extase.
An often-repeated story holds that Mandl tried to buy and destroy every outstanding copy of Extase, but this is thought to be legend rather than fact. Whether out of revulsion toward her husband's politics or from sheer restlessness, Lamarr packed a single suitcase with jewelry, drugged her maid, and fled to Paris and then London in 1937. There she met MGM head Louis B. Mayer who offered her a movie contract in Hollywood. She adopted the screen name 'Hedy Lamarr' at his suggestion. That September she sailed for New York.
In 1937, Lamarr went to Hollywood, where she appeared in her first English-language film, the classic romantic drama Algiers (1938). The movie became a sensation as the American audiences were captivated by Lamarr's stunning beauty and striking onscreen persona. She became one of the most successful actresses in Hollywood over the next few years and appeared alongside several of the leading men of that era. She acted in 18 films during the 1940s which include 'Boom Town' (1940) with Clark Gable and Spencer Tracy, 'Tortilla Flat' (1942), co-starring Tracy, and 'Samson and Delilah' (1949), opposite Victor Mature. She was reunited with Powell in a comedy The Heavenly Body (1944), then was borrowed by Warner Bros for The Conspirators (1944). This was an attempt to repeat the success of Casablanca (1943), and RKO borrowed her for a melodrama Experiment Perilous (1944).
Hedy Lamarr wanted to join the National Inventors Council but was reportedly told by NIC member Charles F. Kettering and others that she could better help the war effort by using her celebrity status to sell war bonds. She participated in a war bond-selling campaign with a sailor named Eddie Rhodes. Rhodes was in the crowd at each Lamarr appearance, and she would call him up on stage. She would briefly flirt with him before asking the audience if she should give him a kiss. The crowd would say yes, to which Hedy Lamarr would reply that she would if enough people bought war bonds. After enough bonds were purchased, she would kiss Rhodes and he would head back into the audience. Then they would head off to the next war bond rally.
Lamarr had plenty of space in celebrity gossip columns to go with her screen stardom. She dated silent comedian Charlie Chaplin in 1941 and had flings with Burgess Meredith and several other actors. Lamarr married producer Gene Markey in 1939, divorcing him the following year. For four years she was married to English actor John Loder and had two children by him. Later in life, Lamarr was married three more times, to bandleader Teddy Stauffer, Texas oil magnate Howard Lee, and lawyer Lewis Boles. All her marriages ended in divorce. Another man with whom Lamarr may have been romantically involved was composer George Antheil.
During the World War II, Hedy Lamarr and Antheil discussed how radio-controlled torpedoes that were being used by the navy could be disrupted by broadcasting a particular interference at the signal's frequency control, which would ultimately lead the torpedo off target. Together with Anthiel, Lamarr developed the "Secret Communications System", a patented device which manipulated the radio frequencies at irregular intervals during reception or transmission. Their invention formed a kind of unbreakable code which prevented classified information and message transmissions from being intercepted by the enemy.
On 11th August 1942, their invention was granted a patent under US Patent 2,292,387 (filed using her married name Hedy Kiesler Markey). However, it was technologically difficult to implement, and at that time the U.S. Navy was not receptive to considering inventions coming from outside the military. At the time of the Cuban missile crisis, an updated version of their design, at last, appeared on Navy ships, in 1962.
The invention was honored by the Electronic Frontier Foundation which gave Lamarr credit, although belatedly, for her contribution to this technology, in 1997. Today, the work done by Lamarr and Anthiel is the basis for modern spread-spectrum communication technology. It is the idea behind Bluetooth, Wi-Fi connections, and GPS.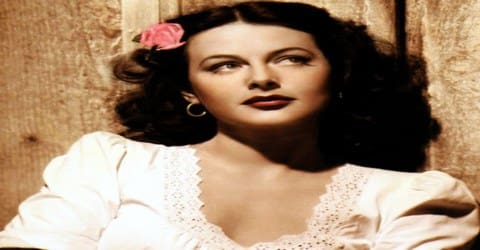 In 1958, Retiring from movies (except for a cameo appearance in Instant Karma, 1990), Lamarr subsequently resurfaced in 1966 and 1991 when she was arrested on, and later cleared of, shoplifting charges; when she sued the collaborators on her 1966 autobiography Ecstasy and Me for misrepresentation; and when she took director Mel Brooks to court for including a character named Hedley Lamarr in his western spoof Blazing Saddles (1974).
Throughout her acting career, more emphasis had been laid on her glamorous looks rather than on her talent, and Lamarr had been typecast as a sexy seductress. As she began to age and her beauty started waning, her film career started declining. In spite of being one of the most successful leading ladies in the 1940s, she could not find much success in the 1950s. She acted in only a few films and made one of her last appearances in 'The Story of Mankind' (1957).
Hedy Lamarr lived mostly in isolation in a small house in Orlando in the last years of her life, reportedly staying out of the spotlight partly because of unsuccessful plastic surgery. She antagonized the organizers of a film festival with unreasonable demands for a makeup retinue. However, she had a cameo role in the satire Instant Karma, and she lived long enough to see a modest renewal of interest in the sexually independent persona she had often projected on film, in 1990. The story of her radio transmission invention also became widely publicized in the 1990s, and she received an Electronic Frontier Foundation Pioneer Award in 1997, although she never received any monetary award for her ingenuity.
Awards and Honor
Hedy Lamarr has a star on the Hollywood Walk of Fame at 6247 Hollywood Blvd in recognition of her contribution to the motion picture industry.
British moviegoers voted Hedy Lamarr the year's 10th best actress, for her performance in Samson and Delilah in 1951.
Lamarr along with George Antheil, was honored with awards from the Electronic Frontier Foundation in the 1990s in recognition of their contribution to technology.
In 1997, Lamarr and George Antheil were jointly honored with the Electronic Frontier Foundation's Pioneer Award and Lamarr also was the first woman to receive the Invention Convention's BULBIE Gnass Spirit of Achievement Award, known as the "Oscars of inventing"
Hedy Lamarr and Antheil were inducted into the Inventor's Hall of Fame in 2014.
Death and Legacy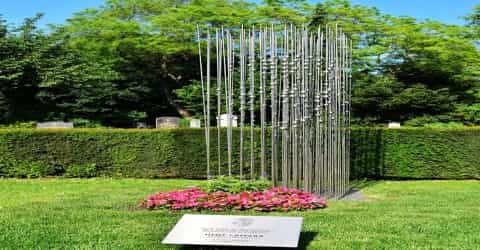 On 19th January 2000, Hedy Lamarr died in Casselberry, Florida, of heart disease, aged 85. Her son Anthony Loder spread her ashes in Austria's Vienna Woods in accordance with her last wishes. Lamarr was given an honorary grave in Vienna's Central Cemetery in 2014.
As an actress, Hedy Lamarr's most memorable role was in the movie 'White Cargo' (1942), which was based on a Broadway hit play by Leon Gordon. The film, in which she plays a beautiful seductress, was one of her biggest commercial hits. Hedy Lamarr in collaboration with George Anthiel co-created a frequency-hopping system to help combat the Nazis in World War II. The duo's invention, though not much recognized during their lifetimes, served as a basis for modern spread-spectrum communication technology, such as Bluetooth, COFDM, and CDMA.
Because of her contributions especially to the world of entertainment, she was given a star on the Hollywood Walk of Fame.
Information Source: