Biography of John Lennon
John Lennon – English singer, songwriter, and peace activist.
Name: John Winston Ono Lennon
Date of Birth: 9 October 1940
Place of Birth: Liverpool, England
Date of Death: 8 December 1980 (aged 40)
Place of Death: New York City, US
Cause of death: Murder by shooting
Father: Alfred Lennon
Mother: Julia Stanley
Spouse: Cynthia Powell (m. 1962; div. 1968); Yoko Ono (m. 1969; his death 1980)
Children: Julian, Sean
Early Life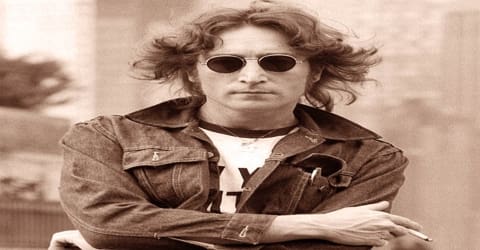 John Lennon, one of the founding members of the rock band, The Beatles, was a legendary musician and songwriter. He was born on October 9, 1940, in Liverpool, England, during a German air raid in World War II. To become a famous musician was a dream Lennon held close to his heart from his childhood which was marred by domestic instabilities. His parents broke up when he was very young and he lost his mother as a teenager. The painful experiences of his early life made their way into his poignant and evocative lyrics which have entertained generations of music lovers.
In 1957, he formed his first band, the Quarrymen, which evolved into the Beatles in 1960. Lennon began to record as a solo artist before the band's break-up in April 1970; two of those songs were "Give Peace a Chance" and "Instant Karma!" Lennon subsequently produced albums that included John Lennon/Plastic Ono Band and Imagine, and songs such as "Working Class Hero", "Imagine" and "Happy Xmas (War Is Over)". After he married Yoko Ono in 1969, he added "Ono" as one of his middle names. Lennon disengaged himself from the music business in 1975 to raise his infant son Sean but re-emerged with Ono in 1980 with the album Double Fantasy. He was shot and killed in the archway of his Manhattan apartment building three weeks after the album was released.
At age 21 he married the supportive, traditional Cynthia Powell, whom he divorced in 1968. At age 28 he married the independent, unconventional Yoko Ono. And much earlier, at age 16, he founded a skiffle band that evolved into the Beatles, the most important musical group of the second half of the 20th century.
Hailing from Liverpool, England, he went on to achieve great fame and success not just in his native country, but throughout the world. The Beatles, which also had Paul McCartney, George Harrison and Ringo Starr in its line-up, became the greatest and most influential band of the rock era, and also the most commercially successful one.
Lennon revealed a rebellious nature and acerbic wit in his music, writing, drawings, on film and in interviews. Controversial through his political and peace activism, he moved from London to Manhattan in 1971, where his criticism of the Vietnam War resulted in a lengthy attempt by the Nixon administration to deport him. Some of his songs were adopted as anthems by the anti-war movement and the larger counterculture.
In 1987, he was posthumously inducted into the Songwriters Hall of Fame. Lennon was twice posthumously inducted into the Rock and Roll Hall of Fame: first in 1988 as a member of the Beatles and again in 1994 as a solo artist.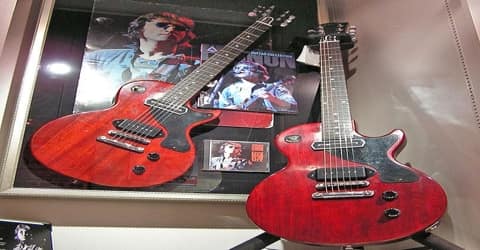 He is best remembered as the co-founder of the phenomenally successful rock band, The Beatles, which is the best-selling band in history, with estimated sales of over 600 million records worldwide. The band has been awarded six Diamond albums, as well as 24 Multi-Platinum albums, 39 Platinum albums and 45 Gold albums in the United States.
Childhood, Family and Educational Life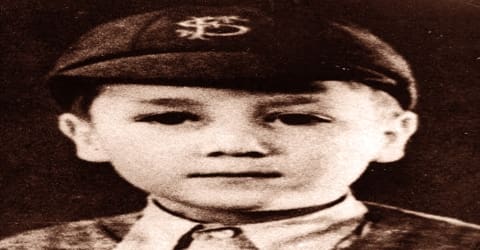 John Lennon, in full John Winston Ono Lennon, was born on October 9, 1940, Liverpool, England to Julia (née Stanley) (1914–1958) and Alfred Lennon (1912–1976). Alfred was a merchant seaman of Irish descent who was away at the time of his son's birth. His parents named him John Winston Lennon after his paternal grandfather, John "Jack" Lennon, and Prime Minister Winston Churchill. His father was often away from home but sent regular pay cheques to 9 Newcastle Road, Liverpool, where Lennon lived with his mother; the cheques stopped when he went absent without leave in February 1944.
When he was four years old, Lennon's parents separated and he ended up living with his Aunt Mimi. Lennon's father was a merchant seaman. He was not present at his son's birth and did not see a lot of his son when he was young.
Lennon's mother, Julia, remarried but visited him and Mimi regularly. She taught Lennon how to play the banjo and the piano and purchased his first guitar. Lennon was devastated when Julia was fatally struck by a car driven by an off-duty police officer in July 1958. Her death was one of the most traumatic events in his life.
Lennon went to the Dovedale Primary School after which he attended Quarry Bank High School from 1952 to 1957. He was deeply inspired by Elvis Presley and formed a band called the Quarry Men when he was 16. He met Paul McCartney at a church fete in 1957 and asked him to join the group. He was a troublemaker at school and failed all his GCE O-level examinations. He was accepted into the Liverpool College of Art with great difficulty and soon gained a reputation for disrupting classes and for being undisciplined. He failed his exam and was thrown out of the college.
As a child, Lennon was a prankster and he enjoyed getting into trouble. As a boy and young adult, he enjoyed drawing grotesque figures and cripples. Lennon's schoolmaster thought that he could go to an art school for college since he did not get good grades in school but had artistic talent.
Personal Life
At age 21 Lennon married Cynthia Powell, a fellow student at the Liverpool College of Art, in 1962. The couple had a son soon after. However, problems crept into the marriage within a few years and they divorced in 1968.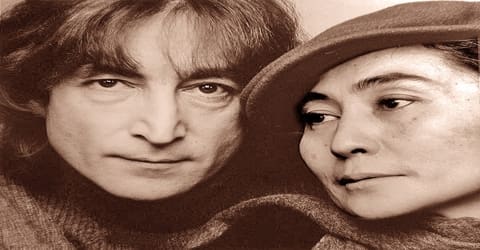 (John Lennon and Yoko Ono)
At age 28 he married Yoko Ono, a multimedia artist, singer, and peace activist in 1969. The couple had one son. Yoko played a very influential role in shaping his career after the breaking up of the Beatles.
Career and Works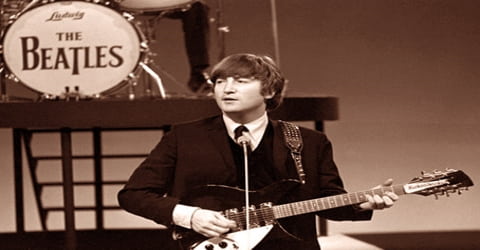 Elvis Presley's explosion onto the rock music scene inspired a 16-year-old Lennon to create the skiffle band called the Quarry Men, named after his school. Lennon met Paul McCartney at a church fete on July 6, 1957. He soon invited McCartney to join the group, and the two eventually formed one of the most successful songwriting partnerships in musical history. By the summer of 1957, the Quarrymen played a "spirited set of songs" made up of half skiffle and half rock and roll.
(Lennon (right) performing with bandmates Paul McCartney and George Harrison in 1964)
Lennon along with McCartney recruited other aspiring musicians like George Harrison, Stuart Sutcliffe, and Paul Best to join their band which became known as 'The Beatles' in 1960. A couple of years later Best was replaced by drummer Ringo Starr. During the early 1960s the Beatles became very popular in Britain with hits like 'Please Please Me', 'She Loves You' and 'I Want To Hold Your Hand.' The band became enormously popular, achieving even more popularity than artists like Tommy Roe, Chris Montez, and Roy Orbison. This frenzy was given the name "Beatlemania", and the four young men became superstars.
The first recording they made was Buddy Holly's "That'll Be the Day" in 1958. In fact, it was Holly's group, the Crickets, that inspired the band to change its name. Lennon would later joke that he had a vision when he was 12 years old a man appeared on a flaming pie and said unto them, "From this day on, you are Beatles with an 'A.'"
The Beatles were essentially a joint venture between practical pop adept Paul McCartney and alienated rock-and-roll rebel Lennon, but, as a disruptive cultural force, they always bore Lennon's stamp. Musically, just two of countless examples are the forthright candor his vocal added to Smokey Robinson's vulnerable "You've Really Got a Hold on Me" in 1964 and the "I used to be cruel to my woman" bridge he added to McCartney's positive-thinking "Getting Better" in 1967. Culturally too, Lennon assumed the role of the candid provocateur. All four Beatles were witty, all four irreverent. But only Lennon would have observed "We're more popular than Jesus now" or boiled the story of youth culture down to "America had teenagers and everywhere else just had people."
The Lennon–McCartney songwriting partnership yielded eight of its fourteen tracks. With a few exceptions, one being the album title itself, Lennon had yet to bring his love of wordplay to bear on his song lyrics, saying: "We were just writing songs… pop songs with no more thought of them than that to create a sound. And the words were almost irrelevant". In a 1987 interview, McCartney said that the other Beatles idolized John: "He was like our own little Elvis… We all looked up to John. He was older and he was very much the leader; he was the quickest wit and the smartest."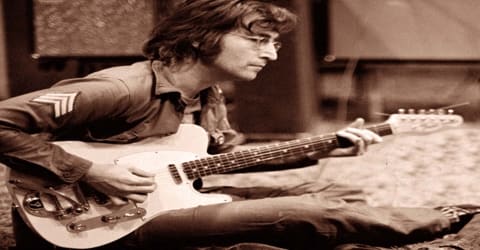 Lennon's genius encompassed writing and the visual arts, the only field in which he received formal training. His natural gifts in both were considerable, but in the end, he proved a minor humorist and a casual if indelible cartoonist. In music, he had a less inborn facility, though his paternal grandfather worked for years as a blackface minstrel. But music was where he put his substance. Lennon was one of the great rock rhythm guitarists, his signature a nervous rest-one-two-and-rest that complicated his foursquare attack, and his strong, nasal singing overshadowed McCartney's more physically capable rocking and crooning. Declarative where the rockabilly singers he admired were frantic, almost a blues shouter in spirit if not in timbre, Lennon often undercut the masculinity of this approach with a canny, playful high voice deployed to humorous and even campy effect.
The Beatles achieved mainstream success in the UK early in 1963. Lennon was on tour when his first son, Julian, was born in April. During their Royal Variety Show performance, which was attended by the Queen Mother and other British royalty, Lennon poked fun at the audience: "For our next song, I'd like to ask for your help. For the people in the cheaper seats, clap your hands  … and the rest of you, if you'll just rattle your jewelry." After a year of Beatlemania in the UK, the group's historic February 1964 US debut appearance on The Ed Sullivan Show marked their breakthrough to international stardom. A two-year period of constant touring, filmmaking and songwriting followed, during which Lennon wrote two books, In His Own Write and A Spaniard in the Works. The Beatles received recognition from the British Establishment when they were appointed Members of the Order of the British Empire (MBE) in the 1965 Queen's Birthday Honours.
After having tasted success as musicians, the Beatles decided to try their hand at acting and starred in the 1964 film, 'A Hard Day's Night' which became both a commercial and critical success. Over the next few years, the Beatles enjoyed great success and gained much in fame and popularity. However, the unexpected death of their manager, Brian Epstein, in 1967 triggered a series of events that ultimately led to the Beatles' disbanding.
In August 1965, the foursome performed to 55,600 fans at New York's Shea Stadium, setting a new record for the largest concert audience in musical history. When the Beatles returned to England, they recorded the breakthrough album Rubber Soul (1965), noted for extending beyond the love songs and pop formulas for which the band was previously well-known.
The magic of Beatlemania had begun to lose its appeal by 1966. The band members' lives were put in danger when they were accused of snubbing the presidential family in the Philippines. Then, Lennon's remark that the band was "more popular than Jesus now" incited denunciations and Beatles record bonfires in the U.S. Bible belt. The Beatles gave up touring after an August 29, 1966, concert at San Francisco's Candlestick Park.
Much of the music Lennon recorded after 1968 from "Yer Blues" and "I'm So Tired" on The Beatles (1968) through the solo debut Plastic Ono Band (1970) through his half of Double Fantasy (1980) reflects Ono's belief in the art without artifice. Whether or not they actually eschewed artifice, that was one impression they strove to create.
After the Beatles were introduced to the Maharishi Mahesh Yogi, the group attended an August weekend of personal instruction at his Transcendental Meditation seminar in Bangor, Wales. During the seminar, they were informed of Epstein's death. "I knew we were in trouble then", Lennon said later. "I didn't have any misconceptions about our ability to do anything other than play music, and I was scared". Led primarily by Harrison and Lennon's interest in Eastern religion, the Beatles later traveled to Maharishi's ashram in India for further guidance. While there, they composed most of the songs for The Beatles and Abbey Road.
Magical Mystery Tour failed to achieve much commercial success, and the Beatles retreated into Transcendental Meditation and the Maharishi Mahesh Yogi, which took them to India for two months in early 1968. Their next effort, Apple Corps Ltd., was plagued by mismanagement. That July, the group faced its last notably hysterical crowd at the premiere of their film Yellow Submarine. In November 1968, the Beatles' double-album The Beatles (also known as The White Album) displayed their divergent directions.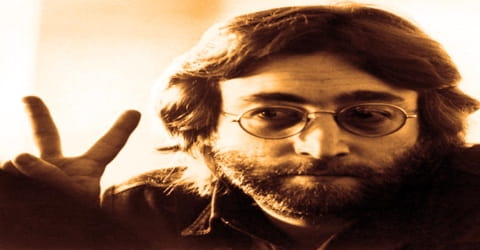 Lennon left the band in 1969 and soon launched his solo career. His debut solo album 'John Lennon/Plastic Ono Band' was released in 1970 and received much critical acclaim and commercial success.
Lennon's reaction was, "Jesus Christ! He gets all the credit for it!" He later wrote, "I started the band. I disbanded it. It's as simple as that." In later interviews with Rolling Stone magazine, he revealed his bitterness towards McCartney, saying, "I was a fool not to do what Paul did, which was use it to sell a record." Lennon also spoke of the hostility he perceived the other members had towards Ono, and of how he, Harrison, and Starr "got fed up with being sidemen for Paul … After Brian Epstein died we collapsed. Paul took over and supposedly led us. But what is leading us when we went round in circles?"
Lennon and Ono used their honeymoon as a Bed-In for Peace at the Amsterdam Hilton Hotel; the March 1969 event attracted worldwide media ridicule. During a second Bed-In three months later at the Queen Elizabeth Hotel in Montreal, Lennon wrote and recorded "Give Peace a Chance". Released as a single, the song was quickly interpreted as an anti-war anthem and sung by a quarter of a million demonstrators against the Vietnam War in Washington, DC, on 15 November, the second Vietnam Moratorium Day. In December, they paid for billboards in 10 cities around the world which declared, in the national language, "War Is Over! If You Want It".
Not long after the Beatles broke up, in 1970, Lennon released his debut solo album, John Lennon/Plastic Ono Band, featuring a raw, minimalist sound that followed "primal-scream" therapy. He followed that project with 1971's Imagine, the most commercially successful and critically acclaimed of all Lennon's post-Beatles efforts. The title track was later named No. 3 on Rolling Stone magazine's "All-Time Best Songs" list.
Peace and love, however, was not always on Lennon's agenda. Imagine also included the track "How Do You Sleep?," a vehement response to veiled messages at Lennon in some of McCartney's solo recordings. The friends and former songwriting duo later buried the hatchet, but never formally worked together again.
Lennon and Ono moved to New York in August 1971 and released "Happy Xmas (War Is Over)" in December. During the new year, the Nixon administration took what it called a "strategic counter-measure" against Lennon's anti-war and anti-Nixon propaganda. The administration embarked on what would be a four-year attempt to deport him. After George McGovern lost the presidential election to Richard Nixon in 1972, Lennon and Ono attended a post-election wake held in the New York home of activist Jerry Rubin. Lennon was embroiled in a continuing legal battle with the immigration authorities, and he was denied permanent residency in the US; the issue would not be resolved until 1976. Lennon was depressed and got intoxicated; he left Ono embarrassed after he had sex with a female guest. Her song "Death of Samantha" was inspired by the incident.
Lennon's most enduring political commitment was to feminism. When he and Ono separated in the fall of 1973, he spent a "lost weekend" of more than a year drinking and making highly uneven music in Los Angeles. When the couple reunited, they soon conceived a son, Sean, born on Lennon's birthday in 1975. Lennon retreated from music and became a reclusive househusband, leaving his business affairs to Ono. The details of this very private period are unclear, although it is unlikely that the couple's domestic arrangements were as idyllic as they pretended. Nevertheless, as a piece of art, their marriage projected as powerful an image as their activism had.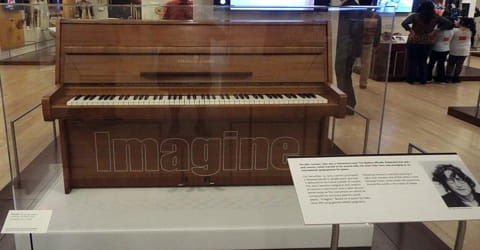 (The Steinway piano that Lennon used to compose the song "Imagine" on exhibit in the Artist Gallery of the Musical Instrument Museum in Phoenix)
Lennon co-wrote "Fame", David Bowie's first US number one, and provided guitar and backing vocals for the January 1975 recording. In the same month, Elton John topped the charts with his cover of "Lucy in the Sky with Diamonds", featuring Lennon on guitar and backup vocals; Lennon is credited on the single under the moniker of "Dr. Winston O'Boogie". He and Ono have reunited shortly afterward. Lennon released Rock 'n' Roll (1975), an album of cover songs, in February. "Stand by Me", taken from the album and a US and UK hit, became his last single for five years. He made what would be his final stage appearance in the ATV special A Salute to Lew Grade, recorded on 18 April and televised in June. Playing acoustic guitar and backed by an eight-piece band, Lennon performed two songs from Rock 'n' Roll ("Stand by Me", which was not broadcast, and "Slippin' and Slidin'") followed by "Imagine". The band, known as Etc., wore masks behind their heads, a dig by Lennon, who thought Grade was two-faced.
Lennon was also making the headlines during this period for his alcoholism and related problems. He came out of his retirement with the album 'Double Fantasy' in October 1980.
Lennon emerged from his five-year interruption in music recording in October 1980, when he released the single "(Just Like) Starting Over". The following month saw the release of Double Fantasy, which contained songs written during a June 1980 journey to Bermuda on a 43-foot sailing boat. The music reflected Lennon's fulfillment in his new-found stable family life. Sufficient additional material was recorded for a planned follow-up album Milk and Honey, which was released posthumously, in 1984. Double Fantasy was jointly released by Lennon and Ono very shortly before his death; the album was not well received and drew comments such as Melody Maker's "indulgent sterility… a godawful yawn".
Lennon and Ono showed their solidarity with the Clydeside UCS workers' work-in of 1971 by sending a bouquet of red roses and a cheque for £5,000. On moving to New York City in August that year, they befriended two of the Chicago Seven, Yippie peace activists Jerry Rubin and Abbie Hoffman. Another political activist, John Sinclair, poet and co-founder of the White Panther Party, was serving ten years in prison for selling two joints of marijuana after previous convictions for possession of the drug. In December 1971 at Ann Arbor, Michigan, 15,000 people attended the "John Sinclair Freedom Rally", a protest and benefit concert with contributions from Lennon, Stevie Wonder, Bob Seger, Bobby Seale of the Black Panther Party, and others.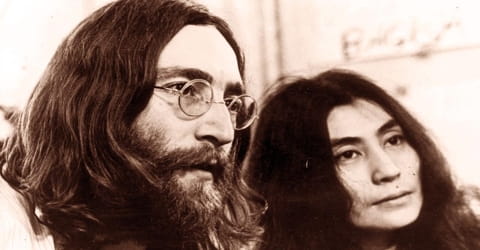 Lennon's last act of political activism was a statement in support of the striking minority sanitation workers in San Francisco on 5 December 1980. He and Ono planned to join the workers' protest on 14 December.
Awards and Honor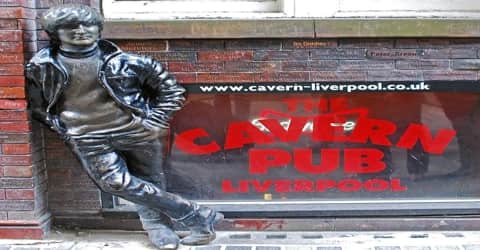 (Statue of Lennon outside The Cavern Club, Liverpool)
Lennon along with Paul McCartney was awarded the Grammy Award for Song of the Year for 'Michelle' in 1967. The Beatles also received the Grammy Lifetime Achievement award in 2014.
The Beatles won the Academy Award for Best Music (Original Song Score) for the documentary film 'Let It Be' in 1970.
In 1977 the Beatles won The Brit Award for the Best British Group.
As a performer, writer or co-writer Lennon has had 25 number one singles on the US Hot 100 chart
Lennon was posthumously inducted into the Songwriters Hall of Fame in 1987, and the Rock and Roll Hall of Fame in 1994.
Death and Legacy
In 1980, John Lennon returned to the music world with the album Double Fantasy, featuring the hit single "(Just Like) Starting Over." Tragically, just a few weeks after the album's release, Mark David Chapman, a deranged fan, shot Lennon several times in front of his apartment complex in New York City. Lennon died at New York City's Roosevelt Hospital on December 8, 1980, at the age of 40.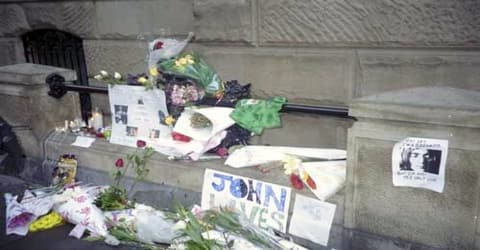 Ono issued a statement the next day, saying "There is no funeral for John", ending it with the words, "John loved and prayed for the human race. Please do the same for him." His remains were cremated at Ferncliff Cemetery in Hartsdale, New York. Ono scattered his ashes in New York's Central Park, where the Strawberry Fields memorial was later created. Chapman avoided going to trial when he ignored his attorney's advice and pleaded guilty to second-degree murder and was sentenced to 20-years-to-life.
In August 2018, he was denied parole for the 10th time.
In 1999, he named his first child Lennon Gallagher in tribute. On National Poetry Day in 1999, the BBC conducted a poll to identify the UK's favorite song lyric and announced "Imagine" as the winner.
In 1997, Yoko Ono and the BMI Foundation established an annual music competition programme for songwriters of contemporary musical genres to honor John Lennon's memory and his large creative legacy. Over $350,000 have been given through BMI Foundation's John Lennon Scholarships to talented young musicians in the United States.
Information Source: