Michael Clarke – Former Australian Cricket Player and Captain
Full name: Michael John Clarke
Date of birth: 2 April 1981 (age 35)
Place of birth: Liverpool, New South Wales, Australia
Nickname: Pup, Clarkey
Height: 178 cm (5 ft 10 in)
Batting style: Right-hand bat
Bowling style: Slow left-arm orthodox
Role: Batsman, Former Australian captain
Spouse/Partner: Kyly Boldy
Children: Kelsey Lee
Early Life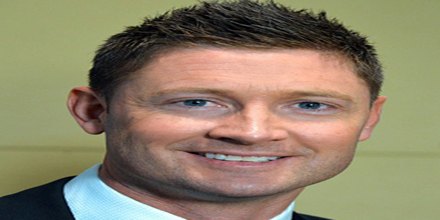 Michael John Clarke was born on 2nd April 1981, in Liverpool, New South Wales, Australia. He is a former international cricketer and captain of Australia. He led Australia to their 5th Cricket World Cup triumph, when his team defeated New Zealand in the final of the ICC Cricket World Cup 2015 at the MCG. Under his captaincy, Australia whitewashed arch-rivals England 5-0 during the 2013–14 Ashes series down-under and also gained the No. 1 Test ranking from South Africa after a long span of 4 years and 9 months (from August 2009 to April 2014), when Australia defeated South Africa 2-1 in a 3 match Test series, during Australia's tour of South Africa in 2014. His ODI shirt number of 23 was passed on to him by Shane Warne after his international retirement. Nicknamed "Pup", he is a right-handed middle-order batsman, an occasional left-arm orthodox spin bowler and also a slip catcher.
He represented New South Wales at a domestic level. In January 2011, Clarke stood down as captain of the Australian Twenty20 cricket team to concentrate on his Test and ODI performance.
After announcing he would retire from One Day cricket after the end of the 2015 Cricket World Cup, Clarke starred in the final against New Zealand top scoring with a score of 74 off 72 balls, as Australia won their fifth World Cup title. He was bowled when nine runs were required to win and received a standing ovation from the 93,013 strong MCG crowd after his dismissal.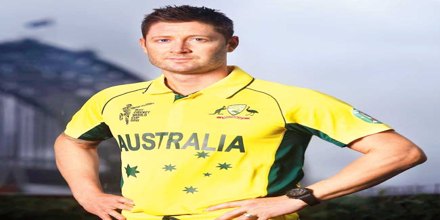 After announcing he would retire from One Day cricket after the end of the 2015 Cricket World Cup, Clarke starred in the final against New Zealand top scoring with a score of 74 off 72 balls, as Australia won their fifth World Cup title. He was bowled when nine runs were required to win and received a standing ovation from the 93,013 strong MCG crowd after his dismissal.
Childhood and Personal Life
The full name of Michael Clarke is Michael John Clarke. He was born on 2nd April in the year 1981, Liverpool, New South Wales, Australia. Michael Clarke's father used to own an indoor sports centre.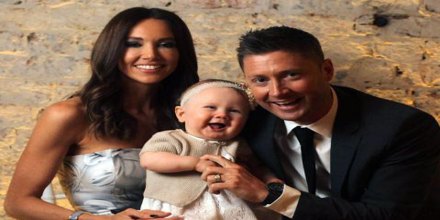 Clarke married business owner and Model Kyly Boldy on 15 May 2012. On 8 July 2015, the couple announced that they were expecting their first child. On 17 November, it was reported that Kyly had given birth to a baby girl. They named her Kelsey Lee.
In 2005-2006 Michael Clarke was diagnosed with skin cancer. He was also diagnosed with chronic back pain at the age of 17. He has successfully managed his back pain since that time. In the later part of his career he also suffered from hamstring injuries.
He was very close to former Australian test opener Phil Hughes, and was very grieved at the 25-year-old's untimely passing after being hit in the neck by a bouncer. He requested Cricket Australia to retire Hughes' jersey number, 64, which was accepted.
Playing Career
In the 1999-2000 seasons Michael Clarke made his debut in the domestic season for New South Wales. He started his international career in January 2003. The particular match in which Clarke made his debut was played against England and the location was at Adelaide. Since then, this player is quite consistent with his form. He generally opens the battings innings for the Australian batting. The player has got unique style of batting with a moderate batting average. The player judges the bowlers very. He has got very good eyesight which helps him to play all kinds of bowlers. The experts say that Michael Clarke plays the pace bowling better than the spin bowling. He was selected for the Test squad in the India- Australia tour which took place in India on October 2004. In the test match which was played against India in Bangalore, Clarke made his test match debut. There were certain controversies during the selection of this player as his batting average in the first class cricket was much below forty runs. In his debut match he scored 151 runs. Since then, he is constantly serving for the Australian cricket team.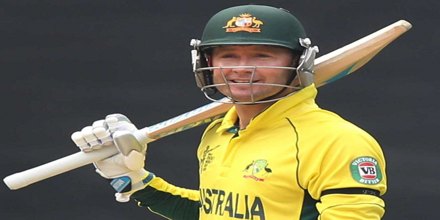 Clarke went on to play a major part leading both the batting and bowling averages for the series in Australia's 2–1 series victory, their first in India in over thirty years, contributing figures of 6 for 9 off 6.2 overs in the Fourth Test, which Australia lost. On his return to Australia he made another debut century, his first home Test in Brisbane against New Zealand, becoming one of the few Test cricketers to have achieved the feat of Test centuries on both their home and away debuts. In recognition of his performance in the 2004 calendar year, he was awarded the Allan Border Medal in 2005.
Clarke's poor form during the 2005 Ashes series and his failure to score a Test century for over a year saw him dropped from the Test team in late 2005. Clarke had previously remarked that one of his career aims was to never be dropped from the Test team. In early 2006, after making his first first-class double century and scoring heavily in ODIs, Clarke was recalled for the tour of South Africa. He was then picked over Andrew Symonds for the April 2006 Tests against Bangladesh.
Michael Clarke is also quite good in bowling the par time bowling spells. He is very good at confusing the batsman with his left term orthodox bowling style. This player is very good athletic with great fielding ability. He is a great field and is famous for taking risky catches. He can field in any place on the filed. Since childhood Clarke dream was to become a professional cricket player. He has been playing for his school and university team. After Ricky Ponting gave his captaincy, Clarke became the new captain of the Australian Cricket team.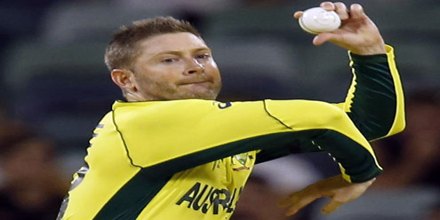 On 9 November 2007, Clarke notched up his fifth Test century against Sri Lanka in a two Test series. Clarke shared a 245 run partnership with Mike Hussey at the Gabba in Brisbane, Hussey departed on 133 but Clarke went on and had a partnership with Symonds who made 53*, the pair were unbeaten when Ricky Ponting declared the innings, Clarke top scoring with 145 not out. On 5 December 2007, Cricket Australia named Clarke as captain of Australia for their one-off Twenty20 game against New Zealand in Perth, after deciding to rest Ponting and Hayden.
After the retirement of Adam Gilchrist, in April 2008 Clarke was named vice-captain of the Australian side. Clarke missed the start of Australia's 2008 tour of the West Indies following the death of Bingle's father, meaning Hussey took over as vice-captain for the start of the tour. Soon after Clarke joined up with the squad, he scored a century in the second Test in Antigua, going on to captain the side in the final two One Day Internationals, both of which were won, in the absence through injury of Ponting.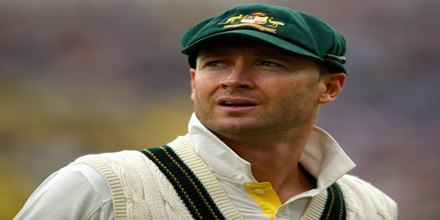 Clarke was named as captain of Australia's Twenty20 side in October 2009, taking over from Ricky Ponting, who retired from Twenty20 International cricket in order to prolong his career. In January 2011, Clarke was named as stand-in captain for the fifth Test of the 2010-11 Ashes Series at the SCG, replacing the injured Ricky Ponting. He announced his retirement from Twenty20 International cricket on 7 January 2011, to concentrate on the longer forms of the game. When Ponting stood down from the captaincy of the Australian Test and ODI sides after the 2011 World Cup, Clarke was appointed as his permanent replacement in both roles.
Clarke had been struggling with injuries in 2014, and it was evident with the loss against Zimbabwe in the triangular series, after which he returned home for treatment having aggravated his hamstring injury. Later in the year, during the first Test in Adelaide Oval on the first Test since the death of Phillip Hughes. Clarke initially retired hurt at 60 after re-injuring his back, an issue he has had since his teenage years, then returned to score 128 on the first innings, but he went off the field again after tearing his right hamstring while fielding on the fifth day. After the win, Clarke has hinted that his cricketing career may be over after he ruled himself out for the rest of the series. Steve Smith was appointed as the next captain for the remainder of the series against India.
On 24 December 2014, Clarke joined Channel Nine's commentary team for the Boxing Day Test. Clarke captained the Australian team for 2015 Cricket World Cup, where Australia co-hosts the tournament with New Zealand. Australia defeated New Zealand in the final and won the World Cup under the captaincy of Michael Clarke. This was Australia's fifth World Cup and the first team to win five World Cups.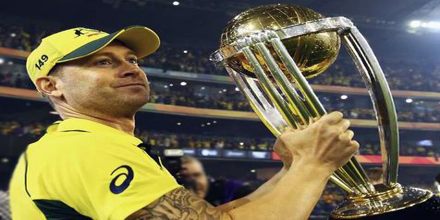 Clarke announced that he would retire from all forms of cricket at the end of 2015 Ashes series after losing the 4th match and losing all of his away Ashes series as a player and captain. In the 5th match, where Australia gained a consolation win, it marked the first and only time where Clarke had enforced the follow-on. He would, however make his grade cricket return in February, 2016.
In November 2016, he became a full-time commentator for Nine's Wide World of Sports cricket coverage. He commentates on Test Matches, ODI Matches and T20 Matches alongside fellow commentators Mark Nicholas, Mark Taylor, Ian Healy, Michael Slater and Shane Warne.
Career highlights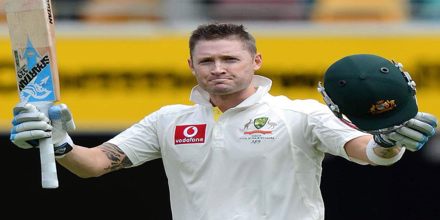 Tests
Clarke's debut Test score of 151 was made against India in Bangalore, 2004–05;
He made 141 against New Zealand in November 2004 on his debut on home-soil at the Gabba (Brisbane, Australia), making him the only Australian to score a century on both home and away debuts.
His best Test bowling figures of 6 for 9 (6.2) came against India, Mumbai, 2004–05.
His first Ashes century came in December 2006, when he hit 124 at the Adelaide Oval to help Australia to victory.
He dismissed India's last three batsman in five balls on the fifth day of the 2nd Test against India on 6 January 2008.
He won Australian Man of the Series in the 2009 Ashes Series. He was nominated by England team director Andy Flower for his "excellent batting".
He was named full-time one-day and Test captain of Australia on 29 March 2011.
Clarke's highest Test batting score of 329* was made on 5 January 2012 against India. This is the highest Test match batting score at the Sydney Cricket Ground, and the fourth best Test match batting score of all time by an Australian.
Clarke made 210 in Adelaide, thereby joining Don Bradman and Wally Hammond as the only players to have made a triple century and a double century in the same series.
Clarke's score of 259* made at the Gabba on 9 November 2012 against South Africa is the highest Test score at the ground.
Clarke is the only Test batsman to reach four double centuries in a single calendar year, with a double century (230) at the Adelaide Oval on 22 November 2012.
One-Day Internationals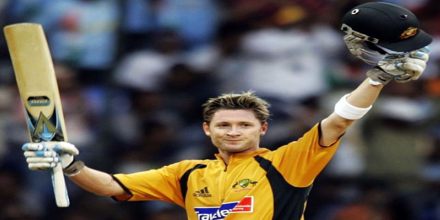 His best ODI bowling figures of 6 for 9 came against India, at Mumbai, 2004
Clarke's highest ODI batting score of 130 was made against India, at M. Chinnaswamy Stadium, Bangalore, 2007
He was the captain of Australia for the 2009 One Dayers as well as Twenty20 matches vs England
He was named full-time one-day and test captain of Australia on 29 March 2011.
Clarke is said to be a very versatile player. He can hit the ball very and capable of turning the game at any point of time. He is ideal for all types of cricket. Some players are specifically made either for test or ODI or T20s. Clarke is not included in this group as he is capable of playing of types of cricket. His hard work has made him a perfect batsman. In fact, Michael Clarke can be called a perfect all rounder, as he can both bowl and bat and also has got a very fielding ability. He always stays very cool on the field and has got a very aggressive batting style.
Awards and Honours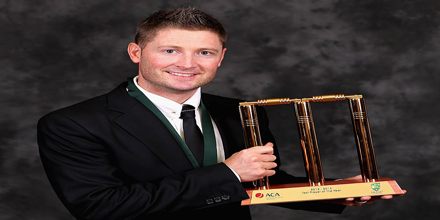 Clarke won the 2009 Allan Border Medal in a tie with Ricky Ponting both scoring 41 points, and was named Test Cricketer of the Year.
Clarke has won the Allan Border Medal, considered to be the most prestigious individual prize in Australian cricket, four times, in 2005, 2009 (jointly with Ricky Ponting), 2012 and 2013.
He was named as a Wisden Cricketer of the Year in 2010 Wisden Cricketers' Almanack.
He was named Wisden Leading Cricketer in the World for the year 2012 in 2013 Wisden Cricketers' Almanack.