Walter Payton – Athlete, Football Player (1954–1999)
Full Name: Walter Jerry Payton
Date of birth: July 25, 1954
Place of birth: Columbia, Mississippi
Date of death: November 1, 1999 (aged 45)
Place of death: South Barrington, Illinois
Height: 5 ft 10 in (1.78 m)
Weight: 200 lb (91 kg)
Position: Running back
Early Life
Walter Payton, in full Walter Jerry Payton, byname Sweetness was born on July 25, 1954, in Columbia, Mississippi, U.S. He was an American professional gridiron football player whose productivity and durability made him one of the game's greatest running backs. He retired in 1987 as the leading rusher in the history of the National Football League (NFL), a title he held until 2002, when he was surpassed by Emmitt Smith.
He is remembered as one of the most prolific running backs in the history of the NFL. Payton, a nine-time Pro Bowl selectee, once held the league's record for most career rushing yards, touchdowns, carries, yards from scrimmage, all-purpose yards, and many other categories. His eight career touchdown passes are just second to Frank Gifford an NFL record for non-quarterbacks. He was elected into the Pro Football Hall of Fame in 1993. Hall of Fame NFL player and coach Mike Ditka described Payton as the greatest football player he had ever seen—but even greater as a human being.
Payton began his football career in Mississippi, and went on to have an outstanding collegiate football career at Jackson State University where he was an All-American. He started his professional career with the Chicago Bears in 1975, who selected him as the 1975 Draft's fourth overall pick. Payton proceeded to win two NFL Most Valuable Player Awards and won Super Bowl XX with the 1985 Chicago Bears. After struggling with the rare liver disease primary sclerosing cholangitis for several months, Payton died on November 1, 1999, aged 45, from cholangiocarcinoma. His legacy includes the Walter Payton Award, the Walter Payton Man of the Year Award, and a heightened awareness of the need for organ donations.
Payton was an active member of the Boy Scouts, Little League, and his local church. At John J. Jefferson High School, Payton played drums in the marching band, participated in the track team and sang in the school choir. Outside of school, he played drums in jazz-rock groups.
He acquired the nickname "Sweetness" in college. The nickname's origin is ambiguous: it is variously said to have stemmed from his personality, from his athletic grace, or as a sarcastic description of his aggressive playing style. In 1996, Payton was inducted into the College Football Hall of Fame. On January 18, 2010, it was announced that Payton would be one of eleven members of the inaugural class inducted into the Black College Football Hall of Fame on February 20, 2010.
Throughout his life Walter Payton had claimed his date of birth as July 25, 1954, a date which is cited in many of his early biographies. However, while researching his biography of Payton, Sports Illustrated's Jeff Pearlman discovered his actual date of birth to be July 25, 1953. Pearlman found Payton's earliest use of the later date during his pursuit of the Heisman Trophy at Jackson State.
Personal Life
Walter Payton, in full Walter Jerry Payton, byname Sweetness was born on July 25, 1954, in Columbia, Mississippi, U.S. Payton was one of three children born to Peter and Alyne Payton in West Point, Mississippi. His father was a factory worker who had played semi-professional baseball.
His brother Eddie was on the football team, and Payton did not play partly to avoid competing with him. After Eddie graduated, the football coach asked Payton to try out for the team, and he agreed on condition that he be allowed to continue playing in the band.
Payton married Connie Norwood in 1976. During his rookie year he resided in a home on the north side of Arlington Heights, Illinois. The couple had two children, Jarrett Payton (born 1980) and Brittney (born December 26, 1985) and resided in South Barrington, Illinois.
A 2011 biography by Jeff Pearlman describes a tumultuous personal life very different from his positive public image. According to Pearlman's biography, Payton was a consistent adulterer, and a multiple drug user. His drug use began with painkillers provided to him by the Chicago Bears to cope with the punishment he absorbed during games, and continued after his football career ended. Payton did not cope well with life after his career, especially with issues of boredom and loneliness. His wife and family contend that the book is filled with factual misstatements, and paints too bleak a picture of his life. However, many reviewers of Pearlman's work have found it to have been "exhaustively" researched and documented by hundreds of interviews. The ghostwriter for Payton's autobiography called the book "an incredible, thoughtful, deep and profound read. It's exceptional work."
Payton's legacy continues through the charitable Walter and Connie Payton Foundation. His own appeals—and after his death, his foundation's—for greater awareness of the need for organ donations are widely credited with bringing national attention to the problem. After his appeals, donations in Illinois skyrocketed, and the regional organ bank of Illinois was overwhelmed with calls. In response, the City of Chicago inserted organ donation requests into city-vehicle-registration mailings in early 2000, and by August 2000, 13,000 people had signed on to the program. The foundation continues to run a program that Payton organized to donate toys to underprivileged children across the Chicago area each Christmas. The family established the Walter Payton Cancer Fund in 2002.
Playing Career
Payton first began to attract national attention as a halfback at Jackson State University, making the starting lineup in 1971 — his freshman year. He was selected for the All-American team and was named the Black College Player of the Year in 1973 and 1974. In his four years at Jackson State, Payton rushed for more than 3,500 yards and scored more than 450 points, showing fans and opponents alike just what a versatile and talented player he was. Off the field, he showed his interest in helping others, studying education with an emphasis on working with the deaf.
Once he began to play football, as a junior, he achieved instant success as a running back, running 65 yards for a touchdown on his first high school carry. At 5 ft 10 in (1.78 m), he was not especially large, but his speed and strength made him one of the team's featured players. Jefferson High School was integrated with neighboring Columbia High School that year; Payton and his teammates were upset that their head coach, Charles L. Boston, had become an assistant and Payton boycotted some of the spring practices in protest, but returned during the fall season. He then earned statewide honors as a member of Mississippi's all-state team, leading Columbia to an unexpected 8-2 season.
Though Payton had established himself as one of Mississippi's best running back prospects, he received no invitations from Southeastern Conference colleges or universities, which were accepting only a few black players at the time. After originally committing to Kansas State University, he decided to pursue his collegiate career at the historically black, Jackson State University, Jackson, Mississippi, where his older brother Eddie played football contrary to popular belief, he was never recruited by the University of Kansas, according to then coach Don Fambrough as Payton claimed in his autobiography.
As a member of the Jackson State Tigers, Payton rushed for more than 3,500 yards, averaging 6.1 yards per carry. Also, he broke the scoring record by rushing for 65 touchdowns during his college career, although this is not an official NCAA record, as they do not recognize individual scoring records. In 1973, Payton was selected for the All-American Team. The following year he was named Black College Player of the Year. Payton graduated in 1975 with a Bachelor's degree in Communications.
On October 1, 1972 during Walter Payton's sophomore year, he set a then-best SWAC scoring record by scoring 7 touchdowns and running two points after for 46 points as Jackson State crushed Lane College, 72−0. Payton scored on TD runs of 6, 8, 2, 3, 1, 2, and 31 yards in the blowout win.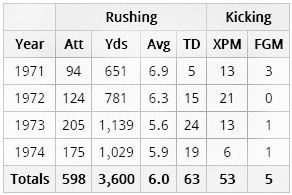 Payton's first game was not particularly successful; he was held to zero net rushing yards on eight attempts. His best performance of the season was the final game against the New Orleans Saints, where he rushed for 134 yards on 20 carries. Payton finished the season with only 679 yards and seven touchdowns. However, Payton led the league in yards per kickoff returns.
Payton was eager to improve his performance. During the 1976 NFL season, Payton rushed for 1,390 yards and scored 13 touchdowns. After the season, he was selected to play in the 1977 Pro Bowl, where he was declared the Pro Bowl MVP. The next year, he rushed for 1,852 yards and scored 16 touchdowns, becoming the league's leading scorer for the season.
His longest run was for 58 yards, and he caught one pass for 6 yards. His record stood for 23 years until Corey Dillon of the Cincinnati Bengals ran for 278 yards on October 22, 2000—a record that has since been broken by Jamal Lewis (295 yards) on September 14, 2003, and Adrian Peterson (296 yards) on November 4, 2007. By the end of the decade, Payton had received additional accolades for his exploits as a blocker, receiver, emergency punter, and quarterback.
He led the Bears to an 8–8 finish in 1983 and to a 10–6 finish in 1984. Payton continued his success by rushing for more than 1,400 yards in both seasons. On October 7, 1984 against the New Orleans Saints, Payton broke Jim Brown's career rushing record of 12,312 yards. In 1985, Payton rushed for more than 1,500 yards, helping the Bears establish the league's second-best offense.
Payton performed with his teammates in the widely released 1985 music video The Super Bowl Shuffle. The Bears went on to a 15–1 record that culminated in a 46-10 victory over the New England Patriots in Super Bowl XX.
Payton, who was a 12-year veteran, amassed 1,333 yards in the 1986 NFL season. The Bears won the NFC Central Division, but lost to the Washington Redskins 27–13 in the divisional round. At the end of the 1986 season, he announced that he would retire after completing the 1987 NFL season. During his last season with the Bears, Payton split carries with his successor, Neal Anderson, and rushed for only 533 yards.
He re-invented the practice of stiff-arming his tacklers, which had gone out of favor among running backs in the 1970s. At times, he used his high school experience as a long jumper to leap over his opponents, landing on his head in the end zone to gain a touchdown in a game against the Buffalo Bills. His running gait was somewhat unusual, as his knees were minimally bent, and the motion was largely powered from the hip. This may have given his knees, a football player's most vulnerable joints, some protection, although he underwent arthroscopic surgery on both knees in 1983. He referred to this procedure as an 11,000-yard checkup.
The only game he missed in his 13-year career was in his rookie season of 1975.
In 1995, Payton, along with many other investors, sought to bring an NFL expansion team to St. Louis, Missouri, and Payton expressed his interest in becoming the first minority owner in NFL history. Although the NFL strongly favored a franchise in St. Louis, their efforts were thwarted because of internal dissension among the investment group members leading the NFL to award franchises to investment groups in Jacksonville, Florida (Jacksonville Jaguars) and Charlotte, North Carolina (Carolina Panthers). St. Louis eventually received a team when the Los Angeles Rams moved to the city in 1995.
In 1995, he and several partners purchased a Chicago, Burlington and Quincy Railroad roundhouse in Aurora, Illinois. The property became known as "Walter Payton's Roundhouse", hosting a restaurant, brewery, banquet and meeting facility, and museum. In 1999 the property received an award from the National Trust for Historic Preservation. The beers brewed at the Roundhouse received awards in the 2000s. Payton appeared on a 1987 episode of Saturday Night Live (co-hosting with fellow football player Joe Montana). In 1994, he made an appearance at Summerslam in the corner of Razor Ramon.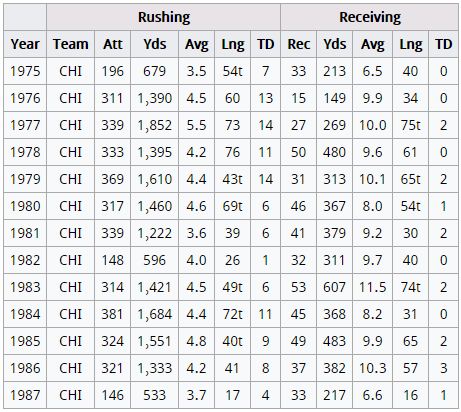 Death
In February 1999, Payton announced that he had a rare autoimmune liver disease known as primary sclerosing cholangitis, which may have led to his cholangiocarcinoma (bile duct cancer). He spent his final months as an advocate for organ transplants, appearing in many commercials to encourage others to donate organs, although by the time his first appeal was recorded, his illness was already too far advanced for transplantation to have been a viable option.
On November 1, 1999, Payton died from the complications that arose from his illness. During the same week, the NFL held special ceremonies in each game to commemorate his career and legacy. In addition, the Chicago Bears wore special #34 patches on their jerseys to honor Payton. His body was cremated after his death.
Speakers at Payton's public funeral service, held in Soldier Field, included Jesse Jackson; then National Football League Commissioner Paul Tagliabue; former teammate Dan Hampton; his widow Connie Payton; and his children, Jarrett and Brittney. Among the 1,000 mourners at the private service were John Madden; Illinois Governor George Ryan; Chicago's mayor Richard M. Daley; former teammates Matt Suhey, Mike Singletary, Roland Harper, and Jim McMahon; the Bears' equipment manager and building superintendent; and many other people representing a wide social, political, and economic spectrum.
Honours
His jersey number was retired by the Bears, and he was inducted into the Pro Football Hall of Fame in 1993.
Walter Payton was inducted as a Laureate of The Lincoln Academy of Illinois and awarded the Order of Lincoln (the State's highest honor) by the Governor of Illinois in 1987 in the area of Sports.
The city of Chicago has honored Payton's memory in several ways. In 1999, the city created a special city sticker that featured Payton. The profits from the sales of these stickers along with the special license plate created by the State of Illinois are given to support organ-donor programs across Illinois. Also, the city named a high school, Walter Payton College Prep, in his honor. In September 2007, the University of Illinois at Chicago Medical Center opened the Walter Payton Liver Center after a generous donation from Payton's family, who were pleased with the care he received there. Chicago Metra commuters have long been witness to a simple "#34 Sweetness", painted on a bridge piling of the Air Line on the south end of the Chicago Union Station yards. The CBS sitcom Mike and Molly honored Payton in 2011 with "The Walter Payton Elementary School".
Career highlights and awards
Super Bowl champion (XX)
9× Pro Bowl (1976–1980, 1983–1986)
7× First-team All-Pro (1976–1980, 1984, 1985)
Second-team All-Pro (1986)
2× NFL Most Valuable Player (1977, 1985)
Bert Bell Award (1985)
NFC Player of the Year (1985)
NFL Offensive Player of the Year (1977)
NFL rushing yards leader (1977)
NFL 1970s All-Decade Team
NFL 1980s All-Decade Team
NFL 75th Anniversary All-Time Team
Chicago Bears No. 34 retired