Andy Murray – Scottish Professional Tennis Player
Full name: Andrew Barron Murray
Country (sports): United Kingdom Great Britain
Residence: London, England, UK
Date of birth: 15 May 1987 (age 29)
Place of birth: Glasgow, Scotland, UK
Height: 6 ft 3 in (1.91 m)
Turned pro: 2005
Plays: Right-handed (two-handed backhand)
Spouse: Kim Sears (m. 2015)
Children: 1 (Daughter)
Early Life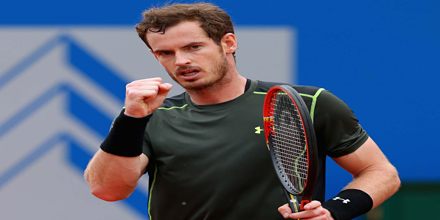 Andrew Barron Murray was born on 15 May 1987, in Glasgow, Scotland, UK. His tennis career really started to take off from July 2003 when he reached the quarter finals of theManchester Challenger before losing to the future world top ten player Fernando Verdasco in the first round of his next tournament. Later that year, he won the Junior US Open and the BBC Young Sports Personality of the Year. As a junior in 2003, he was ranked number six in the world peaking at number two in 2004 using combined instated rankings. He represents Great Britain in his sporting activities and is a three-time Grand Slam tournament winner, two-time Olympic champion, Davis Cup champion and the winner of the 2016 ATP World Tour Finals. He was first ranked as British No. 1 on 27 February 2006, and then achieved a top-10 ranking by the ATP for the first time on 16 April 2007. Following his run to winning the 2016 Paris Masters, Murray became world No. 1 on 7 November 2016. He was created a Knight Bachelor in the 2017 New Year Honours list, and has won the BBC Sports Personality of the Year award a record three times.
Murray is the men's singles 2012 and 2016 Olympic gold medallist, making him the only tennis player, male or female, to have won two Olympic singles titles. He featured in Great Britain's Davis Cup-winning team in 2015, going 11–0 in his matches (8 singles and 3 doubles) as they secured their first Davis Cup title since 1936.
Childhood and Educational Life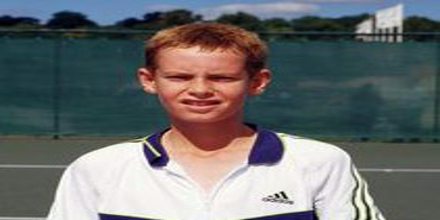 Born in Glasgow, Scotland, on May 15, 1987, to Judy and William Murray, Andrew Barron Murray grew up in Dunblane and began playing tennis at age 3. A former competitive tennis player, Judy coached Andy and his older brother, Jamie, in their early years.
Murray grew up in Dunblane and attended Dunblane Primary School. He and his brother were present during the 1996 Dunblane school massacre, when Thomas Hamilton killed 16 children and a teacher before shooting himself; Murray took cover in a classroom. Murray says he was too young to understand what was happening and is reluctant to talk about it in interviews, but in his autobiography Hitting Back he states that he attended a youth group run by Hamilton, and that his mother gave Hamilton lifts in her car. Murray later attended Dunblane High School.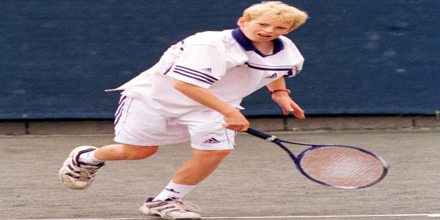 At 15, Murray moved to Barcelona, Spain to study at the Schiller International School and to train on the clay courts of the Sanchez-Casal Academy. He also played with the former world number one doubles player Emillio Sanchez while in Spain.
In 2004, he became the world's No. 1 junior after winning the U.S. Open junior title. Later that year, he was named the BBC's "Young Sports Personality of the Year."
Personal Life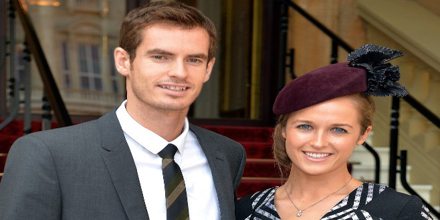 In April 2015, Murray married longtime girlfriend Kim Sears at Dunblane Cathedral in his hometown. They had met at the U.S. Open in 2005. Their first child, a daughter named Sophia Olivia, was born in February 2016.
Murray is on the leadership team of Malaria No More UK, a charity that raises funds and awareness to save lives in Africa, and a global ambassador for the World Wildlife Fund.
Playing Career
Shortly after becoming the youngest British player to compete in the Davis Cup, Murray made his professional debut in April 2005. In 2006, with new coach Brad Gilbert, Murray beat top-ranked Roger Federer in Round 2 of the Cincinnati Masters tournament. Also that year, he defeated Andy Roddick en route to winning the SAP Open for his first ATP title. In 2007, Murray claimed a second straight SAP Open and also won the St. Petersburg Open to break into the Top 10 rankings.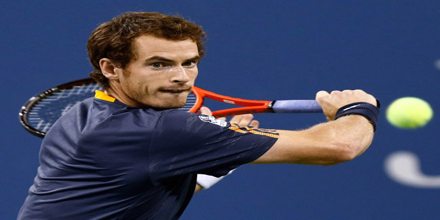 In July 2004, Murray played a Challenger event in Nottingham, where he lost to future Grand Slam finalist Jo-Wilfried Tsonga in the second round. Murray then went on to win Futures events in Xàtiva and Rome.
In September 2004, he won the Junior US Open and was selected for the Davis Cup World Group play-off match against Austria later that month; however, he was not selected to play. Later that year, he won BBC Young Sports Personality of the Year.
In 2008, Murray suffered a first round loss at the Australian Open to eventual runner-up Jo-Wilfried Tsonga, and a third round loss at the French Open to Nicolás Almagro. Murray then made his first Grand Slam quarterfinal at Wimbledon before making his first final at the US Open. During the tournament in New York, Murray claimed his first win over Nadal. That victory meant that he'd become the first player from Britain since Greg Rusedski in 1997 to reach a major final. In his first Grand Slam final Murray suffered a straight sets loss to Federer. At the Beijing Olympics, Murray suffered one of the worst defeats of his career, losing his first round singles match to world No. 77 Yen-hsun Lu of Taiwan in straight sets. That abject defeat was still on his mind in a BBC interview five years later – despite an intervening Olympic gold medal and a head-to-head win – when he met the same player (now ranked 75 in the world) in the 2nd round of Wimbledon 2013.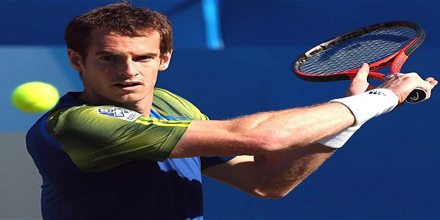 He ascended to No. 2 in the world in 2009, and finished runner-up at the Australian Open in both 2010 and 2011.
In 2012, Murray made it to the Wimbledon final for the first time with his semifinal win over Jo-Wilfried Tsonga. Murray's victory made Scotland and the whole United Kingdom proud—he was the first tennis pro from Great Britain to reach the Wimbledon final since 1938. However, Murray lost in the final to Federer, who claimed his seventh Wimbledon win.
Murray avenged his Wimbledon loss at the 2012 Summer Olympic Games, held in London, where he beat Federer to take his first Olympic gold medal. That September, he continued to burn up the courts with an impressive run through the U.S. Open field. Murray scored an impressive victory over Novak Djokovic in a tough five sets to clinch his first Grand Slam title, becoming the first player from Great Britain since 1977—and the first British man since 1936—to win a Grand Slam singles tournament.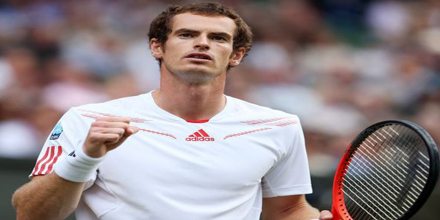 At the Rome Masters, Murray retired due to a hip injury during his second round match against Marcel Granollers on his 26th birthday. Murray had just battled back to tie the match at one set all after winning the second set on a tiebreak. This left Murray with only eleven days to be fit for the start of the French Open. Following the conclusion of the 2013 season, Murray was voted the 2013 BBC Sport Personality of the Year, after having been heavy favourite since the nominees were announced.
His performance was uneven for much of the 2014 season, though he made news by hiring former women's champion Amelie Mauresmo to be his coach.
The Scottish player seemingly was back on track when he reached his fourth Australian Open final in early 2015. That March, he scored career victory No. 500 while competing at the Miami Open.
Murray followed with an impressive run at the 2015 French Open, battling back from a two-set deficit in the semifinals before succumbing to Djokovic. A few weeks later, he reached the semifinals of Wimbledon, but his hopes of advancing were cut short by the ageless Federer. Murray's subsequent fourth-round loss at the U.S. Open not only thwarted his last chance for a major title in 2015, it snapped his streak of 18 consecutive appearances in a Grand Slam quarterfinal. He won his first ATP clay court title at the 2015 BMW Open. He defeated German Philipp Kohlschreiber in three close sets to become the first Briton since Buster Mottram in 1976 to win a tour level clay court event. The following week he reached his second final on clay, at the Madrid Open after recording only his second and third victories over top 10 opposition on clay, against Raonic and Nishikori. In the final, he defeated Rafael Nadal in straight sets for his first Madrid title on clay, and first ever clay court Masters 1000 title. The win was Murray's first over Nadal, Federer or Djokovic since Wimbledon 2013, and his first over Nadal on a clay court.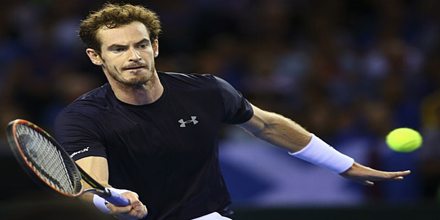 Murray began the 2016 season on a strong note, advancing to the Australian Open final before suffering another loss to his nemesis, Djokovic. However, he gained some revenge by defeating Djokovic to claim the Italian Open in May, and then sustained his high level of play through the French Open. With his semifinal win over defending champion Stan Wawrinka, Murray became the first British player to reach the French Open final since 1937. However, his bid to add another Slam title fell short when he wound up on the losing end of a blistering Djokovic onslaught once again.
In July 2016, Murray advanced to the semifinals at Wimbledon after defeating Jo Wilfried-Tsonga. In the final, he upended Milos Raonic, the first Canadian man to make it to the Wimbledon final, 6-4, 7-6 (3), 7-6 (2). The victory was Murray's third Grand Slam title.
The following month, Murray continued his sterling play by defeating Argentina's Juan Martin del Potro at the Rio Games, making him the first male tennis player to successfully defend his Olympic singles title.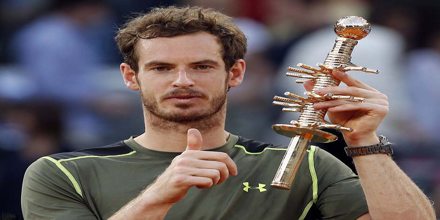 Murray was knighted in the 2017 New Year Honours for services to tennis and charity. He opened the season with a loss in the semifinals of the Mubadala World Tennis Championship, to David Goffin, following which he won against Milos Raonic in the third-place play-off.
Murray then reached the final of the Qatar Open, which he lost in the final Novak Djokovic in three sets despite saving three championship points. At the Australian Open he lost in the fourth round against Mischa Zverev in four sets.
Awards and Honours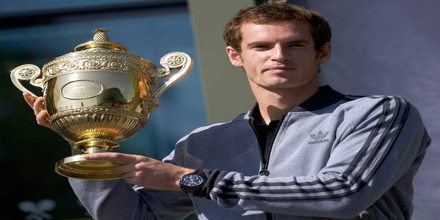 BBC Young Sports Personality of the Year: 2004
Most Titles in an ATP World Tour Season: 6 in 2009, 9 in 2016
US Open Series Champion: 2010, 2015
Best ATP World Tour Match of the Year (3): 2010, 2011, 2012
Officer of the Order of the British Empire: 2013
Laureus "World Breakthrough of the Year" Award: 2013
Glenfiddich Spirit of Scotland Award for Top Scot: 2013
Glenfiddich Spirit of Scotland Award for Sport: 2013
BBC Sports Personality of the Year: 2013, 2015, 2016
Doctor of the University of Stirling: 2014
Freeman of Stirling: 2014
Freeman of Merton: 2014
Arthur Ashe Humanitarian of the Year: 2014
ITF Player of the Year: 2016
Knight Bachelor: 2017