Biography of Nina Simone
Nina Simone – American singer, songwriter, musician, arranger, and civil rights activist.
Name: Eunice Kathleen Waymon
Date of Birth: February 21, 1933
Place of Birth: Tryon, North Carolina, United States
Date of Death: April 21, 2003 (aged 70)
Place of Death: Carry-le-Rouet, France
Occupation: Singer, Songwriter, Musician, Arranger, Composer, Activist
Father: John Divine Waymon
Mother: Mary Kate Waymon
Spouse/Ex: Donald Ross (m. 1958–1960), Andy Stroud (m. 1961–1971)
Children: Lisa Celeste Stroud
Early Life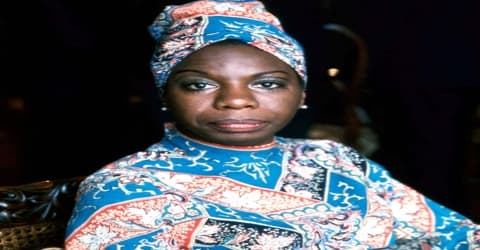 An American singer who created urgent emotional intensity by singing songs of love, protest, and black empowerment in a dramatic style, with a rough-edged voice, Nina Simone was born Eunice Kathleen Waymon on February 21, 1933, in Tryon, North Carolina, U.S. She was one of the most gifted vocalists of her generation, and also one of the most eclectic. Simone was a singer, pianist, and songwriter who bent genres to her will rather than allowing herself to be confined by their boundaries; her work swung back and forth between jazz, blues, soul, classical, R&B, pop, gospel, and world music, with passion, emotional honesty, and a strong grasp of technique as the constants of her musical career.
The sixth of eight children born to a poor family in Tryon, North Carolina, Waymon initially aspired to be a concert pianist. With the help of a few supporters in her hometown, she enrolled in the Juilliard School of Music in New York City. She then applied for a scholarship to study at the prestigious Curtis Institute of Music in Philadelphia, where she was denied admission despite a well-received audition. which she attributed to racial discrimination. In 2003, just days before her death, the Curtis Institute of Music gave her an honorary degree. To make a living, Waymon started playing piano at a nightclub in Atlantic City. She changed her name from to "Nina Simone" to disguise herself from family members, having chosen to play "the devil's music" or so-called "cocktail piano".
Soon, Simone started performing in night clubs and hoped to build a career in music. Her major breakthrough was the 1957 song 'I Loves You, Porgy.' This was the beginning of the era of Nina Simone. She rocked the blues and jazz music charts throughout her career. Over the 1960s, she became one of the most popular female music and fashion icons. In the 1970s, she faced major mental and financial issues, which gave rise to speculations that her career might have ended. However, she made a comeback in the 1980s and earned herself an iconic status. Throughout her career, she has released 40 albums. Some of her most well-known international hits were 'Sinner Man' and 'Feeling Good.'
Childhood, Family and Educational Life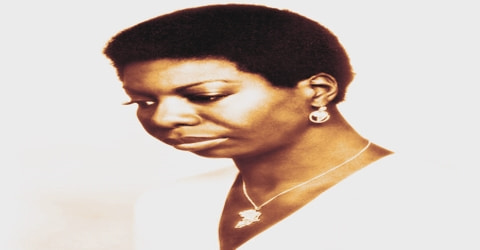 Nina Simone, original name Eunice Kathleen Waymon, was born on February 21, 1933, in Tryon, North Carolina, U.S. She was the sixth of the eight children in her family. Her mother, Mary Kate Waymon, was a Methodist minister, and her father, John Divine Waymon, was a handyman who moonlighted as a preacher. She managed to survive very narrowly, owing to extreme poverty.
Simone started playing the piano at the age of four; the first song she learned was "God Be With You, Till We Meet Again", and by the time she reached her teenage years, she had made up her mind to make a career in music. Demonstrating a talent with the instrument, she performed at her local church. Her concert debut, a classical recital, was given when she was 12. However, according to her, she often faced painful racist behavior in her early years. During her church performances, her parents and family were often asked to move to the back rows, so that the white people could sit in front. This strengthened the foundation of her long fight against racism.
Simone's music teacher helped establish a special fund to pay for her education. Subsequently, a local fund was set up to assist her in continued education. With the help of this scholarship money, she was able to attend Allen High School for Girls in Asheville, North Carolina. A student of classical music at the Juilliard School of Music in New York City, she began performing as a pianist. Simone wished to study music at the 'Curtis Institute of Music' in Philadelphia, but her application was rejected. It was suspected that this was due to racial discrimination. By then, she had settled in Philadelphia, where she took private piano lessons and also taught music to make ends meet.
In the 1950s, tired of classical music and her failures, she switched her focus to jazz and blues, two music forms which were in demand back then. Soon, she started singing as "Nina Simone" in the Atlantic City bars and pubs. Gradually, she developed a big fan base, which included celebrities such as James Baldwin and Lorraine Hansberry.
Personal Life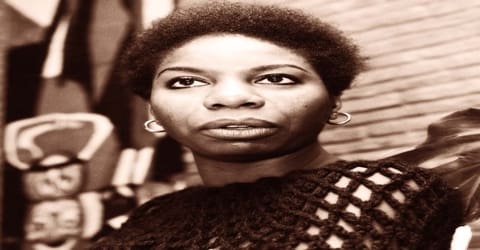 In 1958, Nina Simone befriended and married Don Ross, a beatnik who worked as a fairground barker but quickly regretted their marriage. She is survived by a daughter, Lisa Celeste Stroud.
Nina Simone married a New York police detective, Andy Stroud in 1961. He later became her manager and the father of her daughter Lisa, but he abused Simone psychologically and physically. The couple divorced in the early 1970s.
Nina Simone suffered from bouts of mental health issues throughout her life. In 1980, she was diagnosed with bipolar disorder, and during the last few years of her life, she suffered from breast cancer.
Career and Works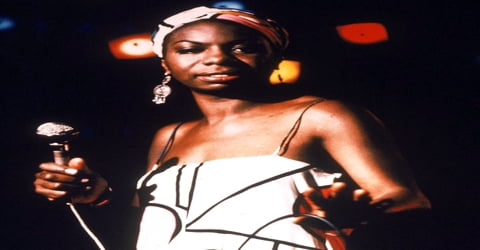 In 1954, Nina Simone began playing and singing at the Midtown, an Irish pub in Atlantic City, New Jersey. She took the stage name "Nina", derived from niña, was a nickname given to her by a boyfriend named Chico, and Simone partly in honor of her favorite actress, Simone Signoret, and partly to hide her nightclub singing from her mother, whose religious sensibilities forbade it. When she started at the club, she assumed she had been hired simply to play the piano, but the manager explained to her that she had to sing as well as play. She began singing, at first in the style of Billie Holiday and other artists she admired. Although the patrons of the club were often indifferent to her music, she sang what she wanted to hear, often playing in a strictly classical style to accompany her folk, gospel, or jazz-inspired singing. This unique mixture of musical styles became her signature.
Simone released her first album in 1957, with the label 'Bethlehem Records.' The album featured songs such as 'Plain Gold Ring' and 'Little Girl Blue.' The album also had a chart-topping number, 'I Loves You, Porgy.' The success of her debut album furthered her way into the music industry and she churned out several music albums through the 60s. Some of her path-breaking records from that time were 'The Amazing Nina Simone,' 'Nina Simone Sings Ellington!,' 'Silk and Soul,' and 'Wild Is the Wind.' Apart from creating original tracks, she also created cover versions of songs by famous musicians, such as Bob Dylan and the 'Beatles.'
Within a few years, Simone was a headliner at nightclubs all along the East Coast, and in 1957 she came to the attention of Syd Nathan, the mercurial owner of the influential blues and country label King Records. Nathan offered Simone a contract with his jazz subsidiary, Bethlehem Records, and the two were soon butting heads as the strong-willed Simone insisted on choosing her own material. Simone won out, and in 1958, she enjoyed a major hit with her interpretation of "I Loves You Porgy" from Porgy and Bess. The single rose to the Top 20 of the pop charts, but like many of Nathan's signings, Simone did not see eye to eye with him about business details (particularly after she discovered she'd signed away her right to royalties upon receiving her advance), and by 1959 she had signed a new deal with Colpix Records.
After the success of 'Little Girl Blue', Simone signed a contract with Colpix Records and recorded a multitude of the studio and live albums. Colpix relinquished all creative control to her, including the choice of material that would be recorded, in exchange for her signing the contract with them. After the release of her live album Nina Simone at Town Hall, Simone became a favorite performer in Greenwich Village. By this time, Simone performed pop music only to make money to continue her classical music studies and was indifferent about having a recording contract. She kept this attitude toward the record industry for most of her career.
In the 1960s Simone added protest songs, became a friend of Martin Luther King, Jr., and Malcolm X, and performed at civil rights demonstrations. Her popularity grew as she added folk and gospel selections as well as songs by the Bee Gees, Bob Dylan, and Screamin' Jay Hawkins ("I Put a Spell on You") to her repertoire. Angered by American racism, she left the United States in 1973 and lived in Barbados, Africa, and Europe for the rest of her life.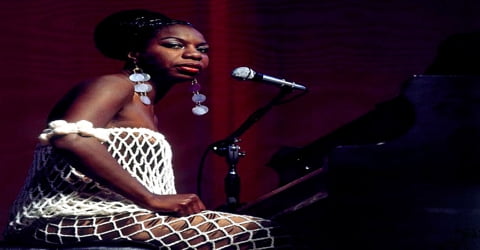 Simone took inspiration from gospel, folk, and contemporary pop music. Classical influences were also apparent in her music. She was called the "High Priestess of Soul," but she hated the nickname and said that she would rather like to be known as a folk singer. Apart from creating music, she also devoted her time to the 'Civil Rights Movement.' Her personal experiences with racism had her raising her voice against such atrocities. She extensively protested the Birmingham Church bombing that took the lives of four young black girls. Her social activism also infiltrated her music, and she wrote many songs about racial injustice, such as 'Four Women' and 'Young, Gifted and Black.' She also raised her voice against racism in her live shows.
In 1964, Simone changed record distributors from Colpix, an American company, to the Dutch Philips Records, which meant a change in the contents of her recordings. She had always included songs in her repertoire that drew on her African-American heritage, such as "Brown Baby" by Oscar Brown and "Zungo" by Michael Olatunji on her album Nina at the Village Gate in 1962. On her debut album for Philips, Nina Simone in Concert (1964), for the first time she addressed racial inequality in the United States in the song "Mississippi Goddam". This was her response to the June 12, 1963, murder of Medgar Evers and the September 15, 1963, bombing of the 16th Street Baptist Church in Birmingham, Alabama that killed four young black girls and partially blinded a fifth. She said that the song was "like throwing ten bullets back at them", becoming one of many other protest songs written by Simone. The song was released as a single, and it was boycotted in some vague southern states. Simone would next hit the British charts with her cover of Screamin' Jay Hawkins' "I Put a Spell on You," which also rose to the Top 30 in the States.
By the late 1960s, Simone had started gaining immense popularity in the UK too, with chart-busting hits such as 'I Put a Spell on You' and her version of the 'Bee Gees' hit 'To Love Somebody.' She was highly upset through the late 1960s when she saw no end to the racial divide in the American society and this made her leave the US. Following this, she lived in many European countries, such as England and Switzerland, and finally settled in France.
In 1967, after recording seven albums for Philips, Simone struck a new deal with RCA Records, and while her first album for her new label, Nina Simone Sings the Blues, was a straightforward collection of blues standards, her subsequent work for RCA found Simone focusing on contemporary pop, rock, and soul material, much of which dealt with topical themes and progressive philosophies (1969's To Love Somebody featured no fewer than three Bob Dylan tunes). Simone's 1968 cover of "Ain't Got No/I Got Life" (from the musical Hair) was a major chart hit in the U.K., and Simone would focus her energies on her European career when she left the United States in 1970, initially settling in Barbados and divorcing her husband and manager. In 1969, she performed at the Harlem Cultural Festival in Harlem's Mount Morris Park.
Throughout the 1970s, Simone struggled a lot with mental issues. During that time, she was mostly stuck in controversies due to her clashes with music labels, record companies, and co-workers. Simone recorded her last album for RCA, It Is Finished, in 1974, and did not make another record until 1978, when she was persuaded to go into the recording studio by CTI Records owner Creed Taylor. The result was the album Baltimore, which, while not a commercial success, was fairly well received critically and marked a quiet artistic renaissance in Simone's recording output. Her choice of material retained its eclecticism, ranging from spiritual songs to Hall & Oates' "Rich Girl". Four years later Simone recorded Fodder on My Wings on a French label. In 1978, she made a comeback with the album 'Baltimore.' The album was critically appreciated, but the slow commercial reaction to the album proved that she was losing her popularity.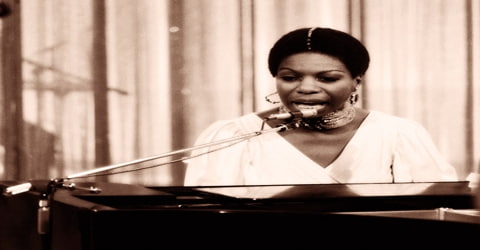 During the 1980s, Simone performed regularly at Ronnie Scott's Jazz Club in London, where she recorded the album Live at Ronnie Scott's in 1984. Although her early on-stage style could be somewhat haughty and aloof, in later years, Simone particularly seemed to enjoy engaging her audiences sometimes by recounting humorous anecdotes related to her career and music and by soliciting requests. In 1987, the original 1958 recording of "My Baby Just Cares for Me" was used in a commercial for Chanel No. 5 perfume in Britain. This led to a re-release of the recording, which stormed to number 4 on the UK's NME singles chart, giving her a brief surge in popularity in the UK. In 1989, Simone was invited by Pete Townshend to sing the song "Fast Food" on his concept album The Iron Man, which also featured John Lee Hooker.
Despite the lack of new recordings through the 1980s and the 1990s, her live performances were almost always housefull. 'A Single Woman,' released in 1993, was her last album, and a year prior to that, she had published her autobiography, 'I Put a Spell on You.'
Later in 1995, she shot and wounded her neighbor's son with an air gun after the boy's laughter disturbed her concentration. According to a biographer, Simone took medication for a condition from the mid-1960s onward, although this was supposedly only known to a small group of intimates. It was kept out of public view for many years, until 2004 when a biography, Break Down and Let It All Out written by Sylvia Hampton and David Nathan, was published posthumously. Singer-songwriter Janis Ian, a one-time friend of Simone's, related in her own autobiography, Society's Child: My Autobiography, two instances to illustrate Simone's volatility: one incident in which she forced a shoe store cashier at gunpoint to take back a pair of sandals she'd already worn; and another in which Simone demanded a royalty payment from Ian herself as an exchange for having recorded one of Ian's songs, and then ripped a pay telephone out of its wall when she was refused.
Like her private life, her career was turbulent, and Simone gained a reputation for throwing onstage tantrums, insulting inattentive audiences, and abruptly canceling concerts. A 1980s Chanel television commercial that included her vocal "My Baby Just Cares for Me" helped introduce her to many new, younger listeners. A similar rebirth occurred in the 21st century when her 1965 recording of "Sinnerman" was remixed as an electronic dance music standard.
Simone moved to Europe, first living in Nyon, Switzerland and in 1988 moving to Nijmegen and later Amsterdam in the Netherlands. She then bought a house in the warmer south of France and eventually settled there in 1993. During a 1998 performance in Newark, she announced, "If you're going to come see me again, you've got to come to France, because I ain't coming back." Simone published her autobiography, I Put a Spell on You, in 1992. She continued to tour through the 1990s but rarely traveled without an entourage. During the last decade of her life, Simone had sold more than one million records, making her a global catalog best-seller. In 1993, she settled near Aix-en-Provence in southern France.
In 2000, Simone returned to the United States for a rare appearance at the Wiltern Theatre. Her daughter, Lisa, who uses the single stage name Simone, joined her for several songs. Jazz critic Don Heckman wrote, according to Geoff Boucher in the Los Angeles Times, that the concert was "an experience that has as much to do with a soul-stirring, spirit–raising, shamanistic ritual as it does with a mere program of music.… But she could have come on to a stage with nothing more than her piano and a companion and the crowd would have been just as pleased, the music no less assertive and challenging." Despite ill health, she continued to tour and perform, and she maintained a devoted international following until her death in 2003.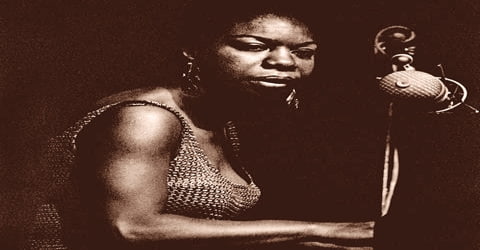 Nina Simone inspired several major artists over the years, and many of her songs have been used in major TV shows and films. David Lynch's film 'Lost Highway' famously used Marilyn Manson's cover of her song 'I Put a Spell on You.' Her song 'Sinner Man' was used in the famous 'BBC' series 'Sherlock.' Several popular musicians, such as Elton John, Adele, and Taylor Swift, have listed Nina Simone as their main inspiration.
Awards and Honor
Nina Simone was nominated for the 'Grammy Awards' four times in her career.
In 1968, Simone received her first nomination for Best Female R&B Vocal Performance for the track "(You'll) Go to Hell" for her thirteenth album Silk & Soul (1967). The award went to "Respect" by Aretha Franklin.
Simone was honored with a place in the 'North Carolina Music Hall of Fame' in 2009.
Simone received two honorary degrees in music and humanities, from Amherst College and Malcolm X College. She preferred to be called "Dr. Nina Simone" after these honors were bestowed upon her. She was inducted into the Rock and Roll Hall of Fame in 2018.
Death and Legacy
Nina Simone died in her sleep of natural causes on April 21, 2003, at her home in southern France; she was 70. Her funeral service was attended by singers Miriam Makeba and Patti LaBelle, poet Sonia Sanchez, actors Ossie Davis and Ruby Dee, and hundreds of others. Simone's ashes were scattered in several African countries. She is survived by her daughter, Lisa Celeste Stroud, an actress and singer, who took the stage name Simone, and who has appeared on Broadway in Aida. Only a few days earlier, Simone had received an honorary degree from the Curtis Institute in Philadelphia, the same school that had rejected her in 1953.
Simone is known as one of the most influential musicians of the second half of the 20th century. She was honored with a place in the 'North Carolina Music Hall of Fame' in 2009 for her contribution to the world of music. She has a street named after her in Nijmegen, Netherlands. Her inspiring life story has found its way into her biographies, written by David Nathan, Richard Williams, and Andy Stroud.
Throughout her career, Simone assembled a collection of songs that would later become standards in her repertoire. Some were songs that she wrote herself, while others were new arrangements of other standards, and others had been written especially for the singer. Her first hit song in America was her rendition of George Gershwin's "I Loves You, Porgy" (1958). It peaked at number 18 on the Billboard magazine Hot 100 chart. Simone's bearing and stage presence earned her the title "High Priestess of Soul". She was a piano player, singer, and performer, "separately, and simultaneously." As a composer and arranger, Simone moved from gospel to blues, jazz, and folk, and to numbers with European classical styling. Besides using Bach-style counterpoint, she called upon the particular virtuosity of the 19th-century Romantic piano repertoire Chopin, Liszt, Rachmaninoff, and others. On stage, she incorporated monologues and dialogues with the audience into the program and often used silence as a musical element. Throughout most of her life and recording career, she was accompanied by percussionist Leopoldo Fleming and guitarist and musical director Al Schackman.
Information Source: