Biography of Albert Speer
Albert Speer – German architect.
Name: Albert Speer
Date of Birth: March 19, 1905
Place of Birth: Mannheim, Germany
Date of Death: September 1, 1981 (aged 76)
Place of Death: London, United Kingdom
Occupation: Architect, Government official, Author
Father: Albert Friedrich Speer
Mother: Luise Speer
Spouse/Ex: Margarete Weber (m. 1928-1981, his death)
Children: 6
Early Life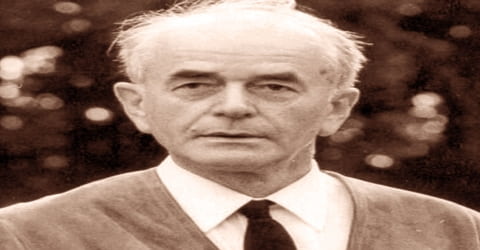 The Minister of Armaments and War Production in Nazi Germany during most of World War II and a German architect Albert Speer was born on 19th March 1905, in Mannheim, Germany into an upper-middle-class family. Speer is unique among former Nazi leaders in that he went on to live a relatively normal life following World War II. While his works have been largely lost to demolition, their memory still invokes the haunting terror that was the Nazi plan for Europe.
In World War II, Hitler appointed him as the Minister of Armaments and War Production for Germany. Before that, Speer worked as the chief architect in Hitler's Nazi party and, based on the facts collected in his memoir, he was close to Hitler, on a personal and professional level. After an illustrious career in architecture, he gained Hitler's attention and was offered to join the Nazi party in the 30s as Hitler wanted him to redesign entire Berlin. Speer thought of himself as an artist and there he was, planning wars for Hitler but even then, he performed his duties with patience and honesty. During the Nurnberg trials in 1945-46, Speer accepted the blames rising from his involvement in the killing of Jews and also for employing the prisoners in factories. He was convicted and sent to prison for 20 years. Albert Speer died of a stroke in 1981 while on a visit to London.
Through his autobiographies and interviews, Speer carefully constructed an image of himself as a man who deeply regretted having failed to discover the monstrous crimes of the Third Reich. He continued to deny explicit knowledge of, and responsibility for, the Holocaust. This image dominated his historiography in the decades following the war, giving rise to the "Speer Myth".
Childhood, Family and Educational Life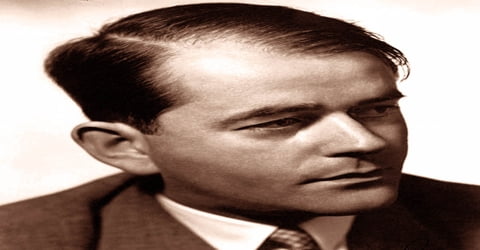 A German architect, Albert Speer was born on 19th March 1905, from Mannheim, Germany's upper-class Speer household. He was the second of three Speer boys and biographical accounts of him state that in their household, everything was formal and the family lacked warmth towards each other. He was the son of Luise Máthilde Wilhelmine (Hommel) and Albert Friedrich Speer.
The family leased their Mannheim residence and moved to a home they had in Heidelberg, in 1918. Henry T. King, a deputy prosecutor at the Nuremberg trials who later wrote a book about Speer said, "Love and warmth were lacking in the household of Speer's youth." His brothers, Ernst and Hermann, bullied him throughout his childhood. Speer was active in sports, taking up skiing and mountaineering. He followed in the footsteps of his father and grandfather and studied architecture. Speer was an athletic kid from the very beginning and loved rugby and mountain climbing.
Albert Speer was also good with academics, particularly with mathematics and expressed his desire to become a mathematician, which wasn't received quite well by his father, who was an architect, just like Albert's grandfather. It seemed that his profession was already sealed even before he was born. His father said while mathematics was a noble profession, it wouldn't provide him enough to survive and 'only respect from the society won't feed him or his family'.
Speer studied at the technical schools in Karlsruhe, Munich, and Berlin, and acquired an architectural license in 1927.
Personal Life
In mid-1922, Albert Speer met Margarete (Margret) Weber and immediately fell in love with her. She was the daughter of a successful craftsman who employed 50 workers. The relationship was frowned upon by Speer's class-conscious mother, who felt the Webers were socially inferior. Despite this opposition, the two married in Berlin on 28th August 1928. The couple gave birth to six children.
Career and Works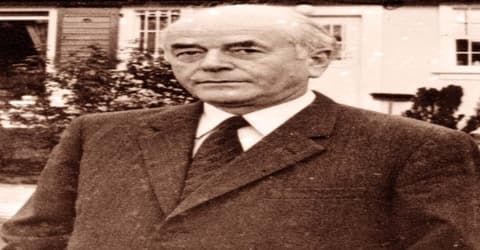 After hearing Hitler speak at a Berlin rally in late 1930, Albert Speer enthusiastically joined the Nazi Party (January 1931) and so impressed the Führer by his efficiency and talent that, soon after Hitler became chancellor, Speer became his personal architect. He was rewarded with many important commissions, including grandiose plans to rebuild the whole of Berlin (never accomplished) and the design of the parade grounds, searchlights, and banners of the spectacular Nürnberg party congress of 1934, filmed by Leni Riefenstahl in Triumph of the Will.
During the war, Speer soon found his organizational talents under a very different use. As someone accustomed to an organization on a mass scale, the architect soon found himself managing the logistics of the German war machine. In this capacity, Speer's subordinates used slave labor, often from concentration camps. Speer would later claim ignorance of such actions, and when put on trial at Nuremburg, he apologized profusely. Such action likely saved him from the gallows.
In July 1932, the Speers visited Berlin to help out the Party before the Reichstag elections. While they were there, his friend, Nazi Party official Karl Hanke recommended the young architect to Joseph Goebbels to help renovate the Party's Berlin headquarters. When the commission was completed, Speer returned to Mannheim and remained there as Hitler took office in January 1933.
The organizers of the Nuremberg Rally asked Speer to submit designs for the rally, in 1933. As neither the organizers nor Rudolf Hess, Deputy Führer to Hitler, were able to approve Speer's designs, Hess sent him to Hitler to seek his approval. As a result of this work, Speer was made "Commissioner for the Artistic and Technical Presentation of Party Rallies and Demonstrations" of the Nazi Party. After coming to power, he made plans to rebuild the chancellery. To execute the same, a contract was given to master architect Paul Troost and Speer was tasked to manage the building site for Troost. Hitler used to visit the site to get updates on the progress of renovations. This resulted in frequent interactions between Hitler and Speer and Hitler started meeting with him for breakfasts and lunches and a friendship bloomed between the two. Speer admired Hitler and when Hitler proposed to him his dream of rebuilding entire Berlin, he asked Speer to join him in his vision.
Hitler appointed Speer as head of the Chief Office for Construction, which placed him nominally on Hess's staff. Not surprisingly, few of Speer's buildings were built prior to World War II, and of those, even fewer survived. However, through archival footage, access to the detailed models and blueprints is possible, and much can be gleaned about Speer's style from those plans. As an architect, Speer valued large buildings that harkened back to an Imperial Roman past, placing the new German Reich as the successor to the glories of Rome. In fact, Speer readily sought to use construction designs that would leave impressive ruins, knowing that the state would require new sources of propaganda in the proposed Nazi future.
On 27th January 1938, Speer received plenipotentiary powers from Hitler to finish the new chancellery by 1st January 1939. For propaganda, Hitler claimed during the topping-out ceremony on August 2, 1938, that he had ordered Speer to complete the new chancellery that year. Shortages of labor meant the construction workers had to work in ten-to-twelve-hour shifts. The Schutzstaffel (SS) built two concentration camps in 1938 and used the inmates to quarry stone for its construction. A brick factory was built near the Oranienburg concentration camp at Speer's behest; when someone commented on the poor conditions there, Speer stated, "The Yids got used to making bricks while in Egyptian captivity". The chancellery was completed in early January 1939. The building itself was hailed by Hitler as the "crowning glory of the greater German political empire".
Awarded with the Nazi party's Badge of Honour in 1938, and a year later when the German Jews were evicted from the Berlin, Speer was given the duty of allocation of apartments, and his workload grew tougher in 1941, for which he had to hire a few assistants.  In 1942 Speer became minister of armaments and munitions, a title enlarged the following year to the minister of armaments and war production, when he was charged not only with armaments production, transportation, and placement but also with final authority over raw materials and industrial production. With this authority, Speer expanded a system of conscript and slave labor, supplied primarily from concentration camps that maintained production of war material for Nazi Germany.
Under his reign, the arms production significantly increased, owing to the intelligent schemes of Speer to use the prisoners of war and slave laborers in the factories. Two million prisoners of wars were employed in arms production for Germany and this greatly strengthened the position of Germany. Once the war approached its end, and Hitler grew weak, Speer was directed to destroy Nazi industrial installations, an order he refused to obey. This caused bitterness in their relations, and later Speer accepted in his autobiography that he planned to assassinate Hitler because he wasn't anymore the person that Speer admired.
Speer was taken to several internment centers for Nazi officials and interrogated when the war was over. In September 1945, Speer was told that he would be tried for war crimes, and several days later, he was moved to Nuremberg and incarcerated there. Speer was indicted on four counts: participating in a common plan or conspiracy for the accomplishment of a crime against peace; planning, initiating and waging wars of aggression and other crimes against peace; war crimes; and crimes against humanity. He accepted that he used the war and concentration camp prisoners in arms factories against their will. He was also the only person to accept the guilt of being part of the notorious Nazi party that inhumanely massacred millions of Jews.
Convicted of war crimes and crimes against humanity, Speer served a 20-year sentence at Spandau Prison in West Berlin. Until his death, Speer continued to publicly assert that he had been unaware of the "final solution." In a letter written in 1971, however, Speer admitted to having been present at a 1943 conference at which Heinrich Himmler announced that all Jews would be killed; the letter was made public in 2007.
During the war, the Speer-designed Reich Chancellery, except for the exterior walls, was destroyed by air raids and in the Battle of Berlin. It was eventually dismantled by the Soviets. It is rumored that the remains have been used for other building projects such as the Humboldt University, Mohrenstraße metro station and Soviet war memorials in Berlin. None of these rumors have been confirmed as true.
When Albert Speer got out of the jail, he penned his autobiography 'Inside the Third Reich', which came out in 1970, and he claimed that although he wanted to be as far from politics as he possibly could, he still worked with Nazis and felt deep regret for being a part of their actions. He also regretted doing nothing to stop the massacre of Jews during the Holocaust, but by then it was too late. His health worsened in the late 70s, but by then he had penned one more book 'Spandau: The Secret Diaries'.
Death and Legacy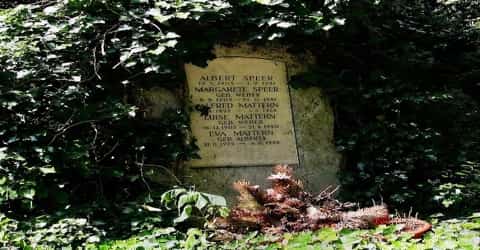 Albert Speer died of a stroke on 1st September 1981, in London, United Kingdom, at the age 76. He was an artist by heart and people close to him and Hitler had stated that Hitler himself wanted to become an architect, but failed. This led to his natural admiration toward Speer. Some even went on the records to say that he was the only person in Nazi Germany who could stand up to Hitler and Hitler respected him for that immensely. That was one reason that they both were more friends than allies in a war.
Following his release in 1966, Albert Speer had a career as a writer. His published works include Erinnerungen (1969; Inside the Third Reich, 1970), Spandauer Tagebücher (1975; Spandau: The Secret Diaries, 1976), and Der Sklavenstaat (1981; Infiltrator, 1981).
Information Source: