John F. Kennedy (1917-1963) – 35th President of the United States
Full name: John Fitzgerald Kennedy
Date of birth: May 29, 1917
Place of birth: Brookline, Massachusetts, U.S.
Date of death: November 22, 1963 (aged 46)
Place of death: Dallas, Texas, U.S.
Cause of death: Ballistic trauma, assassination
Resting place: Arlington National Cemetery
Profession: Politician
Political party: Democratic
Parents: Joseph P. Kennedy, Sr.
Rose Fitzgerald Kennedy
Spouse(s): Jacqueline Bouvier (m. 1953-1963)
Children: Caroline Kennedy, John F. Kennedy Jr., Patrick Bouvier Kennedy, Arabella Kennedy
Early Life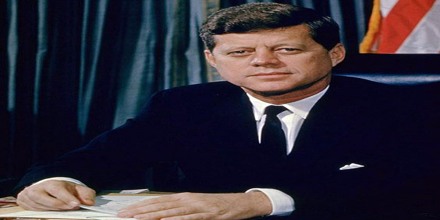 John Fitzgerald "Jack" Kennedy was born on May 29, 1917, in Brookline, Massachusetts, U.S. He was an American politician who served in both the U.S. House of Representatives and U.S. Senate before becoming the 35th president in 1961. As president, Kennedy faced a number of foreign crises, especially in Cuba and Berlin, but managed to secure such achievements as the Nuclear Test-Ban Treaty and the Alliance for Progress. On November 22, 1963, Kennedy was assassinated while riding in a motorcade in Dallas, Texas.
A member of the Democratic Party, his New Frontier domestic program was largely enacted as a memorial to him after his death. Kennedy also established the Presidential Medal of Freedom in 1963.
Kennedy's time in office was marked by high tensions with Communist states. He increased the number of American military advisers in South Vietnam by a factor of 18 over Eisenhower. In Cuba, a failed attempt was made at the Bay of Pigs to overthrow the government of Fidel Castro in April 1961. He subsequently rejected plans by the Joint Chiefs of Staff to orchestrate false-flag attacks on American soil in order to gain public approval for a war against Cuba. In October 1962, it was discovered Soviet ballistic missiles had been deployed in Cuba; the resulting period of unease, termed the Cuban Missile Crisis, is seen by many historians as the closest the human race has ever come to nuclear war between nuclear armed belligerents.
At age 43, he became the youngest elected president and the second-youngest president (after Theodore Roosevelt, who was 42 when he became president after the assassination of William McKinley). Kennedy was also the first person born in the 20th century to serve as president. To date, Kennedy has been the only Roman Catholic president and the only president to have won a Pulitzer Prize (for his biography Profiles in Courage).
Kennedy was assassinated in Dallas, Texas, on November 22, 1963. Lee Harvey Oswald was arrested that afternoon and determined to have fired shots that hit the President from a sixth floor window of the Texas School Book Depository. Dallas nightclub owner Jack Ruby fatally shot Oswald two days later in a jail corridor.
Since the 1960s, information concerning Kennedy's private life has come to light, including his health problems and allegations of infidelity. Kennedy continues to rank highly in historians' polls of U.S. presidents and with the general public. His average approval rating of 70% is the highest of any president in Gallup's history of systematically measuring job approval.
Childhood, Educational and the Military Life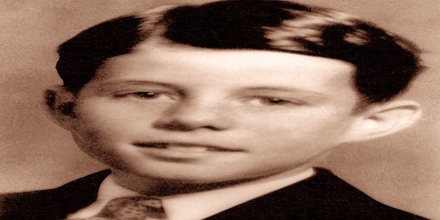 John Fitzgerald Kennedy was born in Brookline, Massachusetts, on May 29, 1917. He was the second son of nine children born to the multimillionaire business executive and financier Joseph P. Kennedy (1888–1969) and his wife, Rose Fitzgerald Kennedy (1890–1995). Joseph's father had served in the Massachusetts Legislature and in elective offices in Boston, Massachusetts. Rose's father, John Francis Fitzgerald (1863–1950), had been a state legislator, the mayor of Boston, and a U.S. congressman. Joseph himself had served as chairman of the Securities and Exchange Commission, chairman of the U.S. Maritime Commission, and ambassador to Great Britain (1937–40). Thus, the Kennedys were a wealthy family with a history of political and public service.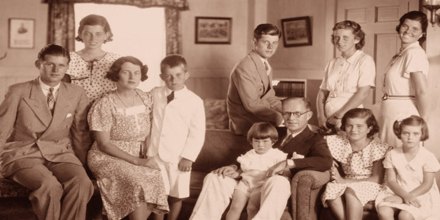 (Kennedy and his family)
He attended a Catholic boys' boarding school in Connecticut called Canterbury, where he excelled at English and history, the subjects he enjoyed, but nearly flunked Latin, in which he had no interest. Despite his poor grades, Kennedy continued on to Choate, an elite Connecticut preparatory school. Although he was obviously brilliant — evidenced by the extraordinary thoughtfulness and nuance of his work on the rare occasions when he applied himself — Kennedy remained at best a mediocre student, preferring sports, girls and practical jokes to coursework. He was in fact very bookish in high school, reading ceaselessly but not the books his teachers assigned.
In September 1935, he made his first trip abroad with his parents and his sister Kathleen to London intending to study under Harold Laski at the London School of Economics (LSE) as his older brother had done.
Kennedy enrolled at Princeton University in 1935 but illness soon forced him to withdraw. Upon recovery he went to Harvard University, where he majored in government and international relations. During his junior year at Harvard, he traveled in Europe and observed the events that were leading to World War II (1939–45; a war in which the Allies—France, Great Britain, the Soviet Union, China, and from 1941 the United States—fought against the Axis powers—Germany, Italy, and Japan). He used his observations for his senior paper, which later became the bestselling book Why England Slept (1940).
After graduating from Harvard with honors in 1940, Kennedy went to Stanford University for graduate studies. In April 1941 he tried to enlist in the U.S. Army but was rejected for physical reasons (a back injury received while playing football). Months later, after his back strengthened through a regimen of exercises, the U.S. Navy accepted him. He then became an intelligence officer in Washington, D.C. After the Japanese attack on Pearl Harbor, a U.S. Navy base in Hawaii, on December 7, 1941, the United States entered World War II. Kennedy requested active duty at sea and was given this assignment in late 1942.
Following Kennedy's training with the Motor Torpedo Boat Squadron, he was shipped to the South Pacific to fight in the war against Japan. In March 1943 he was given command of a patrol torpedo (PT) boat, a small, fast boat armed with weapons, including torpedoes. In August his boat was sliced in two by a Japanese destroyer and two of his crew were killed. Kennedy and four others clung to the half of the PT boat that remained afloat. Six other men survived in the nearby water, two wounded. In a three-hour struggle Kennedy got the wounded crewmen to the floating wreck. When it capsized, he ordered his men to swim to a small island about three miles away. He towed one man to shore in a heroic five-hour struggle. Several days later, having displayed great courage, leadership, and endurance, Kennedy succeeded in having his men rescued.
Kennedy's military decorations and awards include the Navy and Marine Corps Medal, Purple Heart Medal, American Defense Service Medal, American Campaign Medal, Asiatic-Pacific Campaign Medal with three  3⁄16″ bronze stars, and the World War II Victory Medal.
Personal Life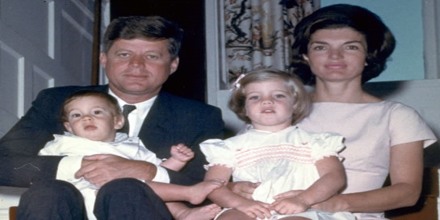 Kennedy's political success was soon followed by high points in his personal life. On September 12, 1953, Kennedy married Jacqueline Lee Bouvier (1929–1994), daughter of a New York City financier, at Newport, Rhode Island. Arthur M. Schlesinger, Jr. (1917–) noted that "under a veil of lovely inconsequence" Mrs. Kennedy possessed "an all-seeing eye and ruthless judgement."
John and Jacqueline Kennedy had four children: Caroline Kennedy, John F. Kennedy Jr., Patrick Bouvier Kennedy, Arabella Kennedy.
Kennedy was a life member of the National Rifle Association. Kennedy came in third (behind Martin Luther King, Jr. and Mother Teresa) in Gallup's List of Widely Admired People of the 20th century.
U.S. House of Representatives
Returning to civilian life, Kennedy did newspaper work for several months, covering a United Nations conference, the Potsdam Conference, and the British elections of 1945. However, coming from a family devoted to public service, Kennedy desired a career in politics. In 1946 he became a candidate for the U.S. House of Representatives from the Massachusetts eleventh congressional district. Kennedy built a large personal organization for his campaign. On whirlwind tours he met as many voters as possible. He talked to the people in a direct, informal style about the topics that they were concerned with. In this campaign and in all the others, his brothers, sisters, and mother supported him. His brothers, Robert (1925–1968) and Edward (also called Ted; 1932–), acted as his managers, while his sisters and mother held social events to raise money for his campaigns.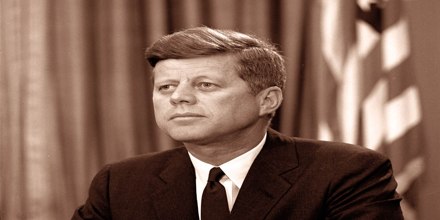 Kennedy won the primary, the fall election, and reelection to the House in 1948 and again in 1950. He worked for better social welfare programs, particularly in the area of low-cost public housing (or affordable places for people to live). In 1949 he became a member of the Joint Committee on Labor-Management Relations. In this capacity, Kennedy was a strong supporter of labor, working for higher wages and better working conditions.
Kennedy supported the domestic programs of President Harry Truman (1884–1972), including social welfare programs, progressive taxation, and regulation of business. However, he did not follow Truman's policies in foreign relations. For example, he was against the fighting in Korea "or any other place in Asia where [the United States] cannot hold our defenses."
Congressman and Senator
In 1952, seeking greater influence and a larger platform, Kennedy challenged Republican incumbent Henry Cabot Lodge for his seat in the U.S. Senate. Once again backed by his father's vast financial resources, Kennedy hired his younger brother Robert as his campaign manager. Robert Kennedy put together what one journalist called "the most methodical, the most scientific, the most thoroughly detailed, the most intricate, the most disciplined and smoothly working state-wide campaign in Massachusetts history – and possibly anywhere else." In an election year in which Republicans gained control of both Houses of Congress, Kennedy nevertheless won a narrow victory, giving him considerable clout within the Democratic Party. According to one of his aides, the decisive factor in Kennedy's victory was his personality: "He was the new kind of political figure that people were looking for that year, dignified and gentlemanly and well-educated and intelligent, without the air of superior condescension."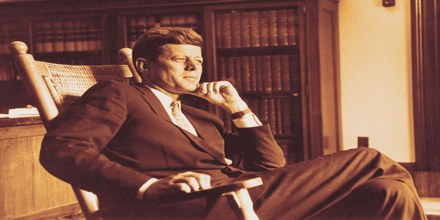 (John F. Kennedy in his Senate Office, 1959)
Kennedy's eight-year Senate career was relatively undistinguished. Bored by the Massachusetts-specific issues on which he had to spend much of his time, Kennedy was more drawn to the international challenges posed by the Soviet Union's growing nuclear arsenal and the Cold War battle for the hearts and minds of Third World nations. In 1956, Kennedy was very nearly selected as Democratic presidential candidate Adlai Stevenson's running mate, but was ultimately passed over for Estes Kefauver from Tennessee. Four years later, Kennedy decided to run for president.
1960 Presidential Election
Formally announcing his candidacy in January 1960, Kennedy made whirlwind tours and won the Democratic primaries in New Hampshire, Wisconsin, Indiana, Ohio, Oregon, Maryland, Nebraska, and West Virginia. On July 13, 1960, Kennedy was nominated for president, with Lyndon B. Johnson (1908–1973) as his running mate.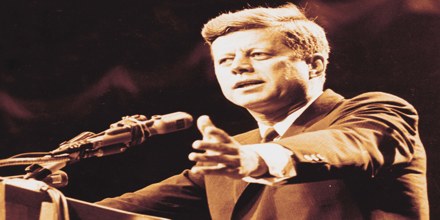 At the Democratic Convention, he gave his well-known "New Frontier" speech, saying: "For the problems are not all solved and the battles are not all won—and we stand today on the edge of a New Frontier…. But the New Frontier of which I speak is not a set of promises—it is a set of challenges. It sums up not what I intend to offer the American people, but what I intend to ask of them."
Selecting Senate Majority Leader Lyndon B. Johnson as his running mate, Kennedy faced Vice President Richard Nixon in the general election. The election turned largely on a series of televised national debates in which Kennedy bested Nixon, an experienced and skilled debater, by appearing relaxed, healthy and vigorous in contrast to his pallid and tense opponent. On November 8, 1960, Kennedy defeated Nixon by a razor-thin margin to become the 35th president of the United States of America.
Kennedy Becomes President
Kennedy's election was historic in several respects. At the age of 43, he was the second youngest American president in history, second only to Theodore Roosevelt, who assumed the office at 42. He was also the first Catholic president and the first president born in the 20th century. Delivering his legendary inaugural address on January 20, 1961, Kennedy sought to inspire all Americans to more active citizenship.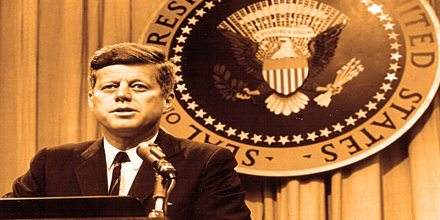 Kennedy also presided over a series of international crises. On April 15, 1961, he authorized a covert mission to overthrow leftist Cuban leader Fidel Castro with a group of 1,500 CIA-trained Cuban refugees. Known as the Bay of Pigs Invasion, the mission proved an unmitigated failure, causing Kennedy great embarrassment.
In August 1961, to stem massive waves of emigration from Soviet-dominated East Germany to American ally West Germany via the divided city of Berlin, Khrushchev ordered the construction of the Berlin Wall, which became the foremost symbol of the Cold War.
On October 22, 1962, Kennedy announced to the nation that the Soviet Union had sent nuclear missiles to Cuba. In response the United States had blocked all shipments of military equipment into Cuba. The United States would not allow Cuba to become a Soviet missile base, and it would regard any missile launched from Cuba "as an attack by the Soviet Union on the United States, requiring a full military response."
For a week the details of the situation had been "the best kept secret in government history." Throughout the seven days, the Kennedy administration had maintained an outward appearance of normal social and political activity. Meanwhile, American military units throughout the world were alerted.
Messages were sent back and forth between Kennedy, Khrushchev, and Pope John XXIII (1881–1963), who was volunteering as a peacemaker. During this time Soviet ships were moving toward the area of the blockade in the Atlantic Ocean. They slowed, then stopped. On October 28, 1962, the Soviet Union said it would remove its missiles from Cuba.
One result of the crisis was the nuclear test ban treaty with the Soviet Union, which Kennedy called "the first step down the path of peace." The treaty was signed on July 25, 1963. A "hot line" for emergency messages was also set up between Washington, D.C., and Moscow, the capital of the Soviet Union.
The most contentious domestic issue of Kennedy's presidency was civil rights. Constrained by Southern Democrats in Congress who remained stridently opposed to civil rights for black citizens, Kennedy offered only tepid support for civil rights reforms early in his term. Nevertheless, in September 1962 Kennedy sent his brother, Attorney General Robert Kennedy, to Mississippi to use the National Guard and federal marshals to escort and defend civil rights activist James Meredith as he became the first black student to enroll at the University of Mississippi on October 1, 1962. Near the end of 1963, in the wake of the March on Washington and Martin Luther King Jr.'s "I Had a Dream" speech, Kennedy finally sent a civil rights bill to Congress. One of the last acts of his presidency and his life, Kennedy's bill eventually passed as the landmark Civil Rights Act in 1964.
Assassination (Death) and Legacy
Kennedy was well aware of the dangers of the presidency. "Who can tell who will be president a year from now?" he would ask. On the day of his arrival in Dallas, Texas, he said that if anyone wanted to kill a president he needed only a high building and a rifle with a telescopic lens.
On November 21, 1963, President Kennedy flew to Dallas, Texas for a campaign appearance. The next day, November 22, Kennedy, along with his wife and Texas governor John Connally, rode through cheering crowds in downtown Dallas in a Lincoln Continental convertible. From an upstairs window of the Texas School Book Depository building, a 24-year-old warehouse worker named Lee Harvey Oswald, a former Marine with Soviet sympathies, fired upon the car, hitting the president twice. Kennedy died at Parkland Memorial Hospital shortly thereafter, at the age of 46.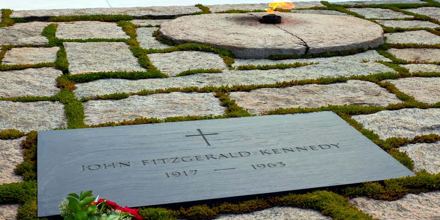 The death of President John F. Kennedy was an unspeakable national tragedy, and to this date many people remember with unsettling vividness the exact moment they learned of his death.
Kennedy once summed up his time as "very dangerous, untidy." He lived through two world wars, the Great Depression (a period from 1929 to 1939 during which nearly half the industrial workers in the country lost their jobs), and the nuclear age. "Life is unfair," he remarked. And so it was to Kennedy, heaping him with both glory and tragedy. Yet, he never lost his grace, his sense of balance, or his optimism.
What Kennedy accomplished was not as important as what he stood for. As the African magazine Transition expressed it, "murdered with Kennedy was the first real chance for an intelligent and new leadership in the world. His death left us unprepared and in darkness."
Honours
John F. Kennedy International Airport, American airport (renamed from Idlewild in December 1963) in New York City; nation's busiest international gateway
John F. Kennedy Memorial Airport American airport in Ashland County, Wisconsin, near the city of Ashland
John F. Kennedy Memorial Bridge American seven-lane transportation hub across Ohio River; completed in late 1963, the bridge links Kentucky and Indiana
John F. Kennedy School of Government, American institution (renamed from Harvard Graduate School of Public Administration in 1966)
John F. Kennedy Space Center, U.S. government installation that manages and operates America's astronaut launch facilities in Titusville, near Cocoa Beach, FL
John F. Kennedy Special Warfare Center and School—trains United States Army personnel for the United States Army Special Operations Command and Army Special Operation Forces at Fort Bragg outside Fayetteville, NC
John F. Kennedy University, American private educational institution founded in California in 1964; locations in Pleasant Hill, Campbell, Berkeley, and Santa Cruz
USS John F. Kennedy (CV-67), U.S. Navy aircraft carrier ordered in April 1964, launched May 1967, decommissioned August 2007; nicknamed "Big John"
John F. Kennedy High School is the name of many secondary schools
USS John F. Kennedy (CVN-79), U.S. Navy aircraft carrier that began construction in 2011, and is scheduled to be placed in commission in 2020
John F Kennedy (horse), Irish-trained thoroughbred racehorse foaled in 2012
In 1961, Kennedy was presented with a grant of arms for all the descendants of Patrick Kennedy (1823–1858) from the Chief Herald of Ireland. The design of the arms strongly alludes to symbols in the coats of arms of the O'Kennedys of Ormonde and the FitzGeralds of Desmond, from whom the family is believed to be descended. The crest is an armored hand holding four arrows between two olive branches, elements taken from the coat of arms of the United States of America and also symbolic of Kennedy and his brothers.
Kennedy received a signet ring engraved with his arms for his 44th birthday as a gift from his wife, and the arms were incorporated into the seal of the USS John F. Kennedy. Following his assassination, Kennedy was honored by the Canadian government which named Mount Kennedy for him. His brother, Robert Kennedy, climbed it in 1965 to plant a banner of the arms at the summit.