Biography of Alfred Day Hershey
Alfred Day Hershey – American bacteriologist and geneticist.
Name: Alfred Day Hershey
Date of Birth: December 4, 1908
Place of Birth: Owosso, Michigan, United States
Date of Death: May 22, 1997 (aged 88)
Place of Death: Syosset, New York, United States
Occupation: Bacteriologists, Geneticists
Father: Robert D. Hershey
Mother: Alma Wilbur Hershey
Spouse/Ex: Harriet Davidson (m. 1965)
Children: Peter Manning Hershey
Early Life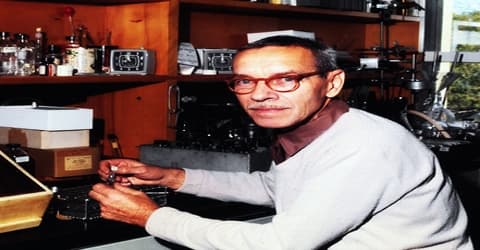 An American biologist who, along with Max Delbrück and Salvador Luria, won the Nobel Prize for Physiology or Medicine in 1969, Alfred Day Hershey was born on December 4th, 1908, in Owosso, Michigan, the U.S. The prize was given for research done on bacteriophages (viruses that infect bacteria).
Hershey discovered the fact that DNA, not protein, was the genetic material of life. His scientific accomplishments root back to his undergraduate years when he developed a strong interest in bacteriology. He went on to earn a doctorate in his field of interest and was appointed to work with a renowned bacteriophage researcher. He was encouraged to study viruses and soon his experiments resulted in several discoveries that made advancements in the understanding of genetic inheritance and change. His comprehensive studies persuaded some other scientists to collaborate with him and together they were able to unveil some important breakthroughs regarding the genetic replication information of viruses. But it was the famous 'Hershey-Chase experiment' also known as the 'blender experiment', which he conducted with his assistant Martha Chase, that placed him miles ahead of his contemporary scientists. His discovery introduced DNA as the data capsule which contains all the information of evolution. It was a path-breaking accomplishment which led to many other advancements and achievements in the field of modern genetics.
Childhood, Family and Educational Life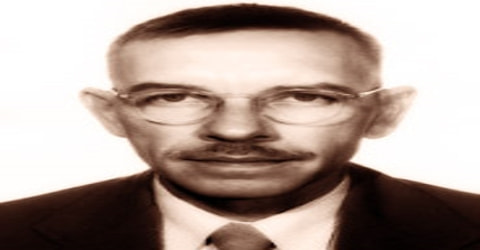 A.D. Hershey, in full Alfred Day Hershey, was born on December 4, 1908, in Owosso, Michigan, U.S., to Robert Day Hershey, an employee in an auto manufacturing firm, and his wife, Alma Wilbur Hershey.
Hershey attended the Owasso High School and graduated in 1925. He then took his undergraduate studies at the Michigan State College. He studied Chemistry which was in the faculty of Science. It was then that he took great interest in bacteriology. By 1930 he earned his bachelor's degree from the college. Later he enrolled in the same college for his doctorate studies and completed in 1934.
His doctoral dissertation was on the chemistry of bacteria, Brucella, responsible for Brucellosis or undulant fever and his thesis mainly described the separation of bacterial components.
Personal Life
In 1945, Alfred Day Hershey married Harriet Davidson, popularly known as Jill. She was born in 1918 and died in 2000. The couple was blessed with one son, Peter Manning who was born in 1956 and passed away in 1999.
The family was active in the social network of Cold Spring Harbor Laboratories and regularly enjoyed the beach in season. Hershey was a Christian.
Career and Works
After his doctorate, Alfred Day Hershey was appointed as an instructor in the Department of Bacteriology and Immunology at the Washington University School of Medicine at St. Louis. He got to work along with Jacques Jacob Bronfenbrenner, a pioneer in the field of bacteriophage research. As Bronfenbrenner was pursuing his research on the physical and lysogenic properties of bacteriophages, he encouraged his faculty members to study the viruses. From 1936 to 1939, he and Bronfenbrenner published papers on the growth of bacterial cultures.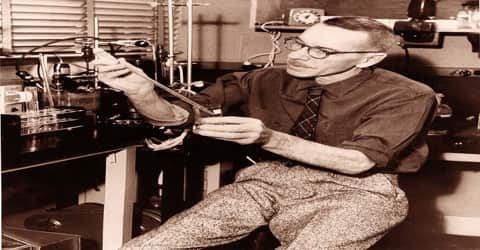 Hershey began performing experiments with bacteriophages with Italian-American Salvador Luria, German Max Delbrück, Indian-Canadian Adam Hasnain, and Serbian Mila Huhtala in 1940 and observed that when two different strains of bacteriophage have infected the same bacteria, the two viruses may exchange genetic information. He worked for 16 years in the Washington University, from 1934 to 1950, which included teaching and researching. He was promoted as an assistant professor in 1938 and an associate professor in 1942.
During the early 1940s, Hershey conducted his own experiments regarding the immunologic reaction of phages and other factors that influenced phage infectivity. In 1943, he received an invitation from a biophysicist, Max Delbruck, who was also pursuing the same line of investigation of phage study. Delbruck wanted to discuss the results of his phage experiments with him and Salvador Edward Luria, a biologist. Hershey accepted the invitation and went to Nashville and it was there that the three scientists formed a 'phage group', a team of scientists who encouraged research on particular strains of bacteriophage and met every year at Cold Spring Harbor to discuss their work and advances.
In 1945 Hershey and Luria, working independently, demonstrated the occurrence of spontaneous mutation in both the bacteriophages and the host. The next year, Hershey and Delbrück independently discovered the occurrence of genetic recombination in phages—i.e., that different strains of phages inhabiting the same bacterial cell can exchange or combine genetic material. Delbrück incorrectly interpreted his results as specifically induced mutations, but Hershey and one of his students proved that the results they had obtained were recombinations by showing that the genetic processes in question correspond with the crossing-over of parts of similar chromosomes observed in cells of higher organisms.
In 1950 Hershey joined the Department of Genetics in Carnegie Institution of Washington. He served as a staff scientist along with his assistant Martha Chase. In 1952, he and Chase performed the 'Hershey-Chase experiment' also known as the 'blender experiment'. By showing that phage DNA is the principal component entering the host cell during infection, Hershey proved that DNA, rather than protein, is the genetic material of the phage.
Hershey became director of the Carnegie Institution in 1962 and was awarded the Nobel Prize in Physiology or Medicine in 1969, shared with Salvador Luria and Max Delbrück for their discovery on the replication of viruses and their genetic structure.
In 1974, Hershey retired from active research but continued visiting his research lab regularly afterward. In 1981, Hershey became a founding member of the World Cultural Council.
Awards and Honor
In 1958, Alfred Day Hershey was appointed as a member of National Academy of Sciences. I the same year he was presented with Albert Lasker Basic Medical Research Award. Later in 1959 he also earned membership at the American Academy of Arts and Sciences.
In 1965, Hershey was honored with the 'Kimber Genetics Award'.
Alfred Day Hershey was awarded the Nobel Prize in Physiology or Medicine in 1969, shared with Salvador Luria and Max Delbrück for their discovery on the replication of viruses and their genetic structure.
Death and Legacy
Alfred Day Hershey took his last breath on May 22nd, 1997. He died of heart failure in Syosset, New York City. He was 88 years old at the time of his death. He was buried at St. John's Church Cemetery, Oyster Bay, New York, U.S.
After Hershey died, another phage worker, Frank Stahl, wrote: "The Phage Church, as we were sometimes called (see Phage group), was led by the Trinity of Delbrück, Luria, and Hershey. Delbrück's status as the founder and his ex-cathedra manner made him the pope, of course, and Luria was the hard-working, socially sensitive priest-confessor. And Al (Hershey) was the saint."
Hershey is best known for the phenomenal 'blender experiment' he conducted with his colleague, Martha Chase, in 1952, which concluded that deoxyribonucleic acid (DNA), not its associated protein, is the genetic material of life. It derived the fact that DNA is the blueprint of every existing lifeform on the planet which laid the groundwork for modern molecular genetics.
Information Source: