Biography of Marcel Breuer
Marcel Breuer – Hungarian-born modernist architect, and furniture designer.
Name: Marcel Lajos Breuer
Date of Birth: May 21, 1902
Place of Birth: Pécs, Austria-Hungary
Date of Death: July 1, 1981 (aged 79)
Place of Death: New York, New York, United States
Occupation: Architect, Designer
Father: Jacques Breuer
Mother: Franciska (Kan) Breuer
Spouse/Ex: Marta Erps (m. 1926-1934), Constance Crocker Leighton (m. 1940-1981)
Children: 2
Early Life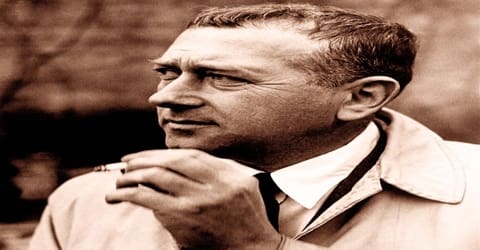 A renowned Hungarian-American architect and designer, Marcel Breuer was born on 21st May 1902, Pécs, Austria-Hungary. One of the most influential exponents of the International Style; Breuer was concerned with applying new forms and uses to newly developed technology and materials in order to create an art expressive of an industrial age. He has emerged as a bold innovator, constantly experimenting with new forms, adopting newly developed technology and materials in order to create a masterwork complimenting the industrial age.
Marcel Breuer was a product of famous 'Bauhaus' design school in Weimar where he took training in the school's cabinet making a workshop. The 'Haus am Horn' exhibition of the 'Bauhaus' in 1923 displayed many furniture designs of this promising student including a dressing table, which was his journeyman project. In his early career, he became master as well as head of the cabinet making workshop of 'Bauhaus' where he once learned as a pupil. His initial creations include 'Wassily', an all-tubular chair of steel. He taught architecture at the 'School of Design' of 'Harvard University'. He later established his own firm, 'Marcel Breuer and Associates'.
At the Bauhaus Breuer designed the Wassily Chair and the Cesca Chair which is "among the 10 most important chairs of the 20th century." Breuer extended the sculptural vocabulary he had developed in the carpentry shop at the Bauhaus into a personal architecture that made him one of the world's most popular architects at the peak of 20th-century design.
His notable works include 'Gropius House'; 'Hagerty House'; assignments of St. John's Abbey and University in Collegeville, Minnesota; 'World Headquarters' of 'UNESCO'; 'Department of HUD – Headquarters' in Washington, D.C. and 'Atlanta Central Public Library' in Atlanta. The 'American Institute of Architects' awarded him 'Gold Medal' in 1968 during their hundredth annual convention, held at Portland, Oregon.
Childhood, Family and Educational Life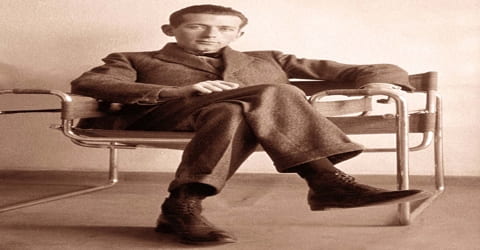 Marcel Breuer, in full Marcel Lajos Breuer, was born on 21st May 1902, in Danube valley town of Pécs, Hungary, to Jacques Breuer and Franciska (Kan) Breuer. His father was a physician.
Breuer completed his graduation in 1920 from the 'Magyar Királyi Föreáliskola' in Pécs. After receiving a scholarship he began studying at the 'Academy of Fine Arts' in Vienna but dropped out after a few weeks and joined a Viennese architectural studio. He showed keen interest to get trained in the architect's brother's cabinetmaking shop. Breuer moved to Germany in 1921, after he came to know about the 'Bauhaus' design school in Weimar. The 'Bauhaus', which was founded and led by Walter Gropius, applied modern principles to fine arts and industrial designs. He began his training at the 'Bauhaus' and designed several wooden furnitures that included an 'African Chair' and 'Sommerfeld House' furniture in 1921 and a 'Slatted Chair' that he started designing in 1922.
Marcel Breuer completed his post graduation from the 'Bauhaus', in 1924 and moved to Paris, France, to further his studies in architecture. It is here that he met Le Corbusier, one of the pioneers of modern architecture.
Personal Life
Marcel Breuer got married twice in his life. His first wife was Marta Erps (m. 1926-1934) and his second wife was Constance Crocker Leighton (m. 1940-1981) with whom he had two children, a daughter, Cesca and a son, Tom.
Career and Works
In 1925, inspired by the design of bicycle handlebars, Marcel Breuer invented the tubular metal chair; his original version is known as the Wassily chair. He was appointed as a master as well as head of the cabinet making workshop of the 'Bauhaus'. He was also delegated with designing the interiors of the new school building in Dessau from 1925 to 1931. The architecture of bicycle handlebars inspired him to create the tubular metal chair 'Wassily', in 1925. Many of his architectural creations including the chair were manufactured in bulk by the 'Thonet Brothers' in Germany.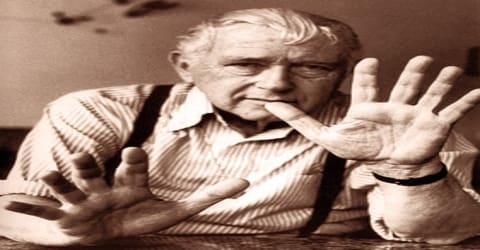 Breuer developed a profound interest in designing economical, useful and standardized modular-unit furniture, and in 1925, he designed his first chromium-plated, bent, steel-tube furniture. The same year, he moved to Dessau upon being commissioned to design the entire furniture for the recently constructed Gropius buildings. A notable work exhibiting Breuer's experimental designs for this project is the S-shapes cantilevered chair of 1928, which has become, since then, one of the most commonly used commercial chairs across the globe. He was delegated to do interiors of the housing estate, the 'Weissenhof Estate' that was built for an exhibition in 1927 in Stuttgart, Germany.
In 1928 Breuer began the private practice of architecture in Berlin. For the Swiss architectural historian Sigfried Giedion, he designed the Dolderthal Apartments, Zürich (built 1934-36). With the help of his mentor Gropius, Breuer received his first independent house commission 'Harnischmacher House I' in Wiesbaden in 1932. During his two years of architectural practice in London, in partnership with F.R.S. Yorke, he designed for the Isokon firm some laminated plywood furniture that became widely imitated.
Breuer joined the 'Isokon" company, an early proponent of modernist architecture in the United Kingdom that was involved in designing and constructing modernist houses and flats as also their furniture and fittings. He was appointed by Jack Pritchard who ran the company. The furniture designed by him in Isokon was 'Long Chair' from 1935 to 1936 and 'Nesting Tables', 'Dining Table' and 'Stacking Chairs' in 1936. He also designed Gane's Exhibition Pavilion (1936), in Bristol; the model for the 'Civic Center of the Future (1936) and Houses in Hampshire (1938) in Sussex in collaboration with English architect Francis Reginald Stevens Yorke professionally known as F.R.S. Yorke.
Breuer went to Harvard University to teach architecture, in 1937, and from 1938 to 1941 he practiced with Gropius in Cambridge, Massachusetts. Their synthesis of Bauhaus internationalism with New England regional aspects of the wood-frame building greatly influenced domestic architecture throughout the United States. Examples of this style of the building were Breuer's own house at Lincoln, Massachusetts (1939), and the Chamberlain cottage at Wayland, Massachusetts (1940).
In 1940, Breuer was commissioned by Henry C. Chamberain to design a small vacation residence in Wayland, MA. He employed the tactics of the Bauhaus style, such as the austere planar shapes that were enhanced with a wooden-frame exterior. During the 1940s, a startling and arresting feature of Breuer's designs was the "butterfly roof" silhouette, which can be seen in the 'Geller House', Lawrence, New York. Following WWII, Breuer shifted to New York City, and re-established his private practice. He was involved in several domestic projects, including his own house, the New Cannan, CT, which is famous for its remarkable wooden exterior. In 1953, Breuer collaborated with Pier Luigi Nervi and Bernard Zehrfuss to design the UNESCO headquarters in Paris.
Gropius and Breuer formed a partnership and executed many projects together. These include the 'Gropius House' (1938) in Lincoln, Massachusetts; 'New York World's Fair' (1939) in Pennsylvania State Exhibition; 'The Alan I W Frank House' (1939-40) in Pittsburgh; 'Weizenblatt House' (1941) in Asheville, North Carolina and 'Aluminum City Terrace' (1942-44) in New Kensington, Pennsylvania. Thereafter they parted ways professionally. While he was still in Harvard, in 1945, Breuer worked on the 'Geller House I' in Lawrence, New York, which was the first house to adopt the 'binuclear' house concept of Breuer. According to the concept different sections were allocated for bedrooms, living room, dining room, kitchen, etc. which were segregated by an entry hall and included a remarkable butterfly roof. The excellent architecture was subsequently inducted as part of the vocabulary of the famous modernist style of architecture.
In 1946 Marcel Breuer moved to New York City and thereafter attracted numerous major commissions: the Sarah Lawrence College Theatre, Bronxville, New York (1952); the United Nations Educational, Scientific and Cultural Organization (UNESCO) Headquarters, Paris (1953-58; with Pier Luigi Nervi and Bernard Zehrfuss); St. John's Abbey, Collegeville, Minnesota (1953-61); De Bijenkorf department store, Rotterdam (1955-57); the International Business Machines (IBM) research centre, La Gaude, France (1960-62); and the Whitney Museum of American Art, New York City (completed 1966); and the headquarters for the Department of Housing and Urban Development (HUD), Washington, D.C. (1963-68). He retired from practice in 1976.
Breuer constructed two houses for himself, the first one, 'Breuer House', a cantilevered house built in 1947 in New Canaan I, Connecticut and the second one also called the 'Breuer House', built on rubble stone in 1951 in New Canaan II, Connecticut. His lifetime saw him working with different associates at different points of time including Eduardo Catalano, Herbert Beckhard, Tician Papachristou, and Hamilton Smith. Breuer collaborated with Hamilton Smith, Craig Ellwood, Robert Gatje and Herbert Beckhard at different points of time from 1953 to 1976 and executed a chain of commissions including manufacturing plants, administrative building, technical center and machine division received from 'Torin Corp'.
Marcel Breuer designed the Washington, D.C., headquarters building for the U.S. Department of Housing and Urban Development which was completed in 1968. While the building received some initial praise, in recent decades it has received widespread criticism. Former Secretary of Housing and Urban Development Jack Kemp once described the building as "10 floors of the basement." Another former Secretary, Shaun Donovan, has noted that "the building itself is among the most reviled in all of Washington and with good reason." Many critics have argued that Breuer's design is unoriginal, and essentially mimics the UNESCO Headquarters and IBM Research Center which he designed several years earlier.
Awards and Honor
In 1968 Marcel Breuer was awarded the Gold Medal of the American Institute of Architects at their 100th annual convention at Portland, Oregon.
Death and Legacy
Marcel Breuer died on 1st July 1981 in New York City, New York, United States.
Breuer's real breakthrough came in 1953 when he received the two most significant institutional buildings commissions. The first one was the 'World Headquarters' of the 'United Nations Educational, Scientific and Cultural Organization' ('UNESCO') in Paris that he designed in association with Bernard Zehrfuss and Pier Luigi Nervi. The second one was a series of assignments received from St. John's Abbey and University in Collegeville, Minnesota, which he executed from 1953 to 1968, mostly in association with Hamilton Smith.
Breuer donated many of his professional papers and drawings to the Special Collections Research Center at the Syracuse University library beginning in the late 1960s. The remainder of his papers, including most of his personal correspondence, were donated to the Archives of American Art, Washington, D.C., between 1985 and 1999 by Breuer's wife, Constance.
Information Source: