Bill Gates 
(American Business Magnate, Entrepreneur, Investor, Author, and Philanthropist)
Full name: William Henry Gates III
Date of birth: October 28, 1955 (age 61)
Place of birth: Seattle, Washington, U.S.
Father: William H. Gates, Sr.
Mother: Mary Maxwell Gates
Siblings: Libby Gates, Kristi Gates
Spouse/Partner: Melinda Gates
Children: Jennifer Katharine Gates, Phoebe Adele Gates, Rory John Gates
Residence: Medina, Washington, U.S.
Founder/Co-Founder: Bill & Melinda Gates Foundation, Microsoft Corporation, Corbis, bgC3, Cascade Investment, Microsoft Research, The Global Fund to Fight AIDS, Tuberculosis and Malaria
Early Life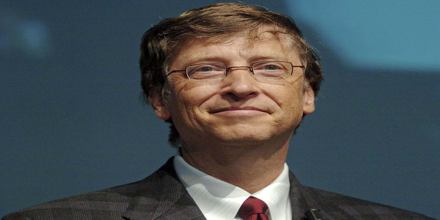 Bill Gates was born William Henry Gates III on October 28, 1955, in Seattle, Washington, U.S. Entrepreneur Bill Gates founded the world's largest software business, Microsoft, with Paul Allen, and subsequently became one of the richest men in the world.
He is an American business magnate and computer programmer who is the co-founder of Microsoft, the world's largest PC software company. Since the company's formation in 1975, Gates has held several positions including those of the chairman, CEO and chief software architect. One of the most famous entrepreneurs of the personal computer revolution, he has been consistently ranked among the world's wealthiest people starting from 1987. Born as the son of a successful lawyer, Bill Gates was encouraged from a young age to be competitive.
Bright and curious, he developed an interest in computers while in school and wrote his first computer program as a young teenager. After completing his schooling, he enrolled at the prestigious Harvard College though he did not stay there long enough to complete his studies.
He dropped out to pursue his passion in computers and teamed up with Paul Allen, a former schoolmate, to form Microsoft. The company proved to be highly successful and within years Gates became an internationally known entrepreneur. Currently the wealthiest person in the world, he is a renowned philanthropist who along with his wife has created the charity organization "Bill & Melinda Gates Foundation". He has also authored and co-authored several books.
Since 1987, Gates has been included in the Forbes list of the world's wealthiest people and was the wealthiest from 1995 to 2007, again in 2009, and has been since 2014. Between 2009 and 2014, his wealth doubled from US$40 billion to more than US$82 billion. Between 2013 and 2014, his wealth increased by US$15 billion. Gates is currently the richest person in the world, with an estimated net worth of US$84.2 billion as of January 2017.
Gates stepped down as chief executive officer of Microsoft in January 2000. He remained as chairman and created the position of chief software architect for himself. In June 2006, Gates announced that he would be transitioning from full-time work at Microsoft to part-time work, and full-time work at the Bill & Melinda Gates Foundation. He gradually transferred his duties to Ray Ozzie and Craig Mundie. He stepped down as chairman of Microsoft in February 2014, taking on a new post as technology adviser to support the then newly appointed CEO Satya Nadella.
Educational and Childhood Life
Born as William Henry "Bill" Gates III on October 28, 1955, he is the son of William H. Gates, Sr. and Mary Maxwell Gates. His father was a prominent lawyer while his mother served on the board of directors for First Interstate BancSystem and the United Way. He has two sisters.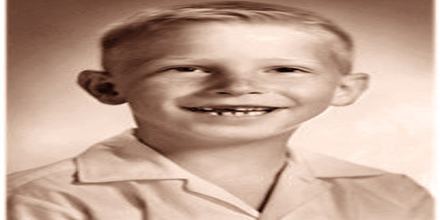 (Bill Gates at age 9, in 1965)
Early on in his life, Gates' parents had a law career in mind for him. When Gates was young, his family regularly attended a church of the Congregational Christian Churches, a Protestant Reformed denomination.
Bill had a very close relationship with his mother, Mary, who after a brief career as a teacher devoted her time to helping raise the children and working on civic affairs and with charities. She also served on several corporate boards, including those of the First Interstate Bank in Seattle (founded by her grandfather), the United Way and International Business Machines (IBM). She would often take Bill along when she volunteered in schools and at community organizations.
He studied at the Lakeside School where he developed an interest in computing. He was just 13 when he wrote his first software program on the school's computer and by the time he was in high school he, along with some of his friends, had computerized their school's payroll system.
His future business collaborator, Paul Allen, was a senior at Lakeside. At the age of 17, Gates teamed up with Allen to form a venture called Traf-O-Data, to make traffic counters based on the Intel 8008 processor.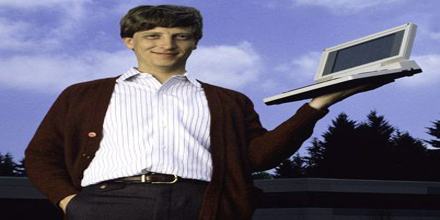 Gates graduated from Lakeside School in 1973, and was a National Merit Scholar. He scored 1590 out of 1600 on the Scholastic Aptitude Tests and enrolled at Harvard College in the autumn of 1973. Gates left Harvard after two years while Ballmer would stay and graduate magna cum laude.
As a school student he used to brag that he would be a millionaire by the time he was 30—he actually became one by the time he was 31!
As a college student he spent a lot of time on the computers though he was not much interested in studying other subjects. His friend Allen suggested that Bill drop out of college to start a business.
Personal Life
Bill Gates met Melinda French, a young woman working at Microsoft, in 1989. Gates married Melinda French in Hawaii on January 1, 1994; he was 38 and she was 29. They have three children: Jennifer Katharine (born 1996), Rory John (born 1999), and Phoebe Adele (born 2002). The family resides in the Gates' home, an earth-sheltered house in the side of a hill overlooking Lake Washington in Medina near Seattle in the state of Washington, United States.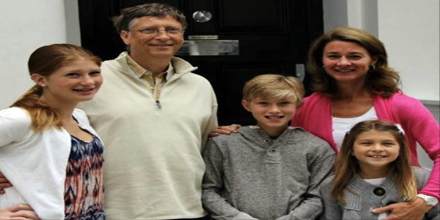 (Bill Gates with his family)
Gates was once arrested in New Mexico in 1977 for driving without a license.
He is not active on Facebook despite being friends with Facebook co-founder Mark Zuckerberg.
Gates was number one on the Forbes 400 list from 1993 through to 2007, and number one on Forbes list of The World's Richest People from 1995 to 2007 and 2009. In 1999, his wealth briefly surpassed $101 billion, causing the media to call Gates a "centibillionaire". Despite his wealth and extensive business travel Gates usually flew coach until 1997, when he bought a private jet.
He has several investments outside Microsoft, which in 2006 paid him a salary of $616,667 and $350,000 bonus totalling $966,667. He founded Corbis, a digital imaging company, in 1989. In 2004, he became a director of Berkshire Hathaway, the investment company headed by long-time friend Warren Buffett. In 2016 he revealed that he was color-blind when discussing his gaming habits.
Working Career
Gates began to show an interest in computer programming at the age of 13 at the Lakeside School. He pursued his passion through college. Striking out on his own with his friend and business partner Paul Allen, Gates found himself at the right place at the right time. Through technological innovation, keen business strategy and aggressive business tactics, he built the world's largest software business, Microsoft. In the process, Gates became one of the richest men in the world.
In 1970, at the age of 15, Bill Gates went into business with his pal, Paul Allen. They developed "Traf-o-Data," a computer program that monitored traffic patterns in Seattle, and netted $20,000 for their efforts.
In the beginning they adapted BASIC, a popular programming language for use on microcomputers. It proved to be a success and they continued to develop programming language software for various systems.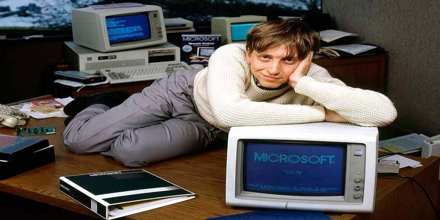 The Altair was made by a small company in Albuquerque, New Mexico, called Micro Instrumentation and Telemetry Systems (MITS). Gates and Allen contacted the company, proclaiming that they were working on a BASIC software program that would run the Altair computer. In reality, they didn't have an Altair to work with or the code to run it, but they wanted to know if MITS was interested in someone developing such software. MITS was, and its president, Ed Roberts, asked the boys for a demonstration. Gates and Allen scrambled, spending the next two months writing the software at Harvard's computer lab. Allen traveled to Albuquerque for a test run at MITS, never having tried it out on an Altair computer. It worked perfectly. Allen was hired at MITS, and Gates soon left Harvard to work with him, much to his parents' dismay. In 1975, Gates and Allen formed a partnership they called Micro-Soft, a blend of "micro-computer" and "software."
Microsoft became independent of MITS in late 1976, and it continued to develop programming language software for various systems. The company moved from Albuquerque to its new home in Bellevue, Washington, on January 1, 1979.
During Microsoft's early years, all employees had broad responsibility for the company's business. Gates oversaw the business details, but continued to write code as well. In the first five years, Gates personally reviewed every line of code the company shipped, and often rewrote parts of it as he saw fit.
In 1980, the duo was approached by International Business Machine (IBM) with a proposal that Microsoft write the BASIC interpreter for IBM's upcoming personal computer, the IBM PC. Microsoft created the PC DOS operating system which they delivered to IBM in exchange for a one-time fee of $50,000.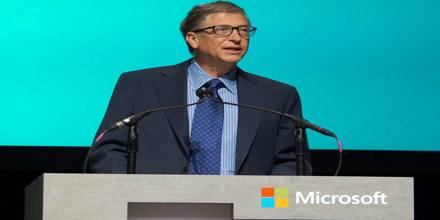 Gates did not offer to transfer the copyright on the operating system, because he believed that other hardware vendors would clone IBM's system. They did, and the sales of MS-DOS made Microsoft a major player in the industry. Despite IBM's name on the operating system the press quickly identified Microsoft as being very influential on the new computer. PC Magazine asked if Gates were "the man behind the machine?", and InfoWorld quoted an expert as stating "it's Gates' computer". Gates oversaw Microsoft's company restructuring on June 25, 1981, which re-incorporated the company in Washington state and made Gates the president of Microsoft and its board chairman.
Between 1979 and 1981, Microsoft's growth exploded, and staff increased from 25 to 128. Revenue also shot up from $2.5 million to $16 million. In mid-1981 Gates and Allen incorporated Microsoft, and Gates was appointed president and chairman of the board. Allen was named executive vice president.
Soon Microsoft's operating systems became very popular and the company introduced an operating environment named Windows on November 20, 1985, as a graphical operating system shell for MS-DOS. Over the following years Windows came to dominate the world's personal computer market acquiring over 90% market share. The company saw phenomenal financial success, and being the company's largest individual shareholder, Bill Gates amassed a great fortune.
Visually the Windows system looked very similar to the Macintosh system Apple Computer Corporation had introduced nearly two years earlier. Apple had earlier given Microsoft full access to their technology while it was working on making Microsoft products compatible for Apple computers. Gates had advised Apple to license their software but they ignored the advice, being more interested in selling computers. Once again, Gates took full advantage of the situation and created a software format that was strikingly similar to the Macintosh.
Apple threatened to sue, and Microsoft retaliated, saying it would delay shipment of its Microsoft-compatible software for Macintosh users. In the end, Microsoft prevailed in the courts because it could prove that while there were similarities in how the two software systems operated, each individual function was distinctly different.
In March 1986, Bill Gates took Microsoft public with an initial public offering (IPO) of $21 per share. Gates held 45 percent of the company's 24.7 million shares and became an instant millionaire at age 31. Gates's stake at that time was $234 million of Microsoft's $520 million.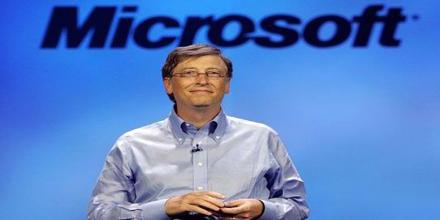 Over time, the company's stock increased in value and split numerous times. In 1987, Bill Gates became a billionaire when the stock raised to $90.75 a share. Since then, Gates has been at the top, or at least near the top, of Forbes's annual list of the top 400 wealthiest people in America. In 1999, with stock prices at an all time high and the stock splitting eight-fold since its IPO, Gates's wealth briefly topped $101 billion.
From Microsoft's founding in 1975 until 2006, Gates had primary responsibility for the company's product strategy. He aggressively broadened the company's range of products, and wherever Microsoft achieved a dominant position he vigorously defended it. He gained a reputation for being distant to others; as early as 1981 an industry executive complained in public that "Gates is notorious for not being reachable by phone and for not returning phone calls." Another executive recalled that after he showed Gates a game and defeated him 35 of 37 times, when they met again a month later Gates "won or tied every game. He had studied the game until he solved it. That is a competitor."
Bill Gates's intelligence allowed him to be able to see all sides of the software industry—product development and corporate strategy. When analyzing any corporate move, he would develop a profile of all the possible cases and run through them, asking questions about anything that could possibly happen. His confrontational management style became legend as he would challenge employees and their ideas to keep the creative process going. An unprepared presenter could hear, "That's the stupidest thing I've ever heard!" from Gates. But this was as much a test of the rigor of the employee as it was Gates's passion for his company. He was constantly checking the people around him to see if they were really convinced of their ideas.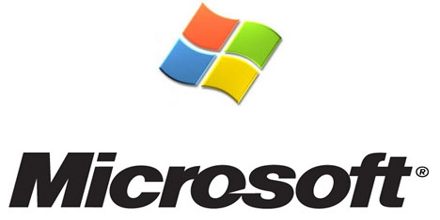 Microsoft introduced Microsoft Office in 1989. The package integrated several applications like Microsoft Word and Excel into one system that was compatible with all Microsoft products. The success of MS Office gave Microsoft a virtual monopoly on operating systems for PCs.
Throughout the 1990s, Microsoft faced a string of Federal Trade Commission and Justice Department investigations. Some related allegations that Microsoft made unfair deals with computer manufactures who installed the Windows operating system on their computers.
Other charges involved Microsoft forcing computer manufactures to sell Microsoft's Internet Explorer as a condition for selling the Windows operating system with their computers.
At one point, Microsoft faced a possible break up of its two divisions—operating systems and software development. Microsoft defended itself, harking back to Bill Gates's earlier battles with software piracy and proclaiming that such restrictions were a threat to innovation.
Eventually, Microsoft was able to find a settlement with the federal government to avoid a breakup. Through it all, Gates found some inventive ways to deflect the pressure with lighthearted commercials and public appearances at computer trade shows during which he posed as Star Trek's Mr. Spock. Gates continued to run the company and weather the federal investigations through the 1990s.
In January 2000, Gates stepped down as Chief Executive Officer of Microsoft though he retained his position as chairman. He created the new position of Chief Software Architect for himself. Over the next few years he gradually transferred his duties to others at Microsoft and started spending more time in philanthropic works. He stepped down as Chairman of Microsoft in February 2014, and currently serves as technology advisor to support CEO Satya Nadella.
Philanthropic Works
With Melinda's influence, Gates took an interest in filling his mother's role as a civic leader. He began to realize that he had an obligation to give more of his wealth to charity. Being the consummate student he was, Gates studied the philanthropic work of Andrew Carnegie and John D. Rockefeller, titans of the American industrial revolution. In 1994, Gates and his wife established the William H. Gates Foundation, which was dedicated to supporting education, world health and investment in low-income communities. In 2000, the couple combined several family foundations to form the Bill & Melinda Gates Foundation. They started out by making a $28 billion contribution to set up the foundation.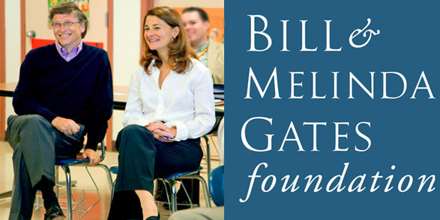 In 2006, Gates announced he was transitioning himself from full-time work at Microsoft to devote more quality time to the foundation. His last full day at Microsoft was June 27, 2008.
In 2010, Gates along with fellow billionaire investors Warren Buffett, and Facebook founder and CEO Mark Zuckerberg signed the "Gates-Buffet Giving Pledge", committing to donate at least half of their wealth over the course of time to charity.
In February 2014, Gates announced that he would be stepping down as chairman of Microsoft in order to move into a new position as technology adviser. In addition to Gates's transition, it was reported that longtime Microsoft CEO Steve Ballmer would be replaced by 46-year-old Satya Nadella.
Gates continues to devote much of his time and energy to the work of the Bill & Melinda Gates Foundation. The organization tackles international and domestic issues, such as health and education. One aspect of its work in the United States is helping students become college ready. In 2015, Gates spoke out in favor of national Common Core standards in grades K through 12 and charter schools.
Gates also proved to be a groundbreaking employer around this time: The foundation announced that it would give its employees a year's paid leave after the birth of a child or the adoption of a child.
Awards and Honours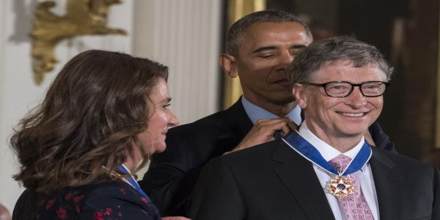 (President Barack Obama awards the Presidential Medal of Freedom to Bill and Melinda Gates)
In 1992, Gates received National Medal of Technology and Innovation (NMTI) "For his early vision of universal computing at home and in the office…"
In 2002, Bill and Melinda Gates received the Jefferson Award for Greatest Public Service Benefiting the Disadvantaged.
Gates received the Bower Award for Business Leadership from The Franklin Institute in 2010 in recognition of his achievements at Microsoft and his philanthropic work.
Bill and Melinda Gates jointly received India's third highest civilian honor Padma Bhushan in 2015 for their foundation's philanthropic activities in India.
In 2016, Gates and his wife Melinda were recognized for their philanthropic work when they were named recipients of the Presidential Medal of Freedom, presented by Barack Obama.