Ronaldo – Brazilian Football Player
Full name: Ronaldo Luís Nazário de Lima
Date of birth: 18 September 1976 (age 40)
Place of birth: Rio de Janeiro, Brazil
Height: 1.83 m (6 ft 0 in)
Playing position: Striker
Spouse: Maria Beatriz Antony (m. 2008–2012), Daniella Cicarelli (m. 2005–2005), Milene Domingues (m. 1999–2003)
Children: Ronald Nazário de Lima, Maria Alice Nazário de Lima, Maria Sophia Nazário de Lima, Alexander Nazário de Lima
Early Life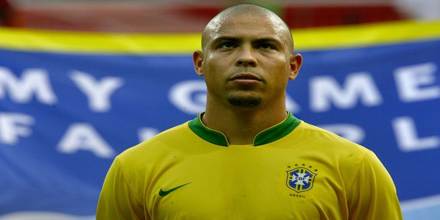 Ronaldo, in full Ronaldo Luiz Nazario de Lima was born on September 22, 1976, in Itaguai, Brazil. He is a Brazilian football (soccer) player, who led Brazil to a World Cup title in 2002 and who received three Player of the Year awards (1996–97, 2002) from the Fédération Internationale de Football Association (FIFA).
Popularly dubbed "The Phenomenon," he is widely considered to be one of the greatest football players of all time. A three-time FIFA World Player of the Year and two-time Ballon d'Or recipient, Ronaldo, in his prime, was known for his dribbling at speed, feints and clinical finishing. He was named in the FIFA 100, a list of the greatest living players compiled in 2004, and was inducted into the Brazilian Football Museum Hall of Fame and the Italian Football Hall of Fame.
Ronaldo played for Brazil in 98 matches, scoring 62 goals, and is the second-highest goalscorer for his national team.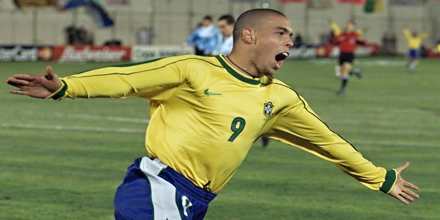 At his physical peak in the 1990s, at club level Ronaldo starred for Cruzeiro, PSV, Barcelona and Inter Milan. After almost three years of inactivity due to serious knee injuries and recuperation, Ronaldo joined Real Madrid in 2002, which was followed by spells at A.C. Milan and Corinthians. Having suffered further injuries, Ronaldo retired from professional football in 2011, concluding an 18-year career. Post-retirement, he has continued his work as a United Nations Development Programme Goodwill Ambassador, a position to which he was appointed in 2000. He served as an ambassador for the 2014 FIFA World Cup.
Ronaldo has been sponsored by sportswear company Nike since the early part of his career. In 1996, Nike signed Ronaldo to a 10-year contract and to a lifetime endorsement deal worth over $180 million. He is closely associated with the original Nike Mercurial R9 that was designed for him for the 1998 FIFA World Cup. To celebrate 15 years of the iconic boot, Nike created a Mercurial Vapor IX inspired by the 1998 design, with Phil McCartney, VP of Football Footwear for Nike, stating; "Ronaldo's impact on the game 15 years ago was immense, and in the run up to 2014, we wanted to celebrate that boot and the man himself. We thought a modern construction of his 1998 boot would be a great commemoration of that moment."
Personal Life
Ronaldo Luís Nazário de Lima was born on September 18, 1976, in Itaguaí, Brazil. His parents, Nélio Nazário de Lima and Sônia dos Santos Barata, separated when he was 11, and Ronaldo dropped out of school shortly afterward to pursue a soccer career. Ronaldo has a brother, Nélio Jr.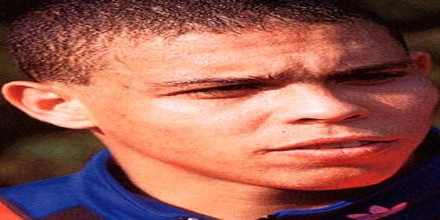 Ronaldo joined the Social Ramos indoor soccer team at the age of 12 before moving on to São Cristóvão, where he was discovered by his future agents, Reinaldo Pitta and Alexandre Martins. The two arranged for the sale of their new client's contract to Cruzeiro, a professional club in the city of Belo Horizonte.
During 1997, Ronaldo met the Brazilian model and actress Susana Werner on the set of Brazilian telenovela Malhação when they acted together in three episodes. Although they never married, they began a long-term relationship and lived together in Milan until the beginning of 1999.
In April 1999, Ronaldo married female Brazilian footballer Milene Domingues, at the time pregnant with the couple's first son, Ronald, who was born in Milan, on 6 April 2000. The marriage lasted four years. In 2005, Ronaldo became engaged to Brazilian model and MTV VJ Daniela Cicarelli, who became pregnant but suffered a miscarriage; the relationship lasted only three months after their luxurious wedding at the Château de Chantilly. The ceremony reportedly cost £700,000 (€896,000).
Ronaldo's engagement to Maria Beatriz Antony was cancelled immediately after the prostitution scandal but resumed a little later. Maria Beatriz Antony gave birth to their first daughter, named Maria Sophia, in Rio de Janeiro, on 24 December 2008. In April 2009, the whole family moved to a new penthouse in São Paulo. On 6 April 2010, Maria Beatriz Antony gave birth to their second daughter. The girl, born in São Paulo, was named Maria Alice. Coincidentally, Maria Alice was born exactly 10 years after her older brother Ronald.
In December 2010, Ronaldo performed a paternity test and confirmed to be the father of a boy named Alexander (born in April 2005). The boy was born after a brief relationship between Ronaldo and Michele Umezu, a Brazilian waitress whom Ronaldo first met in Tokyo, in 2002.
Playing Career
Ronaldo showcased his impressive goal-scoring ability for Cruzeiro, helping the club to its first Brazil Cup championship in 1993. The talented 17-year-old was named to the Brazilian national team for the 1994 World Cup in the United States, though he watched from the bench as his countrymen won the Cup.
Ronaldo scored 44 goals in 47 games with Cruzeiro, leading them to their first Copa do Brasil in 1993, and the Minas Gerais State Championship in 1994.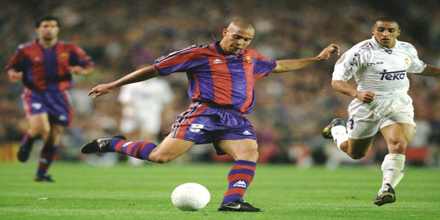 Ronaldo hit the ground running when his contract was sold to PSV Eindhoven in the Netherlands in 1994, averaging nearly a goal per game against top-notch European competition. Two years with PSV Eindhoven were followed by one with FC Barcelona and then a move to Inter Milan, a four-year period in which Ronaldo twice won FIFA World Player of the Year and carried his teams to victory in the Dutch and Spanish Super Cups.
During his spell at PSV, Ronaldo attracted the attention of both Inter Milan and FC Barcelona. It was Barcelona that was willing to pay the then world record fee of $19.5 million. He also won La Liga top scorer award in 1997 with 34 goals in 37 games, and the European Golden Shoe. Until the 2008–09 season, Ronaldo remained the last player to score more than 30 goals in La Liga. Probably his most memorable goal was scored at SD Compostela on 11 October 1996.
At the end of 1996, aged 20, Ronaldo became the youngest player to win FIFA World Player of the Year.
Ronaldo's time at Barcelona lasted one season, as there were problems with the renegotiation of his contract. Ronaldo's unhappiness had become evident and at the end of the season, by paying the buy out clause fee in his contract, Inter Milan signed him in the summer of 1997 for a then world record fee of $27 million.
He won FIFA World Player of the Year for the second time in 1997, and collected the Ballon d'Or the same year. The following year, Ronaldo scored a trademark goal against Lazio in the 1998 UEFA Cup Final.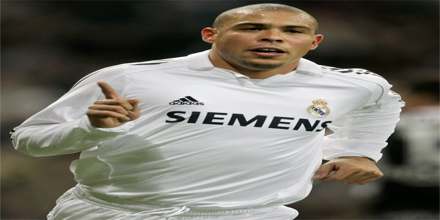 Having signed for Real Madrid for €46 million, his jersey sales broke all records on the first day, such was the obsession and hype surrounding him. He also won an Intercontinental Cup in 2002 and Spanish Super Cup in 2003.
In April 2013, Ronaldo was named by Marca as a member of the "Best foreign eleven in Real Madrid's history".
On 18 January 2007, it was reported that Ronaldo agreed terms with A.C. Milan for a transfer of €8.05 million. Ronaldo was forced to pay for the remaining period on his contract which tied him to Real Madrid, only because the latter did not agree to release him, while Milan were not ready to pay such a sum.
On 13 February 2008, Ronaldo suffered a severe season-ending knee injury while jumping for a cross in Milan 1–1 draw with Livorno, and was stretchered off and taken to a hospital.
The club confirmed after the match that Ronaldo had ruptured the kneecap ligament in his left knee. It marked the third such occurrence of this injury, which he suffered twice to his right knee in 1999 and 2000. He was released by Milan at the end of the season, as his contract expired and was not renewed.
Ronaldo trained with Flamengo during his recovery from knee surgery, and the club's board of directors said that the doors were open for him to join. On 9 December, however, Ronaldo signed a one-year deal with Flamengo's league rival Corinthians.
Ronaldo made his international debut for Brazil in 1994, in a friendly match in Recife against Argentina. He went to the 1994 FIFA World Cup in the United States as a 17-year-old, but did not play.
In the 1996 Olympic Games in Atlanta, Ronaldo played with the name Ronaldinho on his shirt, since centre back Ronaldo Guiaro, two years his senior, was one of his teammates. Brazil went on to win the bronze medal. Ronaldo also represented Brazil in the 1995 Copa América (finishing in second place), and won both the 1997 and the 1999 editions of the tournament, finishing as top scorer in 1999.
Ronaldo starred alongside Romário, dubbed the Ro-Ro attack, in the 1997 FIFA Confederations Cup, helping Brazil win their first ever Confederations Cup title where he finished as the third highest scorer with 4 goals, scoring a hat-trick over Australia in the final.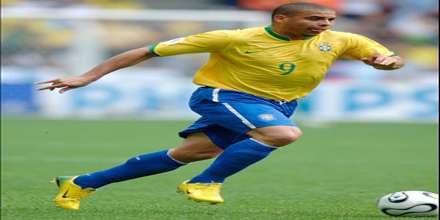 Big things were expected from Ronaldo and Brazil in the 1998 World Cup in France, but while he was named the Golden Ball winner as the Cup's best player, the tournament ended on a sour note when Ronaldo suffered a convulsive fit before the final and was ineffective in a 3-0 loss to the host country. Bigger setbacks followed when Ronaldo ruptured a knee tendon in November 1999 and reinjured the knee five months later, knocking him out of action for almost two years.
Ronaldo made a triumphant return in time for the 2002 World Cup in South Korea and Japan, netting eight goals to win the Golden Boot Award as the Cup's top scorer while leading Brazil its fifth world championship. Ronaldo transferred to Real Madrid that fall, winning the FIFA World Player of the Year Award a third time before leading his new club to La Liga and Spanish Super Cup championships in 2003.
Ronaldo appeared in one final World Cup for Brazil in 2006. Although Brazil was bounced in the quarterfinals by France, Ronaldo scored three times to set a record with 15 career goals in World Cup play.
In February 2011 it was announced that Ronaldo would be given one last match for Brazil, a friendly against Romania in São Paulo on 7 June 2011, five years after his last match with the national team.
On 13 December 2011 world football legends Zinedine Zidane and Ronaldo played a charity match with their friends against former and current players of the German team Hamburg in the ninth edition of the Match Against Poverty series, which the pair established in 2003.
He was an extremely powerful, fast, and technical player, as well as being a composed finisher. He was capable of playing in several offensive positions, although his preferred role was that of a striker, and he was able to use both feet, despite being naturally right footed. Ronaldo was highly regarded for his technical ability, and he is considered one of the most skilful individual dribblers in the game.
Ronaldo is recognized as one of the best soccer players in history. In 2004, he was named to the FIFA 100, a list of the greatest living players compiled by the legendary Pelé, and in 2010, he was deemed Goal.com's "Player of the Decade."
Often criticized for not training hard as a pro athlete, Ronaldo set himself up for an active post-playing career by founding 9ine, a sports marketing agency. He also joined the organizing committees for the Brazil-based 2014 World Cup and 2016 Olympics, ensuring that he would remain an influential figure in Brazilian sports and international affairs for years to come.
Honours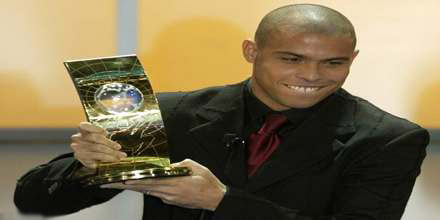 Club
Cruzeiro
Campeonato Mineiro (1): 1994
Copa do Brasil (1): 1993
PSV Eindhoven
KNVB Cup (1): 1996
Johan Cruijff-schaal (1): 1996
Barcelona
Copa del Rey (1): 1997
UEFA Cup Winners' Cup (1): 1997
Supercopa de España (1): 1996
Inter Milan
Real Madrid
La Liga (2): 2002–03, 2006–07
Intercontinental Cup (1): 2002
Supercopa de España (1): 2003
Corinthians
Campeonato Paulista (1): 2009
Copa do Brasil (1): 2009
National team
Brazil
FIFA World Cup (2): 1994, 2002
FIFA World Cup (1): Runners-up (2nd Place) 1998
Copa América (2): 1997, 1999
Copa América (1): Runners-up (2nd Place) 1995
FIFA Confederations Cup (1): 1997
Summer Olympic Games (1): Bronze Medal (3rd Place) 1996
Individual
Supercopa Libertadores Top Scorer (1): 1993–94
Supercopa Libertadores Team of The Year (1): 1993-04
Campeonato Mineiro Top Scorer (1): 1993–94
Campeonato Mineiro Team of The Year (1): 1994
Eredivisie Top Scorer (1): 1994–95
World Soccer Magazine World Player of The Year (3): 1996, 1997, 2002
FIFA World Player of the Year (3): 1996, 1997, 2002
Trofeo EFE La Liga Ibero-American Player of the Year (2): 1996–97, 2002–03
Pichichi Trophy (2) 1996–1997, 2003-2004
European Golden Boot (1): 1996–97
Don Balón Award La Liga Foreign Player of the Year (1): 1996–97
Copa América Final Most Valuable Player (1): 1997
Copa América Most Valuable Player (1): 1997
FIFA Confederations Cup Bronze Boot (1): 1997
FIFA Confederations Cup All-Star Team (1): 1997
UEFA Cup Winners' Cup Final Most Valuable Player (1): 1997
UEFA Cup Winners' Cup Top Goal Scorer (1): 1996–1997
Copa América All-Star Team (2): 1997, 1999
IFFHS World's Top Goal Scorer of the Year (1): 1997
Bravo Award (2): 1997, 1998
Onze d'Or (2): 1997, 2002
Ballon d'Or (2): 1997, 2002
European Sports Media ESM Team of the Year (2) 1996–97, 1997–98
FIFA XI (2): 1997, 1998
Serie A Footballer of the Year (1): 1997–98
Serie A Foreign Footballer of the Year (1): 1997–98
UEFA Cup Final Most Valuable Player (1): 1998
UEFA Club Footballer of the Year (1): 1997–98
UEFA Club Best Forward (1): 1997–98
FIFA World Cup Golden Ball (1): 1998
FIFA World Cup All-Star Team (2): 1998, 2002
FIFA World Player of the Year – Silver award (1): 1998
Copa América Top Scorer (1): 1999
FIFA World Cup Golden Boot (1): 2002
FIFA World Cup Silver Ball (1): 2002
FIFA World Cup Final Most Valuable Player (1): 2002
Intercontinental Cup Man of the Match (1): 2002
UEFA Team of the Year (1): 2002
Laureus World Sports Awards Comeback of the Year (1): 2002
Strogaldo De Legendary Award (1): 2002
BBC Overseas Sports Personality of the Year (1): 2002
FIFA World Player of the Year – Bronze award (1): 2003
FIFA 100 (2004)
FIFA World Cup Bronze Boot (1): 2006
Brazil national football team Hall of Fame: 2006
Golden Foot award (1): 2006
Serie A Player of the Decade: 1997–2007
France Football (magazine): Starting eleven of all time (2007)
Real Madrid Team of the century
Campeonato Paulista Best Player (1): 2009
Honor of Brazilian Football Confederation: 2010
Real Madrid Hall of fame: 2011
Marca Leyenda: 2011
World Soccer (magazine): The Greatest Players of the 20th Century (Published December 1999) #13
L'Équipe's top 50 South-American footballers in history: #5
Italian Football Hall of Fame: 2015