Biography of Katharine Hepburn
Katharine Hepburn – American actress.
Name: Katharine Houghton Hepburn
Date of Birth: May 12, 1907
Place of Birth: Hartford, Connecticut, U.S.
Date of Death: June 29, 2003 (aged 96)
Place of Death: Fenwick, Connecticut, U.S.
Occupation: Actress
Father: Thomas Norval Hepburn
Mother: Katharine Martha Houghton
Spouse: Ludlow Ogden Smith (m. 1928; div. 1934)
Early Life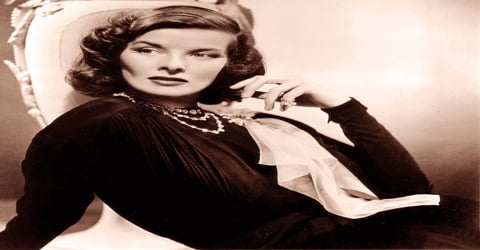 Katharine Houghton Hepburn, was an American actress, was born on May 12, 1907, in Hartford, Connecticut, U.S. She introduced into her roles a strength of character previously considered to be undesirable in Hollywood leading ladies. As an actress, she was noted for her brisk upper-class New England accent and tomboyish beauty. Known for her fierce independence and spirited personality, Hepburn was a leading lady in Hollywood for more than 60 years. She appeared in a range of genres, from screwball comedy to literary drama, and she received a record of four Academy Awards for Best Actress. In 1999, Hepburn was named by the American Film Institute as the greatest female star of Classic Hollywood Cinema.
She was a versatile actress whose career spanned the media of stage, film, and television for over six decades. Her acting career began on the Broadway where her amazing performance ensured her entry into Hollywood. With her luminous beauty, spirited personality and quick wit, the young woman seemed poised for great success.
Raised in Connecticut by wealthy, progressive parents, Hepburn began to act while studying at Bryn Mawr College. After four years in the theatre, favorable reviews of her work on Broadway brought her to the attention of Hollywood. Her early years in the film industry were marked with success, including an Academy Award for her third picture, Morning Glory (1933), but this was followed by a series of commercial failures that led her to be labeled "box office poison" in 1938. Hepburn masterminded her own comeback, buying out her contract with RKO Radio Pictures and acquiring the film rights to The Philadelphia Story, which she sold on the condition that she be the star. In the 1940s, she was contracted to Metro-Goldwyn-Mayer, where her career focused on an alliance with Spencer Tracy. The screen partnership spanned 25 years and produced nine movies.
However, behind her charming personality lay a great childhood tragedy her beloved brother Tom had died from an apparent suicide and this made the young Katharine moody, withdrawn and upset. She struggled hard to get over her brother's death and found solace in acting. Even after foraying into the world of acting she did not find overnight success and had to struggle for months to find meaningful roles. But the gutsy lady never gave up and in the long run, her perseverance paid off. Not only did she go on to have a successful career as a stage artist, but also successfully entered films and became the reigning queen of Hollywood. With her free-spirited attitude and assertiveness, she represented the modern woman of her times by refusing to give in to the demands of traditional society.
Hepburn challenged herself in the latter half of her life, as she regularly appeared in Shakespearean stage productions and tackled a range of literary roles. She found a niche playing middle-aged spinsters, such as in The African Queen (1951), a persona the public embraced. Three more Oscars came for her work in Guess Who's Coming to Dinner (1967), The Lion in Winter (1968), and On Golden Pond (1981). In the 1970s, she began appearing in television films, which became the focus of her career in later life. She remained active into old age, making her final screen appearance in 1994 at the age of 87. After a period of inactivity and ill health, Hepburn died in 2003 at the age of 96.
Childhood, Family and Educational Life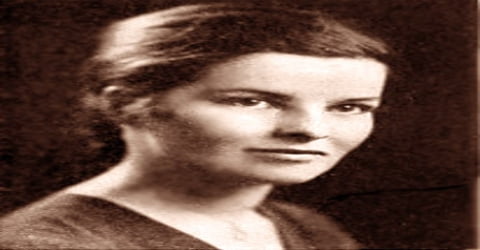 Katharine Hepburn, in full Katharine Houghton Hepburn, was born May 12, 1907, Hartford, Connecticut, U.S. She was born as one of the six children of her parents Thomas Hepburn and Katharine Martha. Her father was a urologist at Hartford Hospital while her mother was a feminist campaigner. Both parents fought for social change in the US: Thomas Hepburn helped establish the New England Social Hygiene Association, which educated the public about the venereal disease, while the elder Katharine headed the Connecticut Woman Suffrage Association and later campaigned for birth control with Margaret Sanger.
As a child, she learned to swim, run, dive, wrestle and play tennis and golf. She was a tomboy who kept her hair short like boys. Tragedy struck the happy family when her older brother Tom died from an apparent suicide in 1921. Katharine who was very close to her brother became very nervous and upset after the incident and even dropped out of school.
In 1924 Hepburn gained a place at Bryn Mawr College. She attended the institution primarily to satisfy her mother, who had studied there and recalled disliking the experience. It was the first time she had been in school for several years, and she was self-conscious and uncomfortable with her classmates. She struggled with the scholastic demands of university, and once was suspended for smoking in her room. She struggled at college as she was not interested in academic pursuits but still managed to graduate with a degree in history and philosophy in 1928.
Upon graduating four years later, she immediately embarked on a successful career in the theater. Her critical success as an Amazon queen in the satire The Warrior's Husband led to a contract with the film studio RKO. In 1932 she made her film debut in that company's A Bill of Divorcement, playing opposite John Barrymore (1882–1942). She received rave reviews for her performance and achieved stardom overnight.
Personal Life
Hepburn confessed to being, especially early in life, "a me me me person". She saw herself as having a happy nature, reasoning "I like life and I've been so lucky, why shouldn't I be happy?" A. Scott Berg knew Hepburn well in her later years and said that while she was demanding, she retained a sense of humility and humanity.
Hepburn married Ludlow Ogden Smith, a businessman in 1928. However, she never committed to the relationship fully and divorced him in 1934. She never married again.
In 1991, Hepburn told a journalist, "I'm an atheist, and that's it. I believe there's nothing we can know, except that we should be kind to each other and do what we can for other people." Her public declarations of these beliefs led the American Humanist Association to award her the Humanist Arts Award in 1985.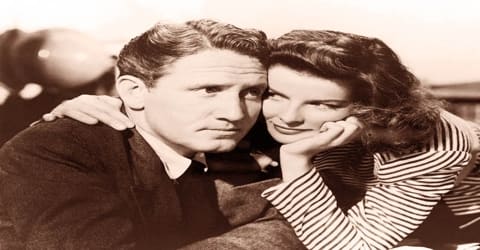 Katharine Hepburn and Spencer Tracy (25-Year Love Affair)
She had a long relationship with her co-star, actor Spencer Tracy. Their relationship is often cited to be among Hollywood's legendary love affairs. Tracy was already married but estranged from his wife. Hepburn took a break from her career to take care of Tracy during his final years.
Soon after moving to California, Hepburn began a relationship with her agent, Leland Hayward, although they were both married. Hayward proposed to the actress after they had both divorced, but she declined, later explaining, "I liked the idea of being my own single self." The affair lasted four years. In 1936, while she was touring Jane Eyre, Hepburn began a relationship with entrepreneur Howard Hughes. She had been introduced to him a year earlier by their mutual friend Cary Grant. Hughes wished to marry her, and the tabloids reported their impending nuptials, but Hepburn stayed focused on resurrecting her failing career. They separated in 1938 when Hepburn left Hollywood after being labeled "box office poison".
Hepburn was once criticized for "having no sex appeal".
Career and Works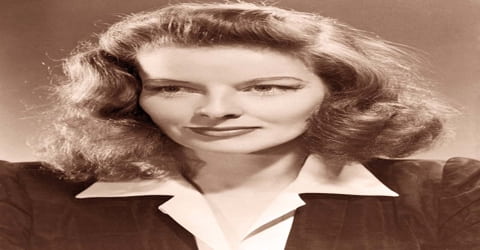 Hepburn left university determined to become an actress. The day after graduating, she traveled to Baltimore to meet Edwin H. Knopf, who ran a successful stock theatre company. Impressed by her eagerness, Knopf cast Hepburn in his current production, The Czarina. She received good reviews for her small role, and the Printed Word described her performance as "arresting". She was given a part in the following week's show, but her second performance was less well received. She was criticized for her shrill voice, and so left Baltimore to study with a voice tutor in New York City.
In 1928, Hepburn went to Baltimore to pursue a career in acting and was cast in a small role in Edwin H. Knopf's stage production 'The Czarina'. Her role, albeit minor, was appreciated. Knopf made her the leading lady in his production 'The Big Pond'. However, she mixed up her lines and acted clumsy on the opening night and was fired. She kept trying and was soon hired as an understudy in Philip Barry's play 'Holiday', a role which she held for six months.
In 1929, Hepburn turned down a role with the Theatre Guild to play the lead in Death Takes a Holiday. She felt the role was perfect, but again, she was fired. She went back to the Guild and took an understudy role for minimum pay in A Month in the Country. In the spring of 1930, Hepburn joined a theatre company in Stockbridge, Massachusetts. She left halfway through the summer season and continued studying with a drama tutor. In early 1931, she was cast in the Broadway production of Art and Mrs. Bottle. She was released from the role after the playwright took a dislike to her, saying "She looks a fright, her manner is objectionable, and she has no talent", but Hepburn was re-hired when no other actress could be found. It went on to be a small success.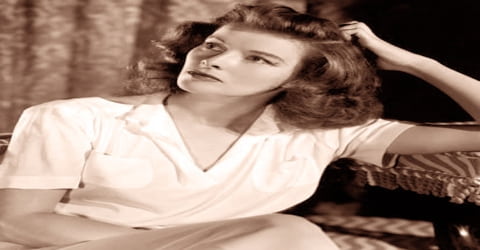 The first few years of her acting career were very difficult and she was not able to find good roles. Nonetheless, the self-assured lady never thought of giving up. Her perseverance paid off when she was chosen to play the lead role in the Greek fable, 'The Warrior's Husband'.
'The Warrior's Husband' opened in March 1932 and gave her the big breakthrough she craved for. The play ran for three months and her role was positively reviewed.
Hepburn nonetheless made an impressive movie debut in George Cukor's A Bill of Divorcement (1932), a drama that also starred John Barrymore. Hepburn was then cast as an aviator in Dorothy Arzner's Christopher Strong (1933). For her third film, Morning Glory (1933), Hepburn won an Academy Award for her portrayal of an aspiring actress.
By the end of 1933, Hepburn was a respected film actress, but she yearned to prove herself on Broadway. Jed Harris, one of the most successful theatre producers of the 1920s, was going through a career slump. He asked Hepburn to appear in the play The Lake, which she agreed to do for a low salary. Before she was given leave, RKO asked that she film Spitfire (1934). Hepburn's role in the movie was Trigger Hicks, an uneducated mountain girl. It is widely considered one of her worst films, and Hepburn received poor reviews for the effort. She kept a picture of Hicks in her bedroom throughout her life to "keep me humble".
In spite of being an established film actress, she yearned to appear again on the Broadway. She agreed to act in the struggling producer Jed Harris's play 'The Lake'. The play was a commercial disaster due to Harris's poor direction and Hepburn's image suffered as well. During the 1930s her career suffered a big setback. Many of her films like 'The Little Minister' (1934), 'Break of Hearts' (1935), 'Sylvia Scarlett' (1935), 'Quality Street' (1937) fared poorly and were flops. The actress's career began spiraling downward.
In 1937 an important exhibitor placed an advertisement in a trade paper and described Hepburn, along with various other female stars, as "box office poison." RKO's indifferent response led Hepburn at a cost to her of over $200,000 to buy out her contract from the company. Shortly thereafter she was rejected for the role of Scarlett O'Hara in the film version of Gone with the Wind. (1939).
Hepburn recovered some lost ground with her sparkling performances in the screwball comedies 'Bringing Up Baby' (1938) and 'Holiday' (1938), both of which also starred Cary Grant. However, it was too late: a group of leading film exhibitors had already written off Hepburn as "box office poison."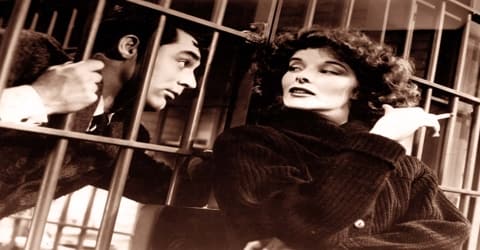 'Bringing Up Baby' (1938) -Cary Grant behind bars Katharine Hepburn smoking
After the release of 'Bringing up Baby', the Independent Theatre Owners of America included Hepburn on a list of actors considered "box office poison". Her reputation as a low, the next film RKO offered her was Mother Carey's Chickens, a B movie with poor prospects. Hepburn turned it down, and instead opted to buy out her contract for $75,000. Many actors were afraid to leave the stability of the studio system at the time, but Hepburn's personal wealth meant she could afford to be independent. She signed on for the film version of Holiday (1938) with Columbia Pictures, pairing her for the third time with Grant, to play a stifled society girl who finds joy with her sister's fiancé. The comedy was positively reviewed, but it failed to draw much of an audience, and the next script offered to Hepburn came with a salary of $10,000 less than she had received at the start of her film career.
Determined to get her failing career back on track, she decided to look for a stage project. She was cast as Tracy Lord in Philip Barry's play 'The Philadelphia Story' which opened to positive reviews in 1939. The show was a bit hit and ran for 417 performances.
The Philadelphia Story was one of the biggest hits of 1940, breaking records at Radio City Music Hall. The review in Time declared, "Come on back, Katie, all is forgiven." Herb Golden of Variety stated, "It's Katharine Hepburn's picture … The perfect conception of all flighty, but characterful, Main Line socialite gals rolled into one, the story without her is almost inconceivable." Hepburn was nominated for her third Academy Award for Best Actress and won the New York Film Critics Circle Award for Best Actress.
Having invested in the production, she controlled the screen rights, which she ultimately sold to Metro Goldwyn Mayer (MGM) in return for a tidy profit and the studio's guarantee that she would play the lead in the film version. She did, and the film was a critical and commercial success. Her Oscar nomination was but one demonstration of the dramatic way she had re-established herself in Hollywood, California.
Released in 1942, the romantic comedy 'Woman of the Year' was another success. Critics praised the chemistry between the stars, and, says Higham, noted Hepburn's "increasing maturity and polish". The World-Telegram commended two "brilliant performances", and Hepburn received a fourth Academy Award nomination. During the course of the movie, Hepburn signed a star contract with MGM.
The decade of the 1940s was not too successful for the actress with several of her movies receiving negative reviews. Her only appearance in 1943 was a cameo in the morale-building wartime film Stage Door Canteen, playing herself. She took an atypical role in 1944, playing a Chinese peasant in the high-budget drama Dragon Seed. Hepburn was enthusiastic about the film, but it met with a tepid response and she was described as miscast. She then reunited with Tracy for the film version of Without Love (1945), after which she turned down a role in The Razor's Edge to support Tracy through his return to Broadway. Without Love received poor reviews, but a new Tracy–Hepburn picture was a big event and it was popular on release, selling a record number of tickets over Easter-weekend 1945.
Hepburn's next film was Undercurrent (1946), a film noir with Robert Taylor and Robert Mitchum that was poorly received. The fourth film with Tracy came in 1947: a drama set in the American Old West entitled The Sea of Grass. Similarly to Keeper of the Flame and Without Love, a lukewarm response from critics did not stop it from being a financial success both at home and abroad. The same year, Hepburn portrayed Clara Wieck Schumann in Song of Love. She trained intensively with a pianist for the role. By the time of its release in October, Hepburn's career had been significantly affected by her public opposition to the growing anti-communist movement in Hollywood. Viewed by some as dangerously progressive, she was not offered work for nine months and people reportedly threw things at screenings of Song of Love. Her next film role came unexpectedly, as she agreed to replace Claudette Colbert only days before shooting began on Frank Capra's political drama State of the Union (1948). Tracy had long been signed to play the male lead, and so Hepburn was already familiar with the script and stepped up for the fifth Tracy–Hepburn picture. Critics responded positively to the film and it performed well at the box-office. Tracy and Hepburn appeared onscreen together for a third consecutive year in the 1949 film Adam's Rib.
Hepburn decided to reinvent herself during the 1950s and took up more challenging roles in 'The African Queen' (1951) and 'Pat and Mike' (1952). Her stature increased as she chalked up such cinematic triumphs as John Huston's The African Queen (1951), in which she played a missionary who escapes German troops with the aid of a riverboat captain (Humphrey Bogart), and David Lean's Summertime (1955), a love story set in Venice. In Long Day's Journey into Night (1962), an adaptation of Eugene O'Neill's acclaimed play, Hepburn was cast as a drug-addicted mother.
Her career during the 1960s was interrupted due to personal issues and commitments. During the 1970s and 1980s, she remained focused on her career and acted in several films and Broadway productions. She also ventured into television during this time.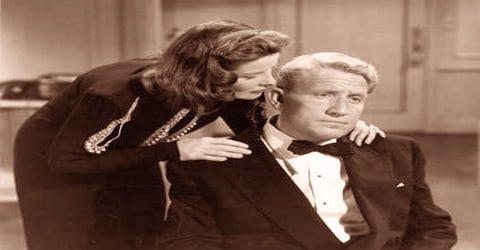 (Katharine Hepburn and Spencer Tracy)
In the 1960s Hepburn interrupted her career to care for the ailing Tracy. They were a team professionally as well as personally. They made nine films together over a period of twenty-five years, including: Woman of the Year (1942); Keeper of the Flame (1942); Without Love (1945); Sea of Grass (1947); State of the Union (1948); Adam's Rib (1949); Pat and Mike (1952); The Desk Set (1957); and Guess Who's Coming to Dinner (1967). Not all of these films were commercially or critically successful, but whether comedies or dramas, they were provocative and interesting, especially for their emphasis on the personal interaction between the sexes. Both Tracy and Hepburn played strong characters in these films, but neither was forced to give in to the other.
From December 1969 to August 1970, Hepburn starred in the Broadway musical Coco, about the life of Coco Chanel. She admitted that before the show, she had never sat through a theatrical musical. She was not a strong singer, but found the offer irresistible and, as Berg puts it, "what she lacked in euphony she made up for in guts". The actress took vocal lessons six times a week in preparation for the show. She was nervous about every performance, and recalled "wondering what the hell I was doing there". Reviews for the production were mediocre, but Hepburn herself was praised, and Coco was popular with the public with its run twice extended. She later said Coco marked the first time she accepted that the public was not against her, but actually seemed to love her. Her work earned a Tony Award nomination for Best Actress in a Musical.
Hepburn was not particularly lucky in her choice of work after the beginning of the 1970s. Except for a few notable exceptions, such as On Golden Pond (1981), the roles did not make good use of her considerable talents. Her television debut in 1972 as the mother in a version of Tennessee Williams' (1911–1983) moving The Glass Menagerie was not favorable. While apparently, a great deal of fun for the stars on location, a pairing with the rugged action star John Wayne (1907–1979) in Rooster Cogburn (1975) proved to be lifeless. She had some success playing the noted French designer Coco Chanel (1883–1971) in a Broadway musical that opened in 1969; Coco had a long run but did not make impressive use of her capabilities. Several later Broadway undertakings proved to be failures.
In 1991, Hepburn released her autobiography, Me: Stories of my Life, which topped best-seller lists for over a year. She returned to television screens in 1992 for The Man Upstairs, co-starring Ryan O'Neal, for which she received a Golden Globe nomination. In 1994 she worked opposite Anthony Quinn in This Can't Be Love, which was largely based on Hepburn's own life, with numerous references to her personality and career. These later roles have been described as "a fictional version of the typically feisty Kate Hepburn character" and critics have remarked that Hepburn was essentially playing herself.
Although Hepburn suffered some significant injuries in a 1985 automobile accident, and illnesses usual to one of her years, she golfed, cycled, and swam in the sea into her nineties. Katharine Hepburn provided some new perspectives on her personality and the roles she played on stage and screen in her autobiography, published after she retired from performance. In it, she stressed the important influence of her intellectual family, and she continued closeness with her siblings and their children.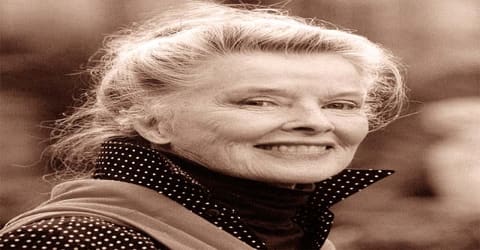 Hepburn's final appearance in a theatrically released film and her first since Grace Quigley nine years earlier was Love Affair (1994). At 87 years old, she played a supporting role, alongside Annette Bening and Warren Beatty. It was the only film of Hepburn's career, other than the cameo appearance in Stage Door Canteen, in which she did not play a leading role. Roger Ebert noted that it was the first time she had looked frail, but that the "magnificent spirit" was still there, and said her scenes "steal the show". A writer for The New York Times reflected on the actress's final big-screen appearance: "If she moved more slowly than before, in demeanor, she was a game and modern as she had ever been." Hepburn played her final role in the television film One Christmas (1994), for which she received a Screen Actors Guild Award nomination at 87 years old.
Awards and Honor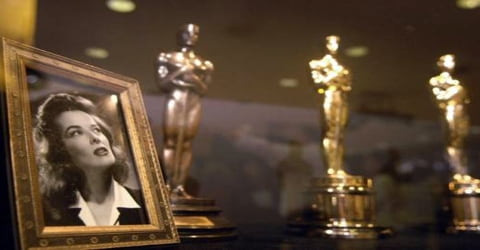 Hepburn won four Academy Awards, the record number for a performer, and a total of 12 Oscar nominations for Best Actress a number surpassed only by Meryl Streep.
Hepburn also holds the record for the longest time span between first and last Oscar nominations, at 48 years. She received two awards and five nominations from the British Academy Film Awards, one award and six nominations from the Emmy Awards, eight Golden Globe nominations, two Tony Award nominations, and awards from the Cannes Film Festival, Venice Film Festival, the New York Film Critics Circle Awards, the People's Choice Awards, and others. Hepburn was inducted into the American Theater Hall of Fame in 1979. She also won a Lifetime Achievement Award from the Screen Actors Guild in 1979 and received the Kennedy Center Honors, which recognize a lifetime of accomplishments in the arts, in 1990.
In 1999, Hepburn was named by the American Film Institute as the greatest female star of Classic Hollywood Cinema.
This legendary actress is named in Encyclopedia Britannica's list of "300 Women Who Changed the World".
Death and Legacy
Hepburn stated in her eighties, "I have no fear of death. Must be wonderful, like a long sleep." Her health began to deteriorate not long after her final screen appearance, and she was hospitalized in March 1993 for exhaustion. In the winter of 1996, she was hospitalized with pneumonia. By 1997, she had become very weak, was speaking and eating very little, and it was feared she would die. She showed signs of dementia in her final years.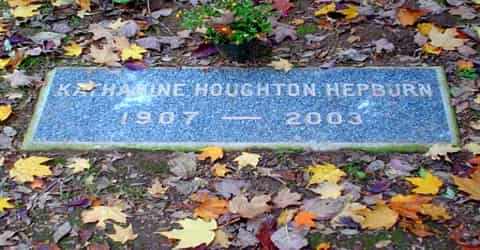 Hepburn died from cardiac arrest on June 29, 2003, a month after her 96th birthday at the Hepburn family home in Fenwick, Connecticut. She was buried in Cedar Hill Cemetery in Hartford. Hepburn requested that there be no memorial service.
Katharine Hepburn never conformed to the traditional star image, but there is no doubt that she was a superstar as an actress in movies, on stage, and on television. A strong-minded, independent woman, she has lived her life and her career to suit herself. In the process, she has entertained, delighted, and aroused millions, and she has done so without compromising her beliefs.
Hepburn's death received considerable public attention. Many tributes were held on television, and newspapers and magazines dedicated issues to the actress. American president George W. Bush said Hepburn "will be remembered as one of the nation's artistic treasures". In honor of her extensive theatre work, the lights of Broadway were dimmed for the evening of July 1, 2003. In 2004, in accordance with Hepburn's wishes, her belongings were put up for auction with Sotheby's in New York City. The event garnered $5.8 million, which Hepburn willed to her family.
Regarding Hepburn's film legacy, one of her biographers, Sheridan Morley, said she "broke the mold" for women in Hollywood, where she brought a new breed of strong-willed females to the screen. Film academic Andrew Britton wrote a monograph studying Hepburn's "key presence within classical Hollywood, a consistent, potentially radical disturbance", and pinpoints her "central" influence in bringing feminist issues to the screen. Maryann Pasda DiEdwardo has claimed that Hepburn's performances fostered a "decisiveness toward a new vision of women".
Information Source: