Biography of Florence Griffith Joyner
Florence Griffith Joyner – American track and field athlete.
Name: Florence Delorez Griffith Joyner
Date of Birth: December 21, 1959
Place of Birth: Los Angeles, California, U.S.
Date of Death: September 21, 1998 (aged 38)
Place of Death: Mission Viejo, California, U.S.
Occupation: Athlete
Father: Robert
Mother: Florence Griffith
Spouse/Ex: Al Joyner
Early Life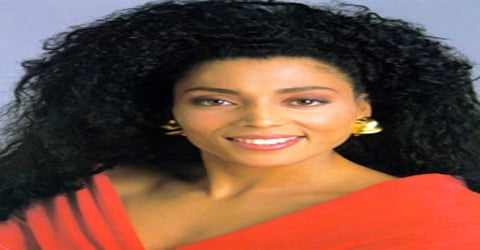 Olympic gold medalist Florence Griffith Joyner was born on December 21, 1959, in Los Angeles. She was an American sprinter who set world records in the 100 meters (10.49 seconds) and 200 meters (21.34 seconds) that have stood since 1988. During the late 1980s, she became a popular figure in international track and field because of her record-setting performances and flashy personal style. Griffith-Joyner was born and raised in California. She was athletic from a young age. She attended California State University, Northridge (CSUN) and University of California, Los Angeles (UCLA) where she participated in track and field. Griffith-Joyner qualified for the 100 m 1980 Olympics, although she did not actually compete due to the U.S. boycott.
She made her Olympic debut four years later winning a silver medal. At the 1988 U.S. Olympic trials, Griffith set a new world record in the 100 m. She went on to win three gold medals at the 1988 Olympics. Shortly after the 1988 games, she abruptly retired. After her retirement from athletics, Griffith-Joyner remained a pop culture figure through endorsement deals, acting, and designing.
At the 1984 Summer Olympics, Joyner won a silver medal in the 200-meter run. She married fellow athlete Al Joyner, the brother of famed athlete Jackie Joyner-Kersee. At the 1988 Summer Olympics in Seoul, South Korea, Joyner took home three gold medals and a silver. She and her coach, Bob Kersee, came under media speculation when rumors spread that she might have been using performance-enhancing drugs to improve her times. Joyner died unexpectedly in September 1998, at age 38, after suffering an epileptic seizure. She still holds the world records in the 100- and 200-meter events.
Childhood, Family and Educational Life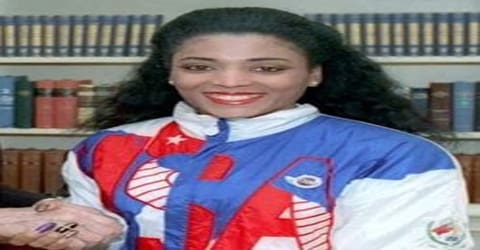 Florence Griffith Joyner, in full Delorez Florence Griffith Joyner, née Delorez Florence Griffith, byname FloJo, was born on December 21, 1959, Los Angeles, California, U.S. She was seventh of eleven children born to Robert, an electronic engineer, and Florence Griffith, a seamstress. The family lived in Littlerock, California before Florence Griffith moved with her children to the Jordan Downs public housing complex located in the Watts section of Los Angeles. Griffith's nickname among the family was "Dee Dee". She was briefly engaged to hurdler Greg Foster.
The large family was settled in the Mojave Desert when the elder Florence decided that she needed to improve the educational opportunities for her children. She left Robert in 1964 and moved the eleven children back to Los Angeles, into a neighborhood known as Watts. A single mother raising such a large family was a tough challenge but Dee Dee's mother always kept her hopes up for her children. Dee Dee recalls her mother saying, "I just want to get you guys out of here. This is not home."
When Griffith was in elementary school, she joined the Sugar Ray Robinson Organization, running in track meets on weekends. She won the Jesse Owens National Youth Games two years in a row, at the ages of 14 and 15. Griffith ran track at Jordan High School in Los Angeles. Showing an early interest in fashion, Griffith persuaded the members of the track team to wear tights with their uniforms. As a high school senior in 1978, she finished sixth at the CIF California State Meet behind future teammates Alice Brown and Pam Marshall. Nevertheless, by the time Griffith graduated from Jordan High School in 1978, she set high school records in sprinting and long jump.
After attending California State University at Northridge, Joyner transferred to the University of California Los Angeles, where she quickly earned a reputation as a track star. She became an NCAA champion in 1982 with a victory in the 200-meter event. The following year, she took the top spot in the 400 meters. In 1983, Griffith graduated from UCLA with her bachelor's degree in psychology.
Personal Life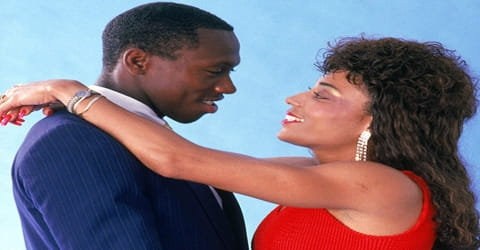 In 1987, Florence Griffith Joyner married 1984 Olympic triple jump champion Al Joyner, whom Griffith had first met at the 1980 Olympic Trials. Through her marriage to Joyner, she was sister-in-law to track and field athlete Jackie Joyner-Kersee. Griffith Joyner and Joyner had one daughter together, born November 15, 1990.
Career and Works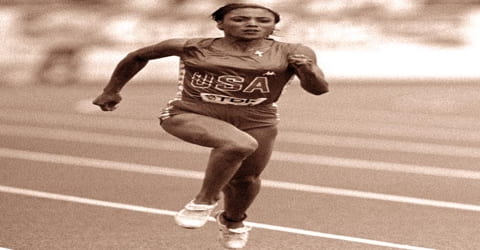 In 1980 Florence entered the University of California, Los Angeles (B.A., 1983), to train with coach Bob Kersee. Brown, Bolden, and Griffith qualified for the 100-meter final at the trials for the 1980 Summer Olympics (with Brown winning and Griffith finishing last in the final). Griffith also ran the 200 meters, narrowly finishing fourth, a foot out of a qualifying position. However, the U.S. Government had already decided to boycott those Olympic Games mooting those results.
At the 1984 Olympics in Los Angeles, she won a silver medal in the 200-meter race and quickly became a media celebrity with her 6-inch (15-cm) decorated fingernails and eye-catching racing suits. Disappointed with her performance, however, she went into semiretirement. A few years later, in 1987, Florence married fellow athlete Al Joyner, the brother of famed athlete Jackie Joyner-Kersee (taking the legal name Florence Delorez Griffith-Joyner, she became publicly known as Florence Joyner, or "Flo Jo," at this time).
In 1987 she rededicated herself to the sport, adopting an intense weight-training program and altering her starting technique. That same year she married Al Joyner, winner of the 1984 gold medal in the triple jump and brother of Jackie Joyner-Kersee, a heptathlon champion. The changes produced dramatic results. At the 1988 Olympic trials, Griffith Joyner set a world record in the 100-meter sprint (10.49 seconds), beating the old mark by 0.27 second and improving her previous best by more than half a second. Later that year at the Olympics in Seoul, she captured three gold medals (100 meters, 200 meters, and 4 × 100-meter relays) and a silver (4 × 400-meter relays). In 1988 Griffith Joyner received the Sullivan Award as the nation's top amateur performer. Though her remarkable performances sparked rumors of steroid use, drug tests revealed no banned substances.
Griffith finished fourth in the 200-meter sprint at the first World Championship in Athletics in 1983. The following year, Griffith qualified for the Olympics in the 200-meter distance with the second fastest time at the United States Olympic Trials, held in Los Angeles. Evelyn Ashford, another UCLA alumnus and an early favorite to medal, dropped out of the 200-meter due to injury. Griffith went on to win a silver medal in the 1984 Summer Olympics.
Around this time, Joyner selected her husband to serve as a coach, dropping Kersee. She had taken a break from competing after the 1984 Olympics and had just decided to re-enter racing. Before long, however, she began training again for the 1988 Olympic Games under Bob Kersee, the husband of Jackie Joyner-Kersee. Joyner's hard work paid off at the 1988 Summer Olympics, held in Seoul, South Korea. She took home three gold medals, in the 4-by-100 meter relay, and the 100- and 200-meter runs; as well as a silver medal in the 4-by-400 meter relay.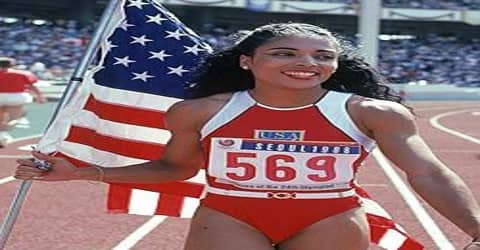 She returned to athletics in April 1987. Four months later at the 1987 World Championships in Rome, Griffith-Joyner finished second in the 200-meter sprint. Her success during the 1987 season resulted in being ranked second in Track and Field News' 1987 world rankings. The 200-meter remained a stronger event for Griffith-Joyner than the 100-meter, where she was ranked seventh in the United States. Before the 1988 U.S. Olympic Trials, Griffith-Joyner continued to work with her coach Kersee two days a week, but with her new husband coaching her three days a week. She qualified for the U.S. Olympic Trials at the 100 meters based on the 10.96-second personal record set in Cologne in 1987. She set a new personal record in the 100 meters in San Diego on June 25, 1988, still shy of then American record holder Evelyn Ashford's three best times. A week before the trials she ran a tune-up race in 10.99 in Santa Monica.
Running in the 100-meter sprint at the Olympic Games in 1988, Griffith Joyner won the gold medal in a time of 10.54. She won another gold medal in the 200-meter race and set a new world record with a time of 21.34. Griffith Joyner also participated as a member of the 1,600-meter relay team that captured the silver. She ran this race after only a half-hour rest from a previous heat and with a thigh injury. Greg Foster, a world champion hurdler, commented in an article for the Los Angeles Times Sports Update regarding Griffith Joyner's personality: "The strength was there. A lot of times in track and field it is just believing in yourself." Her participation in the relay event demonstrated that belief in herself.
By now known to the world as "Flo-Jo", Griffith-Joyner was the big favorite for the titles in the sprint events at the 1988 Summer Olympics. In the 100-meter final, she ran a 10.54, beating her nearest rival, Evelyn Ashford, by 0.30 seconds. In the 200 meter semifinal, she set the world record of 21.56 seconds and then broke this record, winning the final by 0.22 seconds with a time of 21.34 seconds. At the same Olympics, Griffith-Joyner also ran with the 4 × 100 m relay and the 4 × 400 m relay teams. Her team won the 4 × 100 m relay and finished second in the 4 × 400 m relay. This was Griffith-Joyner's first internationally rated 4 × 400 m relay. Griffith-Joyner left the games having won four Olympic medals, three gold, and one silver. At the time, her medal haul was the second most for female track and field athlete in history, behind only Fanny Blankers-Koen who won four gold medals in 1948.
After the 1988 Olympics, Joyner retired from competition. Suspicions soon arose regarding how the so-called "world's fastest woman" achieved her victories. Joyner and her coach, Bob Kersee, came under media speculation when another athlete suggested that Joyner had used performance-enhancing drugs. Some attributed the substantial improvements Joyner made in her performance levels from 1984 to 1988 to illegal substances. Others thought that her incredibly muscular physique had to have been created with the help of performance-enhancing drugs.
In February 1989, Griffith-Joyner announced her retirement from racing. Griffith-Joyner cited her new business opportunities outside of sprinting. The month after announcing her retirement, Griffith-Joyner was selected as the winner of the James E. Sullivan Award of 1988 as the top amateur athlete in the United States.
Rumors also spread regarding Bob Kersee's training techniques, suggesting that he could have been encouraging his runners to use steroids or other drugs in order to win medals. Joyner always insisted that she never used performance enhancers, and she never failed a drug test. In fact, according to CNN.com, Joyner took and passed 11 drug tests in 1988 alone.
Griffith Joyner began to spread her creative talent off the track. She developed a clothing line, created nail products, dabbled in acting, and authored children's books. Along with her husband, Griffith Joyner established the Florence Griffith Joyner Youth Foundation in 1992 to aid disadvantaged youth.
In 1993, President Bill Clinton appointed her to the position of co-chairperson for the President's Council on Physical Fitness along with U.S. Congressman Tom McMillen. Griffith Joyner commented on her appointment in an interview for The New York Times: "I love working with kids, talking with them and listening to them. I always encourage kids to reach beyond their dreams. Don't try to be like me. Be better than me." In 1995, she was inducted into the U.S. Track and Field Hall of Fame. The most important post-Olympic event, however, was the birth of a daughter, Mary Ruth.
Among the things she did away from the track was to design the basketball uniforms for the Indiana Pacers NBA team in 1989. She served as co-chair of President's Council on Physical Fitness. She made a guest appearance as herself on a season 4 episode of 227. Griffith-Joyner appeared in the soap opera Santa Barbara in 1992, as "Terry Holloway", a photographer similar to Annie Leibovitz. In 1996, Griffith-Joyner appeared on Charlie Rose and announced her comeback to competitive athletics, concentrating on the 400-meter run. Her reason was that she had already set world marks in both the 100 m and 200 m events, with the 400 m world record being her goal. Griffith-Joyner trained steadily leading up to the U.S. Olympic trials in June. However, tendinitis in her right leg ended her hopes of becoming a triple-world-record holder. Al Joyner also attempted a comeback, but he was unable to compete due to an injured quadriceps muscle.
Joyner remained involved in athletics in her retirement. She was appointed co-chair of the President's Council on Physical Fitness in 1993 and went on to establish her own foundation for children in need. Nearly six years after the Seoul Olympics, in 1995, Joyner was honored with an induction into the Track and Field Hall of Fame. Around this time, she once again began training for the Olympics. But her comeback effort was curtailed by problems with her right Achilles tendon.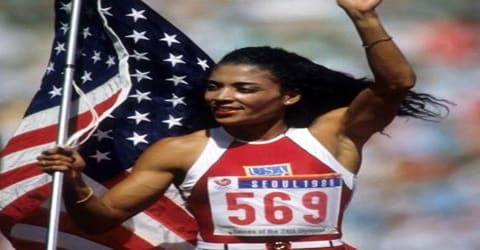 Other athletes, including Joaquim Cruz and Ben Johnson, expressed disbelief over Griffith-Joyner's dramatic improvement over a short period of time. Before the 1988 track and field season, Griffith Joyner's best time in the 100-meter sprint was 10.96 seconds. In 1988, she improved that by 0.47 seconds. Her best before 1988 at 200-meters was 21.96 seconds. In 1988, she improved that by 0.62 seconds to 21.34 seconds, another time that has not been approached. Griffith-Joyner attributed the change in her physique to new health programs. Al Joyner replaced Bob Kersee as her coach, and he changed her training program to include more lower body strength training exercises such as squats and lunges. After the 1988 Olympics Griffith Joyner retired from competitive track and field, just prior to the introduction of mandatory random drug testing in 1989. She was repeatedly tested during the competition, and she passed all of these drug tests.
Griffith Joyner attempted a career comeback at the Atlanta Olympic Games in 1996, but an injury ended that pursuit. Keeping busy with her various business endeavors, she was flying to St. Louis, Missouri in 1996 when she suffered an apparent seizure and was hospitalized. She recovered with no apparent health problems.
After her death in 1998, Prince Alexandre de Merode, the Chairman of the International Olympic Committee's medical commission, claimed that Joyner was singled out for extra, rigorous drug testing during the 1988 Olympic Games because of rumors of steroid use. De Merode told The New York Times that Manfred Donike, who was at that time considered to be the foremost expert on drugs and sports, failed to discover any banned substances during that testing. De Merode was not without controversy himself, having been accused of covering up drug tests at the 1984 Games, and following record-shattering performances by Chinese swimmers in the 1990s, the World Anti-Doping Agency was created, effectively removing control of drug testing from the IOC and De Merode. On Flo-Jo, De Merode later said:
We performed all possible and imaginable analyses on her. We never found anything. There should not be the slightest suspicion.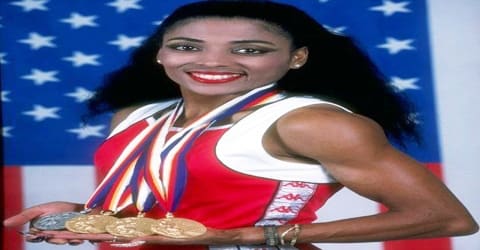 Awards and Honor
Joyner's Olympic performance brought her all kinds of other accolades. She was named The Associated Press' "Female Athlete of the Year" and Track and Field magazine's "Athlete of the Year." Griffith Joyner was also awarded the Sullivan Trophy for being the top amateur American athlete.
After the Olympics (1988), Griffith Joyner received numerous awards, such as the U.S. Olympic Committee's Sportswoman of the Year, Jesse Owens Outstanding Track and Field Athlete, Sports Personality of the Year by the Tass News Agency, UPI Sportswoman of the Year.
In 1995, she was inducted into the U.S. Track and Field Hall of Fame.
Death and Legacy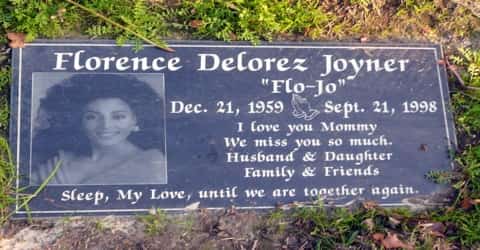 Florence Griffith Joyner died unexpectedly of an epileptic seizure on September 21, 1998, at her home in Mission Viejo, California, at the age of 38. The unexpected death was investigated by the sheriff-coroner's office, which announced on September 22 that the cause of death was suffocation during a severe epileptic seizure. She was also found to have had a cavernous hemangioma, a congenital vascular brain abnormality that made Joyner subject to seizures. Thousands paid their last respects to an inspirational woman who captured much attention, not only for her athletic talent but also for her community-oriented endeavors.
According to a family attorney, she had suffered a tonic-clonic seizure in 1990 and had also been treated for seizures in 1993 and 1994. According to the Orange County Sheriff-Coroner's office, the only drugs in her system when she died were small amounts of two common over-the-counter drugs, acetaminophen (Tylenol) and the antihistamine Benadryl.
She was survived by her husband and their daughter, Mary Joyner. Remarkably, more than 30 years later, Joyner still holds the world records in the 100- and 200-meter events, with times of 10.49 seconds and 21.34 seconds, respectively.
Throughout most of her career, Griffith Joyner had to deal with ugly rumors of steroid use for peak performance. She always denied these rumors and never once failed a drug test. An autopsy found no trace of any suspicious substances, finally putting to rest any notion of drug use. Hybl commented on the findings, "We now hope that this great Olympic champion, wife, and mother can rest in peace and that her millions of admirers around the world will celebrate her legacy to sport and children every day. It is time for the whispers and dark allegations to cease."
USA Track & Field inducted her into its Hall of Fame in 1995. In 2000, the 102nd Street School in Los Angeles was renamed Florence Griffith Joyner Elementary School. Griffith-Joyner had attended the school as a child. The city of Mission Viejo dedicated a park at the entrance to her neighborhood in her honor. Griffith-Joyner was also an artist and painter. Her work has been on display as part the Art of The Olympians (AOTO). She is one of two posthumous members of AOTO, the other being the founder and Olympian, Al Oerter.
As a tribute to his late wife's determination, Al Joyner announced that the clothing line that Griffith Joyner had been working on would be continued. In addition, partial proceeds would go towards supporting the Florence Griffith Joyner Memorial Empowerment Foundation. In an interview with Sports Illustrated, Joyner recalled that "Florence had long dreamed of having her own signature line. As with everything in her life, she put a tremendous amount of time, energy, and passion into making this line a success. By continuing the work she started, we are adding to her legacy."
Information Source: