Biography of Fred John Perry
Fred John Perry – British tennis and table tennis player.
Name: Frederick John "Fred" Perry
Date of Birth: 18 May 1909
Place of Birth: Portwood, Stockport, England, UK
Date of Death: 2 February 1995 (aged 85)
Place of Death: Melbourne, Victoria, Australia
Cause Of Death: Accident
Father: Samuel Perry
Spouse: Barbara Riese (M. 1952–1995), Helen Vinson (M. 1935–1940), Lorraine Walsh (M. 1945), Sandra Breaux (M. 1941)
Children: Penny Perry, David Perry
Early Life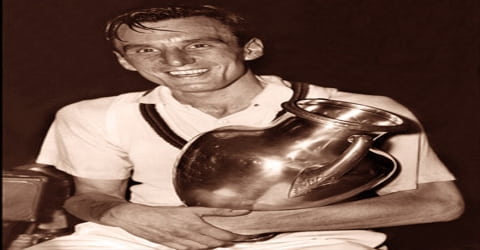 Fred Perry was a British championship-winning tennis player, who was born on May 18, 1909, Stockport, Cheshire, England. His father, Samuel Perry (1877–1954), was a cotton spinner. For the first decade of his life, he also lived in Bolton, Lancashire, and Wallasey, Cheshire, because his father was involved in local politics. When living in Wallasey he attended Liscard Primary School and Wallasey Grammar School.
During the period 1933-36 Fred Perry led England to victory in four consecutive Davis Cup finals and won eight Grand Slam singles titles: three straight All-England (Wimbledon) championships (1934, 1935, and 1936), three U.S. championships (1933, 1934, and 1936), the Australian title in 1934, and the 1935 French championship. Prior to Andy Murray in 2013, Perry was the last British player to win the men's Wimbledon championship, in 1936, and the last British player to win a men's singles Grand Slam title until Andy Murray won the 2012 US Open.
He is also the first player in sports history to complete his 'Career Gram Slam' at the age of twenty-six and was listed in the 'Top 100 legendary sports icons'. One of Wimbledon's most prominent figures, Perry is now revered and remembered for his prowess at the game. His greatest legacy is the iconic sportswear line – 'Fred Perry Sportswear', that continues to be a popular choice among fashionable sports lovers. He rose to prominence from a mere working class individual in Britain and went on to become one of the most successful sportsmen, reaching the number one position in the world. He continues to be a source of great inspiration to many aspiring sportsmen, who aim to make it big in the world of tennis and table tennis.
Despite his unprecedented contribution to British tennis, Perry was not accorded full recognition by tennis authorities until later in life because between 1927 and 1967, the International Lawn Tennis Federation, ignored amateur champions who later turned professional. In 1984, a statue of Perry was unveiled at Wimbledon, and in the same year, he became the only tennis player listed in a survey of 2,000 Britons to find the "Best of the Best" British sportsmen of the 20th century.
Childhood, Family and Educational Life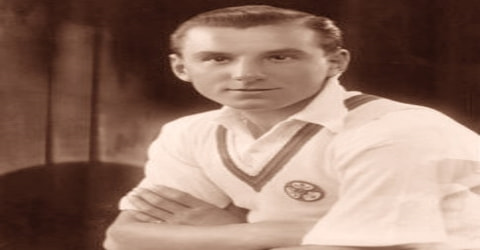 Frederick John Perry, ("FRED"), British tennis player was born May 18, 1909, Stockport in Cheshire but lived in Wallasey, England, where his father Samuel Perry, a cotton spinner, was involved in local politics. When living in Wallasey he attended Liscard Primary School and Wallasey Grammar School. Perry moved to Brentham Garden Suburb in Ealing, west London aged eleven years when his father became the national secretary of the Co-operative Party after World War I. His father became the Co-operative Party Member of Parliament for Kettering in 1929.
Perry first began to play tennis on the public courts near his family's housing estate. He was educated at Ealing Grammar School for Boys. He initially began playing lawn tennis in the courts of his family's public estate.
Personal Life
Perry was one of the leading bachelors of the 1930s and his off-court romances were sensationalized in the world press. Perry had a romantic relationship with the actress Marlene Dietrich and in 1934 he announced his engagement to the British actress Mary Lawson, but the relationship fell apart after Perry moved to America.
In 1935 he married an American film star Helen Vinson, but their marriage ended in divorce in 1940. In 1941 he was briefly married to a model, Sandra Breaux. Then, in 1945, he married Lorraine Walsh, but that marriage also ended quickly.
He married his fourth wife, Barbara Riese in 1952 and the couple had two children, Penny and David.
He launched his clothing label, 'The Fred Perry tennis shirt' at the 1952 Wimbledon, which became an instant favourite among teenagers in the early 60s and 70s. The clothing line exists to date.
Perry had an older sister Edith, they were both born in Stockport, Cheshire. Edith greatly supported her younger brother throughout his sporting achievements. Perry had a half-sister, Sylvia.
Career and Works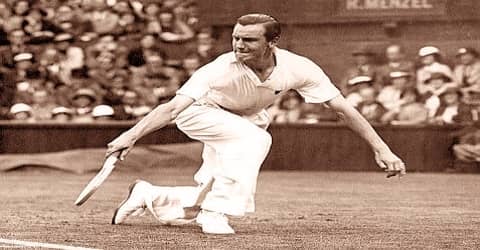 Perry's career kick-started when from 1928 to 1929, he won medals in the single, double and team events at the 'World Table Tennis Championship'.
Along with the US, French and Australian Amateur championships, Perry won the Wimbledon men's title three times in succession between 1934 and 1936. His final triumph was a 6–1, 6–1, 6–0 victory over the German Baron Gottfried von Cramm which lasted less than 45 minutes. It became the quickest final in the 20th century and the second shortest of all time. Perry had been able to pick up the information from the Wimbledon masseur that von Cramm had been treated for a groin strain and was as a result having difficulty moving wide on the forehand.
Perry taught himself to play table tennis at the local YMCA and, at the age of 20, won the World Table Tennis Championship. He switched to lawn tennis at the urging of his father, a cotton spinner, and within two years he had been named to the Davis Cup team. Despite his achievement as the first player to win all four events in the Grand Slam, Perry was often criticized for his working-class background and his "ungentlemanly" aggression on the court, as well as for his decision to turn professional. He won the world professional title in 1937 and 1941 and settled in the U.S., where he became a citizen.
In 1933, Perry helped lead the Great Britain team to victory over France in the Davis Cup; the team's first success since 1912, followed by wins over the United States in 1934, 1935, and a fourth consecutive title with victory over Australia in 1936. But due to his disillusionment with the class-conscious nature of the Lawn Tennis Club of Great Britain, the working-class Perry turned professional at the end of the 1936 season and moved to the United States where he became a naturalized US citizen in 1938. In 1942, he was drafted into the US Army Air Force during the Second World War.
In 1936, he won 29 out of 61 matches during the United States, 'Big Tour', following which he traveled to England and concluded the tour with a victory.
In the Davis Cup, Perry led the Great Britain team to four consecutive victories from 1933 to 1936, with wins over France in 1933, the United States in 1934 and 1935, and Australia in 1936. Perry competed in a total of 20 Davis Cup matches, winning 34 of his 38 rubbers in singles, and 11 out of 14 in doubles.
In 1938, the 'Big Tour' was even more grandiose and this time, Perry played against Ellsworth Vines, where Vines beat Perry, 49 to 35.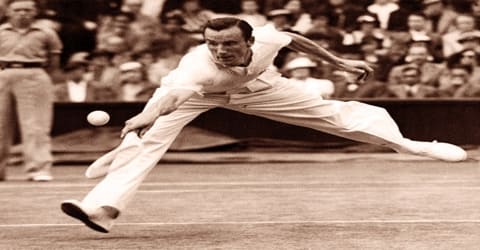 Perry made his professional debut on 6 January 1937 at the Madison Square Garden against the best professional player, Ellsworth Vines. For the next two years, he played lengthy tours against Vines. In 1937, they played 61 matches in the United States on their big tour, with Vines winning 32 and Perry 29. They then sailed to Britain, where they played a brief tour. Perry won six matches out of nine, so they finished the year tied at 35 victories each. The following year, 1938, the big tour was even longer, and this time Vines beat Perry 49 matches to 35, while a short tour of the Caribbean and Central and South America ended at four victories a piece. Don Budge won the Grand Slam in 1938 as an amateur and then turned professional and played a series of matches against both Vines and Perry in 1939, beating Vines 22 times to 17, and beating Perry by 28 victories to 8. Perry also won the US Pro title in 1938 and 1941, held in Chicago in both those years.
After retiring from active play, Perry was a tennis commentator on BBC radio and a cofounder of the Fred Perry Sportswear Co. He published an autobiography in 1984, the same year the All-England Club erected a statue and renamed a gate in his honor at Wimbledon.
In the late 1940s, Perry was approached by Tibby Wegner, an Austrian footballer who had invented an anti-perspirant device worn around the wrist. Perry made a few changes to create the first sweatband.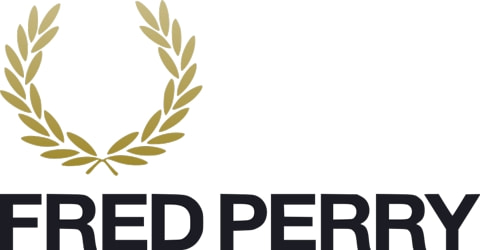 (The Fred Perry Clothing Label)
Perry launched his clothing label, 'The Fred Perry tennis shirt' at the 1952 Wimbledon, which became an instant favourite among teenagers in the early 60s and 70s. The clothing line exists to date. The brand was initially run by the Perry family, namely his son David, until it was bought by Japanese company Hit Union in 1995. However, the Perry family continued to work closely with the brand keeping Fred's legacy alive. The brand has been the clothing sponsor of British tennis player Andy Murray.
Awards and Honor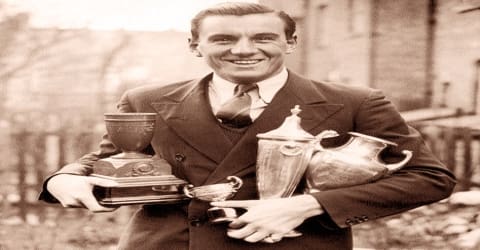 A bronze statue of Fred Perry was erected at the All England Lawn Tennis Club in Wimbledon, London in 1984 to mark the 50th anniversary of his first singles championship. It is located at the Church Road gate.
Perry won three continuous Wimbledon championships from 1934 to 1936 and was also conferred the title of 'World Number 1'.
In 1938 and 1941, he was awarded the prestigious 'US Pro' title.
In 1975, he was inducted into the International Tennis Hall of Fame, in Newport, Rhode Island.
In 2002, a designated walking track, 'Fred Perry Way', was named in his honor, which is built through the Metropolitan Borough of Stockport, North West London.
Perry was inducted into the International Tennis Hall of Fame in Newport, Rhode Island in 1975.
Death and Legacy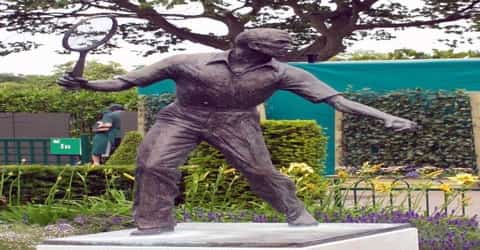 (A statue of Fred Perry at the All England Lawn Tennis Club in Wimbledon)
He fell in the bathroom in a hotel, broke his ribs and subsequently died at a hospital on 2 February 1995 in Melbourne, Australia.
This World Tennis Champion painted his racket white in order to distract his opponents. This famous Tennis Champion was one of the first players to sport a sweatband while playing on the court. He also collaborated with an Australian footballer to invent the first antiperspirant sweatband.
He is the only player in the history to have won at least one Major tournament in both tennis and table tennis. He was the only British player to win the Men's Singles Grand Slam until Andy Murray won the US Open in 2012.
Perry received a Doctor of Laws degree, honoris causa, from Washington and Lee University on 4 June 1987. He had coached the W&L tennis team in 1941 and again in 1947.
In the United States, two drives in El Paso, Texas and Baton Rouge, Louisiana, and a street in Springfield, Tennessee, are named after Fred Perry.
Information Source: