Mahmoud Ahmadinejad – 6th President of Iran
Full name: Mahmoud Sabbaghian
Date of birth: 28 October 1956 (age 60)
Place of birth: Aradan, Semnan, Iran
Political party: Alliance of Builders (2003–2005), Society of Devotees (1999–2011), Islamic Society of Engineers (1988–present; inactive since 2005), Office for Strengthening Unity (1979–1980)
Occupation: University professor
Profession: Traffic engineer
Religion: Shia Islam (Twelver)
Residence: Square 72, Narmak, Tehran
Father: Ahmad
Mother: Khanom
Spouse: Azam Farahi (m. 1981)
Children: Alireza Ahmadinejad, Fatemeh Ahmadinejad, Mehdi Ahmadinejad
Early Life
Mahmoud Ahmadinejad, also spelled Maḥmūd Aḥmadī-Nejād was born on October 28, 1956, in Garmsār, Iran. He is an Iranian political leader who served as president of Iran (2005–13).
He served as the Governor of Ardabil and the Mayor of Tehran, before he was elected as the President of Iran. His rather controversial stand on Iran's nuclear power during his presidential tenure created tension between Iran and the major countries of the world. He was viewed with hostility in his home country for his economic policies, disrespect for human rights and his open hatred towards certain countries. He also became the first president of the Islamic Republic of Iran to be questioned by the country's parliament on domestic and foreign policy issues. He holds a doctorate in 'civil engineering and traffic transportation planning'. He is known for his confrontational and outspoken nature. On the positive note, his policies allowed women to attend major sporting events, which they were not able to do before.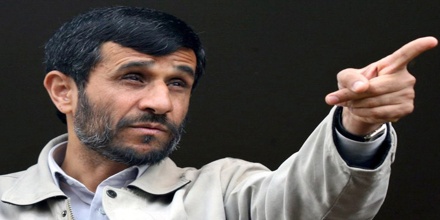 On 14 March 2012, Ahmadinejad became the first president of the Islamic Republic of Iran to be summoned by the Islamic Consultative Assembly (parliament) to answer questions regarding his presidency. Limited to two terms under the current Iranian constitution, Ahmadinejad supported Esfandiar Rahim Mashaei's campaign for president. On 15 June 2013, Hassan Rouhani was elected as Ahmadinejad's successor and assumed office on 3 August 2013.
Childhood, Family and Educational Life
Mahmoud Ahmadinejad was born Mahmoud Saborjhian on October 28, 1956, in the village of Aradan, near Garmsar, in north-central Iran, 82 miles southeast of Tehran. Mahmoud was the fourth of seven children whose father was a blacksmith. In 1957, the family moved from Aradan to the Narmak district of Tehran in search of better economic conditions. During this time, his father, Ahmad, changed the family name from Saborjhian (which translates to "thread painter," the lowliest job in Iran's traditional carpet-weaving industry), to the more religious Ahmadinejad ("race of Muhammad" or "virtuous race").
Ahmadinejad held no interest in politics as a young boy. He went to primary and high school in Tehran, and excelled in his studies. He received high marks on the national university entrance exams, finishing 130th out of 400,000 students. He entered the Iran University of Science and Technology in 1975 and received his undergraduate degree in civil engineering in 1979.
Ahmadinejad was accepted to a Master of Science program at his alma mater in 1986. He joined the faculty there as a lecturer in 1989, and in 1997 received his doctorate in civil engineering and traffic transportation planning.
Personal Life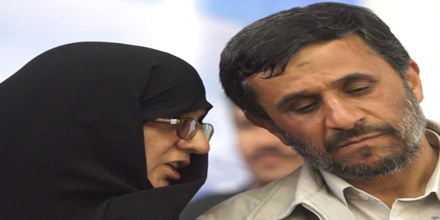 (Mahmoud Ahmadinejad and his wife)
In 1981, he married Azam Farahi, and has one daughter and two sons. His oldest son married a daughter of Esfandiar Rahim Mashaei in 2008. One of his sons studied at the Amirkabir University of Technology (Tehran Polytechnic).
Ahmadinejad had the antique Persian carpets in the Presidential palace sent to a carpet museum, and opted instead to use inexpensive carpets. He is said to have refused the VIP seat on the Presidential plane, and that he eventually replaced it with a cargo plane instead. Also upon gaining Iran's presidency, Ahmadinejad held his first cabinet meeting in the Imam Reza shrine at Mashhad, an act perceived as "pious".
Political Career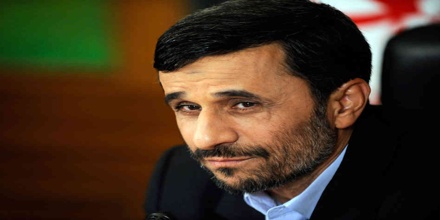 When Saddam Hussein ordered Iraqi military to invade Iran in 1980, Mahmoud Ahmadinejad volunteered to fight against the Iraqis in western Iran, the home of the Kurdish ethnic minority. Reports are mixed as to whether he became a member of the Revolutionary Guard in 1986. Some say he was, others say he wasn't, but it is believed he was a volunteer for a paramilitary volunteer militia called the Basij that operated in cooperation with the Iranian Revolutionary Guard. It is also believed that he participated in covert operations near the city of Kirkuk, and worked to not only the stop the Iraqi incursion, but to also suppress any political efforts by the Kurds to form their own state.
In 1993, he was also appointed governor general of the newly established northwest province of Ardebil and served there for four years. He was removed in 1997 by the newly elected moderate president Mohammad Khatami in an effort to move the Iranian government away from its more conservative elements. Ahmadinejad received his doctorate in transportation engineering in 1997 and returned to his teaching position at the university.
In 2003, he officially took office as the Mayor of Tehran. During his tenure, he made many reforms, laying emphasis on religious matters. He also stressed on traffic matters and encouraged charity.
In 2005, Mahmoud Ahmadinejad ran for the Iranian presidency with the full support of conservative leaders. Populist in his approach, Ahmadinejad promised to address the poverty and social injustices in Iran, and to work to end corruption. He campaigned on the slogan, "We can do it," and was the only presidential candidate to speak out against improving relations with the United States. On June 24, 2005, Ahmadinejad faced off with his campaign rival, Hashemi Rafsanjani, Iran's former president from 1989 to 1997. During this second election, Ahmadinejad played the role of a simple man who was one of the people, and portrayed Rafsanjani as a political hack who amassed a great fortune through corruption. Ahmadinejad won the election by a landslide, collecting 17 million of the 27 million votes cast.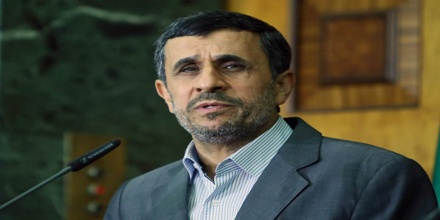 After his presidential win, Ahmadinejad became an imposing international figure. His hard-line stance on Iran's right to develop nuclear power heightened tensions with the U.S. In a September 2005 speech before the United Nations, Ahmadinejad professed his desire to pursue Iran's nuclear technology program, which he claimed was for peaceful purposes. At the same time, he condemned the United States for not only proliferating weapons of mass destruction, but also sowing a "climate of intimidation and injustice." He issued a veiled threat that "if some try to impose their will on the Iranian people…we will reconsider our entire approach to the nuclear issue."
In 2006, his team lost in the Iranian council elections. That year, in order to encourage younger talent he retired many Iranian scientists and professors. It led to the first major student protest against him since his election.
He was criticised for his alleged disregard for human rights and his economic mismanagement. In 2007, he came out with a special 'gas rotating plan' to cut down fuel consumption.
Ahmadinejad also fanned the flames of confrontation with his anti-Israeli rhetoric in public speeches. In addition to questioning the realities of the Holocaust, the Iranian leader showed his distaste toward Israel in October 2005, at the World Without Zionism Conference in Tehran. He spoke of an epic battle between Islam and the "World of Ignorance," a West led by Israel and the Zionist movement. Following the conference, he was also quoted as saying that Israel should be "wiped off the map."
Domestically, Ahmadinejad was able to play to his religiously conservative superiors while also appealing to those who elected him. During his first term, he banned Western music while at the same time lobbying to allow women to attend sporting events. He increased spending on social programs to fulfill a campaign pledge, while simultaneously ordering the confiscation of satellite dishes in mass raids.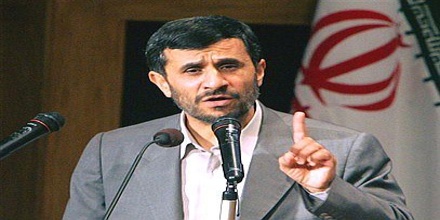 He also encouraged the Basij to patrol the streets looking for improper dress among men and women. With the support of conservative clerics, Ahmadinejad instituted strict measures to control free speech and suppress opposition with methods ranging from harassment to arrest and imprisonment. By April 2007, Iranian police had stopped or detained more than 150,000 individuals on violations of new edicts imposed or supported by Ahmadinejad.
Ahmadinejad was less successful in fulfilling many of his economic campaign promises. Despite possessing the world's 4th largest oil reserves, Ahmadinejad was unable to stop the squandering of Iran's oil profits. Iran had to import gasoline in 2007, as it did not possess the capabilities to refine enough crude oil to meet domestic demand. Ahmadinejad was also unable to address the crushing increase in inflation, which was estimated to be between 20 and 30 percent.
In 2009, he was re-elected as the President of Iran for the second term. He defeated Mir-Hossein Mousavi but Mousavi and his supporters accused Ahmadinejad of electoral fraud. The people also suspected an election fraud.
In February 2009, the Supreme Audit Court of Iran reported a total of $1.058 billion oil surplus revenue as unaccounted for and not returned to the government. Later parliamentary speaker, Ali Larijani asked for further investigations on the matter.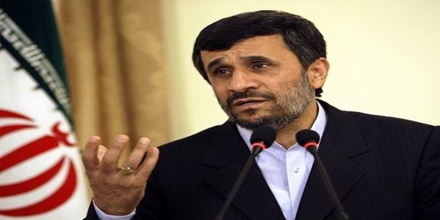 In July 2009, his government faced crisis after he fired four of his ministers. This was because according to the constitution, if more than half of the cabinet members were replaced, the decision would remain invalid until re-approval.
On August 3, 2009, Supreme Leader Ayatollah Ali Khamenei formally endorsed Ahmadinejad as president. Iranian political figures, including former presidents Mohammad Khatami and Akbar Hashemi Rafsanjani avoided the ceremony. Opposition leader Mir Hossein Mousavi also kept his distance from the event.
In 2010, his remark on the 9/11 attacks at the 65th session of the United Nations General Assembly created controversy. The next year, during the 66th session he made comments of similar nature.
In 2011, many members of the Iranian parliament threatened to impeach his office, after he merged eight government ministries and removed three ministers without prior notice to the parliament. He was defeated in the 2012 parliamentary elections. In March 2012, he became the first Iranian President to be questioned by the Islamic Consultative Assembly for issues relating to his presidency. He was summoned to answer questions about domestic and foreign policies.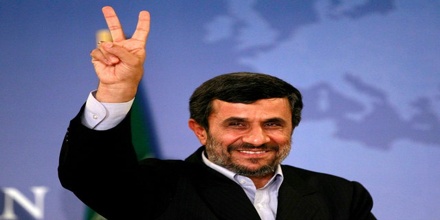 In 2013, after the end of his Presidential term he left the Sa'dabad Palace, official residence of the President of Iran. Hassan Rouhani was elected as his successor. The same year, he was appointed as a member of the Expediency Council.
On 15 June 2015, a number of Ahmadinejad's cabinet ministers established a new political party, called YEKTA Front. The party published list for 2016 legislative election and some of Ahmadinejad's cabinet members (like Hamid-Reza Haji Babaee, Sadeq Khalilian, Mohammad Abbasi and Mahmoud Bahmani) registered for the election, but Ahmadinejad did not support any list in the election.
According to a poll conducted by Information and Public Opinion Solutions LLC (iPOS) in March 2016, Ahmadinejad is the least popular political figure in Iran, while he has 57% approval and 39% disapproval ratings.