Steve Jobs (1955-2011) – Businessman, Inventor, and Industrial Designer
Full Name: Steven Paul Jobs
Date of Birth: February 24, 1955
Place of Birth: San Francisco, California, U.S.
Date of Death: October 5, 2011 (aged 56)
Place of Death: Palo Alto, California, U.S.
Occupation: Co-founder, Chairman, and CEO of Apple Inc., Primary investor and CEO of Pixar, Founder and CEO of NeXT
Spouse: Laurene Powell (m. 1991–2011)
Children: Lisa Brennan-Jobs, Eve Jobs, Erin Siena Jobs, Reed Jobs
Early Life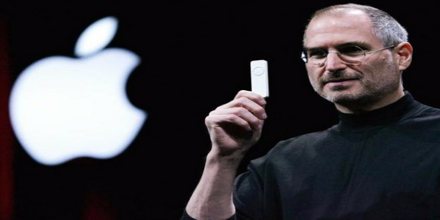 Steven Paul Jobs was born on February 24, 1955, in San Francisco, California, U.S. He was an American businessman, inventor, and industrial designer. He was the co-founder, chairman, and chief executive officer (CEO) of Apple Inc.; CEO and majority shareholder of Pixar; a member of The Walt Disney Company's board of directors following its acquisition of Pixar; and founder, chairman, and CEO of NeXT. Jobs is widely recognized as a pioneer of the microcomputer revolution of the 1970s and 1980s, along with Apple co-founder Steve Wozniak.
Jobs co-founded Apple in 1976 to sell Wozniak's Apple I personal computer. The duo gained fame and wealth a year later for the Apple II, one of the first highly successful mass-produced personal computers. In 1979, after a tour of PARC, Jobs saw the commercial potential of the Xerox Alto, which was mouse-driven and had a graphical user interface (GUI). This led to development of the unsuccessful Apple Lisa in 1983, followed by the breakthrough Macintosh in 1984. In addition to being the first mass-produced computer with a GUI, the Macintosh instigated the sudden rise of the desktop publishing industry in 1985 with the addition of the Apple LaserWriter, the first laser printer to feature vector graphics. Following a long power struggle, Jobs was forced out of Apple in 1985.
Apple's revolutionary products, which include the iPod, iPhone and iPad, are now seen as dictating the evolution of modern technology, with Jobs having left the company in 1985 and returning more than a decade later. He died in 2011, following a long battle with pancreatic cancer.
Childhood and Educational Life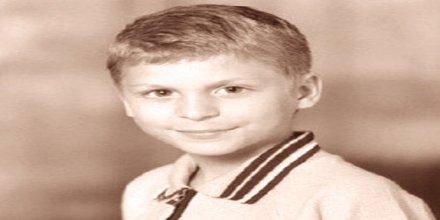 Steven Jobs was born February 24, 1955, in San Francisco, California, and was adopted by Paul and Clara Jobs. He grew up with one sister, Patty. Paul Jobs was a machinist and fixed cars as a hobby. Jobs remembers his father as being very skilled at working with his hands.
In 1961 the family moved to Mountain View, California. This area, just south of Palo Alto, California, was becoming a center for electronics. Electronics form the basic elements of devices such as radios, televisions, stereos, and computers. At that time people started to refer to the area as "Silicon Valley." This is because a substance called silicon is used in the manufacturing of electronic parts.
His father, Jandali, was a Syrian political science professor, and his mother, Schieble, worked as a speech therapist. Shortly after Steve was placed for adoption, his biological parents married and had another child, Mona Simpson. It was not until Jobs was 27 that he was able to uncover information on his biological parents.
While Jobs was always an intelligent and innovative thinker, his youth was riddled with frustrations over formal schooling. Jobs was a prankster in elementary school due to boredom, and his fourth-grade teacher needed to bribe him to study. Jobs tested so well, however, that administrators wanted to skip him ahead to high school—a proposal that his parents declined.
After graduating from high school in 1972, Jobs attended Reed College in Portland, Oregon, for two years. He dropped out after one semester to visit India and study eastern religions in the summer of 1974. In 1975 Jobs joined a group known as the Homebrew Computer Club.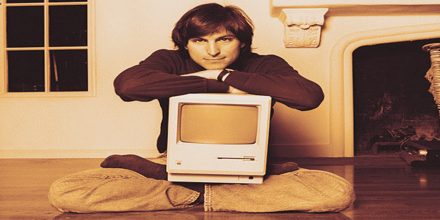 One member, a technical whiz named Steve Wozniak (1950–), was trying to build a small computer. Jobs became fascinated with the marketing potential of such a computer. In 1976 he and Wozniak formed their own company. They called it Apple Computer Company, in memory of a happy summer Jobs had spent picking apples. They raised $1,300 in startup money by selling Jobs's microbus and Wozniak's calculator. At first they sold circuit boards (the boards that hold the internal components of a computer) while they worked on the computer prototype (sample).
Personal Life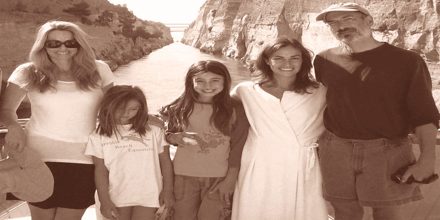 Jobs first met his future wife, Laurene Powell, in 1989 when she was a student in the Stanford Graduate School of Business and he gave a lecture there. Soon after the event, he stated that Laurene "was right there in the front row in the lecture hall, and I couldn't take my eyes off of her … kept losing my train of thought, and started feeling a little giddy." After the lecture, Jobs met up with her in the parking lot and invited her out to dinner. From that point forward, they were together (with a few minor exceptions) for the rest of his life. Powell's father died when she was very young, and her mother raised her in a middle class New Jersey home similar to the one Jobs grew up in. After she received her B.A. from the University of Pennsylvania, she spent a short period in high finance but found it didn't interest her, so she decided to pursue her MBA at Stanford instead. In addition, unlike Jobs, she was athletic and followed professional sports. She also brought as much self-sufficiency to the relationship as he did and was more of a private than public person. Jobs proposed on New Year's Day 1990 with "a fistful of freshly picked wildflowers." They married on March 18, 1991, in a Buddhist ceremony at the Ahwahnee Hotel in Yosemite National Park. Fifty people, including his father, Paul, and his sister, Mona, attended. The ceremony was conducted by Jobs's guru, Kobun Chino Otogawa. The vegan wedding cake was in the shape of Yosemite's Half Dome, and the wedding ended with a hike (during which Laurene's brothers had a snowball fight).
Jobs and Powell's first child, Reed, was born September 1991. Jobs's father, Paul, died a year and a half later, on March 5, 1993. Jobs and Powell had two more children, Erin, born in August 1995, and Eve, born in 1998. The family lived in Palo Alto, California.
Apple Computer
Jobs had realized there was a huge gap in the computer market. At that time almost all computers were mainframes. They were so large that one could fill a room, and so costly that individuals could not afford to buy them. Advances in electronics, however, meant that computer components were getting smaller and the power of the computer was increasing.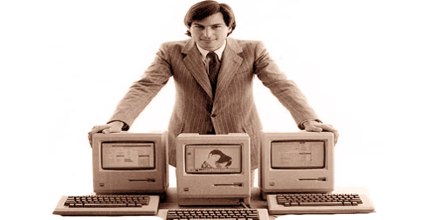 In 1974, Jobs took a position as a video game designer with Atari. Several months later he left the company to find spiritual enlightenment in India, traveling further and experimenting with psychedelic drugs. In 1976, when Jobs was just 21, he and Wozniak started Apple Computer. The duo started in the Jobs family garage, funding their entrepreneurial venture by Jobs selling his Volkswagen bus and Wozniak selling his beloved scientific calculator.
Jobs and Wozniak are credited with revolutionizing the computer industry by democratizing the technology and making machines smaller, cheaper, intuitive and accessible to everyday consumers. Wozniak conceived of a series of user-friendly personal computers, and—with Jobs in charge of marketing—Apple initially marketed the computers for $666.66 each. The Apple I earned the corporation around $774,000. Three years after the release of Apple's second model, the Apple II, the company's sales increased by 700 percent to $139 million. In 1980, Apple Computer became a publicly traded company, with a market value of $1.2 billion by the end of its very first day of trading. Jobs looked to marketing expert John Sculley of Pepsi-Cola to take over the role of CEO for Apple.
Early in 1983 he unveiled the Lisa. It was designed for people possessing minimal computer experience. It did not sell well, however, because it was more expensive than personal computers sold by competitors. Apple's biggest competitor was International Business Machines (IBM). By 1983 it was estimated that Apple had lost half of its market share (part of an industry's sales that a specific company has) to IBM.
In 1984 Apple introduced a revolutionary new model, the Macintosh. The on-screen display had small pictures called icons. To use the computer, the user pointed at an icon and clicked a button using a new device called a mouse. This process made the Macintosh very easy to use. The Macintosh did not sell well to businesses, however. It lacked features other personal computers had, such as a corresponding high quality printer. The failure of the Macintosh signaled the beginning of Jobs's downfall at Apple. Jobs resigned in 1985 from the company he had helped found, though he retained his title as chairman of its board of directors.
NeXT computer
Jobs soon hired some of his former employees to begin a new computer company called NeXT. Late in 1988 the NeXT computer was introduced at a large gala event in San Francisco, aimed at the educational market. Initial reactions were generally good. The product was very user-friendly, and had a fast processing speed, excellent graphics displays, and an outstanding sound system. Despite the warm reception, however, the NeXT machine never caught on. It was too costly, had a black-and-white screen, and could not be linked to other computers or run common software.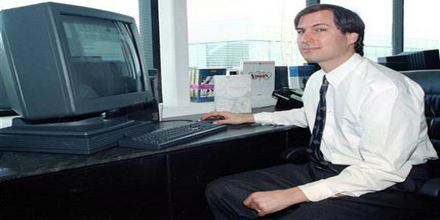 NeXT workstations were first released in 1990, priced at US$9,999. Like the Apple Lisa, the NeXT workstation was technologically advanced, but was largely dismissed as cost-prohibitive by the educational sector for which it was designed. The NeXT workstation was known for its technical strengths, chief among them its object-oriented software development system. Jobs marketed NeXT products to the financial, scientific, and academic community, highlighting its innovative, experimental new technologies, such as the Mach kernel, the digital signal processor chip, and the built-in Ethernet port. Tim Berners-Lee invented the World Wide Web on a NeXT computer at CERN.
The revised, second generation NeXTcube was released in 1990. Jobs touted it as the first "interpersonal" computer that would replace the personal computer. With its innovative NeXTMail multimedia email system, NeXTcube could share voice, image, graphics, and video in email for the first time. "Interpersonal computing is going to revolutionize human communications and groupwork", Jobs told reporters. Jobs ran NeXT with an obsession for aesthetic perfection, as evidenced by the development of and attention to NeXTcube's magnesium case. This put considerable strain on NeXT's hardware division, and in 1993, after having sold only 50,000 machines, NeXT transitioned fully to software development with the release of NeXTSTEP/Intel. The company reported its first profit of $1.03 million in 1994. In 1996, NeXT Software, Inc. released WebObjects, a framework for Web application development. After NeXT was acquired by Apple Inc. in 1997, WebObjects was used to build and run the Apple Store, MobileMe services, and the iTunes Store.
Pixar and Disney
Not actually having had an official title with the company he co-founded, Jobs was pushed into a more marginalized position and thus left Apple in 1985 to begin a new hardware and software enterprise called NeXT, Inc. The following year Jobs purchased an animation company from George Lucas, which later became Pixar Animation Studios. Believing in Pixar's potential, Jobs initially invested $50 million of his own money in the company. The studio went on to produce wildly popular movies such as Toy Story, Finding Nemo and The Incredibles; Pixar's films have collectively netted $4 billion. The studio merged with Walt Disney in 2006, making Steve Jobs Disney's largest shareholder.
NeXT and Apple
Despite Pixar's success, NeXT, Inc. floundered in its attempts to sell its specialized operating system to mainstream America. Apple eventually bought the company in 1996 for $429 million. The following year, Jobs returned to his post as Apple's CEO.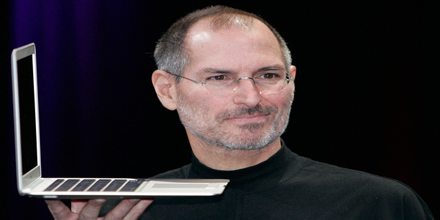 In November 1997 Jobs announced Apple would sell computers directly to users over the Internet and by telephone. The Apple Store became a runaway success. Within a week it was the third-largest e-commerce site on the Internet. In September of 1997 Jobs was named interim CEO of Apple.
In 1998 Jobs announced the release of the iMac, which featured powerful computing at an affordable price. The iBook was unveiled in July 1999. This is a clam-shaped laptop that is available in bright colors. It includes Apple's AirPort, a computer version of the cordless phone that would allow the user to surf the Internet wirelessly. In January 2000 Jobs unveiled Apple's new Internet strategy. It included a group of Macintosh-only Internet-based applications. Jobs also announced that he was becoming the permanent CEO of Apple.
In a February 1996 Time magazine article, Jobs said, "The thing that drives me and my colleagues … is that you see something very compelling to you, and you don't quite know how to get it, but you know, sometimes intuitively, it's within your grasp. And it's worth putting in years of your life to make it come into existence." Jobs has worked hard to translate his ideas into exciting and innovative products for businesses and consumers. He was instrumental in launching the age of the personal computer. Steve Jobs is truly a computer industry visionary.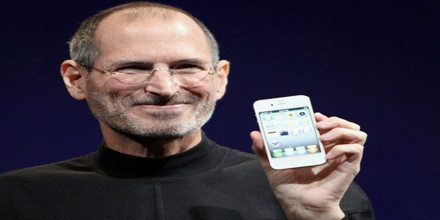 Apple introduced such revolutionary products as the Macbook Air, iPod and iPhone, all of which have dictated the evolution of modern technology. Almost immediately after Apple releases a new product, competitors scramble to produce comparable technologies. Apple's quarterly reports improved significantly in 2007: Stocks were worth $199.99 a share—a record-breaking number at that time—and the company boasted a staggering $1.58 billion profit, an $18 billion surplus in the bank and zero debt.
In 2008, iTunes became the second-biggest music retailer in America—second only to Walmart, fueled by iTunes and iPod sales. Apple has also been ranked No. 1 on Fortune magazine's list of "America's Most Admired Companies," as well as No. 1 among Fortune 500 companies for returns to shareholders.
Illness, Death and Legacy
In 2003, Jobs discovered that he had a neuroendocrine tumor, a rare but operable form of pancreatic cancer. Instead of immediately opting for surgery, Jobs chose to alter his pesco-vegetarian diet while weighing Eastern treatment options. For nine months, Jobs postponed surgery, making Apple's board of directors nervous. Executives feared that shareholders would pull their stock if word got out that their CEO was ill. But in the end, Jobs' confidentiality took precedence over shareholder disclosure. In 2004, he had a successful surgery to remove the pancreatic tumor. True to form, in subsequent years Jobs disclosed little about his health.
Early in 2009, reports circulated about Jobs' weight loss, some predicting his health issues had returned, which included a liver transplant. Jobs had responded to these concerns by stating he was dealing with a hormone imbalance. After nearly a year out of the spotlight, Steve Jobs delivered a keynote address at an invite-only Apple event September 9, 2009.
On October 5, 2011, Apple Inc. announced that its co-founder had passed away. After battling pancreatic cancer for nearly a decade, Steve Jobs died in Palo Alto. He was 56 years old.
Steve's final words were: 'OH WOW. OH WOW. OH WOW.'" He then lost consciousness and died several hours later. A small private funeral was held on October 7, 2011, of which details were not revealed out of respect to Jobs's family. At the time of his death, his biological mother, Joanne Schieble Simpson, was living in a nursing home and suffering from dementia. She was not told that he died.
Both Apple and Microsoft flew their flags at half-staff throughout their respective headquarters and campuses. Bob Iger ordered all Disney properties, including Walt Disney World and Disneyland, to fly their flags at half-staff from October 6 to 12, 2011. For two weeks following his death, Apple's corporate Web site displayed a simple page, showing Jobs's name and lifespan next to his grayscale portrait. A private memorial service for Apple employees was held on October 19, 2011, on the Apple Campus in Cupertino.
Apple co-founder Steve Wozniak, former owner of what would become Pixar, George Lucas, former rival, Microsoft founder Bill Gates, and President Barack Obama all offered statements in response to his death.
Jobs is buried in an unmarked grave at Alta Mesa Memorial Park, the only nondenominational cemetery in Palo Alto.
Awards and Honours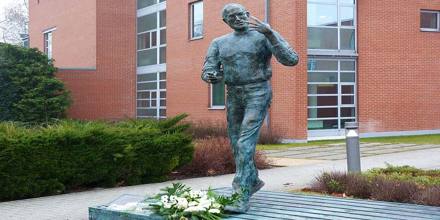 (Statue of Jobs at Graphisoft Park, Budapest)
2013: Posthumously inducted as a Disney Legend.
2012: Grammy Trustees Award, an award for those who have influenced the music industry in areas unrelated to performance.
2007: Jobs was inducted into the California Hall of Fame, located at The California Museum for History, Women and the Arts.
2007: Jobs was named the most powerful person in business by Fortune magazine.
1991: Howard Vollum Award by Reed College
1989: ''Entrepreneur of the Decade'' by Inc. magazine
1987: Jefferson Award for Public Service
1985: National Medal of Technology and Innovation (with Steve Wozniak)
A number of books have been written on Jobs' life and career, including an authorized 2011 general biography by Walter Isaacson, a 2012 young adult biography by Karen Blumenthal, and yet another title, 2015's Becoming Steve Jobs by Brent Schlender and Rick Tetzeli. The Isaacson work was critiqued for the depiction of its main subject by Apple's chief executive Tim Cook, who succeeded Jobs.
Biopics inspired by the computer icon's life have been released as well—namely the critically panned Jobs (2013), starring Ashton Kutcher, and Steve Jobs (2015), starring Michael Fassbender and directed by Danny Boyle.