Biography of John Harrison
John Harrison- English carpenter and clockmaker.
Name: John Harrison
Date of Birth: 3 April (O.S. 24 March) 1693
Place of Birth: Foulby, near Wakefield, West Riding of Yorkshire, England
Date of Death: 24 March 1776 (aged 82)
Place of Death: London, England
Spouse/Ex-: Elizabeth
Early Life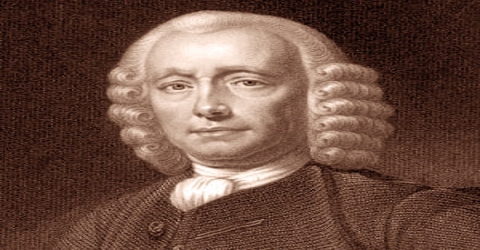 John Harrison was an English carpenter and clockmaker of the eighteenth century who solved the "longitude" problem by inventing the first practical chronometer to enable navigation at sea via the use of longitudes.
John Harrison was born in Foulby in West Yorkshire, the first of five children in his family. His father worked as a carpenter at the nearby Nostell Priory estate. A house on the site of what may have been the family home bears a blue plaque.
was the inventor of the marine chronometer, a device that helps to establish the longitude of a ship at sea and makes long-distance sea travel safer. His invention marked a landmark in sea travel and revolutionized the way sailors had been sailing on the seas previously.
The problem he solved was considered so important following the Scilly naval disaster of 1707 that the British Parliament offered financial rewards of up to £20,000 (equivalent to £2.89 million in 2018) under the 1714 Longitude Act.
Harrison built his first longcase clock in 1713, at the age of 20. The mechanism was made entirely of wood. Three of Harrison's early wooden clocks have survived: the first (1713) is in the Worshipful Company of Clockmakers' collection previously in the Guildhall in London, and since 2015 on display in the Science Museum. The second (1715) is also in the Science Museum in London; and the third (1717) is at Nostell Priory in Yorkshire, the face bearing the inscription "John Harrison Barrow".
In the early 1720s, Harrison was commissioned to make a new turret clock at Brocklesby Park, North Lincolnshire. The clock still works, and like his previous clocks has a wooden movement of oak and lignum vitae. Unlike his early clocks, it incorporates some original features to improve timekeeping, for example, the grasshopper escapement. Between 1725 and 1728, John and his brother James, also a skilled joiner, made at least three precision longcase clocks, again with the movements and longcase made of oak and lignum vitae.
He worked hard for several years designing numerous models of clocks. Several of his clocks were tested with favorable results by the Royal Society though none of his initial models fitted the requirements necessary to win the prize. After working, re-working and improvising his clock models for almost three decades, he came up with an appropriate solution—a marine watch that could successfully measure the longitude during sea travel. The uneducated carpenter was successful in solving a major problem of seafaring even before scientists and astronomers could come up with a solution. By designing the accurate marine chronometer, Harrison had come up with a solution for one of the most puzzling technological problems of the 18th century.
In his earlier work on sea clocks, Harrison was continually assisted, both financially and in many other ways, by George Graham, the watchmaker, and instrument maker. Harrison was introduced to Graham by the Astronomer Royal Edmond Halley, who championed Harrison and his work. This support was important to Harrison, as he was supposed to have found it difficult to communicate his ideas in a coherent manner.
Childhood, Family and Educational Life
John Harrison was born as the son of Henry, a carpenter and his wife Elizabeth. The oldest of five siblings, he assisted his father in his carpentry work. His father worked as a carpenter, and John followed his father into the carpentry business. He also developed a passion for music and learning how clocks work. It was said, as a youngster, he would take clocks apart and put them back together.
He fell ill with smallpox as a child and was given a watch to amuse himself. Thus began his fascination with clocks and he would often tinker around with old clocks and study their mechanisms. He also loved music as a youngster.
Personal Life
John Harrison married Elizabeth Barrel in 1718. They had a son. His wife died in 1726.
His second marriage was with a woman, also named Elizabeth. This marriage lasted 50 years and produced two children. His son William assisted his father in designing and developing clocks and watches.
Career and Works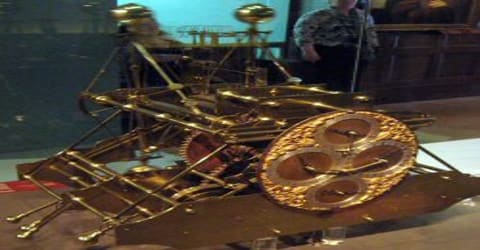 (Harrison's first sea clock – H1)
John Harrison built his first clock in 1713, at the age of 20. It was made out of wood, which was a common practice at the time. Some of his earlier clocks have been well preserved and they bear the inscription of his name. Harrison was a talented clockmaker and developed unique features for his clocks.
He began building clocks quite early on with the help of his younger brother, James. The brothers built their first clock in 1713 and went on to build two long case grandfather clocks in 1715 and 1717.
In 1720 he built a clock for the tower of a local manor house. He built the parts requiring lubrication with a tropical hardwood that naturally oozes its own oil and thus would not require any other form of oiling.
Along with James, he made at least three pendulum clocks between 1725 and 1728. He designed the grid-iron pendulum during this time. His precision pendulum clocks are considered to be the most accurate clocks of his time.
His most important invention was finding a solution to the issue of longitude. For a long time, the ability to know a ship's longitude position had not been found. Numerous attempts had been made, but none successful. The ability to know longitude was essential to the safe navigation of ships. The problem was considered so important; Parliament offered a £20,000 reward for the first person who could provide a solution. Sir Isaac Newton himself had doubted whether such a device could be created.
Longitude fixes the location of a place on Earth east or west of a north-south line called the prime meridian. It is given as an angular measurement that ranges from 0° at the prime meridian to +180° eastward and −180° westward. Knowledge of a ship's east-west position was essential when approaching land. After a long voyage, cumulative errors in dead reckoning frequently led to shipwrecks and a great loss of life. Avoiding such disasters became vital in Harrison's lifetime, in an era when trade and navigation were increasing dramatically around the world.
He created the description and drawings for a proposed marine clock and presented his ideas to the Astronomer Royal, Edmond Halley who introduced him to the watch and instrument maker George Graham. Graham not only helped Harrison financially but also in many other ways.
Harrison worked on his first Sea Clock, also known as H1 for five years. The clock was tested on a trial in 1736, and its design was much appreciated. He was given a grant of 500 Pounds for developing this design further.
He made the H2 in 1741 after some more years of work. But at that time Britain was at war with Spain and his design could not be tested. However, he was provided another grant to continue his work.
After 17 years of work, he designed the H3. However, he himself was disappointed with this model and started looking for other methods to improvise its performance. He decided that instead of a 'Sea Clock', a watch-sized timekeeper would be more practical.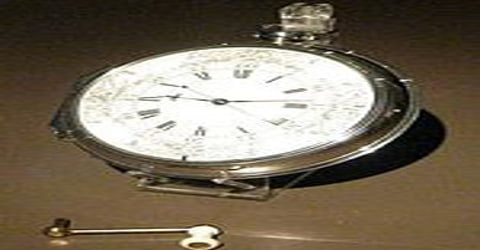 (Harrison's "sea watch" No.1 (H4), with winding crank)
Harrison's first "sea watch" (now known as H4) is housed in silver pair cases some 5.2 inches (13 cm) in diameter. The clock's movement is highly complex for that period, resembling a larger version of the then-current conventional movement. It has a novel type of 'vertical' escapement, which is often incorrectly associated with the 'verge' escapement, which it superficially resembles. However, the action of the frictional rest escapement enables the balance to have a large arc. In comparison, the verge's escapement has recoil with a limited balance arc and is sensitive to variations in driving torque.
This first watch took six years to construct, following which the Board of Longitude determined to trial it on a voyage from Portsmouth to Kingston, Jamaica. For this purpose, it was placed aboard the 50-gun HMS Deptford, which set sail from Portsmouth on 18 November 1761. Harrison, by then 68 years old, sent it on this transatlantic trial in the care of his son, William. The watch was tested before departure by Robertson, Master of the Academy at Portsmouth, who reported that on 6 November 1761 at noon it was 3 seconds slow, having lost 24 seconds in 9 days on mean solar time. The daily rate of the watch was therefore fixed as losing 24/9 seconds per day.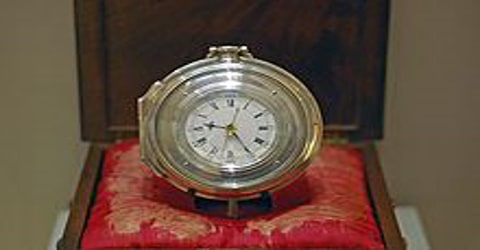 He worked on his second sea watch, H5. But he was disillusioned with the Parliament and enlisted the support of King George II who personally tested the watch in 1772 and found it to be accurate. Harrison was eventually awarded £8,750 for his work in 1773 when he was 80 years old.
In total, Harrison received £23,065 for his work on chronometers. He received £4,315 in increments from the Board of Longitude for his work, £10,000 as an interim payment for H4 in 1765 and £8,750 from Parliament in 1773. This gave him a reasonable income for most of his life (equivalent to roughly £45,000 per year in 2007, though all his costs, such as materials and subcontracting work to other horologists, had to come out of this). He became the equivalent of a multi-millionaire (in today's terms) in the final decade of his life.
Major Work
He invented the marine chronometer a clock that precisely determines longitude by means of celestial navigation. It was a major technological development of the 18th century that took him more than three decades of hard work to achieve.
Awards and Achievements
He was never awarded the official Longitude Prize of £20,000 though he was paid £10,000 and £8,750 in separate installments. He was also awarded several grants by the Board of Longitude for continuing his work till the development of the H5.
Death and Memorials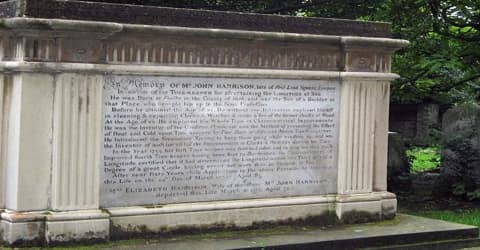 Harrison died on March 24, 17,76 at the age of 82, just shy of his eighty-third birthday and was buried alongside his second wife and son William. His tomb was restored in 1879 by the Worshipful Company of Clockmakers, even though Harrison had never been a member of the Company.
Harrison's last home was 12, Red Lion Square, in the Holborn district of London. There is a plaque dedicated to Harrison on the wall of Summit House, a 1925 modernist office block, on the south side of the square. A memorial tablet to Harrison was unveiled in Westminster Abbey on 24 March 2006, finally recognising him as a worthy companion to his friend George Graham and Thomas Tompion, 'The Father of English Watchmaking', who are both buried in the Abbey. The memorial shows a meridian line (line of constant longitude) in two metals to highlight Harrison's most widespread invention, the bimetallic strip thermometer. The strip is engraved with its own longitude of 0 degrees, 7 minutes and 35 seconds West.
Since his death, he has been honored by numerous societies. His original timepieces have been preserved and are on display at the National Maritime Museum in Greenwich and the Clock Makers' Museum in London.
In 2014, Northern Rail renamed its train that runs between Barton and Cleethorpes as the John 'Longitude' Harrison.
On 3 April 2018, Google celebrated his 325th birthday by making a Google Doodle for its homepage.
Information Source: