Biography of Jean Cocteau
Jean Cocteau – French poet, writer, designer, playwright, artist, and filmmaker.
Name: Jean Maurice Eugène Clément Cocteau
Date of Birth: 5 July 1889
Place of Birth: Maisons-Laffitte, France
Date of Death: 11 October 1963 (aged 74)
Place of Death: Milly-la-Forêt, France
Occupation: Novelist, Poet, Artist, Filmmaker
Father: Georges Cocteau
Mother: Eugénie Lecomte
Early Life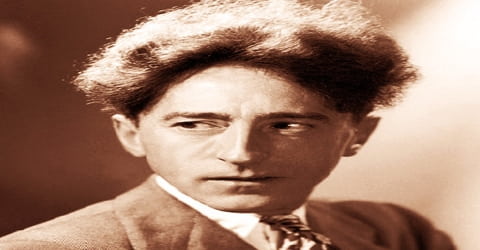 A French poet, librettist, novelist, actor, film director, and painter, Jean Cocteau was born on 5 July 1889 in Maisons-Laffitte, Yvelines, a town near Paris, to Georges Cocteau and his wife, Eugénie Lecomte; a socially prominent Parisian family. Cocteau is best known for his novel Les Enfants Terribles (1929), and the films The Blood of a Poet (1930), Les Parents Terribles (1948), Beauty and the Beast (1946) and Orpheus (1949). He was described as "one of the avant-garde's most successful and influential filmmakers" by AllMovie.
A cutting-edge artist and a celebrity, Cocteau was associated with other prominent figures of his time. His writing attracted the interest of musicians; several used him as a lyricist or librettist, most notably Stravinsky, Poulenc, Daniel Biro, Guy Sacre, and Louis Durey.
Cocteau has given to the world of literature one of the best novella, Les Enfants Terribles. His is known for his cinematic articulation with movies like Blood of a Poet, Les Parents Terrible, Beauty and the Beast, Orpheus and La Testament d'Orphee. Jean Cocteau was always inclined towards the artistic side of life due to the creative influence of his father and grandfather. He started sketching from a very young age. But with his father's untimely and mysterious death, Cocteau became more of a nervous young adult than he already was. He made many influential friends in life, like Proust, Hugo, Picasso, Chanel, Piaf, Satie, etc., all of them influenced him greatly in his life as well as creatively. Cocteau was open about his sexuality and was openly in a long term relationship with the French actor, Jean Marais, who also acted in several of his movies and was his muse.
Childhood, Family and Educational Life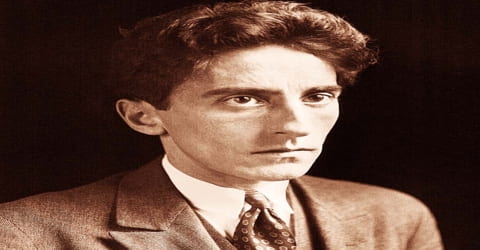 Jean Cocteau, in full Jean Maurice Eugène Clément Cocteau (French: ʒɑ̃ kɔkto), was born on 5th July 1889 in Maisons-Laffitte, Yvelines, in a village near Paris, in a socially prominent Parisian family, to Georges Cocteau and Eugenie Lecomte. He had other two siblings, Marthe and Paul.
Cocteau's father was a lawyer and amateur painter who committed suicide when Cocteau was nine. His family lived in their maternal grandparents' house in Paris during the winters and in Maisons-Laffitte during the summers. He was known to have been a pampered but a nervous child, and he was often ill. The place where he was growing up was popular for its taste in art and culture. From an early age, Cocteau started to draw. His grandfather was also an art lover and had a great collection of music. He used to hold music sessions in the house. In his early childhood, Cocteau attended many stage performances for children.
From 1900-1904, Cocteau attended the Lycée Condorcet where he met and began a physical relationship with schoolmate Pierre Dargelos who would later reappear throughout Cocteau's oeuvre. By this time he started to draw profusely. He left home at fifteen.
Personal Life
Jean Cocteau never hid his homosexuality. He was the author of the mildly homoerotic and semi-autobiographical Le livre blanc (translated as The White Paper or The White Book), published anonymously in 1928. He never repudiated its authorship and a later edition of the novel features his foreword and drawings.
For many years Cocteau was in a sexual and romantic relationship with his muse, actor Jean Marais. Cocteau cast Marais in The Eternal Return (1943), Beauty and the Beast (1946), Ruy Blas (1947), and Orpheus (1949). He was in a friendly and romantic relationship with many well-known personalities of his time like: Coco Chanel, Edith Piaf, Pablo Picasso, Jean Hugo, Marlene Dietrich, Erik Satie, Henri Bernstein, Kenneth Anger, Igor Stravinsky, Yul Brynner, etc. Cocteau had affairs with Jean Le Roy, Raymond Radiguet, Jean Desbordes, Marcel Khill, and Panama Al Brown.
In the 1930s, Cocteau is rumored to have had a very brief affair with Princess Natalie Paley, the daughter of a Romanov Grand Duke and herself a sometime actress, model, and former wife of couturier Lucien Lelong.
Career and Works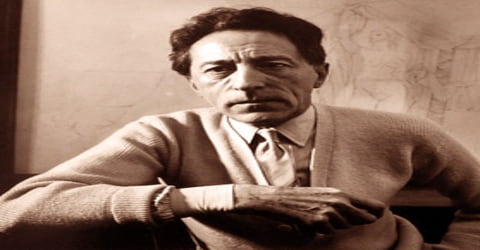 In 1909, Jean Cocteau started to work for the magazine 'Scheherazade' with Maurice Rostand. He worked on the next six issues of the magazine until 1911. During this time, he was also contributing articles and his drawings to 'Comoedia'. In the same year, the first anthology of his poems 'La Lampe d'Aladin (Aladdin's Lamp) was published.
Cocteau was the product of the years immediately preceding World War I, years of refined artistic taste that was devoid of political turmoil. His real exploration of the world of the theatre began when he encountered the Ballets Russes, then under the direction of Sergey Diaghilev. When Cocteau expressed a desire to create ballets, Diaghilev challenged him to "étonne-moi" ("surprise me"). This famous remark seems to have guided the poet not only in his ballets, such as Parade (1917), with music by Erik Satie, and Le Boeuf sur le toit (1920; "The Ox on the Roof"), with music by Darius Milhaud, but also in his other works; and it is sometimes quoted in his plays and films.
In 1910, his second anthology of verses 'Le Prince frivole (The Frivolous Prince)' was published. He also wrote 'La Patience de Penelope, de Penelope, mensonge en un acte (The Patience of Penelope, a lie in one act) along with Andre Paysan, his colleague from 'Scheherazade'. During this time many articles and drawings by Cocteau were published in 'Comoedia'. In 1911, Cocteau continued to write for 'Comoedia', 'Comoedia illustre' and 'Les Humoristes'. He also wrote a libretto for a ballet 'Le Dieu bleu (Blue God)' and designed two paybills for 'Le Spectre de la rose'. This was the time when he penned down 'Ballet Russe' for the troupe's programme.
In 1912, Cocteau collaborated with Léon Bakst on Le Dieu bleu for the Ballets Russes; the principal dancers being Tamara Karsavina and Vaslav Nijinsky. During World War I Cocteau served in the Red Cross as an ambulance driver. This was the period in which he met the poet Guillaume Apollinaire, artists Pablo Picasso and Amedeo Modigliani, and numerous other writers and artists with whom he later collaborated. Russian impresario Sergei Diaghilev persuaded Cocteau to write a scenario for a ballet, which resulted in Parade in 1917.
In 1912, Cocteau's third book of verse 'La Danse de Sophole (The Dance of Sophocles)' was published. This book did not do very well and with the failure of his ballet, Cocteau started questioning his talent and early successes. During this time, some of his poems and prose appeared in 'Comoedia'. 'Le Figaro', 'La Revue de Paris', 'Je sais tout' and 'Les Annales'. In 1913, Cocteau started to work on 'Le Potomak' and sketched his first Eugenes. His article on 'Swann's Way', written on the prompting of Proust, was published in Excelsior.
During this period, Cocteau also met Stravinsky; in 1914, he visited the composer in Switzerland. Serving as an ambulance driver in WWI, Cocteau fell in with a group of marines and was arrested before being released to civilian life. In 1914, Cocteau finished 'Le Potomak' in Paris. This was the time when the war broke out and he showed interest in joining it but he was too unfit for it. This was the year when he prepared the journal 'Le Mot' with Paul Iribe.
Cocteau wrote the libretto for Igor Stravinsky's opera-oratorio Oedipus Rex, which had its original performance in the Théâtre Sarah Bernhardt in Paris on 30 May 1927. An important exponent of avant-garde art, Cocteau had great influence on the work of others, including a group of composers known as Les six. In the early twenties, he and other members of Les six frequented a wildly popular bar named Le Boeuf sur le Toit, a name that Cocteau himself had a hand in picking. The popularity was due in no small measure to the presence of Cocteau and his friends.
A meeting with Pablo Picasso in 1917 led to Rome and collaboration with Diaghilev. For Parade, Erik Satie contributed the music, Leonide Massine the choreography, Picasso the sets, and Cocteau the text. The May 1917 Paris production proved a fiasco, but a more favorable response greeted a revival a few years later.
In 1918, Cocteau's important works like 'Orphee' and 'Les Enfants terribles' were staged. This was also the year when he formed a very close friendship with a 15-year-old novelist Raymond Radiguet. Radiguet became a great influence on Cocteau's art and life. This young writer later died from typhoid in 1923. Cocteau became a friend of the aviator Roland Garros and dedicated to him the early poems inspired by aviation, Le Cap de Bonne-Espérance (1919; The Cape of Good Hope). At intervals during the years 1916 and 1917, Cocteau entered the world of modern art, then being born in Paris; in the bohemian Montparnasse section of the city, he met painters such as Pablo Picasso and Amedeo Modigliani and writers such as Max Jacob and Guillaume Apollinaire.
Cocteau himself much later characterized his reaction as one of "stupor and disgust." His most notable book, Les Enfants Terribles, was written in a week during a strenuous opium weaning. In Opium: Journal of drug rehabilitation, he recounts the experience of his recovery from opium addiction in 1929. His account, which includes vivid pen-and-ink illustrations, alternates between his moment-to-moment experiences of drug withdrawal and his current thoughts about people and events in his world. Cocteau was supported throughout his recovery by his friend and correspondent, Catholic philosopher Jacques Maritain. Under Maritain's influence, Cocteau made a temporary return to the sacraments of the Catholic Church. He again returned to the Church later in life and undertook a number of religious art projects.
In 1930, 'Blood of a Poet' was released, which was Cocteau's first feature film. It was an artistic commentary on his private mythology. This was the year when he wrote the greatest play of his life 'La Machine Infernal'. This play was based on 'Oedipus'. He also wrote plays like 'La voix humaine (The Human Voice), 'Les chevaliers de la table rounde (The Knights of the Round Table)', 'Les parents terrible (Intimate Relations)', 'La machine a ecrire (The Typewriter). After 1930 Cocteau did not work for the next 15 years because of his addiction to opium. He returned to work in 1945 when his close friend and actor Jean Marais prompted him to. He directed the adaptation of his play 'La Belle et la Bete (Beauty and the Beast). Marais himself acted in the movie and this movie marked a glorious return of Cocteau to the world cinema.
Cocteau's play Orphée, first performed in 1926, was destined to play a part in the resurrection of tragedy in contemporary theatre; in it, Cocteau deepened his interpretation of the nature of the poet. The novel Les Enfants terribles, written in the space of three weeks in March 1929, is the study of the inviolability of the character of two adolescents, the brother and sister Paul and Elisabeth. In 1950 Cocteau prepared the screenplay for a film of this work, and he was also the film's narrator.
In 1950, Cocteau again directed a film called 'orpheus', starring Marais. This movie was based on the life of a poet who is plagued by artistic and romantic opponents and when his wife dies then he goes to hell to bring her back. This was also the year when Cocteau decorated the Villa Santo Sospir in Saint-Jean-Cap-Ferrat and started a series of graphic works. Cocteau recorded a series of radio interviews with Andre Fraigneau in 1951, which included 'Entretiens Autour du cinematographe. These interviews were interlocutions on cinema. In this year he was also elected as the president of the Union of Authors and Composers. He started a new journal called 'Le Passe define (Past Tense)'.
Cocteau is best known for his novel Les Enfants Terribles (1929), and the films The Blood of a Poet (1930), Beauty and the Beast (1946), Les Parents Terribles (1948), and Orpheus (1949). His final film, Le Testament d'Orphée (The Testament of Orpheus) (1960), featured appearances by Picasso and matador Luis Miguel Dominguín, along with Yul Brynner, who also helped finance the film.
In 1953, an exhibition of his paintings and drawings took place at the Galerie des Ponchettes in Nice. He also took the responsibility to be one of the juries at the Cannes Film Festival. He started working on the collection of poems called 'Clairobscur (Twilight)' during the same year. Cocteau went to Brussels in 1956 for the production of 'La Machine a ecrire (The Typewriter)'. It was later performed at the Comedie-Francaise. His new anthology, Poems 1916-1955, was published. This was the time when 'Images de Jean Cocteau' was exhibited at the Galerie Henri Matarasso in Nice.
In 1959, 'Poesie critique I (Critical Poetry I)' and 'Gondole des morts (Gondola of the Dead)' were published. This was the year when he began the shooting for his film called 'Testament d'Orphee (Testament of Orpheus)' in Les Baux-de-Provence in Nice. In 1961, Cocteau wrote a script for 'Le Princesse de Cleves (Princess of Cleves)' which was directed by Jean Delannoy. He also started 'Innamorati', a series of sketches in colored pencil. 'Le Ceremonial espagnol du phenix (The Spanish Ceremonial of the Phoenix) and La Partie d'echecs (The Chess Game) was published.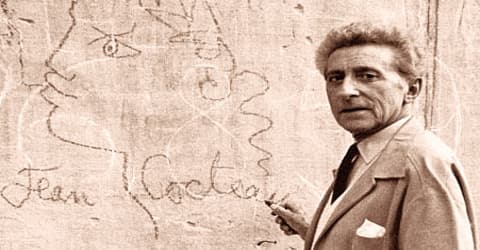 Also, a visual artist of significance, Cocteau in 1950 decorated the Villa Santo Sospir in Saint-Jean-Cap-Ferrat and began a series of important graphic works: frescoes on the City Hall in Menton, the Chapel of Saint-Pierre in Villefranche-sur-Mer, and the Church of Saint-Blaise-des-Simples in Milly-la-Forêt. His adopted son, the painter Édouard Dermit, who also appears in his later films, continued the decoration of a chapel at Fréjus, a work Cocteau had not completed at his death at age 74.
Death and Legacy
Jean Cocteau died of a heart attack at the age of 74 on October 11, 1963. He was at his Chateau in Milly-la-Foret, France at the time of his death.  According to his wishes, Cocteau is buried beneath the floor of the Chapelle Saint-Blaise des Simples in Milly-la-Forêt. The epitaph on his gravestone set in the floor of the chapel reads: "I stay with you" ("Je reste avec vous").
In 1955, Jean Cocteau was made a member of the Académie française and The Royal Academy of Belgium. During his life, Cocteau was commander of the Legion of Honor, Member of the Mallarmé Academy, German Academy (Berlin), American Academy, Mark Twain (U.S.A) Academy, Honorary President of the Cannes Film Festival, Honorary President of the France-Hungary Association and President of the Jazz Academy and of the Academy of the Disc.
Information Source: