Hillary Clinton – 67th United States Secretary of State
Full name: Hillary Diane Rodham
Date of birth: October 26, 1947 (age 69)
Place of birth: Chicago, Illinois, U.S.
Political party: Democratic (Since 1968)
Other political affiliations: Republican (Before 1968)
Spouse: Bill Clinton (m. 1975)
Children: Chelsea Clinton
Early Life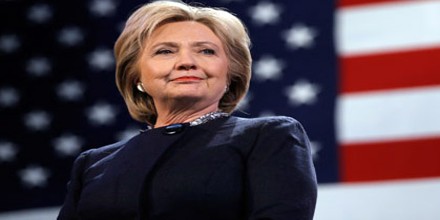 Hillary Diane Clinton was born Hillary Diane Rodham on October 26, 1947, in Chicago, Illinois, U.S. She is an American politician who was the 67th United States Secretary of State from 2009 to 2013, U.S. Senator from New York from 2001 to 2009, First Lady of the United States from 1993 to 2001, and the Democratic Party's nominee for President of the United States in the 2016 election.
In 1978, while Hillary became partner at the Rose Law Firm, Bill was elected as the Governor of Arkansas, and so began her 12 year role as the Frist Lady of Arkansas. While she was First Lady of Arkansas, not only did she maintain her thriving career as a lawyer and the couple's only child, Chelsea Victoria Clinton, who was born on February 27th, 1980, but "she also chaired the Arkansas Educational Standards Committee, co-founded the Arkansas Advocates for Children and Families, and served on the boards of the Arkansas Children's Hospital, Legal Services, and the Children's Defense Fund, as well as writing a weekly newspaper column entitled Talking It Over."
It was not until Bill decided to run for president, however, that Hillary Rodham-Clinton became the internationally known woman, she is today.
As First Lady of the United States, Clinton fought for gender equality and healthcare reform. Because her marriage survived the Lewinsky scandal, her role as first lady drew a polarized response from the public. Clinton was elected in 2000 as the first female senator from New York. She was re-elected to the Senate in 2006. Running for president in 2008, she won far more delegates than any previous female candidate, but lost the Democratic nomination to Barack Obama.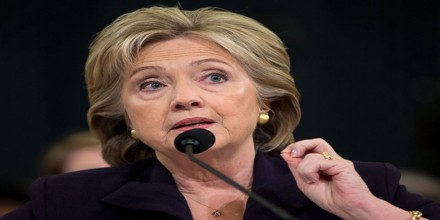 As Secretary of State in the Obama administration from 2009 to 2013, Clinton responded to the Arab Spring, during which she advocated the U.S. military intervention in Libya. She helped organize a diplomatic isolation and international sanctions regime against Iran, in an effort to force curtailment of that country's nuclear program; this would eventually lead to the multinational Joint Comprehensive Plan of Action agreement in 2015. Leaving office after Obama's first term, she wrote her fifth book and undertook speaking engagements.
Clinton made a second presidential run in 2016. She received the most votes and primary delegates in the 2016 Democratic primaries, and formally accepted her party's nomination for President of the United States on July 28, 2016 with vice presidential running mate Senator Tim Kaine. She became the first female candidate to be nominated for president by a major U.S. political party. Despite winning a plurality of the national popular vote, Clinton lost the Electoral College and the presidency to her Republican rival Donald Trump.
Childhood and Educational Life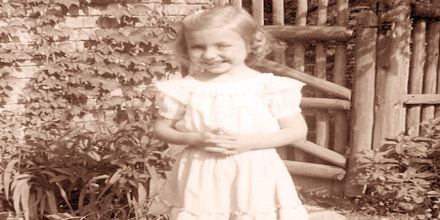 Hillary Diane Rodham was born on October 26th, 1947, in Chicago, Illinois, U.S. She is the oldest of Hugh and Dorothy Rodham, and has two younger brothers, Hugh Jr. and Anthony. She was raised in a United Methodist family, living first in Chicago; when she was three, her family moved to Park Ridge, Illinois. Her father, Hugh Ellsworth Rodham (1911–1993), was of Welsh and English descent; he managed a successful small business in the textile industry. Her mother, Dorothy Emma Howell (1919–2011), was a homemaker of English, Scottish, French Canadian (Quebec), Welsh and Dutch descent.
She attended Maine East High School, where she participated in the student council, the school newspaper, and was selected for the National Honor Society. She won election as class vice president for her junior year, but then lost an election for class president for her senior year against two boys, one of whom told her, "you are really stupid if you think a girl can be elected president." For her senior year, she and other students were transferred to the then new Maine South High School, where she was a National Merit Finalist and was voted "most likely to succeed". She graduated in the top five percent of her class of 1965. Rodham's mother wanted her to have an independent, professional career, and her father, otherwise a traditionalist, felt that his daughter's abilities and opportunities should not be limited by gender.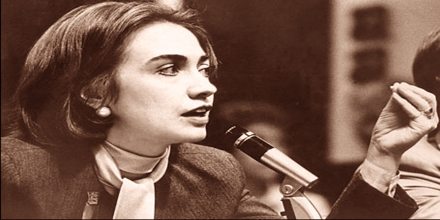 After graduating from Wellesley in 1969 (she spoke at graduation as the senior class president), she attend Yale Law School. She graduated from law school with honors in 1973, and then spent a year doing post-graduate work at the Yale Child Study center about children and medicine. After her post-graduate year, Hillary moved to Little Rock, Arkansas where she became an assistant professor at the University of Arkansas School of Law, in addition to becoming a very powerful and distinguished attorney.
Personal Life
On October 11th, 1975, Hillary Rodham married Bill Clinton (who at the time was also a law professor at the University of Arkansas) in Fayetteville, Arkansas. Shortly after their marriage, the couple moved to the state capital, Little Rock, where Bill began his political life. Hillary continued her law work, which became so impressive that "she was appointed by President Jimmy Carter in 1977 to serve on the board of the Legal Services Corporation, which she later chaired."
On February 27, 1980, Rodham gave birth to a daughter, Chelsea.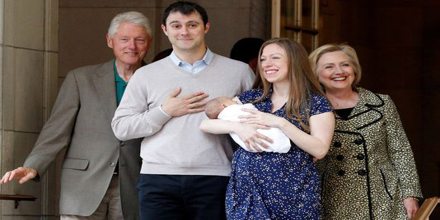 In 2010 Clinton's daughter Chelsea married former Goldman Sachs investment banker and current hedge fund manager Marc Mezvinksy.
On September 26, 2014, Clinton became a first-time grandmother when daughter Chelsea gave birth to Charlotte Clinton Mezvinsky. Chelsea gave birth to her second child Aidan Clinton Mezvinsky on June 18, 2016.
Hillary announced in 2007, that she would be running for president in the 2008 elections. Her campaign was very successful, and for some time she was considered the Democratic Party's best candidate; however, Senator Barack Obama from Illinois also announced his candidacy. Hillary stayed loyal to her supporters and campaigned until the very end of the primary season, but in the end withdrew and told her supporters that if they supported her, they would support Obama.
The 2008 elections proved to be historic, despite Hillary's withdrawal, as President Obama being the first African-American president of the United States. Shortly after his victory, however, he appointed Hillary Clinton as his Secretary of State, a position which she accepted.
First Lady of the United States
During Bill Clinton's 1992 presidential campaign, Hillary emerged as a dynamic and valued partner of her husband, and as president he named her to head the Task Force on National Health Reform (1993). The controversial commission produced a complicated plan which never came to the floor of either house. It was abandoned in September 1994.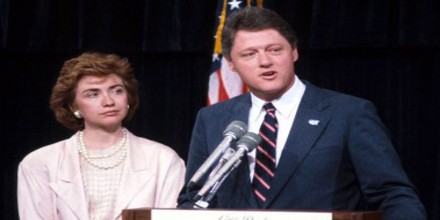 During this period, she and her husband invested in the Whitewater real estate project. The project's bank, Morgan Guaranty Savings and Loan, failed, costing the federal government $73 million. Whitewater later became the subject of congressional hearings and an independent counsel investigation.
In 1998, the White House was engulfed in the Monica Lewinsky sex scandal. Though she publicly supported her husband, Mrs. Clinton reportedly considered leaving her marriage. He was impeached, but the U.S. Senate failed to convict and he remained in office.
Clinton initiated and was the founding chair of the Save America's Treasures program, a national effort that matched federal funds to private donations to preserve and restore historic items and sites, including the flag that inspired "The Star-Spangled Banner" and the First Ladies Historic Site in Canton, Ohio. She was head of the White House Millennium Council and hosted Millennium Evenings, a series of lectures that discussed futures studies, one of which became the first live simultaneous webcast from the White House. Clinton also created the first White House Sculpture Garden, located in the Jacqueline Kennedy Garden, which displayed large contemporary American works of art loaned from museums.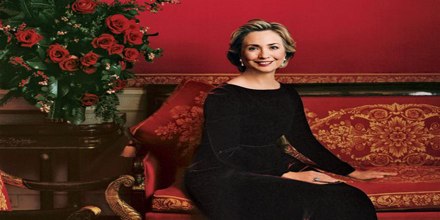 In the White House, Clinton placed donated handicrafts of contemporary American artisans, such as pottery and glassware, on rotating display in the state rooms. She oversaw the restoration of the Blue Room to be historically authentic to the period of James Monroe and the Map Room to how it looked during World War II. Working with Arkansas interior decorator Kaki Hockersmith over an eight-year period, she oversaw extensive, privately funded redecoration efforts around the building, often trying to make it look brighter. These included changing the look of the Treaty Room, a presidential study, to along 19th century lines. Overall the redecoration brought mixed notices, with Victorian furnishings for the Lincoln Sitting Room being criticized the most. Clinton hosted many large-scale events at the White House, such as a Saint Patrick's Day reception, a state dinner for visiting Chinese dignitaries, a contemporary music concert that raised funds for music education in public schools, a New Year's Eve celebration at the turn of the 21st century, and a state dinner honoring the bicentennial of the White House in November 2000.
U.S. Secretary of State
Shortly after winning the U.S. presidential election, Obama nominated Hillary Clinton as secretary of state. She accepted the nomination and was officially approved as the 67th U.S. secretary of state by the Senate on January 21, 2009.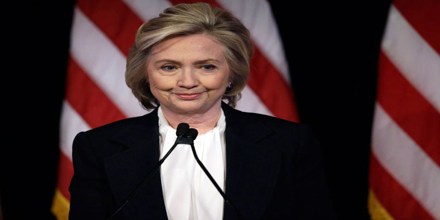 During her term, Clinton used her position to make women's rights and human rights a central talking point of U.S. initiatives. She became one of the most traveled secretaries of state in American history, and promoted the use of social media to convey the country's positions. She also led U.S. diplomatic efforts in connection to the Arab Spring and military intervention in Libya.
The State Department, under Clinton's leadership, came under investigation after a deadly attack on a U.S. diplomatic post in Benghazi, Libya, killed U.S. ambassador Christopher Stevens and three others on September 11, 2012. An independent panel issued a report about the Benghazi attack, which found "systematic failures and leadership and management deficiencies" at the State Department.
Clinton testified about the Benghazi attack on January 23, 2013. Speaking to members of the House Foreign Relations Committee, she defended her actions while taking full responsibility for the incident, which killed four American citizens. "As I have said many times since September 11, I take responsibility, and nobody is more committed to getting this right," she told the House. She added, "I am determined to leave the State Department and our country safer, stronger and more secure."
Since taking office in 2009, Clinton repeatedly stated over the years that she was only interested in serving one term as secretary of state. She officially stepped down from her post on February 1, 2013.
2016 Presidential Campaign
In June 2014, Clinton released Hard Choices, a memoir published by Simon & Schuster, which rose to number one on the New York Times Best Seller list. The following year in early March 2015, Clinton faced controversy and criticism when it was revealed that she had used her personal email address to handle official governmental business during her time as secretary of state. In a news conference held at the United Nations, speaking initially on gender equality and the political situation in Iran, Clinton stated that she had utilized her personal email for convenience as allowed by state department protocol. She later turned over all governmental correspondence to the Obama administration while deleting messages that could be construed as personal.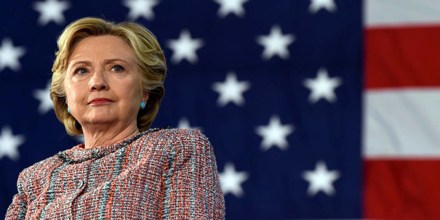 On April 12, Clinton's campaign chairperson John D. Podesta announced via email that the former secretary of state was entering the race to secure the Democratic presidential nomination for the 2016 elections. This was immediately followed by an online campaign clip, with Clinton herself announcing that she was running for president.
By June 5, 2016, she had earned enough pledged delegates and supportive superdelegates for the media to consider her the presumptive nominee. On June 7, after winning most of the states in the final major round of primaries, Clinton held a victory rally in Brooklyn in which she became the first woman to claim the status of presumptive nominee for a major American political party. By campaign's end, Clinton had won 2,219 pledged delegates to Sanders' 1,832; with an estimated 594 superdelegates compared to Sanders' 47. She received almost 17 million votes during the nominating process, as opposed to Sanders' 13 million.
She was formally nominated at the 2016 Democratic National Convention in Philadelphia on July 26, 2016, becoming the first woman to be nominated for president by a major U.S. political party. Her choice of vice presidential running mate, Senator Tim Kaine, was nominated by the Convention the following day. Her opponents in the general election were Republican Donald Trump, Libertarian Gary Johnson, and Jill Stein of the Green Party.
On her campaign site, Clinton addresses a wide variety of issues she believes in, among them: lowering student debt, criminal justice reform, campaign finance reform, improving the healthcare coverage and costs of the Affordable Care Act (a.k.a. Obamacare), and women's rights.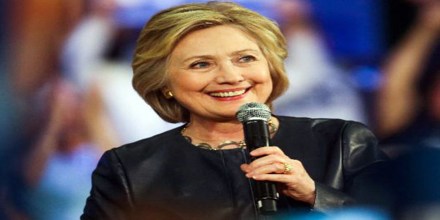 However, she is also known for changing her stances on various hot button issues such as gay marriage (she now supports it) and trade deals (e.g. she is now against the Trans Pacific Partnership). In regard to the environment, Clinton has a plan to combat climate change but has been questioned by environmental activists for supporting fracking. She is also in support of the death penalty but claims it should be implemented in exceptional cases.
In May 2016 the State Department issued a statement regarding Clinton's ongoing email scandal, in which she exclusively used a private server while serving as secretary of state. The department criticized her for not seeking permission to use the server and also stated it would not have approved it if she had.
After a year-long F.B.I. investigation of Clinton's email practices while she was secretary of state, F.B.I. Director James B. Comey announced on July 5, 2016, that the agency would not recommend criminal charges against Clinton. "Our judgment is that no reasonable prosecutor would bring such a case," Comey said at a news conference. He added: "Although we did not find clear evidence that Secretary Clinton or her colleagues intended to violate laws governing the handling of the classified information, there is evidence that they were extremely careless in their handling of very sensitive, highly classified information."
Clinton's email troubles resurfaced on October 28, 2016, when Comey revealed in a letter to Congress that while investigating disgraced former Congressman Anthony Weiner for texts he had sent to a 15-year-old girl, law enforcement officials had found emails that appeared "to be pertinent" to the closed investigation of Clinton's use of a personal email server. The emails were reportedly sent by Huma Abedin, Weiner's wife and Clinton's top aide, to Clinton's personal server, but the content of the emails was unknown. The timing of Comey's letter, just 11 days before the election, was unprecedented and critics called for the FBI to release more information.
On November 6, just two days before the election, Comey wrote another letter to Congress stating that Clinton should not face criminal charges after a review of the new emails. "Based on our review, we have not changed our conclusions that we expressed in July," Comey wrote in the letter.
On July 22, 2016, Clinton announced via text message to her supporters that she had selected Tim Kaine, a Virginia senator and former Virginia governor and mayor, as her vice presidential running mate. She also tweeted the announcement.
2016 Presidential Election
Hillary Clinton was defeated by Donald Trump in the November 8, 2016 presidential election. By the early morning hours of November 9, Trump had received 279 projected electoral college votes, with 270 needed to win, and media sources proclaimed him the winner. Clinton then phoned Trump to concede and to congratulate him on his victory, whereupon Trump gave a victory speech. Though Clinton lost the election by only capturing 232 electors to Trump's 306, a month after the election the popular vote count showed her leading by more than 2.7 million votes, with many votes yet to be counted. She is the fifth presidential candidate in U.S. history to win the popular vote but lose the election.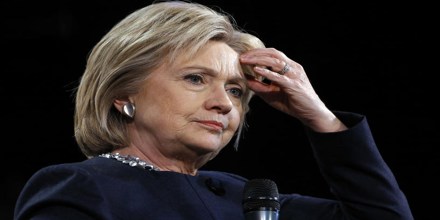 As the returns rolled in, Clinton's path to victory faded. Late into the evening her defeat became clear when Trump earned the required majority of electoral votes. Breaking with political tradition, she declined to give a concession speech when the race was called, but phoned ex-Apprentice host Donald Trump to concede.
The following afternoon Clinton delivered an emotional concession speech in which she congratulated Donald Trump and said she "offered to work with him on behalf of our country."
"Our campaign was never about one person, or even one election," Clinton told her supporters. "It was about the country we love and building an America that is hopeful, inclusive, and big-hearted. We have seen that our nation is more deeply divided than we thought. But I still believe in America, and I always will. And if you do, then we must accept this result and then look to the future. Donald Trump is going to be our president. We owe him an open mind and the chance to lead. Our constitutional democracy enshrines the peaceful transfer of power."
As she continued, she acknowledged her painful defeat and encouraged her supporters to continue to participate in American democracy. "This loss hurts, but please never stop believing that fighting for what's right is worth it," she said.
Clinton also addressed falling short of becoming the first female president of the United States: "I know we have still not shattered that highest and hardest glass ceiling, but someday, someone will, and hopefully sooner than we might think right now."
"We need you to keep up these fights now and for the rest of your lives and to all the women and specially the young women who put their faith in this campaign and in me, I want you to know that nothing has made me prouder than to be your champion," she said. "And to all the little girls who are watching this, never doubt that you are valuable and powerful and deserving of every chance and opportunity in the world to pursue and to achieve your own dreams."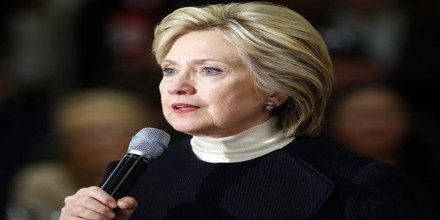 Clinton concluded her speech quoting Biblical scripture. "You know, scripture tells us, let us not grow weary of doing good, for in good season we shall reap. My friends, let us have faith in each other, let us not grow weary and lose heart, for there are more seasons to come and there is more work to do."
Despite Trump winning the electoral votes, Clinton won the popular vote by almost three million more votes. Outside of Obama's 2008 presidential election victory, Clinton currently holds the record for winning the most votes than any other presidential candidate in U.S. history.
Russia Discovered Behind Email Leaks
For months prior to the U.S. presidential election, well over a dozen U.S. intelligence agencies unilaterally concluded that Russia was behind the email hacks that were given to Wikileaks. In December 2016 the CIA, the FBI, and the National Intelligence Agency publicly concluded that Russia and specifically, Vladimir Putin himself, were behind the cyberattacks at the DNC and of Clinton campaign chairman John Podesta's personal email account. The three agencies asserted that not only was Russia trying to undermine the U.S. presidential election but were also aiming to harm Clinton's campaign and to tip the scales for her Republican opponent Donald Trump.
Soon after these assessments came out, Clinton spoke about Russia's impact on her campaign at a private event. She blamed both Russia's email hacks, as well as FBI Director James Comey, who issued a letter concerning an investigation over her email server just days before the election.
On Putin, she said: "Vladimir Putin himself directed the covert cyberattacks against our electoral system, against our democracy, apparently because he has a personal beef against me," Clinton stated via The New York Times. (The "beef" she refers to goes back to her speaking out against Putin's unfair parliamentary elections in 2011 when she was secretary of state.)
She added: "Putin publicly blamed me for the outpouring of outrage by his own people. And that is the direct line between what he said back then and what he did in this election."
Clinton also gave light to the larger, more pressing issues at stake. "This is not just an attack on me and my campaign… This is an attack against our country. We are well beyond normal political concerns here. This is about the integrity of our democracy and the security of our nation."
Other Activities
As First Lady of the United States, Clinton published a weekly syndicated newspaper column titled "Talking It Over" from 1995 to 2000. It focused on her experiences and those of women, children, and families she met during her travels around the world.
In 1996, Clinton presented a vision for the children of America in the book It Takes a Village: And Other Lessons Children Teach Us. The book made the Best Seller list of The New York Times and Clinton received the Grammy Award for Best Spoken Word Album in 1997 for the book's audio recording. She was the first First Lady to win a Grammy Award.
Other books published by Clinton when she was first lady include Dear Socks, Dear Buddy: Kids' Letters to the First Pets (1998) and An Invitation to the White House: At Home with History (2000). In 2001, she wrote an afterword to the children's book Beatrice's Goat.
In 2003, Clinton released a 562-page autobiography, Living History, for which publisher Simon & Schuster paid Clinton a near-record advance of $8 million.
In 2014, Clinton published a second memoir, Hard Choices, which focused on her time as Secretary of State. As of July 2015, the book has sold about 280,000 copies.
Clinton has also been featured in the media and popular culture from a wide spectrum of varying perspectives. In 1995, writer Todd S. Purdum of The New York Times characterized Clinton as a Rorschach test, an assessment echoed at the time by feminist writer and activist Betty Friedan, who said, "Coverage of Hillary Clinton is a massive Rorschach test of the evolution of women in our society." She has been the subject of many satirical impressions on Saturday Night Live, beginning with her time as first lady, and has made guest appearances on the show herself, in 2008 and in 2015, to face-off with her doppelgängers.
Her favorability ratings dropped, however, after she left office and began to be viewed in the context of partisan politics once more. By September 2015, with her 2016 presidential campaign underway and beset by continued reports regarding her private email usage at the State Department, her ratings had slumped to some of her lowest levels ever. During 2016 she acknowledged that: "I'm not a natural politician, in case you haven't noticed."