James Rodríguez – Football Player
Full name: James David Rodríguez Rubio
Date of birth: 12 July 1991 (age 25)
Place of birth: Cúcuta, Colombia
Height: 1.80 m (5 ft 11 in)
Playing position: Attacking midfielder / Winger
Spouse: Daniela Ospina (m. 2010)
Children: Salomé Rodriguez Ospina
Early Life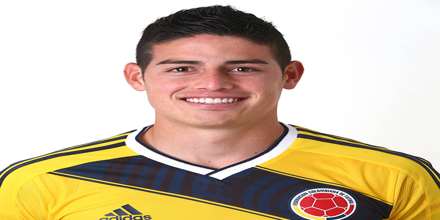 James David Rodríguez Rubio was born on 12 July 1991 in Cúcuta, Colombia. He is a Colombian professional footballer who plays for Spanish club Real Madrid and the Colombia national team and is often ranked among the best young players in the world. He plays as an attacking midfielder or winger and is known for his technique and playmaking skills—he plays on both wings and also in the centre. Born as the son of Wilson James Rodríguez who himself was a football player, young James developed an early passion for the sport. From the very beginning, his father coached him and encouraged him to pursue a career as a professional sportsman which he himself had not been able to do. Having started his training in football early, he blossomed into a talented player by the time he was in his early teens and turned professional at the age of 15 with the Colombian second division club Envigado. After a successful stint in his home country, he was signed by Argentine team Banfield, where he made his team debut in 2009. He dazzled his team mates, coaches and rivals with his scintillating performances and evolved to become one of the best young contemporary players in the world. He gave a brilliant performance at the 2014 FIFA World Cup and claimed the Golden Boot despite Colombia's elimination in the quarter finals
He started his international career with the Colombian under-20 team, with which he won the 2011 Toulon Tournament. He then captained the U-20 team during the 2011 FIFA U-20 World Cup. Due to his performance in the tournament, he was regularly called into the senior squad by the age of 20. He played in the 2014 FIFA World Cup where he won the Golden Boot as the top goalscorer and was part of the Cup's All Star Team. He also represented his nation at the 2015 Copa América and the Copa América Centenario in 2016, winning a third-place medal in the latter tournament.
Personal Life
James David Rodríguez Rubio was born on 12 July 1991 in Cúcuta, Colombia, to Wilson James Rodríguez Bedoya and Maria Del Pilar Rubio. His father was also a football player who had been a part of the 1985 U-20 side and had also played for the Colombian national team. However, injuries and a battle with alcoholism had cut short Wilson's sporting career.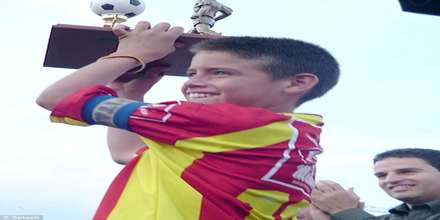 James inherited his father's passion for football and became interested in the sport at an early age. As a kid he used to play Pony Fútbol with Academia Tolimense and became a very skilled player by the time he was in his early teens.
James has been married to volleyball player Daniela Ospina, sister of David Ospina who is also a player of the Colombia national football team, since 2011 and has a daughter named Salome, born on 29 May 2013. James is a devout Christian.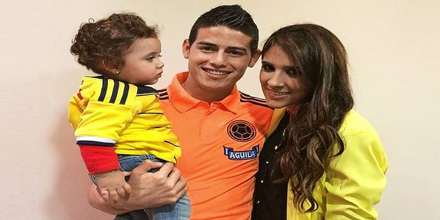 In 2015, Forbes estimated that Rodríguez's annual income was $29 million.
Playing Career
He turned professional by joining Colombian second division club Envigado in 2006 when he was in his mid-teens. The following year he achieved a promotion to Colombian first division.
In 2008, he was signed by Argentine team Banfield. He made his first team debut on 7 February 2009 and scored his first goal for the club on 27 February with a long range strike in a 3–1 victory over Rosario Central.
Just 17, he amazed his coaches and team mates with his skillful performances and became a regular first team player featuring in every game of the Apertura 2009. He also became the youngest foreigner to score a goal in Argentina. He performed wonderfully throughout the year and soon garnered a huge fan following.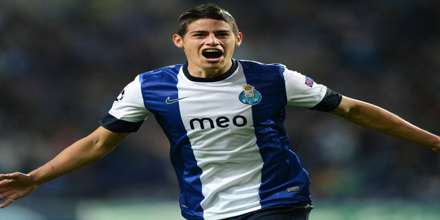 He became a much sought after player and was signed by Porto, a Portuguese sports club, for €5.1 million in July 2010. He scored his first goal in European football in a 3–1 home victory for Porto against Bulgarian club CSKA Sofia in December 2010.
For the Clausura 2010, on 13 February 2010, James scored a golazo in the match against archrivals Lanús with a left-footed lob to make the game 2–0 in the final minutes. After the game, daily sports website Diario Olé compared his playing and personal style to Cristiano Ronaldo and nicknamed him the "James Bond of Banfield".
He reached new heights of success in the 2011-12 season and scored 14 goals for Porto and delivered 11 assists. In 2011, he also became the first Colombian player to win the LPFP Award for Breakthrough Player of the year.
James won the Portuguese Golden Ball award in 2012, becoming the second Colombian to win the award after Radamel Falcao as well as the youngest player ever to hold the honour. On 20 September 2011 in a league match against Feirense, he punched Rabiola and was subsequently dismissed, missing the match against Benfica.
In the 2012–13 season, James was given the number 10 shirt and became a regular starter.
In the 2012–13 UEFA Champions League group stage, he played a major role in the 1-0 victory against the French club Paris Saint-Germain. He also assisted with a goal against Estoril in a 2–1 victory. He continued his brilliant performance throughout the season and finished the season with 13 goals and 15 assists in 32 appearances.
James Rodriguez joined French side AS Monaco for a transfer fee of €45 million in 2013—it was one of the most expensive transfers in world football. He made his debut for Monaco in a 2-0 victory against Bordeaux. During the season, he also assisted on two goals in a match against Saint-Étienne which Monaco won 2-1. He scored his first goal for the club with a free-kick in a 2–0 win over Rennes.
On 29 September 2011, James received his first call-up to the Colombian senior side for a match against Bolivia on 11 October 2011.
In Colombia's last international friendly of the year, James assisted the sole goal allowing Colombia to tie with 2014 World Cup hosts Brazil 1–1.
James played his first match of 2013 in the second half of the CONMEBOL qualifiers against Bolivia where he gave a man of the match performance. He set up the second goal thanks to a free kick that he took. The game ended 5–0 eventually.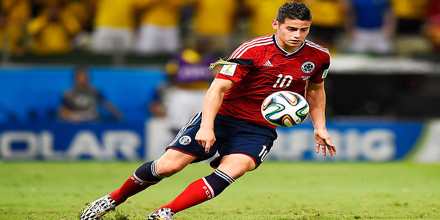 On 2 June 2014, James was named in Colombia's 23-man squad for the 2014 FIFA World Cup and assigned the number 10 shirt. In the team's opening match of the tournament, James set up the first two goals, scored a last-minute goal with a low shot to seal a 3–0 victory over Greece and was named man of the match by FIFA.
On 11 July, he was named on the 10-man shortlist for FIFA's Golden Ball award for the tournament's best player. He then won the Golden Boot as the tournament's top goalscorer despite being eliminated in the quarter finals. Due to his performances, he was named in the World Cup All Star XI and was also listed in the Cup's star XI by Castrol's index rating system in FIFA's website.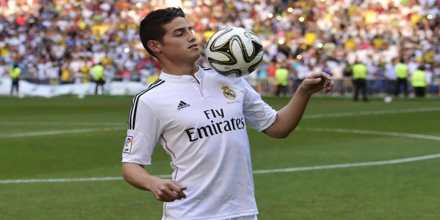 After the World Cup, he signed with the Spanish club Real Madrid for an undisclosed fee, which was reported to be approximately €80 million. He made his debut in the UEFA Super Cup at Cardiff City Stadium against Sevilla, in which Real Madrid won 2–0. He scored his first goal for Real Madrid against Atlético Madrid in August 2014.
James was called up to represent Colombia at the 2015 Copa América in Chile, where his team was eliminated 5–4 on penalties by eventual finalists Argentina on 27 June, following a 0–0 draw.
James is a versatile footballer who can play in several positions across the midfield or front-line, having played as a playmaker, winger, and central midfielder for both club and country, although he has stated in interviews that his preferred role is as an attacking midfielder behind the strikers.
Praised for his pace, technical skills, vision, and his ability to create chances for team-mates as an advanced playmaker, James' performances as a classic number 10 have led to comparisons with the famous Colombian footballer Carlos Valderrama; Valderrama himself declared James as his "successor".
Honours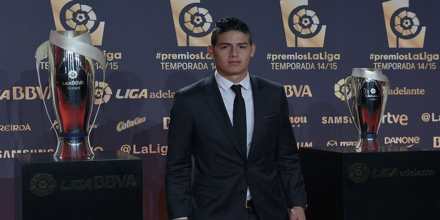 Club
Envigado
Categoría Primera B: 2007
Banfield
Primera División Argentina: Apertura 2009
Porto
UEFA Europa League: 2010–11
Primeira Liga: 2010–11, 2011–12, 2012–13
Taça de Portugal: 2010–11
Supertaça Cândido de Oliveira: 2010, 2011, 2012
Real Madrid
UEFA Champions League: 2015–16
UEFA Super Cup: 2014, 2016
FIFA Club World Cup: 2014, 2016
International
Colombia
Toulon Tournament: 2011
Copa América: Third place 2016
Individual
Youngest Foreigner Player ever to score in the Argentine Primera Division (age 17)
Best Player Toulon Tournament: 2011
LPFP Primeira Liga Breakthrough Player of the Year: 2011–12
SJPF Player of the Month: August 2012, September 2012
Record Team of the Year: 2012
Jogo Team of the Year: 2012, 2013
Portuguese Golden Ball: 2012
Ligue 1 Assist Leader: 2013–14
UNFP Ligue 1 XI: 2013–14
AS Monaco Player of the Year: 2013–14
Globe Revelation Player (1): 2014
FIFA World Cup Golden Boot: 2014
FIFA World Cup All-Star Team: 2014
FIFA World Cup Dream Team: 2014
FIFA World Cup 2014 Goal of the Tournament: 1–0 (2–0) vs. Uruguay
FIFA Puskás Award: 2014
La Liga Team of the Season: 2014–15
LFP Best Midfielder: 2014–15
UEFA Team of the Year: 2015
New species of coral named after him, Paragorgia jamesi
Facebook FA La Liga Best Goal: 2016