Biography of Mikhail Bakunin
Mikhail Bakunin – Russian revolutionary anarchist.
Name: Mikhail Alexandrovich Bakunin
Date of Birth: 30 May 1814
Place of Birth: Pryamukhino, Tver Governorate of the Russian Empire
Date of Death: 1 July 1876 (aged 62)
Place of Death: Bern, Switzerland
Occupation: Writer
Father: Alexander Mikhailovich Bakunin
Mother: Varvara Alexandrovna Muravyova
Spouse/Ex: Antonia Kwiatkowska
Early Life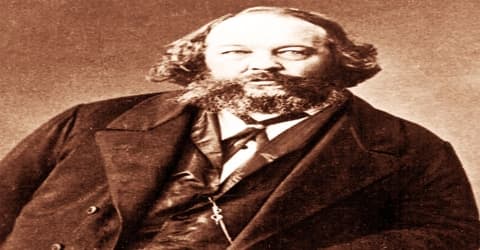 A chief propagator of 19th-century anarchism, a prominent Russian revolutionary agitator, and a prolific political writer, Mikhail Bakunin was born on 30 May 1814 to a Russian noble family "of only modest means" (they owned 500 serfs) in the Pryamukhino village situated between Torzhok and Kuvshinovo. He is considered among the most influential figures of anarchism and one of the principal founders of the social anarchist tradition. Bakunin's enormous prestige as an activist made him one of the most famous ideologues in Europe, gaining substantial influence among radicals throughout Russia and Europe. His quarrel with Karl Marx split the anarchist and Marxist wings of the revolutionary socialist movement for many years after their deaths.
As a proponent of the 'Theory of Collective Anarchism', his ideas continue to influence contemporary labor movements, left-wing movements and other present-day social movements, including anti-globalization campaigns. Bakunin was politically active during a turbulent period in European history and laid down the foundations for the international anarchist movement through his powerful writings. His works dealt with the social and political principles of anarchism. The founder of the semi-secret organization' International Brotherhood', Bakunin garnered immense support from Sweden, Norway, Denmark, Belgium, England, France, and Spain. His ideologies have been an inspiration to many modern writers and freedom fighters including Bhagat Singh.
From 1870 to 1876, Bakunin wrote some of his longer works, such as Statism and Anarchy and God and the State. However, Bakunin remained a direct participant in struggles. In 1870, he was involved in an insurrection in Lyon, France, which foreshadowed the Paris Commune. The Paris Commune closely corresponded to many elements of Bakunin's anarchist programme self-management, mandates delegates, a militia system with elected officers and decentralization. Anarchists like Élisée Reclus and those in the tradition of Pierre-Joseph Proudhon who had greatly influenced Bakunin were key figures in the Commune. Despite declining health, much a result of his years of imprisonment, Bakunin also sought to take part in a communal insurrection involving anarchists in Bologna, Italy but was forced to return to Switzerland in disguise, where he settled in Lugano. He remained active in the workers' and peasants' movements of Europe and was also a major influence on movements in Egypt and Latin America.
His life is an example of ruthless struggle; he was imprisoned for many years and was exiled after he liberated the working class from the powerful talons of state oppression. Interestingly, he did not receive any recognition for his philosophies and efforts during his lifetime.
Childhood, Family and Educational Life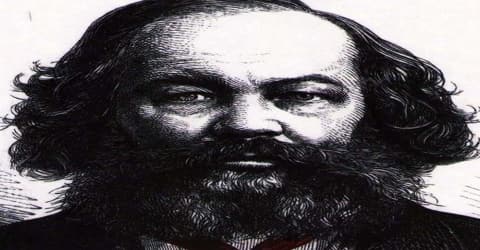 Mikhail Bakunin, in full Mikhail Aleksandrovich Bakunin, was born on 30 May 1814 in a humble family in the village of Pryamukhino, Moscow and was the eldest of nine siblings. His father Alexander Mikhailovich Bakunin (1768-1854) was a career diplomat who spent years serving in Italy and France and upon his return settled down at the paternal estate and turned a Marshal of Nobility. Bakunin's mother Varvara Alexandrovna Muravyova came from the ancient noble Muravyov family that was founded during the 15th century by the Ryazan boyar Ivan Vasilievich Alapovsky nicknamed Muravey (translates simply as "ant") who was granted lands in Veliky Novgorod.
At the age of 14, Bakunin left for Saint Petersburg and became a Junker at the Artillery School (known as Mikhailovskaya Military Artillery Academy today). In 1833, he received a rank of Praporshchik and was seconded to serve in the Minsk and Grodno Governorates in one of the artillery brigades. He did not enjoy the army and having a lot of free time on his hands spent it on self-education. In 1835, he was seconded to Tver and from there went straight to his village. Though his father wished him to continue in either the military or the civil service, Bakunin decided to abandon both and made his way to Moscow, hoping to study philosophy.
In 1835, Bakunin traveled to Moscow to study philosophy and the following year he translated German philosopher Johann Fichte's works – 'Some Lectures Concerning the Scholar's Vocation' and 'The Way to a Blessed Life'.
Personal Life
In 1857, Mikhail Bakunin married Antonia Kwiatkowska, the daughter of a Polish merchant.
In 1874, Bakunin retired with his young wife Antonia Kwiatkowska and three children to Minusio (near Locarno in Switzerland), in a villa called La Baronata that the leader of the Italian anarchists Carlo Cafiero had bought for him by selling his own estates in his native town Barletta (Apulia). His daughter Maria Bakunin (1873-1960) became a chemist and biologist. His daughter Sofia was the mother of Italian mathematician Renato Caccioppoli.
Career and Works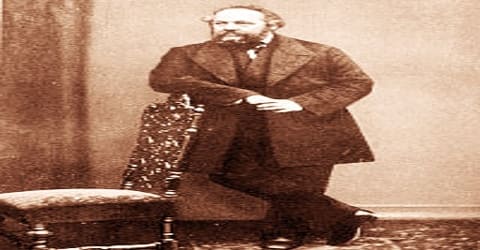 In Moscow, Bakunin soon became friends with a group of former university students and engaged in the systematic study of idealist philosophy, grouped around the poet Nikolay Stankevich, "the bold pioneer who opened to Russian thought the vast and fertile continent of German metaphysics" (E. H. Carr). The philosophy of Immanuel Kant initially was central to their study, but they progressed to Friedrich Wilhelm Joseph Schelling, Johann Gottlieb Fichte, and Georg Wilhelm Friedrich Hegel. By autumn 1835, Bakunin had conceived of forming a philosophical circle in his home town of Pryamukhino. Moreover, by early 1836 he was back in Moscow, where he published translations of Fichte's Some Lectures Concerning the Scholar's Vocation and The Way to a Blessed Life, which became his favorite book. With Stankevich, Bakunin also read Johann Wolfgang von Goethe, Friedrich Schiller, and E. T. A. Hoffmann.
In 1840, Bakunin moved to Berlin after getting a teaching offer in the department of philosophy. Here, he became part of the German intellectual group 'Young Hegelians' and also became a supporter of the socialist movement in Berlin. His stated plan at the time was still to become a university professor (a "priest of truth" as he and his friends imagined it), but he soon encountered and joined students of the Young Hegelians and the socialist movement in Berlin. In his 1842 essay "The Reaction in Germany", he argued in favor of the revolutionary role of negation, summed up in the phrase "the passion for destruction is a creative passion".
Bakunin left Russia in 1842 and lived in Dresden before moving to Paris where he met Karl Marx. Here, he also read Lorenz von Stein's Der Sozialismus und Kommunismus des heutigen Frankreich and developed a passion for socialism. He abandoned his interest in an academic career, devoting more and more of his time to promoting revolution. The Russian government, becoming aware of this activity, ordered him to return to Russia. On his refusal, his property was confiscated. Instead, he went with Georg Herwegh to Zürich, Switzerland.
In 1844, as a consequence of his strong socialistic ideals, the Russian government stripped off his status of a noble, curbed his privileges and confiscated his property, after which he was banished to Siberia. On November 29, 1847, Bakunin gave a political speech that supported the Polish Independence movement. As a result, he was forced to leave France on the order of the Russian Ambassador and soon, shifted to Brussels. During his stay in Berlin, his interest in socialism grew deeper and he abandoned his academic career and became part of the revolutionary, socialistic movement.
Bakunin participated in the 1848 French Revolution and then moved to Germany where he called for the overthrow of the Habsburg Empire. The composer, Richard Wagner met him during this period and later pointed out: "Everything about him was colossal and he was full of a primitive exuberance and strength."
In 1848, Bakunin authored 'Appeal to the Slavs', a proposal to overthrow the European autocracies. Following his participation in the 'Czech rebellion of 1848', a series of political upheavals throughout Europe, he was arrested in Dresden, Germany. He was imprisoned in the Peter-Paul Fortress, Saint Petersburg, where he remained until 1857. Following his imprisonment, he was ordered to work in Siberia. In 1859, Bakunin moved to Eastern Siberia along with his wife, to work at the Amur Development Agency.
In 1861 Bakunin managed to escape from Tomsk and reached Japan on 16th August. Paul Avrich has argued: "Despite his years of confinement, he still possessed much of his old vitality and exuberance. He had aged, to be sure, had lost his teeth from scurvy and grown quite fat. But the grey-blue eyes retained their penetrating brilliance; and his voice, eloquence, and physical bulk combined to make him the center of attention." In September 1861, Bukunin arrived in San Francisco. Over the next few weeks, he visited New York City and Boston, where he met John Andrew, George B. McClellan, Charles Sumner, and Henry Wilson. Over the next few weeks, he mixed with Radical Republicans. Bakunin wrote to his friend, Alexander Herzen, that he was very interested in the American Civil War and that "my sympathies are all with the North".
Bakunin left Japan and sailed on 'SS Carrington' to San Francisco, where he met members of the 'Forty-Eighters', veterans of the 1848 revolutions in Europe. He re-entered Western Europe and partook in the Polish revolutionary movement, after which he sailed across the Baltic in the 'SS Ward Jackson' to be a part of the Polish insurrection. Sadly, he failed to reach his destination and planned to travel to Italy instead.
Bakunin left London in November 1863 traveling by way of Brussels, Paris, and Vevey (Switzerland) arriving in Italy on 11 January 1864. It was here that he first began to develop his anarchist ideas. Bakunin conceived the plan of forming a secret organization of revolutionaries to carry on propaganda work and prepare for direct action. He recruited Italians, Frenchmen, Scandinavians, and Slavs into the International Brotherhood, also called the Alliance of Revolutionary Socialists. By July 1866, Bakunin was informing Herzen and Ogarev about the fruits of his work over the previous two years. His secret society then had members in Sweden, Norway, Denmark, Belgium, England, France, Spain, and Italy, as well as Polish and Russian members. Among his Polish associates was the former insurgent, Walery Mroczkowski who became a friend and translator into French. In his Catechism of a Revolutionary of 1866, he opposed religion and the state, advocating the "absolute rejection of every authority including that which sacrifices freedom for the convenience of the state."
The most famous episode of Bakunin's later years was his quarrel with Marx. While living in Geneva in 1868, Bakunin joined the First International, a federation of working-class parties aimed at transforming the capitalist societies into socialist commonwealths and eventually unifying them in a world federation. At the same time, however, he enrolled his followers in a semisecret Social Democratic Alliance, which he conceived as a revolutionary avant-garde within the International. The First International was unable to contain both of the two powerful and incompatible personalities, and at a congress in 1872 at The Hague, Marx, by an intrigue that had little relation to the causes of the quarrel, secured the expulsion of Bakunin and his followers from the International. The resulting split in the revolutionary movement in Europe and the United States persisted for many years.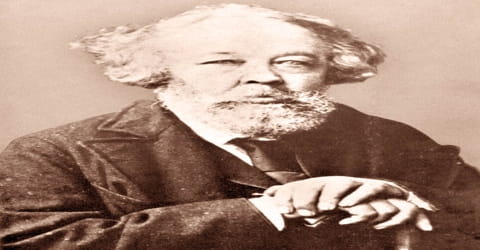 From 1869 to 1870, Bakunin became involved in the Russian Revolutionary projects along with Sergey Nechayev, a Russian revolutionary. Two of Bakunin's major writings, L'Empire knouto-germanique et la révolution sociale (1871; "The Knouto-Germanic Empire and the Social Revolution") and Statism and Anarchy (1873), directly reflected his conflict with Marx. Bakunin was as uncompromising a revolutionary as Marx and never ceased to preach the overthrow of the existing order by violent means, but he rejected political control, centralization, and subordination to authority. He denounced what he regarded as characteristically Germanic ways of thought and organization and championed instead the untutored spirit of revolt that he found embodied in the Russian peasant. Bakunin's anarchism took final shape as the antithesis of Marx's communism. Both personally and theoretically, Bakunin threatened all Marxists. His belief that the first act of a revolutionary movement must be the abolition of the state appealed to rank-and-file revolutionaries and his criticism of Marx's readiness to maintain the state until socialism was achieved until the state led to a bureaucratic tyranny that in turn would spur revolutionary change proved all too prescient.
During his last years, which Bakunin spent in penury in Switzerland, Bakunin reverted to his preoccupation with central and eastern Europe. He was compromised by a short-lived enthusiasm for Sergey Gennadiyevich Nechayev, a young Russian nihilist who paraded his contempt for conventional morality and who achieved notoriety by murdering a fellow conspirator whom he suspected of intending to betray or desert the cause, a crime for which Nechayev was eventually extradited to Russia by the Swiss authorities. Bakunin consorted with Russian, Polish, Serb, and Romanian émigrés among whom he found eager disciples drafted proclamations, and planned revolutionary organizations. His health grew worse, and his financial embarrassments became ever more acute, and he was forced to depend on the bounty of a few Italian and Swiss friends.
Death and Legacy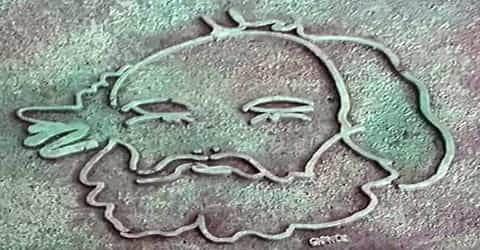 Mikhail Alexandrovich Bakunin died in Bern on 1st July 1876. His grave can be found in Bremgarten Cemetery of Bern, box 9201, grave 68. His original epitaph reads: "Remember those who sacrificed everything for the freedom of their country". In 2015 the commemorative plate was replaced in form of a bronze portrait of Bakunin by Swiss artist Daniel Garbade containing Bakunin's quote: "By striving to do the impossible, man has always achieved what is possible". It was sponsored by the Dadaists of Cabaret Voltaire Zurich, who adopted Bakunin post mortem.
Published in 1873, 'Statism and Anarchy' was one of his seminal works written in Russian that helped pave the foundation of the Russian anarchist movement. In Switzerland alone, over 1200 copies were sold in the first week of its release. Bakunin is the founder of the 'Theory of Collective Anarchism', also known as 'anarcho-collectivism', a doctrine that advocates the abolition of state and private ownership of the means of production. This theory has inspired many people including, Noam Chomsky, an American writer, and activist and Bhagat Singh.
Bakunin formulated no coherent body of doctrine, and his voluminous and vigorous writings were often left incomplete. However, his fame and personality inspired a large and widely dispersed following. Small anarchist groups existed in Great Britain, Switzerland, and Germany, though the powerful anarcho-syndicalist wing of the French trade unions owed more to Proudhon than to Bakunin. Anarchist movements owing allegiance to Bakunin continued to flourish in Italy and especially in Spain, whereas late as 1936 the anarchists were the strongest revolutionary party.
Information Source: