Carlos Tevez – Football Player
Full name: Carlos Alberto Martínez Tevez
Date of birth: 5 February 1984 (age 32)
Place of birth: Ciudadela, Buenos Aires, Argentina
Height: 1.73 m (5 ft 8 in)
Playing position: Forward
Spouse: Vanesa Tévez (m. 2016)
Children: Florencia Tevez, Katia Tevez, Lito Júnior Tévez
Early Life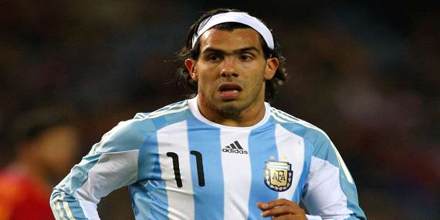 Carlos Alberto Martínez Tevez was born on 5 February 1984, in Ciudadela, Buenos Aires, Argentina. He is an Argentine professional footballer who plays as a forward for Shanghai Shenhua and the Argentina national team. His energy, skill, and goal scoring rate have made him an indispensable player for his club sides throughout his career, in the eyes of fellow players and media alike.
Carlos Tevez is one of the best and hard working footballers from Argentina. Carlos Tevez is a forward player in Argentina.
Tevez began his career with Boca Juniors, winning the Copa Libertadores and Intercontinental Cup in 2003 before moving to Corinthians where he won the Brasileiro. In 2006 he moved to West Ham United, helping the team remain in the Premier League in his only season. Tevez's prolonged transfers to West Ham and Manchester United were plagued by issues regarding third-party ownership by Media Sports Investment, and their resulting sagas paved changes to both Premier League and FIFA regulations.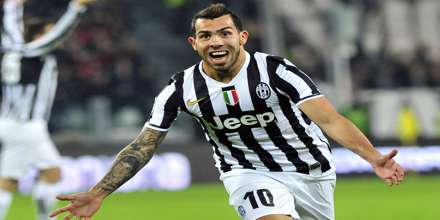 Tevez transferred to Manchester United in 2007 and in his two years won several trophies including two league titles and the Champions League. In 2009 he joined Manchester City for £47 million, becoming the first player to move between the two rival clubs since Terry Cooke in 1999. Despite missing four months of the 2011–12 season following a dispute, Tevez returned to help City win their first league title in 44 years. In 2013, he joined Juventus for £12 million, finishing as the team's top goalscorer and winning the Scudetto in his first season. After winning a domestic double and reaching the Champions League final in his second season, he returned to Boca Juniors in June 2015 where he won another domestic double, becoming the first footballer to win two domestic league and cup doubles in one calendar year.
His International career started where he played for Argentina for FIFA U-17 World Championship in 2004 Olympics games. Tevez scored 8 goals in that tournament and also awarded a gold medal for leading run scorer in the tournament. He scored his first world cup goal in 2006 FIFA world cup. In 2010 world cup Tevez scored 2 goals against Mexico in a round match.
Tevez is known for his tango flare goal celebrations ever since playing for Boca Juniors, as well with Corinthians of Brazil. During his time at Manchester United, he would hide a baby's dummy in his shorts and put it in his mouth after scoring a goal as a commemorative gesture to his baby daughter. Since his move to Manchester City, Tevez has often performed a dance where he puts his hands together, bends down and rocks his body; this dance has been named after him as the "Tevez Dance".
Childhood and Personal Life
Carlos Tevez was born in the year 1984 February 5 at Ciudadela, Buenos Aires, Argentina. He raised in the neighbourhood of Ejército de Los Andes, better known as "Fuerte Apache". It was from there that he got the nickname of "El Apache". His parents changed his surname to his mother's during a conflict between his junior club All Boys and Boca Juniors.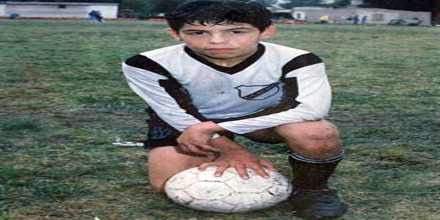 The striker suffered third degree burns down his face, neck and chest due to an accident with boiling water when he was just 10 months old. The scar was so bad it left Tevez in intensive care for about two months. Even at a time where he was playing for his local team at a very tender age, he decided he wanted to keep the scars. He had later refused to have them improved cosmetically by Boca Juniors, the first professional team he'd ever play for, almost to say that these scars are essentially what define him as the man he is today and the person he was back then.
His teeth, broken and crooked, is the result of a street fight during his much-blighted childhood. Apparently, Tevez suffered this as he was having a row over money.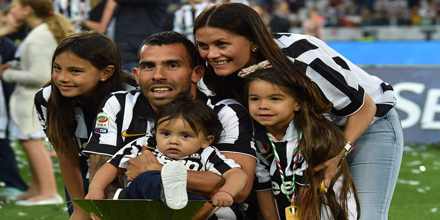 Tevez and his wife, Vanesa Mansilla, have two daughters together: Florencia and Katia. He later sustained an open relationship with 19-year-old actress Brenda Asnicar which lasted about a year. On 22 December 2016 Tevez married 32-year-old Vanesa Mansilla in homeland Argentina.
He once performed as the front-man for his cumbia villera musical group, Piola Vago, with his brother Diego. The group's most successful hit, "Lose Your Control", charted in Argentina.
On 6 February 2009, Tevez was stopped by Greater Manchester Police near junction 7 of the M60 motorway. It was found that Tevez was driving without a full UK driving licence and with illegally tinted windows. His car was then impounded by the police since he could not arrange for it to be removed himself.
Tevez, a keen golfer, caddied for his friend Andrés Romero at the 2012 Open Championship.
Playing Career
In 1992 Carlos began his youth career at the All Boys youth academy and spent five years there. In 1997 Carlos Tévez transferred to the Boca Juniors academy and became one of the best trainees.
In 2001, Carlos was offered to join the first team and to sign the first contract in his career. During three years till 2004, Tévez made 75 appearances and scored 26 goals for Boca Juniors.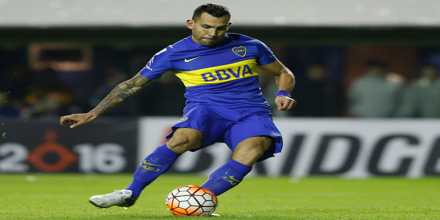 Tevez scored 10 goals in 32 appearances for Boca during the 2002–03 season. During the 2002 Copa Sudamericana, Boca were eliminated 3–1 on aggregate by Gimnasia de La Plata in the first-round. Boca Juniors participated at the 2003 Copa Libertadores and reached the final of the competition, where they faced Santos. Tevez scored 12 goals in 23 appearances during the 2003–04 season. Boca were crowned champions of the Torneo Apertura, where Tevez finished as the Apertura's seventh top goal-scorer with 8 goals.
Tevez netted 2 goals in 9 league appreances in the Torneo Apertura of the 2004–05 season. During his time at Boca Juniors, Tevez was listed by the media as a potential heir to Diego Maradona.
In January 2005, Tevez was transferred to Brazilian Série A club Corinthians for $16 million cash and youth players worth $2 million. Joorabchian and Tevez also received an additional 15% and 10% transfer fee respectively. The transfer fee has also been reported as $22 million. Tevez signed a five-year, £6.85 million contract following the Brazilian club's deal with Media Sports Investment. The deal was the biggest transfer ever in South American football.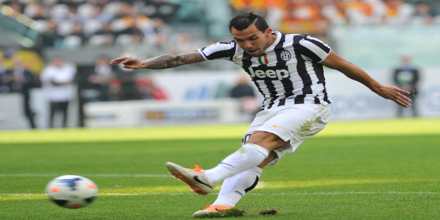 Tevez captained the squad to the 2005 Campeonato Brasileiro, and was named the league's best player by the Brazilian Football Confederation, becoming the first non-Brazilian player to win the award since 1976.
Carlos's successfull performance attracted the attention of different European teams. The first club to win the struggle for Tévez was West Ham United from the English Premier League. Carlos was bought for £13.7 million and that transfer was the most expensive in the history of the Brazilian football. Tévez signed a four-year contract, but played only for a year. From 2006 till 2007 he made 26 appearances and netted seven goals.
In June 2007, Tevez rejected a move to Internazionale, and his representative, Kia Joorabchian, stated that he was in discussions to stay with West Ham, as the player had settled into the Premier League and wanted to remain in England. Tevez replied that he would not make a decision until the Copa América wrapped up in July.
In 2009 Manchester City, another Manchester club, paid £47 million for Carlos Tévez and signed a five-year contract with the player. Carlos became one of the team key players, in spite of the fact he missed four months in the 2011-2012 season. His absence was caused by a blow with Roberto Mancini, the club manager. At the end of the season Carlos apologized for his childish behavior and once again became the manager's favourite. From 2009 Carlos made 107 appearances and delivered 58 goals.
Manchester United and West Ham sought FIFA's assistance to rule on Tevez's ownership, but on 24 July, FIFA suggested that the case be referred to the Court of Arbitration for Sport. Joorabchian intervened by issuing West Ham with a High Court writ "…to compel West Ham to release the registration of Carlos Tévez in accordance with contracts entered into between the parties." However, the case never made it to court as the Premier League approved an agreement between West Ham and MSI, in which MSI would pay £2 million to West Ham, who in turn released Tevez from his contract.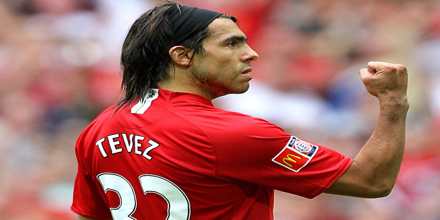 After protracted negotiations, Tevez signed a five-year contract with Manchester United's cross-town rivals, Manchester City, after a medical on 14 July 2009. On 12 September, it was claimed that the transfer fee was £47 million, a British transfer record, but this was later denied by both Manchester City and Media Sports Investments. Tevez was given the number 32 shirt, just as he was at Manchester United and West Ham. In signing for Manchester City, Tevez became the first player to move between the two Manchester clubs since Terry Cooke moved from United to City in 1999. After signing Tevez, Manchester City erected a blue 'Welcome to Manchester' billboard with Tevez in the background. The billboard was located at the top of Deansgate in Manchester city centre, which leads to Salford and Trafford, where Old Trafford is outside the boundaries of Manchester.
During September 2009, Tevez suffered a knee injury whilst on international duty with Argentina, which would keep him out for two to three weeks, forcing him to miss the match against Arsenal.
On 26 June 2013, Tevez signed a three-year contract with Juventus for a reported £12 million, with the fee subject to performance. The fee combined with wages and bonuses due to Tevez in the final year of his contract was estimated to save Manchester City about £27 million.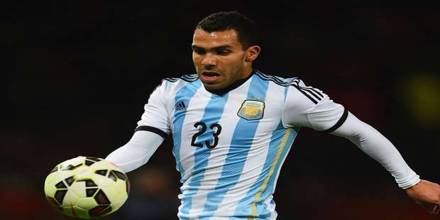 On 26 June 2015, while representing Argentina at the 2015 Copa América, Tevez returned to his first club Boca Juniors, to pursue his dream of winning the Argentine Primera División. On 13 July 2015, Juventus confirmed that Tevez had transferred to Boca Juniors for a fee of €6.5 million, but in pure players swap. On 15 July 2015, Tevez was named to the 10-man shortlist for the 2015 UEFA Best Player in Europe Award, where it was announced on 12 August that he placed ninth.
From 2001 till 2004 Carlos Tévez was capped for the Argentina national U17 and U23 teams, appearing in 12 matches and scoring ten goals. From 2004 Carlos is a player of the Argentina national team, where he played 62 games and scored 13 goals.
Tevez first came into prominence with Argentina while playing in the FIFA U-17 World Championship. At the 2004 Olympic Games in Greece, he won the gold medal – Argentina's first in any event since 1952 – and scored eight goals in six matches to be the top scorer of the competition.
Tevez represented Argentina's senior team in the 2004 Copa América, where the team reached the final, only to lose out to rivals Brazil on penalties; he scored a goal in both of the preceding rounds. He was the world's second-highest goalscorer of 2004 in overall international competition with 16 goals, one fewer than Iran forward Ali Daei.
He was also a member of Argentina's 2005 FIFA Confederations Cup squad that lost again to Brazil in the final. Tevez was called up for the 2006 FIFA World Cup final.
He was also a member of the Argentina squad which reached the 2007 Copa América final.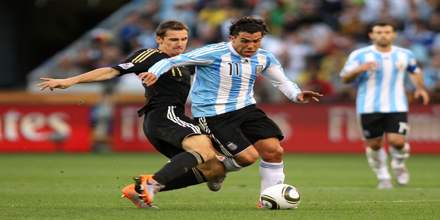 During 2010 World Cup qualifying, he was sent off twice in a three-game stretch, once against Colombia on 21 November 2007 after he kicked Rubén Darío Bustos in the 24th minute, and then on 9 September 2008 after a late tackle on Darío Verón that earned him a red card in the 31st minute of a 1–1 draw with Paraguay after he had been booked earlier. Tevez later apologised for the incident.
Tevez was again selected in the Argentina squad for the 2010 FIFA World Cup held in South Africa.
At the 2011 Copa América, Tevez was the only player from either side to miss in the quarter-final penalty shoot-out against Uruguay, resulting in Argentina's elimination. After Alejandro Sabella's appointment as coach in July 2011, Tevez was not selected in an Argentina squad for three years, missing out as the team finished as runner-up at the 2014 FIFA World Cup.
In May 2015, Tevez was selected in Argentina's squad for the 2015 Copa América held in Chile.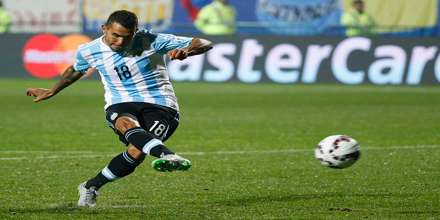 In May 2016, he was omitted from Argentina's 23-man squad for the Copa América Centenario.
Tevez is a quick, tenacious, powerful, hard-working, dynamic, and versatile forward. A technical, tactically intelligent, and creative player, with an eye for goal, Tevez is capable of playing as a striker, as a winger, or even as a supporting forward, or as an attacking midfielder, due his finishing and positioning, as well as his vision and passing ability, which enable him to provide assists for team-mates as well as score goals himself. Due to his pace, strength, work-rate, and stamina, Tevez is also extremely useful when possession is lost, and he excels at pressing opponents, aiding his team to win back the ball and start attacking plays, making him effective both defensively and offensively. Tevez is also a skilful dribbler, and he possesses an accurate and powerful shot from distance; he is also an accurate penalty kick and free-kick taker.
Honours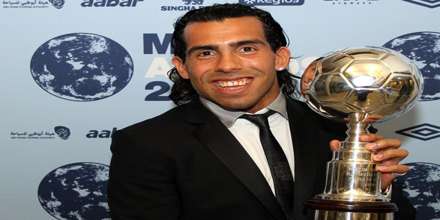 Club
Boca Juniors
Primera División: 2003 Apertura, 2015
Copa Libertadores: 2003
Copa Sudamericana: 2004
Intercontinental Cup: 2003
Copa Argentina: 2014–15
Corinthians
Campeonato Brasileiro Série A: 2005
Manchester United
Premier League: 2007–08, 2008–09
Football League Cup: 2008–09
FA Community Shield: 2008
UEFA Champions League: 2007–08
FIFA Club World Cup: 2008
Manchester City
Premier League: 2011–12
FA Cup: 2010–11
FA Community Shield: 2012
Juventus
Serie A: 2013–14, 2014–15
Supercoppa Italiana: 2013
Coppa Italia: 2014–15
International
Argentina
South American U-20 Championship: 2003
CONMEBOL Men Pre-Olympic Tournament: 2004
Summer Olympics: 2004
Individual
South American Footballer of the Year: 2003, 2004, 2005
South American Team of the Year: 2003, 2004, 2005
Copa Libertadores MVP Award: 2003
Player of the Year of Argentina: 2003, 2004
Argentine Sportsperson of the Year: 2004
Summer Olympics Golden Boot: 2004
Campeonato Brasileiro Série A Best Player: 2005
Campeonato Brasileiro Série A Championship Squad: 2005
Bola de Ouro: 2005
Bola de Prata: 2005
Hammer of the Year: 2007
Manchester City Official Supporter's Player of the Year: 2009–10
Manchester City Player's Player of the Year: 2009–10
Premier League Golden Boot: 2010–11
PFA Premier League Team of the Year: 2010–11
Premier League Player of the Month: December 2009
PFA Player of the Month: March 2010
Guerin d'Oro: 2014, 2015
Juventus Player of the Season: 2013–14, 2014–15
Serie A team of the Year: 2013–14, 2014–15
UEFA Europa League Team of the Season: 2013–14
Serie A Footballer of the Year: 2014–15