Biography of Mae West
Mae West – American actress, singer, playwright, screenwriter, comedian.
Name: Mary Jane "Mae" West
Date of Birth: August 17, 1893
Place of Birth: Kings County, New York, United States
Date of Death: November 22, 1980 (aged 87)
Place of Death: Los Angeles, California, United States
Occupation: Actress, singer, playwright, screenwriter, comedian
Father: John Patrick West
Mother: Matilda
Spouse/Ex: Guido Deiro (m.1914–1920), Frank Szatkus (m.1911–1943), Paul Novak (1954–80)
Early Life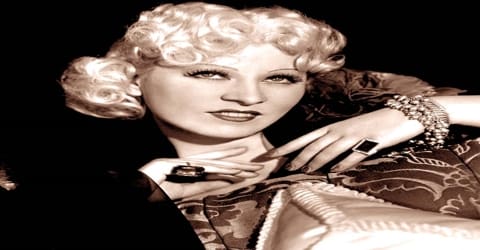 Mae West, an American stage and film actress, a sex symbol whose frank sensuality, languid postures, and blasé wisecracking became her trademarks, was born on August 17, 1893, in Kings County, New York (either Greenpoint or Bushwick, before New York City was consolidated in 1898). She was active in vaudeville and on the stage in New York City before moving to Hollywood to become a comedian, actress, and writer in the motion picture industry, as well as appearing on radio and television. The American Film Institute named her 15th among the greatest female stars of classic American cinema. With the encouragement of her mother, she went on to establish herself as a successful stage actress before catching the attention of Hollywood.
A well-known sex symbol of her era, she was known to tackle controversial roles and steamy scenes with élan. Her blunt sexuality was what made her both famous and notorious. Mae became interested in the show business at an early age. The daughter of a former fashion model, she was encouraged to participate in amateur shows from a young age. Pretty and naturally talented, she began performing professionally in vaudeville in the Hal Clarendon Stock Company when she was 14. She first gained prominence after her appearance in a Broadway show at the age of 18. By this time there was no doubt in her mind that she was destined to be an actress.
Mae West hit her Hollywood stride in her late 30s when she might have been considered in her "advanced years" for playing sexy harlots, but her persona and physical beauty overcame any doubt. The blunt sexuality of her films aroused the wrath and moral indignation of several groups, but this sexuality is what she is remembered for today.
She was almost 40 when she ventured into films, but in spite of her advancing age, she quickly managed to build a reputation as a daring sex symbol. Along with being an actress, she was also a talented screenwriter and singer who released several albums.
Often using a husky contralto voice, Mae West was one of the more controversial movie stars of her day and encountered many problems, especially censorship. She bucked the system, making comedy out of conventional mores, and the Depression-era audience admired her for it. When her cinematic career ended, she wrote books and plays and continued to perform in Las Vegas, in the United Kingdom, on radio and television and to record rock and roll albums. She was once asked about the various efforts to impede her career, to which she replied: "I believe in censorship. I made a fortune out of it."
Childhood, Family and Educational Life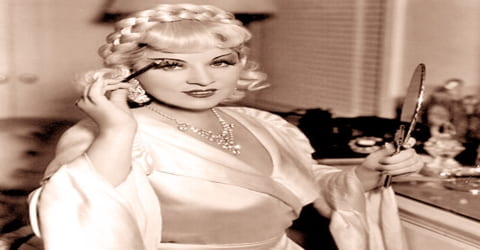 Mary Jane "Mae" West was born on August 17, 1893, in Brooklyn, New York, to Matilda and John West. Her father was a prizefighter who later opened his own private investigation agency following a stint as a "special policeman". Her mother was a former fashion model and aspiring actress who had to give up her acting dream due to family pressure.
Her eldest sibling, Katie, died in infancy. Her other siblings were Mildred Katherine West, later known as Beverly (December 8, 1898 – March 12, 1982), and John Edwin West II (sometimes inaccurately called "John Edwin West, Jr."; February 11, 1900 – October 12, 1964). During her childhood, West's family moved to various parts of Woodhaven, as well as the Williamsburg and Greenpoint neighborhoods of Brooklyn. In Woodhaven, at Neir's Social Hall (which opened in 1829 and is still extant), West supposedly first performed professionally.
Family members called her Mae (spelled May at the time) from an early age. Matilda, also known as "Tillie," was a German immigrant and aspiring actress. But her parents' disapproval in career choices brought her dreams down to a more realistic profession as a garment worker. However, she clandestinely abandoned her seamstress work for the less respectable, though somewhat more glamorous work, as a fashion model and never totally gave up the prospect of having some career in show business.
West was five when she first entertained a crowd at a church social, and she started appearing in amateur shows at the age of seven. She often won prizes at local talent contests. She began performing professionally in vaudeville in the Hal Clarendon Stock Company in 1907 at the age of 14. West first performed under the stage name "Baby Mae", and tried various personas, including a male impersonator.
After winning First Place and a $10 prize, her father became an ardent supporter, dragging her costume came to performances and sitting in the audience as her No. 1 fan.
Personal Life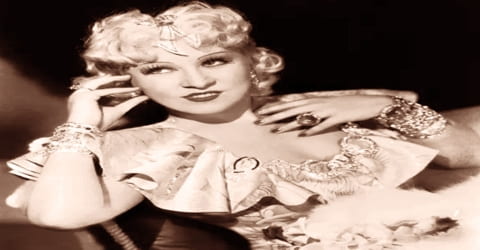 According to Mae West's biographers, Frank Wallace proposed marriage to her several times, but she refused, instead of having affairs with several other male cast members. Frank Wallace was a fellow vaudevillian. She was counseled by an older cast member, Etta Wood, about her "wicked ways" and stressed that marriage would offer her protection against being alone and pregnant. From this, West seemed to have a change of heart and on April 11, 1911, she and Frank Wallace were married by a justice of the peace in Milwaukee, Wisconsin. Only 17, she lied about her age on her marriage certificate (18 was the legal age for marriage in Wisconsin at the time) and both newlyweds promised to keep the marriage secret from the public and her parents.
West met and developed a passionate affair with the Italian-born vaudevillian Guido Deiro in 1913. The couple broke up in 1916. She also had relationships with other men, including James Timony, an attorney.
Mae West later became involved with Chester Rybinski, one of the muscle-men in her Las Vegas stage show, who was 30 years her junior. He later changed his name to Paul Novak. Their relationship lasted until West's death.
Career and Works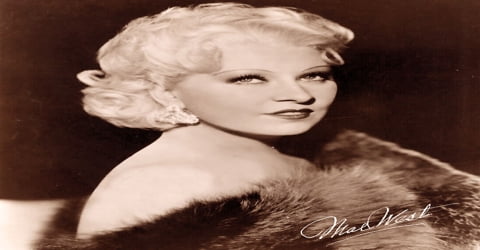 Mae West began her professional career in vaudeville in the Hal Clarendon Stock Company in 1907 at the age of 14. Initially, she performed under the stage name of "Baby Mae" and also used the alias of "Jane Mast" in her early career. Her mother made all her costumes, drilled her on rehearsals, and managed her bookings and contracts. Tillie was finally in show business as her daughter's manager. Mae's act was a subtle spoof of Victorian innocence and sentimentality. She portrayed a young girl dressed in a pink and green satin dress, a large white hat and pink satin ribbons. But she impersonated adult Vaudeville and burlesque performers and danced and sang popular songs inflecting sexual overtones.
Mae West made her Broadway debut as a singer and acrobatic dancer in the revue A la Broadway and Hello, Paris in 1911. For the next 15 years, she alternated between vaudeville and Broadway shows, and she did an occasional nightclub act.
The show folded after eight performances, but at age 18, West was singled out and discovered by The New York Times. The Times reviewer wrote that a "girl named Mae West, hitherto unknown, pleased by her grotesquerie and snappy way of singing and dancing". West next appeared in a show called Vera Violetta, whose cast featured Al Jolson. In 1912, she appeared in the opening performance of A Winsome Widow as a "baby vamp" named La Petite Daffy.
Sometime between 1909 and 1910, Mae West met Frank Wallace, an up-and-coming vaudeville song-and-dance man. The story goes that Wallace was introduced to West by her mother, Tillie, who saw an opportunity to have her team up with a performer who was going places. After a few weeks of intense rehearsal, they formed an act and went out on the burlesque circuit. The tour went deep into the Midwest, far from the protective supervision of West's mother.
In 1918, after exiting several high-profile revues, West finally got her break in the Shubert Brothers revue Sometime, opposite Ed Wynn. Her character Mayme danced the shimmy and her photograph appeared on an edition of the sheet music for the popular number "Ev'rybody Shimmies Now".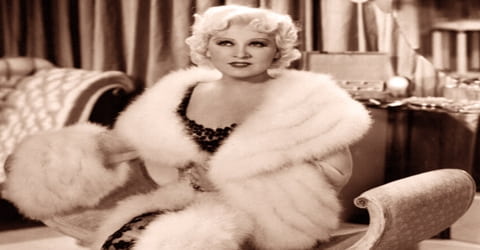 She began courting controversy early on in her career. Blessed with good writing skills, she also began writing her own plays. In 1926 she wrote, produced, and directed a play called 'Sex' in which she also starred. The play was commercially very successful due to the controversial nature of its subject but attracted the notice of city officials who raided the theater and arrested the cast, including Mae West.
West was taken to the Jefferson Market Court House, (now Jefferson Market Library), where she was prosecuted on morals charges and on April 19, 1927, was sentenced to 10 days for "corrupting the morals of youth". Though West could have paid a fine and been let off, she chose the jail sentence for the publicity it would garner. While incarcerated on Welfare Island (now known as Roosevelt Island), she dined with the warden and his wife; she told reporters that she had worn her silk panties while serving time, in lieu of the "burlap" the other girls had to wear. West got great mileage from this jail stint. She served eight days with two days off for "good behavior". Media attention surrounding the incident enhanced her career, by crowning her the darling "bad girl" who "had climbed the ladder of success wrong by wrong".
West became even more popular after being released owing to the media coverage of the incident. She followed up 'Sex' with another highly controversial play called 'The Drag' which dealt with homosexuality as she was one of the early supporters of gay rights.
Her plays Diamond Lil (1928) and The Constant Sinner (1931) were also successful. For all the variety of the scripts she wrote, the constant factor was West's own ironic, languorous personality and her ability to ridicule social attitudes, especially toward sex.
West enjoyed tremendous success as a stage actress and attracted the attention of film producers. Paramount Pictures offered her a motion picture contract in 1932 despite the fact that the actress was now nearing 40. She made her film debut in 'Night After Night' starring George Raft.
In 1932, Mae West moved to Hollywood. Her first film there, Night After Night (1932), showed the lighthearted approach that was characteristic of her subsequent pictures. She Done Him Wrong (1933), a screen adaptation of Diamond Lil, is memorable for her amusing ability to charge such lines as "Why don't you come up sometime and see me?" with suggestive implications. West then wrote and co-starred in I'm No Angel (1933), Belle of the Nineties (1934), and Klondike Annie (1936), which brought her popularity to its height. After two more films, she co-starred with W.C. Fields in the comic western My Little Chickadee (1940), whose script she wrote with him. During World War II, Allied soldiers called their inflatable life jackets "Mae Wests" in honor of her hourglass figure.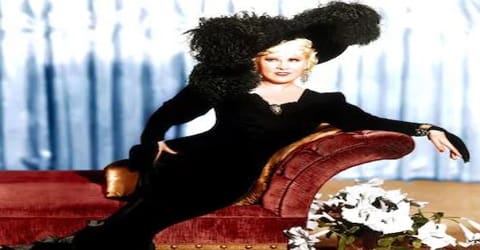 In 1933, West appeared in the crime comedy film 'She Done Him Wrong' which also starred Cary Grant in one of his earliest roles. The film was a box office hit and earned an Academy Award nomination for Best Picture. The same year she was paired up with Grant again in 'I'm No Angel' which also proved to be a big hit.
By 1933, Mae West was one of the largest box offices draws in the United States and, by 1935, West was also the highest paid woman and the second-highest paid person in the United States (after William Randolph Hearst). Hearst invited West to San Simeon, California. "I could'a married him," West explained, "but I got no time for parties. I don't like those big crowds." On July 1, 1934, the censorship of the Production Code began to be seriously and meticulously enforced, and her screenplays were heavily edited. West would purposely place over-the-top lines in her scripts, knowing the censors would cut them out. She hoped they would then not object as much to her other lines. Her next film was Belle of the Nineties (1934). The original title, It Ain't No Sin, was changed due to the censors' objections.
In 1936, Mae West starred in the film Klondike Annie, which concerned itself with religion and hypocrisy. William Randolph Hearst disagreed so vehemently with the film's context, and West's portrayal of a Salvation Army worker, that he personally forbade any stories or advertisements of the film to be published in any of his publications. However, the film did well at the box office and is considered the high-point of West's film career.
That same year, 1936, West played opposite Randolph Scott in Go West, Young Man. In this film, she adapted Lawrence Riley's Broadway hit Personal Appearance into a screenplay. Directed by Henry Hathaway, Go West, Young Man is considered one of West's weaker films of the era, due to the censor's cuts.
In the 1940s and '50s, she sometimes appeared on stage surrounded by young musclemen. Her films were revived in the 1960s, and she appeared in Myra Breckinridge (1970) and Sextette (1979). The title of her autobiography, Goodness Had Nothing to Do with It (1959), captured her style precisely it was a retort one of her characters made to the exclamation "Goodness, what beautiful diamonds!"
Along with her film career, West also ventured into radio and appeared in two separate sketches on ventriloquist Edgar Bergen's radio show 'The Chase and Sanborn Hour'. Her radio shows were full of sexually suggestive innuendos that greatly angered the conservative masses, especially the Catholics who deemed her to be vulgar and indecent. This affected her radio career.
In 1939, Universal Pictures approached Mae West to star in a film opposite comedian W.C. Fields. The studio wanted to duplicate the success they had with another film, Destry Rides Again, a Western morality tale starring Marlene Dietrich and James Stewart. West, looking for a vehicle to make a comeback in films, accepted the part, demanding creative control over the film. Using the same Western genre, My Little Chickedee's screenplay was written by West. Despite tension on the set between West and Fields (she was a teetotaler and he drank), the film was a box-office success, out-grossing Fields' previous two films.
During the 1940s her film career too started dwindling and she had to make extra efforts to get meaningful roles. She appeared in just two movies in the decade: 'My Little Chickadee' (1940) and 'The Heat's On' (1943).
By 1943, Mae West was 50 years old and considering retiring from films to concentrate on her Broadway stage career. Columbia Pictures' director Gregory Ratoff, a friend of hers, needed to have a successful film to avoid bankruptcy and pleaded with West to help him avoid financial ruin. Mae West agreed. But the film lacked her double-entendre lines and sly delivery, not to mention its weak plot and lack of a top-rated romantic lead for West to play off. The film opened to bad reviews and suffered at the box office. Mae West would not return to films until 1970.
Mae West acted in a few plays in the 1950s and also starred in her own Las Vegas stage show, singing while surrounded by bodybuilders. The show was a success and ran for three years. She released her autobiography, 'Goodness Had Nothing To Do With It' in 1959 which went on to become a bestseller.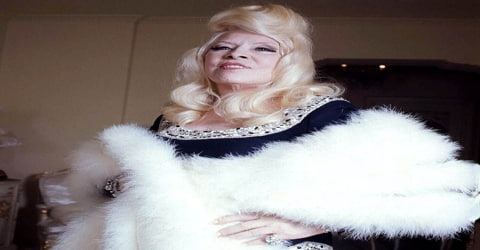 In 1959, West released her bestselling autobiography, Goodness Had Nothing To Do With It, recounting her life in show business. She made a few guest appearances on the 1960s television comedy/variety shows like The Red Skelton Show and some situation comedies like Mister Ed. She also recorded a few albums in different genres including rock 'n' roll and a Christmas album which, of course, was more parody and innuendo than a religious celebration.
In the 1960s West embarked on a career as a singer and released several albums including 'W.C. Fields His Only Recording Plus 8 Songs by Mae West' (1960), 'Way Out West' (1966), 'Wild Christmas' (1966). She also made occasional appearances on television. Her film career was all but over by the 1970s. Her last appearances on the big screen were in 'Myra Breckinridge' (1970) and 'Sextette' (1978).
In August 1980, Mae West had a severe fall while getting out of bed. She was taken to Good Samaritan Hospital in Los Angeles, California, where tests confirmed she had suffered a stroke. The rehabilitation was complicated, with a diabetic reaction to the formula in her feeding tube. On September 18, 1980, she suffered a second stroke that left much of her right side paralyzed. She then developed pneumonia. Her condition showed some signs of stabilizing, but the overall prognosis was good, and she was released to her home for her convalescence. On November 22, 1980, Mae West died at the age of 87. She was entombed in Brooklyn, New York.
Awards and Honor
Mae West has been inducted into the American Theater Hall of Fame in recognition of her contributions to the theater.
She has a star on the Hollywood Walk of Fame at 1560 Vine Street in Hollywood.
Death and Legacy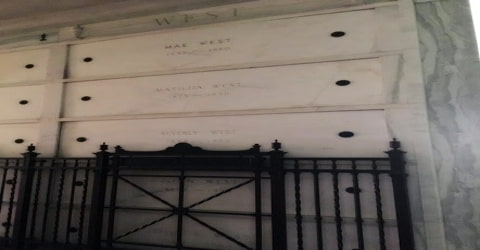 (West family crypt at Cypress Hills Cemetery, with Mae at the top)
Mae West suffered a stroke in August 1980 and another in September the same year. She died on November 22, 1980, at the age of 87.
A private service was held in the Old North Church replica, in Forest Lawn, Hollywood Hills, on November 25, 1980. Bishop Andre Penachio, a friend, officiated at the entombment in the family mausoleum at Cypress Hills Abbey, Brooklyn, purchased in 1930 when her mother died. Her father and brother were also entombed there before her, and her younger sister, Beverly, was laid to rest in the last of the five crypts less than 18 months after West's death.
Mae West was a Presbyterian and her funeral was held at the First Presbyterian Church in Beverly Hills, California.
The movie 'I'm No Angel' was Mae West's biggest success. It became very popular and probably saved Paramount Pictures from bankruptcy. She wrote the screenplay for the film and starred in it as a singer and dancer. Released in the Pre-Code era, this was one of the few Mae West movies that were not subjected to heavy censorship.
Information Source: