Biography of Edvard Grieg
Edvard Grieg – Norwegian composer and pianist.
Name: Edvard Hagerup Grieg
Date of Birth: 15 June 1843
Place of Birth: Bergen, Norway
Date of Death: 4 September 1907 (aged 64)
Place of Death: Bergen, Norway
Occupation: Classical composer and pianist
Father: Alexander Grieg
Mother: Gesine Hagerup
Spouse/Ex: Nina Grieg (m. 1867–1907)
Children: Alexandra Grieg
Early Life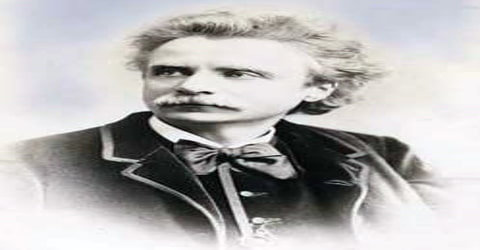 Edvard Grieg, a composer who was a founder of the Norwegian nationalist school of music, was born on 15 June 1843, in Bergen, Norway, to Alexander Grieg and Gesine Judith Hagerup. He is widely considered one of the leading Romantic era composers, and his music is part of the standard classical repertoire worldwide. His use and development of Norwegian folk music in his own compositions brought the music of Norway to international consciousness, as well as helping to develop a national identity, much as Jean Sibelius and Bedřich Smetana did in Finland and Bohemia, respectively.
Grieg's works became popular all over the world, and most of his music was inspired from his own emotions, real-life scenarios and a lot of descriptive imagery. Norway was never known for its love for the arts or anything creative. One would always ponder over how a small country like Norway came up with and nurtured a musical genius such as Edvard Grieg. His love for folk music, landscapes and traditions seamlessly penetrated the creative boundaries of his music and he grew to become one of the most prominent names in the country. Grieg lived and dreamt music, and it was this dream that brought him to his evergreen masterpiece, the 'Piano Concerto in A minor'.
Grieg is the most celebrated person from the city of Bergen, with numerous statues depicting his image, and many cultural entities named after him: the city's largest concert building (Grieg Hall), its most advanced music school (Grieg Academy) and its professional choir (Edvard Grieg Kor). The Edvard Grieg Museum at Grieg's former home, Troldhaugen, is dedicated to his legacy.
Childhood, Family and Educational Life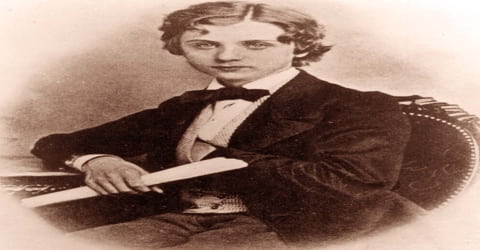 Edvard Grieg, in full Edvard Hagerup Grieg (Norwegian pronunciation: ˈɛdvɑɖ ˈhɑːɡərʉp ˈɡrɪɡː), was born in Bergen, Norway on June 15, 1843. His parents were Alexander Grieg (1806–1875), a merchant and vice-consul in Bergen; and Gesine Judithe Hagerup (1814–1875), a music teacher and daughter of solicitor and politician Edvard Hagerup. The family name, originally spelled Greig, is associated with the Scottish Clann Ghriogair (Clan Gregor). After the Battle of Culloden in 1746, Grieg's great-grandfather, Alexander Greig, traveled widely, settling in Norway about 1770, and establishing business interests in Bergen.
His mother, Gesine Hagerup, who belonged to a well-established Norwegian family, studied music at Hamburg. From the age of six Grieg received piano lessons from her, and in 1858, at the recommendation of the violin virtuoso Ole Bull, he entered the Leipzig Conservatory, where he was influenced by the tradition of Mendelssohn and Schumann. During this period he suffered a severe attack of pleurisy from which he never really recovered. Bull recognized the boy's talent and urged his parents to send him to 'Leipzig's Conservatory' where he would learn to love, nurture and inculcate music into his life permanently.
While in school, the young composer saw the premiere of his first work, his String Quartet in D minor, performed in Karlshamn, Sweden. Despite being diagnosed with a form of tuberculosis, which left him with only one functioning lung, Grieg graduated from the conservatory in 1862. The composer had an intense desire to develop a national style of composition but recognized the importance of becoming well versed in the work of the European masters, and consequently relocated to Copenhagen, studying with Niels Gade.
Personal Life
In the spring of 1860, Grieg survived two life-threatening lung diseases, pleurisy, and tuberculosis. Throughout his life, Grieg's health was impaired by a destroyed left lung and considerable deformity of his thoracic spine. He suffered from numerous respiratory infections and ultimately developed combined lung and heart failure. Grieg was admitted many times to spas and sanatoria both in Norway and abroad. Several of his doctors became his personal friends.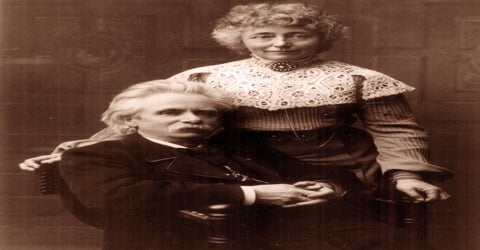 In 1867 against his family's better judgment, Edvard Grieg married his cousin Nina Hagerup, a talented pianist, but whose vocal abilities enchanted the composer even more. Shortly after their wedding, the couple moved to Oslo, where Grieg supported them by teaching piano and conducting. He and his wife traveled extensively throughout Europe and it was during a period of time spent in Denmark, the composer wrote his landmark opus, the Piano Concerto in A minor. The next year, their only child, Alexandra, was born. Alexandra died in 1869 from meningitis.
Career and Works
In 1863 Edvard Grieg went to Copenhagen, where his development came from his association in 1864 with the young Norwegian nationalist composer Rikard Nordraak. "Through him," said Grieg, "I first learned to know the northern folk tunes and my own nature." In the winter of 1864–65 Grieg became one of the founders of the Copenhagen concert society, Euterpe, for the production of works by young Scandinavian composers.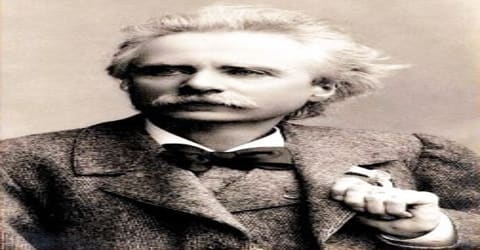 Grieg suffered a lung disease that threatened his life in 1860 but he overcame it with limited medical treatment and went on to give a successful debut performance in Karlshamm, Sweden, while still studying at Leipzig. Grieg studied under the guidance of some of the biggest names in Europe at the time and rose to prominence as a full-fledged, fully equipped musician after leaving the conservatory.
During 1867-1869, Edvard Grieg created and composed his 'Piano Concerto 'A' minor', while on a holiday to Denmark. The concerto became such a rage that it was adopted by the famous Edmund Neupert who promised Edvard his concerto's debut in Copenhagen on 3rd April 1869. Edward was, however, unable to make it for his own piano concerto 'A' minor, as he was held up with other commitments in Oslo.
In 1868, Franz Liszt, who had not yet met Grieg, wrote a testimonial for him to the Norwegian Ministry of Education, which led to Grieg's obtaining a travel grant. The two men met in Rome in 1870. On Grieg's first visit, they went over Grieg's Violin Sonata No. 1, which pleased Liszt greatly. On his second visit in April, Grieg brought with him the manuscript of his Piano Concerto, which Liszt proceeded to sightread; including the orchestral arrangement. Liszt's rendition greatly impressed his audience, although Grieg gently pointed out to him that he played the first movement too quickly. Liszt also gave Grieg some advice on orchestration (for example, to give the melody of the second theme in the first movement to a solo trumpet).
Grieg spent the winters of 1865–66 and 1869–70 in Rome, where he first met Ibsen and also Liszt, who was roused to enthusiasm by his piano concerto. In 1866 he settled in Christiania (now Oslo), remaining there until 1874 when he was granted an annual stipend of 1,600 crowns by the Norwegian government.
In return, Liszt taught Edvard the ways and methods of orchestration. Edvard began to compose different types of music during his early years and came up with a lot of imagery-based music during 1874-1876. Some of his most famous works were for Ibsen's play 'Peer Gynt', who specially requested him to compose music for the play. This not only won him accolades but also brought out his artistic capabilities to a forefront.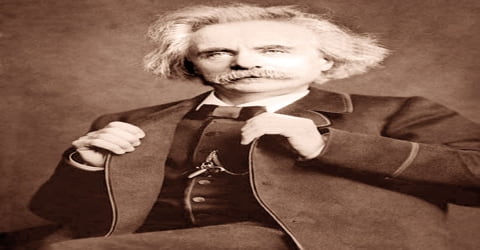 In 1874–76, Grieg composed incidental music for the premiere of Henrik Ibsen's play Peer Gynt, at the request of the author. He had close ties with the Bergen Philharmonic Orchestra (Harmonien), and later became Music Director of the orchestra from 1880 to 1882. In 1888, Grieg met Tchaikovsky in Leipzig. Grieg was struck by the greatness of Tchaikovsky. Tchaikovsky thought very highly of Grieg's music, praising its beauty, originality, and warmth.
In 1885 Grieg built his home, "Troldhaugen," near Bergen. In spite of poor health, Grieg made several tours in Scandinavia, on the Continent, and in England, playing his piano concerto in London in 1888.
Grieg admired his literary contemporaries and forged a productive partnership with Bjötjerne Björnson, playwright and poet, with whom he staged performances of such works as Before a Southern Convert, and Bergliot. While Björnson struggled with his output, Grieg met and befriended Henrik Ibsen. The forthcoming collaboration would prove significant for both, as Grieg would supply incidental music to Ibsen's Peer Gynt. The premiere was performed to critical acclaim and eventually led to Grieg's scoring of Peer Gynt into Suites 1 and 2 (1888 and 1893 respectively).
In 1899, Grieg canceled his concerts in France in protest of the Dreyfus Affair, an anti-semitic scandal that was then roiling French politics. Regarding this scandal, Grieg had written that he hoped that the French might, "Soon return to the spirit of 1789, when the French republic declared that it would defend basic human rights." As a result of his position on the affair, he became the target of much French hate mail of that day.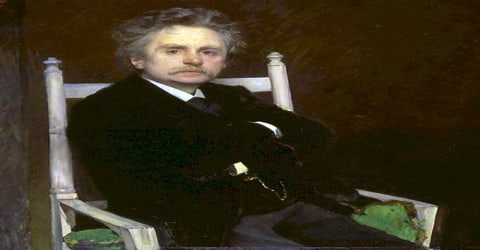 Grieg's music and prominence both increased as he aged, and he was more of a celebrity in his later years than in his younger days. He started recording his music for gramophones and showed his flair for music as a pianist. These were made on both LP's and CD's and can still be found in historic musical records today. Grieg began to get a pension from the government for his works and in the year 1906, he met musician Percy Grainger at a concert in London. Percy slowly began adopting Grieg's music and played the Piano Concerto several times to high standards in various concerts throughout the world.
In a 1907 interview, Grieg stated: "I have written Norwegian Peasant Dances that no one in my country can play, and here comes this Australian who plays them as they ought to be played! He is a genius that we Scandinavians cannot do other than love."
Rooted in the national folk tradition of Norway, Grieg's music is noted for a refined lyrical sense. Between 1867 and 1901 he wrote ten collections of Lyric Pieces (Lyriske Stykker) for piano. His spirited rhythms often have a folk song association. His harmonies, developed from the late Romantic style, were considered novel. In his few works in the larger forms the Piano Concerto, Opus 16; the String Quartet in G Minor, Opus 27; and the three violin and piano sonatas he uses a free sonata form. His original Ballad for piano, Opus 24, is a set of variations on a folk theme.
Norway's most famous composer dedicated his career to the pursuit of a national sound. The respect he had for his predecessors illustrates the sincerity with which he worked towards this goal. He wrote in the Romantic tradition with, in his own words, the determination to "create a national form of music, which could give the Norwegian people an identity."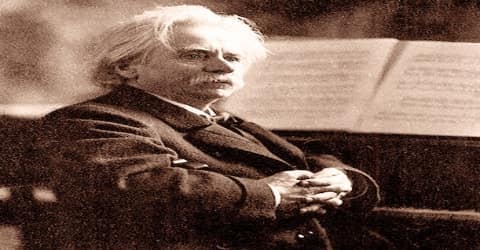 Among his most popular works is his incidental music to Peer Gynt, Opus 23, and the suite Holberg, Opus 40. His arrangements of Norwegian dances and songs, Opus 17 and Opus 66, and especially his Slåtter, Norwegian Peasant Dances, Opus 72, show his characteristic sense of rhythm and harmony. His vocal works include the songs on texts of A.O. Vinje, Opus 33; and the Haugtussa cycle, Opus 67. Intuitively, he identified himself with the poet's imagery in these songs and discovered its musical equivalent.
Awards and Honor
Edvard Grieg was awarded two honorary doctorates, first by the University of Cambridge in 1894 and the next from the University of Oxford in 1906.
Death and Legacy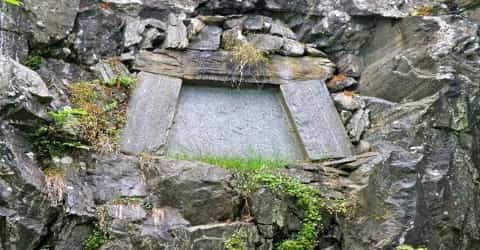 Edvard Grieg died at the Municipal Hospital in Bergen, Norway in the late summer of 1907 at age 64 from heart failure. He had suffered a long period of illness. His last words were "Well if it must be so." The funeral drew between 30,000 and 40,000 people out on the streets of his home town to honor him.
This teary farewell was accompanied by the funeral march that he had composed for his friend, Rikard Nordraak's death; this time, it was orchestrated by another friend, Johan Halverson. In addition, the Funeral March movement from Chopin's Piano Sonata No. 2 was played. Grieg was cremated, and his ashes were entombed in a mountain crypt near his house, Troldhaugen. After the death of his wife, her ashes were later placed alongside his.
Grieg himself would not have imagined the magnitude and the impact of his music on others. He brought about a new culture that defined and fostered the cultural growth of Norway. His gripping works told countless stories of his hard work and struggles, in a period where he was not too recognized. It also brought to the forefront, his immense talent and his influence on budding musicians. His works are still performed and resonate in orchestra halls even today. He not only defined a new life for Norwegian music but also took his music on a global platform that transcended through generations.
Edvard Grieg's Holberg Suite was originally written for the piano and later arranged by the composer for string orchestra. Grieg wrote songs in which he set lyrics by poets Heinrich Heine, Johann Wolfgang von Goethe, Henrik Ibsen, Hans Christian Andersen, Rudyard Kipling, and others. Russian composer Nikolai Myaskovsky used a theme by Grieg for the variations with which he closed his Third String Quartet. Norwegian pianist Eva Knardahl recorded the composer's complete piano music on 13 LPs for BIS Records in 1977-1980. The recordings were reissued in 2006 on 12 compact discs, also on BIS Records. Grieg himself recorded many of these piano works before his death in 1907.
Information Source: