Biography of Robert Graves
Robert Graves – British poet, historical novelist, critic, and classicist.
Name: Robert von Ranke Graves
Date of Birth: 24 July 1895
Place of Birth: Wimbledon, Surrey, England
Date of Death: 7 December 1985 (aged 90)
Place of Death: Deià, Majorca, Spain
Father: Alfred Perceval Graves
Mother: Amalie (Amy) von Ranke
Spouse: Beryl Graves (m. 1950–1985), Nancy Nicholson (m. 1918–1949)
Children: Jenny, David, Catherine, and Sam; William, Lucia, Juan, and Tomas
Occupation: Novelist, poet, soldier
Early Life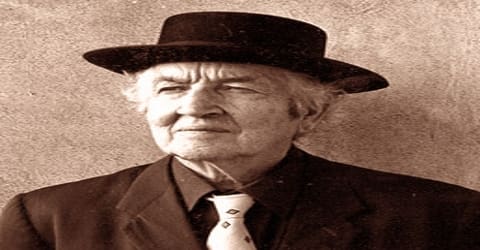 Robert Graves, poet, novelist, biographer, mythographer, classical scholar and translator was born on July 24, 1895, in Wimbledon, a well-to-do suburb of London. His father was Alfred Perceval Graves, a celebrated Irish poet, and figure in the Gaelic revival; they were both Celticists and students of Irish mythology. Graves produced more than 140 works. Graves's poems together with his translations and innovative analysis and interpretations of the Greek myths; his memoir of his early life, including his role in World War I, Good-Bye to All That (1929; rev. ed. 1957); and his speculative study of poetic inspiration, The White Goddess have never been out of print.
At the age of seven, double pneumonia following measles almost took Graves's life, the first of three occasions when he was despaired of by his doctors as a result of afflictions of the lungs, the second being the result of a war wound and the third when he contracted Spanish influenza in late 1918, immediately before demobilization. At school, Graves was enrolled as Robert von Ranke Graves and in Germany, his books are published under that name but before and during the First World War, the name caused him difficulties.
As a student at Charterhouse School, London, and young Graves began to write poetry; he continued this while serving as a British officer at the western front during World War I, writing three books of verse during 1916–17. The horror of trench warfare was a crucial experience in his life: he was severely wounded in 1916 and remained deeply troubled by his war experiences for at least a decade. Graves's mental conflicts during the 1920s were exacerbated by an increasingly unhappy marriage that ended in divorce. A new acceptance of his own nature, in which sexual love and dread seemed to exist in close proximity, appeared in his verse after he met Laura Riding, an American poet, who accompanied him to the island of Majorca, Spain, in 1929 and with whom he was associated for 13 years.
Graves" career spanned the majority of the 20th century. He was a youthful witness to the evolution of this century"s self-conscious notion of its own modernity. He nearly died fighting for a belief in nation and England at a time when modern ideas were displacing the notion of "for king and country" with sometimes contradictory socio-political ideals. He witnessed the same upheavals and suffered many of the same trials of his avant-garde contemporaries (such as Breton, Soupault and Apollinaire in France and T.E. Hulme, David Jones and Wyndham Lewis in Britain) in the First World War yet, along with other poets like Edward Thomas, Wilfred Owen and Siegfried Sassoon, wrote about them very differently.
He earned his living from writing, particularly popular historical novels such as I, Claudius, King Jesus, The Golden Fleece, and Count Belisarius. He also was a prominent translator of Classical Latin and Ancient Greek texts; his versions of The Twelve Caesars and The Golden Ass remain popular, for their clarity and entertaining style. Graves was awarded the 1934 James Tait Black Memorial Prize for both I, Claudius and Claudius the God.
Childhood, Family and Educational Life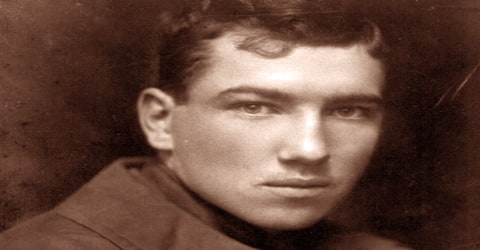 Robert Graves, in full Robert von Ranke Graves, (born July 24, 1895, London, England. His father, Alfred Perceval Graves, of Anglo-Irish descent, was the son of the Bishop of Limerick. He was a civil servant who worked as Inspector of Schools and also a poet, with a great interest in Irish folk songs and mythology. Robert's mother, Amalie (Amy) von Ranke, was the daughter of Heinrich von Ranke, a German doctor, and grand-niece of the German historian Leopold von Ranke, her mother being of Norwegian descent. He was the third of five children born to Alfred Perceval Graves (1846–1931), who was the sixth child and second son of Charles Graves, Bishop of Limerick, Ardfert, and Aghadoe.
Graves received his early education at a series of six preparatory schools, including King's College School in Wimbledon, Penrallt in Wales, Hillbrow School in Rugby, Rokeby School in Kingston upon Thames and Copthorne in Sussex, from which last in 1909 he won a scholarship to Charterhouse. There, in response to persecution because of the German element in his name, his outspokenness, his scholarly and moral seriousness, and his poverty relative to the other boys, he feigned madness, began to write poetry, and took up boxing, in due course becoming school champion at both welters- and middleweight. He also sang in the choir, meeting there an aristocratic boy three years younger, G. H. "Peter" Johnstone, with whom he began an intense romantic friendship, the scandal of which led ultimately to an interview with the headmaster. Among the masters, his chief influence was George Mallory, who introduced him to contemporary literature and took him mountaineering in vacations. In his final year at Charterhouse, he won a classical exhibition to St John's College, Oxford but did not take his place there until after the war.
In August 1916 an officer who disliked him spread the rumor that he was the brother of a captured German spy who had assumed the name "Carl Graves". The problem resurfaced in a minor way in the Second World War, when a suspicious rural policeman blocked his appointment to the Special Constabulary. Graves's eldest half-brother, Philip Perceval Graves, achieved note as a journalist and his younger brother, Charles Patrick Graves, was a writer and journalist.
In October 1919, he took up his place at the University of Oxford, soon changing course to English Language and Literature, though managing to retain his Classics exhibition. While still an undergraduate he established a grocers shop on the outskirts of Oxford but the business soon failed. He also failed his B.A. degree but was exceptionally permitted to take a B.Litt. by dissertation instead, allowing him to pursue a teaching career.
Personal Life
Robert Graves married twice. His first marriage to Nancy Nicholson, the daughter of the painter William Nicholson, produced four children: Jenny, David, Catherine, and Sam. His second marriage to Beryl Pritchard produced a further four children: William, Lucia, Juan, and Tomas.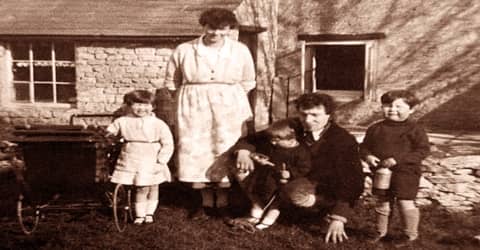 (Robert Graves with his 1st wife Nancy and their children)
Robert met seventeen-year-old Nancy Nicholson, in May 1916 when on leave. She was the daughter of the painters William and Mabel Nicholson, sister of the painter Ben Nicholson and herself an artist and an ardent feminist. They were married in St. James', Piccadilly, on January 23rd, 1918, by which time the success of his Fairies and Fusiliers (1917) had established Robert Graves as a poet.
Nancy was a "modern woman" who refused to take on Graves" names and preferred wearing trousers to dresses (much, according to the biographers, to his mother"s dismay!). Though their relationship was initially happy and productive (Nancy and Robert worked on a children"s book together), the stress of family life, little money, and Robert"s persistent shell-shocked condition caused them troubles. It is not surprising, then, that Laura Riding"s arrival spelled the beginning of the end of their marriage.
In 1926, he took up a post at Cairo University, accompanied by his wife, their children and the poet Laura Riding. He returned to London briefly, where he split up with his wife under highly emotional circumstances (at one point Riding attempted suicide) before leaving to live with Riding in Deià, Majorca. There they continued to publish letterpress books under the rubric of the Seizin Press, founded and edited the literary journal, Epilogue and wrote two successful academic books together: A Survey of Modernist Poetry (1927) and A Pamphlet Against Anthologies (1928); both had great influence on modern literary criticism, particularly New Criticism.
Laura Riding and Robert Graves" relationship were immensely influential upon both of their lives and careers. After Riding"s arrival in England, she began to exert an influence on more than just Graves" writing. Following a sequence of events so crazy that they seem more suitable to fiction than reality (including, for example, Laura Riding leaping from a third-floor window and breaking her pelvic bone in three places), Graves abandoned his family and moved with Riding from England to Spain. Robert and Laura had a wide circle of friends, but Laura's need for power and control over people, and for Robert's total dedication to her, soon created tensions.
At this point, Laura fell in love with Geoffrey Phibbs, an Irish poet with whom she was collaborating on a book, and the "Trinity" became a "Four-Life". Phibbs, however, did not return her favors, and instead fell in love with Nancy. On April 27th, 1929, in a fit of jealousy, and in the presence of Robert, Geoffrey, and Nancy, Laura said "Good-bye chaps!" and jumped out of a fourth-story window: astonishingly, she survived the fall, despite a broken pelvis, four broken vertebrae, and a serious eye-wound. The accident caused a police investigation since attempted suicide was then a crime. It was through Sir Edward Marsh's influence that the case was dropped. In May Robert and Nancy separated formally.
After returning to Britain, Graves began a relationship with Beryl Hodge, the wife of Alan Hodge, his collaborator on The Long Week-End (1941) and The Reader Over Your Shoulder (1943; republished in 1947 as The Use and Abuse of the English Language but subsequently republished several times under its original title). In 1946, he and Beryl (they were not to marry until 1950) re-established a home with their three children, in Deià, Majorca. The house is now a museum.
Over his long career but most especially at the height of his fame, Graves had many celebrity friends including films stars like Ava Gardner and Ingrid Bergman, fellow writers like T. S. Eliot and Gertrude Stein, and was courted (to the annoyance of the general Deyan population) by tens of hangers-on and aspiring poets. He was himself, a celebrity whose appearance on television and radio programmes virtually guaranteed a good audience.
Career and Works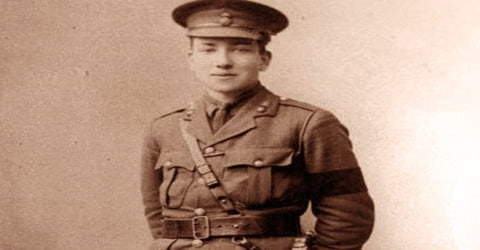 At the outbreak of the First World War in August 1914, Graves enlisted almost immediately, taking a commission in the 3rd Battalion of the Royal Welch Fusiliers as a second lieutenant (on probation) on 12 August. He was confirmed in his rank on 10 March 1915, and received the rapid promotion, being promoted to lieutenant on 5 May 1915 and to captain on 26 October. He published his first volume of poems, Over the Brazier, in 1916. In later years, he omitted his war poems from his collections, on the grounds that they were too obviously "part of the war poetry boom." At the Battle of the Somme, he was so badly wounded by a shell-fragment through the lung that he was expected to die and was officially reported as having died of wounds. He gradually recovered and, apart from a brief spell back in France, spent the remainder of the war in England.
In January 1917, after a period of recovery in England, he returned to France, but his weakened lungs were unable to endure the terrible conditions of the front and in February he went down with severe bronchitis and was sent back home; this time he was declared unfit to return to the trenches. When the Armistice came, as he recalls in his autobiography, "the news sent me out walking alone cursing and sobbing and thinking of the dead." War had left not only physical scars but a severe shell-shock. In January 1919, shortly after the birth of his first child, Jenny, he was demobilized.
In September 1917, Graves was seconded for duty with a garrison battalion. Graves's army career ended dramatically with an incident which could have led to a charge of desertion. Having been posted to Limerick in late 1918, he "woke up with a sudden chill, which I recognized as the first symptoms of Spanish influenza." "I decided to make a run for it," he wrote, "I should at least have my influenza in an English, and not an Irish, hospital." Arriving at Waterloo with a high fever but without the official papers that would secure his release from the army, he chanced to share a taxi with a demobilization officer also returning from Ireland, who completed his papers for him with the necessary secret codes.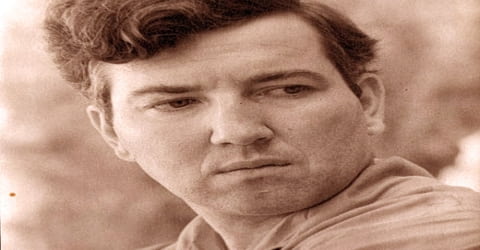 Graves first met T.E. Lawrence in March 1920, and was to write his biography Lawrence and the Arabs, in 1927; after Lawrence's death, he published their correspondence in T.E.Lawrence to his Biographer Robert Graves (1938). Another companion at Oxford was the poet Edmund Blunden.
The autobiographical Good-bye to All That (1929, revised by him and republished in 1957) proved a success but cost him many of his friends, notably Siegfried Sassoon. In 1934 he published his most commercially successful work, I, Claudius. Using classical sources (under the advice of classics scholar Eirlys Roberts) he constructed a complex and compelling tale of the life of the Roman emperor Claudius, a tale extended in the sequel Claudius the God (1935). The Claudius books were turned into the very popular television series I, Claudius shown in both Britain and the United States in the 1970s. Another historical novel by Graves, Count Belisarius (1938), recounts the career of the Byzantine general Belisarius.
The success of Graves's Good-Bye to All That, war memoirs notable for their unadorned grimness, enabled him to make his permanent home on Majorca, an island whose simplicity had not yet been altered by tourism. Graves's novel I, Claudius is an engaging first-person narrative purportedly written by the Roman emperor Claudius as he chronicles the personalities and machinations of the Julio-Claudian line during the reigns of Augustus, Tiberius, and Caligula. This work was followed by other historical novels dealing with ancient Mediterranean civilizations and including Claudius the God (1934), which extends Claudius's narrative to his own reign as emperor; Count Belisarius (1938), a sympathetic study of the great and martyred general of the Byzantine Empire; and The Golden Fleece (1944; U.S. title Hercules, My Shipmate). Graves's researches for The Golden Fleece led him into a wide-ranging study of myths and to what was his most controversial scholarly work, The White Goddess; A Historical Grammar of Poetic Myth (1948). In it, the author argues the existence of an all-important religion, rooted in the remote past but continuing into the Christian Era, based on the worship of a goddess.
Graves and Riding left Majorca in 1936 at the outbreak of the Spanish Civil War and in 1939, they moved to the United States, taking lodging in New Hope, Pennsylvania. Their volatile relationship and the eventual breakup was described by Robert's nephew Richard Perceval Graves in Robert Graves: 1927–1940: The Years with Laura, and T. S. Matthews's Jacks or Better (1977). It was also the basis for Miranda Seymour's novel The Summer of '39 (1998).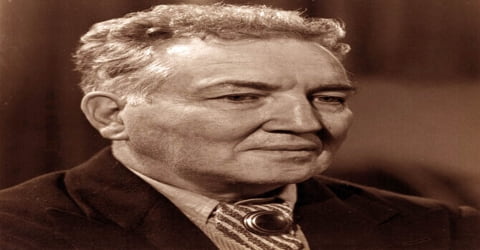 The year 1946 also saw the publication of his historical novel, King Jesus. He published The White Goddess: A Historical Grammar of Poetic Myth in 1948; it is a study of the nature of poetic inspiration, interpreted in terms of the classical and Celtic mythology he knew so well. He turned to science fiction with Seven Days in New Crete (1949) and in 1953 he published The Nazarene Gospel Restored with Joshua Podro. He also wrote Hercules, My Shipmate, published under that name in 1945 (but first published as The Golden Fleece in 1944).
The next important landmark in Graves' work was The Greek Myths (1955), which became a reference book for a wide public. That same year Graves gave the Clark lectures in Trinity College, Cambridge and soon after began receiving invitations to give talks at American universities. This made it financially possible to send the children to schools abroad, and Beryl and Robert returned with their youngest son Tomás to live in Ca N'Alluny. His retellings are well respected; many of his unconventional interpretations and etymologies are dismissed by classicists. Graves, in turn, dismissed the reactions of classical scholars, arguing that they are too specialized and "prose-minded" to interpret "ancient poetic meaning," and that "the few independent thinkers…are…the poets, who try to keep civilization alive."
He published a volume of short stories, Catacrok! Mostly Stories, Mostly Funny, in 1956. In 1961 he became Professor of Poetry at Oxford, a post he held until 1966.
His Collected Poems appeared in 1948, with revisions in 1955, 1959, 1961, and 1975. His controversial translation of The Rubáiyát of Omar Khayyàm, with Omar Ali-Shah, appeared in 1967. His own later views on poetry can be found in The Crowning Privilege (1955) and Oxford Addresses on Poetry (1962).
Robert Graves had various mentors throughout his career; however, he encountered three of the most significant during the war and in his Oxford days: W. H. R. Rivers, T. E. Lawrence, and Basanta Mallick. All three, at various stages, dominated Graves" thought and influenced his work but, unlike the ideas of many of the more "fashionable" theorists that Riding insisted that she and Graves subscribe to, all three remained, to a greater or lesser extent, influences on Graves" life and work.
From the 1960s until his death, Robert Graves frequently exchanged letters with Spike Milligan. Many of their letters to each other are collected in the book, Dear Robert, Dear Spike.
Awards and Honor
Graves refused most honors and Honoris Causa doctorates, but he did accept the Gold Medal for Poetry he received from Queen Elizabeth II in 1968, and the title of "Adopted Son of Deià", which he considered the greatest honor of all.
Three of his former houses have a blue plaque on them: in Wimbledon, Brixham, and Islip.
Death and Legacy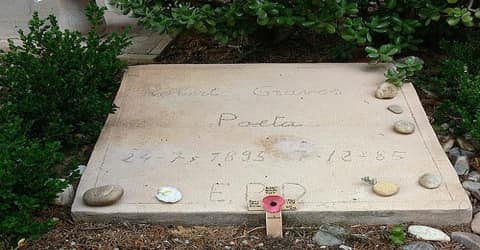 During the early 1970s Graves began to suffer from increasingly severe memory loss. By his 80th birthday in 1975, he had come to the end of his working life. His brother John and his sister Rosaleen were both presents, and together they sang some of the songs of their childhood days in Wimbledon and Harlech. But Robert's memory was already failing and he was becoming aware that he was losing the power of concentration necessary to write poetry. This awareness is painfully expressed in some of his last poems. As the memory loss worsened, shell-shock returned to haunt him; he gradually lost his ability to walk. A man who was born in the 19th century, fought in the First World War and who had visited Rome, Greece, and the lands of the Bible -not just physically but through the power of his mind- had now reached the end of his journey.
He lived for another decade, in an increasingly dependent condition, until he died from heart failure on 7 December 1985 at the age of 90 years. His body was buried the next morning in the small churchyard on a hill at Deià, at the site of a shrine that had once been sacred to the White Goddess of Pelion. His second wife, Beryl Graves, died on 27 October 2003 and her body was interred in the same grave.
Several significant works had already appeared before his death in 1985. The most notable was the biography by Martin Seymour-Smith, Robert Graves: His Life and His Work, first published in 1983 and updated in 1995. Seymour-Smith"s biography is, as the author, very opinionated. But because of the author"s immense knowledge and his writerly skills, his opinions are rarely intrusive.
Information Source: