Biography of Barnes Wallis
Barnes Wallis – English scientist, engineer, and inventor.
Name: Sir Barnes Neville Wallis
Date of Birth: 26 September 1887
Place of Birth: Ripley, Derbyshire, England
Date of Death: 30 October 1979 (aged 92)
Place of Death: Leatherhead Hospital, Leatherhead, England
Occupation: Engineer, Inventor
Father: Charles William George Robinson Wallis
Mother: Edith Eyre Wallis née Ashby
Spouse/Ex: Molly Bloxam (m. 1925-1979)
Children: 4
Early Life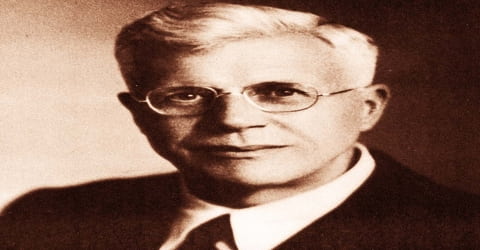 A British aeronautical designer and military engineer, best known for developing the "Bouncing Bomb" used by the Royal Air Force in Operation Chastise during World War II; Barnes Wallis was born on 26th September 1887 in Ripley, Derbyshire, England to Charles Wallis and Edith Ashby. Among his other inventions was his version of the geodetic airframe and the earthquake bomb.
Trained as a marine engineer, Barnes Wallis soon found his real calling in the aviation industry. After a stint as a marine engineer, he switched to designing airships and engaged himself in aircraft development for Vickers. He played a crucial role in the development of the R100, the largest airship ever designed then. Following aircraft designing, Wallis concentrated his energy on bomb designing. He realized that the best way to destroy Nazi Germany's ability to wage war is through bombing. Wallis came up with the plan of the Dambuster raid that served the purpose with less risk of causalities. For the same, Wallis invented a bouncing bomb that attacked the dam walls of the Ruhr valley, disrupting German factories and their hydro-electric power. Though the bombing did not cause much physical damage, it indeed damaged the German forces psychologically. Throughout the latter life, Wallis engaged himself in aeronautical research.
Childhood, Family and Educational Life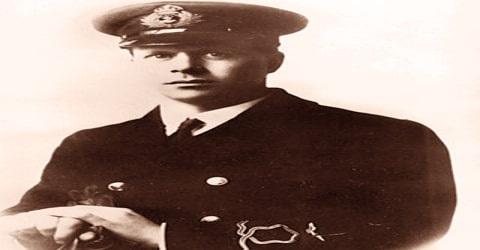 Barnes Wallis, in full Sir Barnes Neville Wallis, was born on September 26, 1887, in Ripley, Derbyshire, England to Charles William George Robinson Wallis (1859-1945) and his wife Edith Eyre Wallis née Ashby (1859-1911). He was the second of the four children born to the couple. His father was a doctor who moved his family to London when Wallis was two years old.
Barnes Wallis was educated at Christ's Hospital in Horsham and Haberdashers' Aske's Hatcham Boys' Grammar School in southeast London. At the school, Wallis developed an affinity for mathematics and science and decided to become an engineer. He left school at the age of 17 to work at an engineering company at Blackheath, London in 1905. He subsequently changed his apprenticeship to J. Samuel White's, the shipbuilders based at Cowes on the Isle of Wight. He originally trained as a marine engineer.
In 1922, Wallis obtained a degree in engineering via an external program at the University of London.
Personal Life
Barnes Wallis met his cousin-in-law, Molly Bloxam, at a family tea party, in April 1922. She was 17 and he was 34, and her father forbade them from courting. They were married on 23rd April 1925 and remained so for 54 years until his death in 1979.
The couple was blessed with four children: Barnes (1926-2008), Mary (1927-2019), Elisabeth (b. 1933) and Christopher (1935-2006), and also adopted Molly's sister's children when their parents were killed in an air raid.
For 49 years, from 1930 until his death, Wallis lived with his family in Effingham, Surrey, and he is now buried at the local St. Lawrence Church together with his wife. His epitaph in Latin reads "Spernit Humum Fugiente Penna" (Severed from the earth with fleeting wing).
Career and Works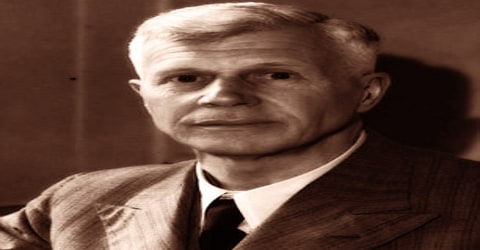 At the age of 17 Barnes Wallis leave school to start work in January 1905 at Thames Engineering Works at Blackheath, southeast London. He subsequently changed his apprenticeship to J. Samuel White's, the shipbuilders based at Cowes on the Isle of Wight. Wallis trained as a marine engineer before joining the airship (dirigible) department of Vickers Ltd. in 1913 as a designer. Eventually turning to aircraft, he employed his geodetic system in the Royal Air Force's (RAF's) Wellington bomber in World War II. His researches into detonation effects led to his inventing the rotating bouncing bomb that, when dropped from an aircraft, skipped over the water and exploded while sinking to the base of the retaining wall of a dam. This type of bomb, used during World War II by the RAF on the Möhne and Eder dams in Germany's industrial Ruhr area, produced heavy floods that slowed industrial production.
During 1920-30s Wallis was an active designer and designed many prominent aircraft models such as the R100 spaceship. His major breakthrough, however, came during World War II when he developed what came to be known as the "Bouncing Bomb". He also pioneered, along with John Edwin Temple, the use of light alloy and production engineering in the structural design of the R100. Nevil Shute Norway was the chief calculator for the project, responsible for calculating the stresses on the frame.
Meanwhile, in 1922, Wallis took a degree in engineering via the University of London External Programme. When World War I broke out, Wallis was briefly unemployed as Admiralty refused to expend money on airship development. He decided to serve the army but was recalled by Vicker's airship development team.
Barnes Wallis developed a special kind of bomb that would be powerful enough to break the concrete structure of the dams. It would have to be dropped from a very low height and once dropped, it was specially programmed to defuse only after sinking to a certain depth within the water and not on immediate contact with the surface. The testing phase was conducted using a swimming pool and a scaled down bomb. The next tests were secretly conducted at the beaches of Kent, which were initially unsuccessful. After some setbacks, it was deemed viable and granted final approval.
Wallis moved to the Vickers aircraft factory at Brooklands. Therein, his geodetic design was employed in all the pre-war aircraft designs of Wellesley, Wellington, and Warwick in fuselage and wing structure. When the Second World War broke out, Wallis was appointed as the assistant chief designer at Vicker's aviation section. He soon realized the need for the strategic bombing to cripple the enemy's ability to start the war. For the same, he penned a paper, 'A Note on a Method of Attacking Axis Power'.
Wallis produced not only the dambuster bombs but also the 12,000-pound "Tallboy" and the 22,000-pound "Grand Slam" bombs. He was also responsible for the bombs that destroyed the German warship Tirpitz, the V-rocket sites, and much of Germany's railway system. Wallis was chief of aeronautical research and development at the British Aircraft Corporation at Weybridge, Surrey, from 1945 to 1971.
Early in 1942, Wallis began experimenting with skipping marbles over water tanks in his garden, leading to his April 1942 paper "Spherical Bomb-Surface Torpedo". The idea was that a bomb could skip over the water surface, avoiding torpedo nets, and sink directly next to a battleship or dam wall as a depth charge, with the surrounding water concentrating the force of the explosion on the target.
The bomb was codenamed "Upkeep" and the mission itself was called the "Dambusters Raid". It took place on the night of 16th and 17th May 1943 and was conducted by a special squadron of the Royal Air Force. It caused massive damage to two dams and caused immense flooding in the area. Although industrial facilities were not as affected as anticipated by Wallis, and several of the bombers were lost, the mission has declared a success because of the panic it caused amongst the Germans and the confidence it brought to the Allied Forces. Some of his other prominent designs include the "Tallboy bomb" and the "Wellington bomber".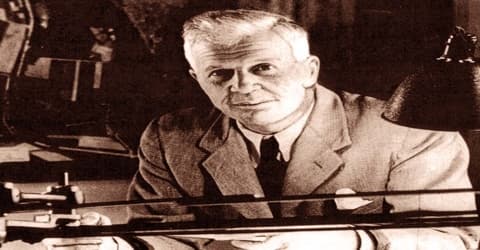 Following the success of the bouncing bomb, Wallis came up with 'Tallboy' and 'Grand Slam' bomb. While the former weighed 6 tonnes, the latter was 10 tonnes. They were used on strategic targets such as V-2 rocket launch sites, submarine pens, large civil constructions and the German battleship Tirpitz. At the end of Second World War, Wallis returned to Brooklands as Head of the Vickers-Armstrongs Research & Development Department. He dedicated his latter half of the career in designing futuristic aerospace projects such as swing-wing technology, supersonic flight and so on.
In the 1950s, Wallis developed an experimental rocket-propelled torpedo codenamed HEYDAY. It was powered by compressed air and hydrogen peroxide and had an unusual streamlined shape designed to maintain laminar flow over much of its length. He designed non-misting glassless mirror made out of non-flammable and unbreakable polyester. Tests were conducted from Portland Breakwater in Dorset. The only surviving example is on display in an Explosion! Museum of Naval Firepower at Gosport. He acted as a consultant for the building of the Parkes Radio Telescope in Australia, in 1955.
Barnes Wallis also proposed using large cargo submarines to transport oil and other goods, thus avoiding surface weather conditions, in the 1960s. He also proposed a novel hull structure which would have allowed greater depths to be reached, and the use of gas turbine engines in a submarine, using liquid oxygen. In the end, nothing came of Wallis's submarine ideas. During the 1960s and into his retirement, he developed ideas for an "all-speed" aircraft, capable of efficient flight at all speed ranges from subsonic to hypersonic. Wallis continued to innovate even after the end of the war, including a design for a mist proof glassless mirror.
In 1971 Wallis designed an aircraft that could fly five times the speed of sound and needed a runway only 300 yards (275 meters) long; however, it was never built.
Awards and Honor
Barnes Wallis became a Fellow of the Royal Society in 1945 and was knighted in 1968. Wallis also received an Honorary Doctorate from Heriot-Watt University in 1969.
Wallis was awarded the sum of £10,000 for his war work from the Royal Commission on Awards to Inventors.
Death and Legacy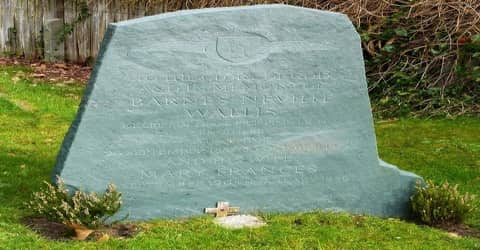 Barnes Wallis breathed his last on 30th October 1979, in Effingham, Surrey, England at the age of 92. He was buried at the local St Lawrence Church. Other than the official funeral, a memorial service was held in his honor a year after his death at St. Paul's Cathedral.
The highpoint of Wallis' career came with the invention of the bouncing bomb, named Upkeep, which was used by Royal Air Force, during the Dambuster raid of May 1943. Named Operation Chastise, Wallis' bouncing bomb was used to attack the dam of Mohne, Eder, and Sorpe in the Ruhr area during World War II. He believed that by breaching the dam wall they would destroy Nazi Germany's industrial base and thus disrupt the latter's war schemes.
His grief at the loss of so many airmen in the dams raid was such that Wallis donated the entire sum to his alma mater Christ's Hospital School in 1951 to allow them to set up the RAF Foundationers' Trust, allowing the children of RAF personnel killed or injured in action to attend the school.
For his remarkable contribution as an inventor and engineer, Barnes Wallis has been commemorated vastly. He has public houses named after him. Furthermore, a building in Nottingham Trent University bears his name. His statues, busts, and plaques adorn numerous sites across the globe. The Yorkshire Air Museum has a permanent display of the Dambusters raid. It comprises of a replica bouncing bomb and the catapult used to skim stones to test the bouncing bomb theory. To keep the visitors well-informed, a brief history of Wallis' work is also displayed. There are roads, drives, and squares named after Barnes Wallis. He has been the fictional character of several books. Interestingly, in golf, a shot that bounces over the surface of a water hazard has been named Barnes Wallis.
Information Source: