Anna Kournikova – Russian Former Professional Tennis Player
Full name: Anna Sergeyevna Kournikova
Native name: Анна Ку́рникова
Country (sports): Russia
Father: Sergei Kournikov
Mother: Alla
Residence: Miami Beach, Florida, U.S.
Date of birth: 7 June 1981 (age 35)
Place of birth: Moscow, Russian SFSR, Soviet Union
Height: 1.73 m (5 ft 8 in)
Turned pro: October 1995
Retired: May 2007
Plays: Right-handed (two-handed backhand)
Early Life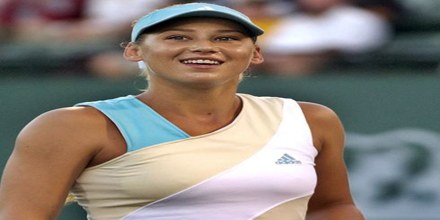 Anna Sergeyevna Kournikova was born on 7 June 1981, in Moscow, Russian SFSR, Soviet Union. She is a Russian former professional tennis player. She made her debut in professional tennis at the young age of 14, becoming the youngest ever player to participate and win the Fed Cup for Russia. This achiever made it to the U.S Open when she was only 15 year old and at 16 managed to reach up to the semi-finals of Wimbledon. Unfortunately, she had to retire from professional tennis at the age of 21 due to due to severe back problems. She, however, continues to play for charity matches and exhibition matches. After she retired from tennis, she pursued a brief stint in modelling; appeared in advertisements and even played a minor role in a film. She was also seen in the music video 'Escape' of Spanish singer and songwriter, Enrique Iglesias. She soon became one of the most highly searched celebrities on the internet. She was featured on 'People' magazine's list of '50 Most Beautiful People'.
She was a new trainer for season 12 of the television show The Biggest Loser, replacing Jillian Michaels, but did not return for season 13. In addition to her tennis and television work, Kournikova serves as a Global Ambassador for Population Services International's "Five & Alive" program, which addresses health crises facing children under the age of five and their families.
Childhood and Educational Life
Tennis player Anna Sergeyevna Kournikova was born on June 7, 1981, in Moscow, Russia. The daughter of Alla and Sergei Kournikov, Anna began playing tennis at age 5. In 1986, at the age of five she joined the Spartak Tennis Club, where she was coached by Larissa Preobrazhenskaya.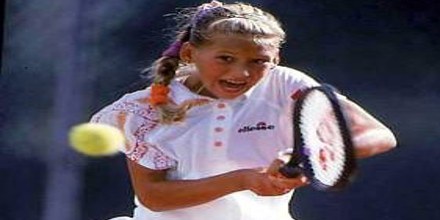 In 1989, at the age of eight, Kournikova began appearing in junior tournaments, and by the following year, was attracting attention from tennis scouts across the world. Kournikova signed a management deal at age ten and went to Bradenton, Florida, to train at Nick Bollettieri's celebrated tennis academy.
Kournikova subsequently won several international junior tennis tournaments, and was declared the ITF Junior World Champion in 1995.
Personal Life
She was romantically involved with the Russian ice Hockey player, Pavel Bure. It is believed that the two met in 1999. The following year, it was speculated that the couple was engaged but they denied it.
It was rumoured that she dated Russian ice hockey player Sergei Viktorovich Fedorov and the two were married in 2001 and divorced in 2003.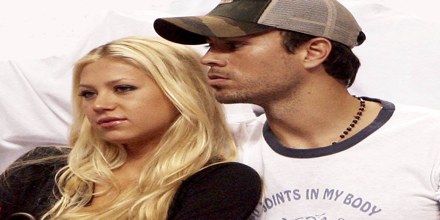 Kournikova started dating pop star Enrique Iglesias in late 2001 (she appeared in his video, "Escape"). Kournikova has consistently refused to directly confirm or deny the status of her personal relationships. In June 2008, Iglesias was quoted by the Daily Star as having married Kournikova the previous year and subsequently separated. The couple have invested in a $20 million home to be built on a private island in Miami.
Playing Career
She entered professional tennis at the age of 14, winning the Fed Cup for Russia – becoming the youngest player to do so. She also won European Championships and the Italian Open Junior tournament.
In 1994, Kournikova received a wild card into ITF tournament in Moscow qualifications, but lost to third seeded Sabine Appelmans. She debuted in professional tennis at 14 in the Fed Cup for Russia, the youngest player ever to participate and win.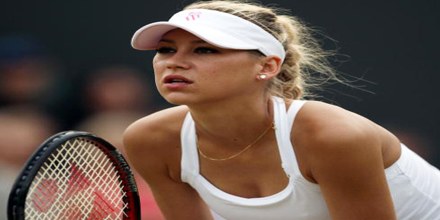 In 1995, she was a two time winner of the International Tennis Federation title. That year, she also made it to the doubles final at the Women's Tennis Association Tour at the Kremlin Cup.
In 1996, she made her grand slam debut at the US Open. The following year, she played the Australian Open, Italian Open, French Open and also made her Wimbledon debut, reaching the semi-finals.
In 1997, she played the US Open and lost against Irina Sprlea. The same year, she played the WTA Tour event, which was held at the Porsche Tennis Grand Prix in Filderstadt.
In 1998, she participated in the Australian Open and at that time she was ranked number 16 on the WTA's top 20. She lost against Martina Hingis, World Number one then. The same year, she lost in the second round at the Paris Open.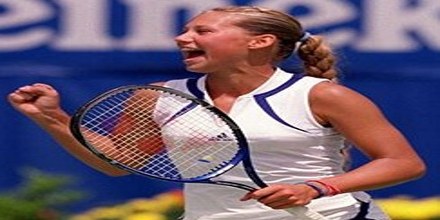 In the 1998 French Open she reached the fourth round, after which she lost to Jana Novotn. She also made it until the fourth round in the U.S Open, after which she lost to Arantxa Sanchez Vicario.
In 1999, she reached the World No 1 position in doubles. She reached the final round of the French Open that year and won the Grand Slam Doubles at the Australian Open.
However, although she showed flashes of brilliance against some of her top-ranked peers, Kournikova never won a WTA title. She reached the finals of four tournaments, and achieved a career-high ranking of No. 8 in 2000.
Kournikova opened her 2000 season winning the Gold Coast Open doubles tournament partnering with Julie Halard. She then reached the singles semi-finals at the Medibank International Sydney, losing to Lindsay Davenport. At the 2000 Australian Open, she reached the fourth round in singles and the semi-finals in doubles. That season, Kournikova reached eight semi-finals (Sydney, Scottsdale, Stanford, San Diego, Luxembourg, Leipzig and 2000 WTA Tour Championships), seven quarterfinals (Gold Coast, Tokyo, Amelia Island, Hamburg, Eastbourne, Zürich and Philadelphia) and one final.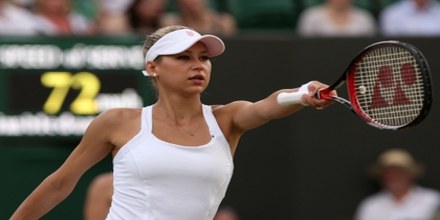 In 2001, she suffered from an injury in her left foot due to which could not play in more than twelve tournaments, which included the French Open and the Wimbledon. In 2001, she reached the second grand slam quarterfinals at the Australian Open. That season, she was ranked number 74 in singles and number 26 in doubles.
In 2002, she won the Grand Slam Doubles at the Australian Open along with her partner Martina Hingis. She also reached the semi-finals in the Wimbledon and reached the quarter-finals at the U.S Open.
In 2003, Anna Kournikova collected her first grand slam match victory in two years at the Australian Open. She defeated Henrieta Nagyová in the 1st round, and then lost to Justine Henin-Hardenne in the 2nd round. She did not compete for the rest of the season due to a continuing back injury. At the end of the 2003 season and her professional career, she was ranked No. 305 in singles and No. 176 in doubles.
In March 2004, she retired from professional tennis due to chronic lower back pain.
In January 2005, she played in a doubles charity event for the Indian Ocean tsunami with John McEnroe, Andy Roddick, and Chris Evert. In November 2005, she teamed up with Martina Hingis, playing against Lisa Raymond and Samantha Stosur in the WTT finals for charity. Kournikova is also a member of the St. Louis Aces in the World Team Tennis (WTT), playing doubles only.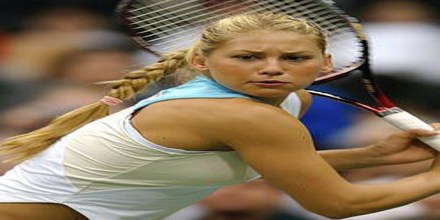 In 2008, she attended the Nautica Malibu Triathlon in order to raise money for children's hospitals in Los Angeles. That year, she also played exhibition charity matches in North Carolina. Later in 2008, she played to raise money for the Elton John AIDS Foundation and Atlanta AIDS Partnership Fund. The following year, she played at the 'legendary night' event match that was held in New York.
In June 2010, Kournikova reunited with her doubles partner Martina Hingis to participate in competitive tennis for the first time in seven years in the Invitational Ladies Doubles event at Wimbledon. On 29 June 2010 they defeated the British pair Samantha Smith and Anne Hobbs.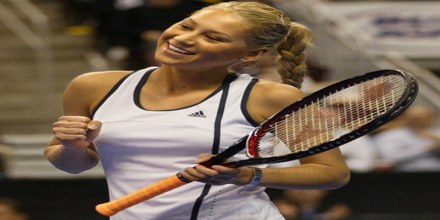 Kournikova plays right-handed with a two-handed backhand. She is a great player at the net. She can hit forceful groundstrokes and also drop shots. Her playing style fits the profile for a doubles player, and is complemented by her height. She has been compared to such doubles specialists as Pam Shriver and Peter Fleming.
Media Publicity
In 2000, Kournikova became the new face for Berlei's shock absorber sports bras, and appeared in the "only the ball should bounce" billboard campaign. Following that, she was cast by the Farrelly brothers for a minor role in the 2000 film Me, Myself & Irene starring Jim Carrey and Renée Zellweger. Photographs of her have appeared on covers of various publications, including men's magazines, such as one in the much-publicized 2004 Sports Illustrated Swimsuit Issue, where she posed in bikinis and swimsuits, as well as in FHM and Maxim. Kournikova was named one of People's 50 Most Beautiful People in 1998 and was voted "hottest female athlete" on ESPN.com. In 2002 she also placed first in FHM's 100 Sexiest Women in the World in US and UK editions. By contrast, ESPN—citing the degree of hype as compared to actual accomplishments as a singles player—ranked Kournikova 18th in its "25 Biggest Sports Flops of the Past 25 Years". Kournikova was also ranked No. 1 in the ESPN Classic series "Who's number 1?" when the series featured sport's most overrated athletes.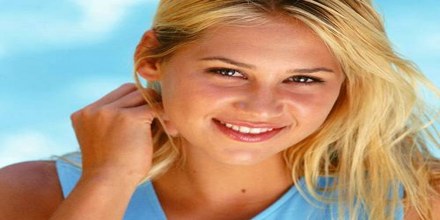 In October 2010, Kournikova headed to NBC's The Biggest Loser where she led the contestants in a tennis-workout challenge. In May 2011, it was announced that Kournikova would join The Biggest Loser as a regular celebrity trainer in season 12. She did not return for season 13.
In November 2010, she became an American citizen. In 2011, Men's Health named her one of the "100 Hottest Women of All-Time", ranking her at No. 29.
Awards and Honours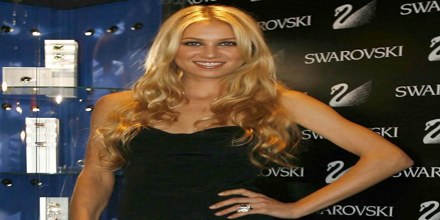 In 1996, she was awarded the WTA Newcomer of the Year award.
In 1999, along with her doubles partner, Martina Hingis, she was awarded the WTA Doubles Team of the Year award.