Biography of Richard Wagner
Richard Wagner – German composer.
Name: Wilhelm Richard Wagner
Date of Birth: May 22, 1813
Place of Birth: Leipzig, Germany
Date of Death: February 13, 1883
Place of Death: Ca' Vendramin Calergi
Occupation: Composer
Father: Carl Friedrich Wagner
Mother: Johanna Rosine
Spouse/Ex: Cosima Wagner (M. 1870–1883), Minna Planer (M. 1836–1866)
Children: Siegfried Wagner, Eva von Bülow, Isolde Beidler
Early Life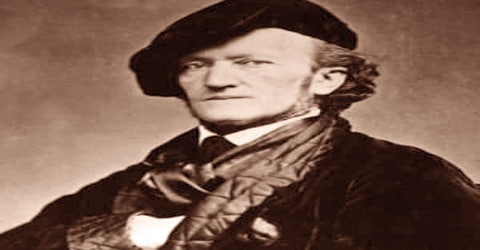 The German operatic composer Richard Wagner was born on May 22, 1813, to an ethnic German family in Leipzig, who lived at No 3, the Brühl (The House of the Red and White Lions) in the Jewish quarter. He was baptized at St. Thomas Church. Unlike most opera composers, Wagner wrote both the libretto and the music for each of his stage works. Initially establishing his reputation as a composer of works in the romantic vein of Carl Maria von Weber and Giacomo Meyerbeer, Wagner revolutionised opera through his concept of the Gesamtkunstwerk ("total work of art"), by which he sought to synthesize the poetic, visual, musical and dramatic arts, with music subsidiary to drama. He described this vision in a series of essays published between 1849 and 1852. Wagner realized these ideas most fully in the first half of the four-opera cycle Der Ring des Nibelungen (The Ring of the Nibelung).
Throughout his career, Wagner was met with oodles of controversies. His unabashed love affairs and polemic compositions gathered both admiration and antagonism. He composed verses against popular beliefs and had them performed at popular theatres. It was owing to his novel ideas that he brought creative finesse to complex 'music dramas' such as the 'Ring Cycle'. Unlike several other composers or theatrical directors of his time, Wagner not only wrote the libretto but also composed music for his shows. Towards the later part of his career, he further refined his works by directing and composing difficult orchestration. Yet, despite having such a promising career, his life was a struggle with creditors at his heel and numerous scandals clouding his name.
Wagner had his own opera house built, the Bayreuth Festspielhaus, which embodied many novel design features. The Ring and Parsifal were premiered here and his most important stage works continue to be performed at the annual Bayreuth Festival, run by his descendants. His thoughts on the relative contributions of music and drama in opera were to change again, and he reintroduced some traditional forms into his last few stage works, including Die Meistersinger von Nürnberg (The Mastersingers of Nuremberg).
He was one of the most important figures of nineteenth-century music. Wagner was also a crucial figure in nineteenth-century cultural history for both his criticism and polemical writing, or writing that attacks established beliefs. Until his final years, Wagner's life was characterized by political exile, turbulent love affairs, poverty and repeated flight from his creditors. His controversial writings on music, drama, and politics have attracted extensive comment, notably, since the late 20th century, where they express antisemitic sentiments. The effect of his ideas can be traced in many of the arts throughout the 20th century; his influence spread beyond composition into conducting, philosophy, literature, the visual arts, and theatre.
Among his major works are The Flying Dutchman (1843), Tannhäuser (1845), Lohengrin (1850), Tristan und Isolde (1865), Parsifal (1882), and his great tetralogy, The Ring of the Nibelung (1869–76).
Childhood, Family and Educational Life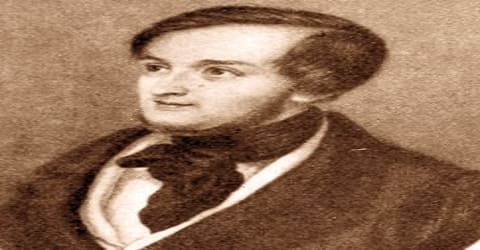 Richard Wagner, in full Wilhelm Richard Wagner, was born on 22 May 1813 in Leipzig, Germany, to a baker's daughter, Johanna Rosine and her husband Carl Friedrich Wagner, a clerk in the police service who died of typhus six months after Richard's birth. He was the 9th child of his parents. After Carl's death, his mother moved along with her children to live with a friend of her deceased husband, Ludwig Geyer in Dresden.
Afterward his mother Johanna lived with Carl's friend, the actor and playwright Ludwig Geyer. In August 1814 Johanna and Geyer probably married although no documentation of this has been found in the Leipzig church registers. She and her family moved to Geyer's residence in Dresden. Until he was fourteen, Wagner was known as Wilhelm Richard Geyer. He almost certainly thought that Geyer was his biological father.
Ludwig Geyer had a mighty influence on his life. Geyer was a painter, actor, and poet and it was through him that Wagner experienced theatre. Not only his step-father but his biological sisters were also opera singers and thus, a new passion was born in him that led him to opera and dramatization.
In late 1820, Wagner was enrolled at Pastor Wetzel's school at Possendorf, near Dresden, where he received some piano instruction from his Latin teacher. He struggled to play a proper scale at the keyboard and preferred playing theatre overtures by ear. Following Geyer's death in 1821, Richard was sent to the Kreuzschule, the boarding school of the Dresdner Kreuzchor, at the expense of Geyer's brother. At the age of nine, he was hugely impressed by the Gothic elements of Carl Maria von Weber's opera Der Freischütz, which he saw Weber conduct.
As a child, Wagner showed little talent or interest in anything except for writing poetry. Wagner's musical training was largely left to chance until he was eighteen when he studied with Theodor Weinlig in Leipzig, Germany, for a year. He began his career in 1833 as choral director in Würzburg and composed his early works in imitation of German romantic compositions. Ludwig van Beethoven (1770–1827) was his major idol at this time.
In 1831, Wagner enrolled at the Leipzig University, where he became a member of the Saxon student fraternity. He took composition lessons with the Thomaskantor Theodor Weinlig. Weinlig was so impressed with Wagner's musical ability that he refused any payment for his lessons. He arranged for his pupil's Piano Sonata in B-flat major (which was consequently dedicated to him) to be published as Wagner's Op. 1.
Personal Life
Richard Wagner had fallen for one of the leading ladies at Magdeburg, the actress Christine Wilhelmine "Minna" Planer and after the disaster of Das Liebesverbot, he followed her to Königsberg, where she helped him to get an engagement at the theatre. The two married in Tragheim Church on 24 November 1836. In May 1837, Minna left Wagner for another man, and this was but only the first débâcle of a tempestuous marriage.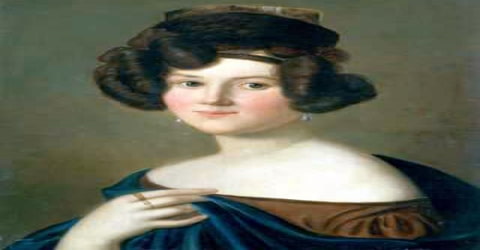 (Wilhelmine Minna Planer)
In June 1837, Wagner moved to Riga (then in the Russian Empire), where he became music director of the local opera; having in this capacity engaged Minna's sister Amalie (also a singer) for the theatre, he presently resumed relations with Minna during 1838. Minna had died of a heart attack on 25 January 1866 in Dresden. Wagner did not attend the funeral.
Cosima was 24 years younger than Wagner and was herself illegitimate, the daughter of the Countess Marie d'Agoult, who had left her husband for Franz Liszt. She had given birth in April that year to a daughter, named Isolde, a child not of Bülow but of Wagner.
Following Minna's death, Cosima wrote to Hans von Bülow on a number of occasions asking him to grant her a divorce, but Bülow refused to concede this. He only consented after she had two more children with Wagner; another daughter, named Eva, after the heroine of Meistersinger, and a son Siegfried, named for the hero of the Ring. The divorce was finally sanctioned, after delays in the legal process, by a Berlin court on 18 July 1870. Richard and Cosima's wedding took place on 25 August 1870. On Christmas Day of that year, Wagner arranged a surprise performance (its premiere) of the Siegfried Idyll for Cosima's birthday. The marriage to Cosima lasted to the end of Wagner's life.
Career and Works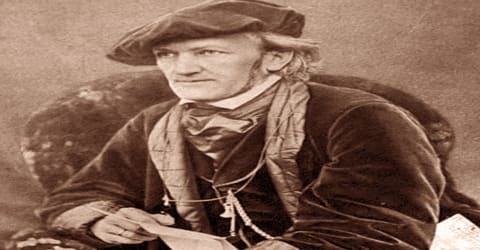 In 1832 Wagner composed his Symphony in C major, a Beethovenesque work performed in Prague in 1832 and at the Leipzig Gewandhaus in 1833. He then began to work on an opera, Die Hochzeit (The Wedding), which he never completed.
Richard Wagner wrote his first opera, Die Feen (The Fairies), in 1833, but it was not produced until after the composer's death. He was music director of the theater in Magdeburg from 1834 to 1836, where his next work, Das Liebesverbot (Forbidden Love), loosely based on William Shakespeare's (1564–1616) Measure for Measure was performed in 1836. That year he married Minna Planner, a singer-actress active in local theatrical life.
However, Wagner couldn't stage his first opera. In order to attain professional growth, in 1834 he became a musical director at the opera house in Magdeburg. It was during this time that he wrote 'Das Liebesverbot' or 'The Ban on Love', a piece similar to Shakespeare's 'Measure for Measure', that was staged in 1836 at Magdeburg theatre itself. Nonetheless, it was only performed once; curtains were drawn on the second show as the theatre shut down, which left him reeling from financial losses.
In June 1837, Wagner moved to Riga (then in the Russian Empire), where he became music director of the local opera; having in this capacity engaged Minna's sister Amalie (also a singer) for the theatre, he presently resumed relations with Minna during 1838. He then set out for Paris, France, where he hoped to make his fortune. While in Paris, he developed an intense hatred for French musical culture that lasted the remainder of his life, regardless of how often he attempted to have a Parisian success. It was at this time that Wagner, in financial desperation, sold the scenario for Der fliegende Holländer (The Flying Dutchman) to the Paris Opéra for use by another composer. Wagner later set to music another version of this tale.
The Wagners settled in Paris in September 1839 and stayed there until 1842. Wagner made a scant living by writing articles and short novelettes such as A pilgrimage to Beethoven, which sketched his growing concept of "music drama", and An end in Paris, where he depicts his own miseries as a German musician in the French metropolis. He also provided arrangements of operas by other composers, largely on behalf of the Schlesinger publishing house. During this stay, he completed his third and fourth operas Rienzi and Der fliegende Holländer.
By 1840, Richard Wagner had completed his opera 'Rienzi.' He then returned to Germany, settling in Dresden in 1842, where he was in charge of the music for the court chapel. Rienzi, a grand opera in imitation of the French style, enjoyed a modest success. In 1845 Tannhäuser premiered in Dresden and proved the first undoubted success of Wagner's career. In November of the same year, he finished the poem for Lohengrin and began composition early in 1846. While at work on Lohengrin he also made plans for his tetralogy (a series of four dramas), Der Ring des Nibelungen (The Ring of the Nibelungen), being captivated by Norse sagas. In 1845 he prepared the scenario for the first drama of the tetralogy to be written, Siegfried's Tod (Siegfried's Death), which later became Die Götterdämmerung (The Twilight of the Gods).
Wagner had completed Rienzi in 1840. With the strong support of Giacomo Meyerbeer, it was accepted for performance by the Dresden Court Theatre (Hofoper) in the Kingdom of Saxony and in 1842, Wagner moved to Dresden. His relief at returning to Germany was recorded in his "Autobiographic Sketch" of 1842, where he wrote that, en route from Paris, "For the first time I saw the Rhine with hot tears in my eyes, I, poor artist, swore eternal fidelity to my German fatherland." Rienzi was staged to considerable acclaim on 20 October.
The next year The Flying Dutchman (produced at Dresden, January 2, 1843) was less successful, since the audience expected work in the French-Italian tradition similar to Rienzi and was puzzled by the innovative way the new opera integrated the music with the dramatic content. But Wagner was appointed conductor of the court opera, a post that he held until 1849. On October 19, 1845, Tannhäuser (based, like all his future works, on Germanic legends) was coolly received but soon proved a steady attraction; after this, each new work achieved public popularity despite persistent hostility from many critics.
In 1846, Wagner had already completed half of his poem, 'Lohengrin' after which the inception of his most revered work in opera history the 'Der Ring des Nibelugen' that spanned four dramas ultimately dawned on him.
Wagner had to flee Dresden in 1849 in the aftermath of the Revolution of 1848, which resulted in an unsuccessful uprising against the German monarchy or king. He settled in Switzerland, first in Zurich and then near Lucerne. He remained in Switzerland for the most part for the next fifteen years without steady employment, banished from Germany and forbidden access to German theatrical life. During this time he worked on the Ring this dominated his creative life over the next two decades. He wrote a number of articles advocating revolution and took an active part in the Dresden uprising of 1849. When the uprising failed, a warrant was issued for his arrest and he fled from Germany, unable to attend the first performance of Lohengrin at Weimar, given by his friend Franz Liszt on August 28, 1850.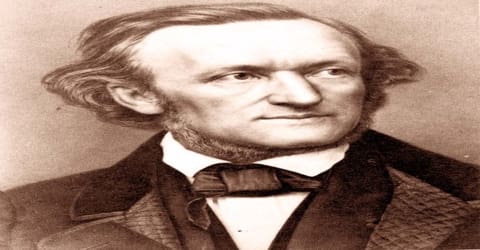 Wagner's primary published output during his first years in Zürich was a set of essays. In "The Artwork of the Future" (1849), he described a vision of opera as Gesamtkunstwerk ("total work of art"), in which the various arts such as music, song, dance, poetry, visual arts, and stagecraft were unified. "Judaism in Music" (1850) was the first of Wagner's writings to feature antisemitic views. In this polemic Wagner argued, frequently using traditional antisemitic abuse, that Jews had no connection to the German spirit, and were thus capable of producing only shallow and artificial music. According to him, they composed music to achieve popularity and, thereby, financial success, as opposed to creating genuine works of art.
From 1849 to 1852 Wagner produced his basic prose works: Die Kunst und die Revolution (Art and Revolution), Das Kunstwerk der Zukunft (The Art Work of the Future), Eine Mitteilung an meine Freunde (A Communication to My Friends), and Oper und Drama (Opera and Drama). The latter outlined a new, revolutionary type of musical stage work—the vast work, in fact, on which he was engaged. By 1852 he had added to the poem of Siegfrieds Tod three others to precede it, the whole being called Der Ring des Nibelungen (The Ring of the Nibelung) and providing the basis for a tetralogy of musical dramas: Das Rheingold (The Rhine Gold); Die Walküre (The Valkyrie); Der Junge Siegfried (Young Siegfried), later called simply Siegfried; and Siegfrieds Tod (Siegfried's Death), later called Götterdämmerung (The Twilight of the Gods).
Wagner began composing the music for Das Rheingold between November 1853 and September 1854, following it immediately with Die Walküre (written between June 1854 and March 1856). He began work on the third Ring opera, which he now called simply Siegfried, probably in September 1856, but by June 1857 he had completed only the first two acts. He decided to put the work aside to concentrate on a new idea: Tristan und Isolde, based on the Arthurian love story Tristan and Iseult. In 1857 he finished the composition of Act II of Siegfried and gave himself over entirely to Tristan. This work was completed in 1859, but it was mounted in Munich only in 1865.
In 1865, after toilsome rehearsals, 'Tristan und Isolde' was performed at the National Munich Theatre. The opera was titled after Wagner's alleged daughter, Isolde, who was born to Cosima, the wife of Hans von Bulow. Learning of this development, King Ludwig II was disappointed and had the composer removed from Munich.
The king set him up in a villa, and during the next six years there were successful Munich productions of all of Wagner's representative works to date, including the first performances of Tristan (1865), Die Meistersinger (1868), Das Rhinegold (1869), and Die Walküre (1870)— the first two directed by the great Wagner conductor Hans von Bülow.
In 1860 Wagner received permission to reenter Germany except for Saxony, an area in eastern Germany. He was granted full amnesty (political freedom) in 1862. That year he began the music for Die Meistersinger von Nürnberg (The Mastersingers of Nuremburg), which he had first thought of in 1845. The Meistersinger was completed in 1867; the first performance took place in Munich the following year. Only then did he pick up the threads of the Ring and resume work on Act III of Siegfried, which was finished in September 1869, a month that also saw the first performance of the Rheingold. He wrote the music for Götterdämmerung from 1869 to 1874.
In 1876, the complete 'Ring Cycle' which included 'Rheingold', 'Walkure', 'Siengfried' and 'Götterdämmerung' was premiered at 'Festspielhaus' an opera house Wagner had built for himself at Bayreuth, and in 1882, he wrote his last drama 'Parsifal'.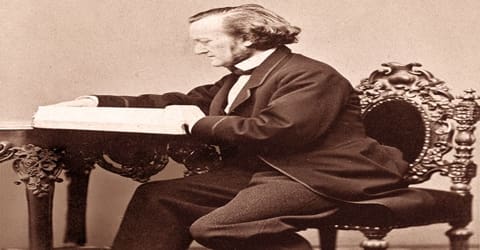 Wagner completed Parsifal in January 1882, and a second Bayreuth Festival was held for the new opera, which premiered on 26 May. Wagner was by this time extremely ill, having suffered a series of increasingly severe angina attacks. During the sixteenth and final performance of Parsifal on 29 August, he entered the pit unseen during act 3, took the baton from conductor Hermann Levi, and led the performance to its conclusion.
Evidence indicates that Adolf Hitler had been an ardent Wagner fan; he often listened to his compositions and even played them at the Dachau concentration camp in order to educate the captives.
Wagner's musical output is listed by the Wagner-Werk-Verzeichnis (WWV) as comprising 113 works, including fragments and projects. The first complete scholarly edition of his musical works in print was commenced in 1970 under the aegis of the Bavarian Academy of Fine Arts and the Akademie der Wissenschaften und der Literatur of Mainz and is presently under the editorship of Egon Voss. It will consist of 21 volumes (57 books) of music and 10 volumes (13 books) of relevant documents and texts. As of October 2017, three volumes remain to be published. The publisher is Schott Music.
Death and Legacy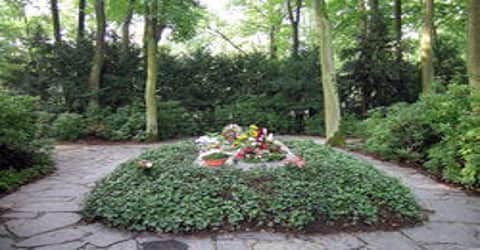 Richard Wagner died of a heart attack at the age of 69 on February 13, 1883, in Venice, Italy, and was buried at Bayreuth. He was on a holiday in Venice with his wife Cosima and his children.
Wagner's single-handed creation of his own type of musical drama was a fantastic accomplishment, considering the scale and scope of his art. His method was to condense the confused mass of material at his disposal the innumerable conflicting versions of the legend chosen as a basis into a taut dramatic scheme. In this scheme, as in his model, the Oresteia of Aeschylus, the stage events are few but crucial, the main part of the action being devoted to the working out of the characters' motivations.
Richard Wagner's best-known work was 'The Ring Cycle' a cycle of four epic music dramas that was considered decades ahead of its time. He wrote the libretto and music over the course of several years, from 1848 to 1874. Such portrayal of drama hadn't hit Western entertainment until then, as composers and directors hadn't thought of including sequels to their operas. Some of his other successes were, 'Tannhauser' and 'Lohengrin'. He also wrote a series of essays in 1849-52.
Information Source: