Biography of Frank Sinatra
Frank Sinatra – American singer, actor, and producer.
Name: Francis Albert Sinatra
Date of Birth: December 12, 1915
Place of Birth: Hoboken, New Jersey, United States
Date of Death: May 14, 1998
Place of Death: Cedars-Sinai Medical Center, Los Angeles, California, United States
Occupation: Singer, Actor, Producer
Father: Antonino Martino Sinatra
Mother: Natalie Della (Garaventa)
Spouse/Ex: Ava Gardner (M. 1951–1957), Barbara Sinatra (M. 1976–1998), Mia Farrow (M. 1966–1968), Nancy Barbato (M. 1939–1951)
Children: Nancy (born 1940), Frank Jr. (1944–2016), and Tina (born 1948)
Early Life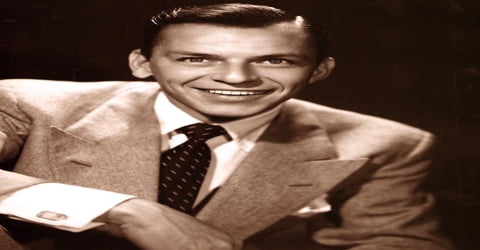 One of the most popular singers in American history, Frank Sinatra was born on December 12, 1915, in an upstairs tenement at 415 Monroe Street in Hoboken, New Jersey. He was an American singer and motion-picture actor who, through a long career and a very public personal life, became one of the most sought-after performers in the entertainment industry; he is often hailed as the greatest American singer of 20th-century popular music.
Frank is one of the best-selling music artists of all time, having sold more than 150 million records worldwide. Born in Hoboken, New Jersey, to Italian Americans, Sinatra began his musical career in the swing era with bandleaders Harry James and Tommy Dorsey. Sinatra found success as a solo artist after he signed with Columbia Records in 1943, becoming the idol of the "bobby soxers". He released his debut album, The Voice of Frank Sinatra, in 1946. Sinatra's professional career had stalled by the early 1950s, and he turned to Las Vegas, where he became one of its best-known residency performers as part of the Rat Pack. His career was reborn in 1953 with the success of From Here to Eternity, with his performance subsequently winning an Academy Award and Golden Globe Award for Best Supporting Actor. Sinatra released several critically lauded albums, including In the Wee Small Hours (1955), Songs for Swingin' Lovers! (1956), Come Fly with Me (1958), Only the Lonely (1958) and Nice 'n' Easy (1960).
In the '40s and '50s, he had a dazzling array of hit songs and albums and went on to appear in dozens of films, winning a supporting actor Oscar for From Here to Eternity. He left behind a massive catalog of work that includes iconic tunes like "Love and Marriage," "Strangers in the Night," "My Way" and "New York, New York."
Frank Sinatra forged a highly successful career as a film actor. After winning an Academy Award for From Here to Eternity, he starred in The Man with the Golden Arm (1955) and received critical acclaim for his performance in The Manchurian Candidate (1962). He appeared in various musicals such as On the Town (1949), Guys and Dolls (1955), High Society (1956), and Pal Joey (1957), winning another Golden Globe for the latter. Toward the end of his career, he became associated with playing detectives, including the title character in Tony Rome (1967). Sinatra would later receive the Golden Globe Cecil B. DeMille Award in 1971. On television, The Frank Sinatra Show began on ABC in 1950, and he continued to make appearances on television throughout the 1950s and 1960s. Sinatra was also heavily involved with politics from the mid-1940s and actively campaigned for presidents such as Harry S. Truman, John F. Kennedy, and Ronald Reagan. In crime, the FBI investigated Sinatra and his alleged relationship with the Mafia.
Having entered show business during the 1930s, he gave his last performance in the 1990s! Over his incredibly long career, he has entertained several generations of music lovers and cinema-goers with his melodious voice, acting skills, and charismatic personality. From a young age, little Frank knew that he was meant to be a singer. While in high school he was unruly and rowdy and dropped out without graduating. A big fan of Bing Crosby, he had started singing for tips as a child and became a professional in his teens. After playing with some bands he launched his solo career and found great success which prompted him to venture into films. There too he was successful though success did not come easily to him. He experienced his share of difficulties though he always managed to bounce back. Being both a popular singer and a critically acclaimed actor greatly added to his mass appeal and he is considered to be one of the greatest entertainers in American history.
Childhood, Family and Educational Life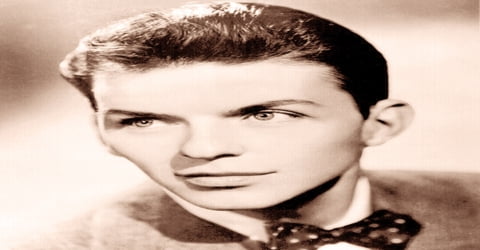 Frank Sinatra, in full Francis Albert Sinatra, was born in Hoboken, New Jersey, on December 12, 1915, the only child of Italian immigrants Martin and Natalie "Dolly" Sinatra. His father was a fire-fighter for the city of Hoboken and his mother was an amateur singer who often sang at social events. Sinatra weighed 13.5 pounds (6.1 kg) at birth and had to be delivered with the aid of forceps, which caused severe scarring to his left cheek, neck, and ear, and perforated his eardrum, damage that remained for life. Due to his injuries at birth, his baptism at St. Francis Church in Hoboken was delayed until April 2, 1916. A childhood operation on his mastoid bone left major scarring on his neck, and during adolescence, he suffered from cystic acne that further scarred his face and neck. Sinatra was raised Roman Catholic.
Sinatra lived in a mainly Italian American working-class neighborhood. His first experience with music came when his uncle gave him a ukulele, and on hot summer nights, he loved to go outside and sing while playing the instrument. His other interest was boxing. To protect himself in the tough neighborhood he grew up in, he became a competent boxer. In high school, he was a generous but pugnacious (likely to fight) individual the traits he would carry with him throughout his life.
Sinatra did not attend high school for long. He was a rowdy teenager and was expelled from school. He always loved music and knew that he wanted to be a singer. He became a professional singer when he was just in his teens.
He'd already been a member of the glee club in his high school and began to sing at local nightclubs. Radio exposure brought him to the attention of bandleader Harry James, with whom Sinatra made his first recordings, including "All or Nothing at All." In 1940, Tommy Dorsey invited Sinatra to join his band. After two years of chart-topping success with Dorsey, Sinatra decided to strike out on his own.
Sinatra performed in local Hoboken social clubs such as The Cat's Meow and The Comedy Club and sang for free on radio stations such as WAAT in Jersey City. In New York, Sinatra found jobs singing for his supper or for cigarettes. To improve his speech, he began taking elocution lessons for a dollar each from vocal coach John Quinlan, who was one of the first people to notice his impressive vocal range.
Personal Life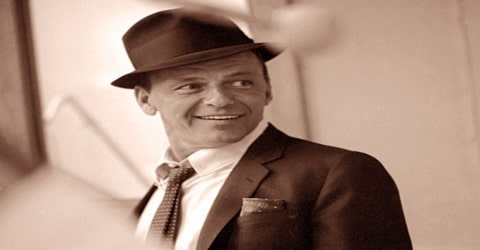 Frank Sinatra was married four times. He had three children, Nancy (born 1940), Frank Jr. (1944–2016), and Tina (born 1948) with his first wife Nancy Barbato to whom he was married from 1939 to 1951. Sinatra had met Barbato in Long Branch, New Jersey in the late 1930s, where he spent most of the summer working as a lifeguard. He agreed to marry her after an incident at "The Rustic Cabin" which led to his arrest. Sinatra had numerous extramarital affairs, and gossip magazines published details of affairs with women including Marilyn Maxwell, Lana Turner, and Joi Lansing.
Sinatra was married to Hollywood actress Ava Gardner from 1951 to 1957. It was a turbulent marriage with many well-publicized fights and altercations. The couple formally announced their separation on October 29, 1953, through MGM. Gardner filed for divorce in June 1954, at a time when she was dating matador Luis Miguel Dominguín, but the divorce was not settled until 1957. Sinatra continued to feel very strongly for her, and they remained friends for life. He was still dealing with her finances in 1976.
Sinatra reportedly broke off engagements to Lauren Bacall in 1958 and Juliet Prowse in 1962. He married Mia Farrow on July 19, 1966, a short marriage that ended with divorce in Mexico in August 1968. They remained close friends for life, and in a 2013 interview, Farrow said that Sinatra might be the father of her son Ronan Farrow (born 1987). In a 2015 CBS Sunday Morning interview, Nancy Sinatra dismissed the claim as "nonsense".
His final marriage was to Barbara Marx on July 11, 1976, at Sunnylands, in Rancho Mirage, California, and the estate of media magnate Walter Annenberg. The couple remained together until his death.
In his spare time, he enjoyed listening to classical music and attended concerts when he could. He swam daily in the Pacific Ocean, finding it to be therapeutic and giving him much-needed solitude. He often played golf with Venturi at the course in Palm Springs, where he lived, and liked painting, reading, and building model railways.
Career and Works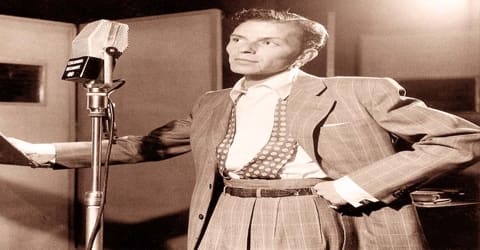 Frank Sinatra got his first big break on the radio talent show Major Bowes and his Amateur Hour in 1935, singing in a group called the Hoboken Four. At this time Sinatra sang in various New Jersey nightclubs, hoping to attract the attention of "Swing Era" bandleaders. In 1938, Sinatra found employment as a singing waiter at a roadhouse called "The Rustic Cabin" in Englewood Cliffs, New Jersey, for which he was paid $15 a week. The roadhouse was connected to the WNEW radio station in New York City, and he began performing with a group live during the Dance Parade show. Despite the low salary, Sinatra felt that this was the break he was looking for, and boasted to friends that he was going to "become so big that no one could ever touch him".
In 1939, Sinatra began working on radio station WNEW in New York City with bandleader Harry James for $75 per week. It was with the James band that Sinatra released his first commercial record "From the Bottom of My Heart" in July. No more than 8,000 copies of the record were sold, and further records released with James through 1939, such as "All or Nothing At All", also had weak sales on their initial release. Thanks to his vocal training, Sinatra could now sing two tones higher, and developed a repertoire which included songs such as "My Buddy", "Willow Weep for Me", "It's Funny to Everyone But Me", "Here Comes the Night", "On a Little Street in Singapore", "Ciribiribin", and "Every Day of My Life".
His pianist and close friend Hank Sanicola persuaded him to stay with the group, but in November 1939 he left James to replace Jack Leonard as the lead singer of the Tommy Dorsey band. Sinatra signed a contract with Dorsey for $125 a week at Palmer House in Chicago, and James agreed amicably to release Sinatra from his contract. On January 26, 1940, he made his first public appearance with the band at the Coronado Theatre in Rockford, Illinois, opening the show with "Stardust".
During the late 1930s, Sinatra joined Tommy Dorsey and his orchestra which gave a big boost to his career. Soon Sinatra became a very popular singer because of his association with Dorsey though the relationship between the two men soured. He left the band in 1942. During that time, Sinatra performed with the band in his first two movies— Las Vegas Nights (1941) and Ship Ahoy (1942). He began his solo career at the end of 1942 and continued his meteoric (speedy and brilliant) rise.
Between 1943 and 1946, Sinatra's solo career blossomed as the singer charted a slew of hit singles. The mobs of bobbysoxer fans Sinatra attracted with his dreamy baritone earned him such nicknames as "The Voice" and "The Sultan of Swoon." "It was the war years, and there was great loneliness," recalled Sinatra, who was unfit for military service due to a punctured eardrum. "I was the boy in every corner drugstore who'd gone off, drafted to the war. That was all." Sinatra made his movie acting debut in 1943 with the films Reveille With Beverley and Higher and Higher.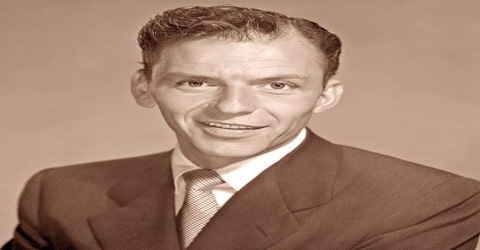 Sinatra signed with Columbia Records as a solo artist on June 1, 1943, during the 1942–44 musicians' strike. Columbia Records re-released Harry James and Sinatra's August 1939 version of "All or Nothing at All", which reached number 2 on June 2 and was on the best-selling list for 18 weeks. He initially had great success and performed on the radio on Your Hit Parade from February 1943 until December 1944, and on stage. Columbia wanted new recordings of their growing star as quickly as possible, so Alec Wilder was hired as an arranger and conductor for several sessions with a vocal group called the Bobby Tucker Singers. These first sessions were on June 7, June 22, August 5, and November 10, 1943. Of the nine songs recorded during these sessions, seven charted on the best-selling list. That year he also made his first solo nightclub appearance at New York's Riobamba, and a successful concert in the Wedgewood Room of the prestigious Waldorf-Astoria New York that year secured his popularity in New York high society. Sinatra released "You'll Never Know", "Close to You", "Sunday, Monday, or Always" and "People Will Say We're in Love" as singles. By the end of 1943, he was more popular in a DownBeat poll than Bing Crosby, Perry Como, Bob Eberly, and Dick Haymes.
Though Sinatra was exempted from military service in World War II because of a damaged eardrum, he helped the war effort with his appearances in movies and benefits for soldiers. He was also an outspoken supporter of Franklin D. Roosevelt (1882–1945) and liberal viewpoints, including racial and religious tolerance. He made many appearances to support charities. His wide-shouldered suits and his bow ties were imitated by many men, but his most ardent followers were teenaged girls, nicknamed "bobbysoxers" for the ankle-high socks they wore. His widespread appeal was further fueled by America's explosive mass media growth in newspapers, magazines, films, record players, and radio stations. Sinatra was the first singer to attract the kind of near hysteria that would later accompany live appearances by Elvis Presley (1935– 1977) and the Beatles.
In 1944 Sinatra released "I Couldn't Sleep a Wink Last Night" as a single and recorded his own version of Crosby's "White Christmas", and the following year he released "I Dream of You (More Than You Dream I Do)", "Saturday Night (Is the Loneliest Night of the Week)", "Dream", and "Nancy (with the Laughing Face)" as singles.
In 1946, he released his first studio album, 'The Voice of Frank Sinatra' which peaked at No. 1 on the Billboard chart and retained its position for the next seven weeks! Over the next few years, he released 'Songs by Sinatra' (1947), 'Christmas Songs by Sinatra' (1948), 'Frankly Sentimental' (1949) and 'Dedicated to You' (1950). However, none of these albums was as successful as the first one.
Sinatra's success continued unabated until about 1948. In later years, he speculated that his sudden drop in popularity was because of his reluctance to change styles and evolve musically. He also garnered a great deal of negative press throughout 1947–48. It was about this time that the public first read reports of his friendships with organized-crime figures, and newspaper accounts were published of Sinatra cavorting in Cuba with the likes of Lucky Luciano and Joe Fischetti, a prominent mob figure. There was also the widely reported incident, and resulting lawsuit, in which Sinatra punched gossip columnist Lee Mortimer, an action for which Sinatra received some vindication in later years when it was revealed that Mortimer had collaborated with the FBI to discredit Sinatra. Whatever the cause, Sinatra began a five-year period of professional decline and personal depression. Years of singing as many as 100 songs per day had taken its toll, and he lost his voice completely for several months in 1950 because of vocal-chord hemorrhaging.
Sinatra's popularity began to slide in the postwar years, however, leading to a loss of his recording and film contracts in the early 1950s. But in 1953, he made a triumphant comeback, winning a supporting actor Oscar for his portrayal of the Italian-American soldier Maggio in the classic From Here to Eternity. Although this was his first non-singing role, Sinatra quickly found a new vocal outlet when he received a recording contract with Capitol Records in the same year. The Sinatra of the 1950s brought forth a more mature sound with jazzier inflections in his voice.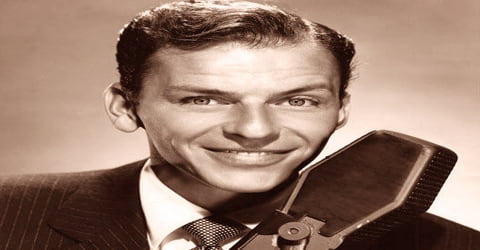 On October 4, 1953, Sinatra made his first performance at the Sands Hotel and Casino, after an invitation by the manager Jack Entratter, who had previously worked at the Copa in New York. Sinatra typically performed there three times a year and later acquired a share in the hotel. By April 1952 he was performing at the Kauai County Fair in Hawaii. Sinatra's relationship with Columbia Records was also disintegrating, with A&R executive Mitch Miller claiming he "couldn't give away" the singer's records. Though several notable recordings were made during this time period, such as "If I Could Write a Book" in January 1952, which Granata sees as a "turning point", forecasting his later work with its sensitivity, Columbia and MCA dropped him later that year. His last studio recording for Columbia, "Why Try To Change Me Now", was recorded in New York on September 17, 1952, with orchestra arranged and conducted by Percy Faith. Journalist Burt Boyar observed, "Sinatra had had it. It was sad. From the top to the bottom in one horrible lesson."
Sinatra ventured into Hollywood as an actor during 1940s and in 1953 the film 'From Here to Eternity' was released. The story revolved around three soldiers stationed on Hawaii in the months leading up to the attack on Pearl Harbor. It was a super hit. He appeared in nine films in just two years, including Guys and Dolls (1955), Young At Heart (1955), The Tender Trap (1955), The Man With the Golden Arm (1955), and High Society (1956). Sinatra was back on the record charts as well with "Young at Heart." Nelson Riddle became his musical arranger in the 1950s, and he helped Sinatra stay on the record charts throughout the rest of the decade. (In fact, Sinatra stayed on the charts steadily through 1967, in spite of rock and roll.) Sinatra did not just record singles. He recorded albums around a central theme with a large collection of songs or ballads. From 1957 through 1966 he had twenty-seven Top Ten albums without producing one Top Ten single.
Having regained stardom, Sinatra enjoyed continued success in both movies and music for years to come. He received another Academy Award nomination for his work in The Man with the Golden Arm (1955) and earned critical acclaim for his performance in the original version of The Manchurian Candidate (1962). Meanwhile, he continued to be a formidable chart presence. When his record sales began to dip by the end of the 1950s, Sinatra left Capitol to establish his own record label, Reprise. In association with Warner Bros., which later bought Reprise, Sinatra also set up his own independent film production company, Artanis.
In 1960 his album 'Nice 'n' Easy' was released. It reached the No. 1 spot on the Billboard chart where it spent nine weeks. It was nominated for the Grammy Award as Album of the Year, Best Male Vocal Performance, and Best Arrangement. He acted in the World War II adventure film 'Von Ryan's Express' in 1965 which was about a group of Allied prisoners who attempt a daring mass escape after Italy's armistice with the Allies in September 1943.
By the mid-1960s, Sinatra was back on top again. He received a Grammy Lifetime Achievement Award and headlined the 1965 Newport Jazz Festival with Count Basie's Orchestra. This period also marked his Las Vegas debut, where he continued on for years as the main attraction at Caesars Palace. As a founding member of the "Rat Pack," alongside Sammy Davis Jr., Dean Martin, Peter Lawford, and Joey Bishop, Sinatra came to epitomize the hard-drinking, womanizing, gambling swinger an image constantly reinforced by the popular press and Sinatra's own albums. With his modern edge and timeless class, even radical youth of the day had to pay Sinatra his due. As Jim Morrison of the Doors once said, "No one can touch him."
Sinatra continued to act in several movies in the 1960s, including Ocean's 11 (1960), The Manchurian Candidate (1962), Robin and the Seven Hoods (1964), and Tony Rome (1967). Many critics felt several of these films had declined in artistic merit. Sinatra became known as part of a group of friends called the "Rat Pack." It included entertainers Dean Martin (1917–1995), Sammy Davis Jr. (1925–1990), Joey Bishop, and Peter Lawford.
Back in the world of music, Sinatra had a big hit in 1966 with the Billboard No. 1 track "Strangers in the Night," which won a Grammy for record of the year. He also recorded the duet "Something Stupid" with daughter Nancy, who'd previously made waves with the feminist anthem "These Boots Are Made for Walkin'." The two reached No. 1 for four weeks with "Something Stupid" in spring 1967. By the end of the decade, Sinatra had added another signature song to his repertory "My Way," which was adapted from a French tune and featured new lyrics by Paul Anka. He brought out a concept album 'Watertown' in 1970 which is the tragic story of a man whose wife leaves him and their two children and moves to a big city. The album received mixed reviews upon its release.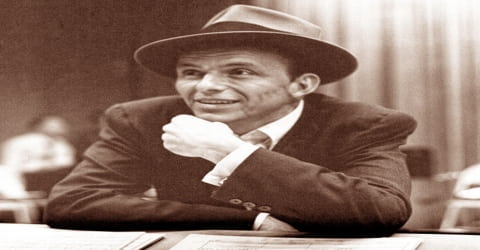 Sinatra recorded it just after Christmas 1968. "My Way", Sinatra's best-known song on the Reprise label, was not an instant success, charting at #27 in the US and #5 in the UK, but it remained in the UK charts for 122 weeks, including 75 non-consecutive weeks in the Top 40, between April 1969 and September 1971, which was still a record in 2015. Sinatra told songwriter Ervin Drake in the 1970s that he "detested" singing the song, because he believed audiences would think it was a "self-aggrandizing tribute", professing that he "hated boastfulness in others". In an effort to maintain his commercial viability in the late 1960s, Sinatra would record works by Paul Simon ("Mrs. Robinson"), the Beatles ("Yesterday"), and Joni Mitchell ("Both Sides, Now") in 1969.
In 1971, Sinatra announced that he was retiring. But he could not stay away from the work he loved for long and was soon back to show business. Over the next several years he continued producing albums and appeared in many films much to the delight of his devoted fans.
In 1988 Sinatra, Sammy Davis Jr., and Dean Martin embarked on a cross-country tour. The tour lasted only one week. Sinatra later organized another reunion tour with Shirley MacLaine in 1992 and it was an undeniable success. By 1994 Sinatra was experiencing memory lapses, but that did not keep him from performing publicly. He merely added the use of a prompter (the device that shows the words of a song) to remind him of the lyrics. After celebrating his eightieth birthday at a public tribute, new packages of recordings were released and became instant best-sellers.
Awards and Honor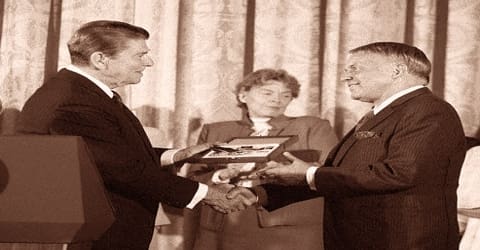 (Sinatra is awarded the Presidential Medal of Freedom by President Ronald Reagan in 1985)
In 1945, Frank Sinatra won a special Academy Award for The House I Live In, a 10-minute short made to promote racial and religious tolerance on the home front.
Sinatra won the Academy Award for Best Supporting Actor in 1953 for his role as Private Angelo Maggio in 'From Here to Eternity'.
He won 11 Grammy awards throughout his singing career, including the Grammy Lifetime Achievement Award in 1966.
In 1966, he won the Peabody Award for 'A Man and His Music' a one-hour television special in color, broadcast by NBC.
Sinatra was presented with The Presidential Medal of Freedom, the highest civilian award in the US by President Ronald Reagan in 1985.
Death and Legacy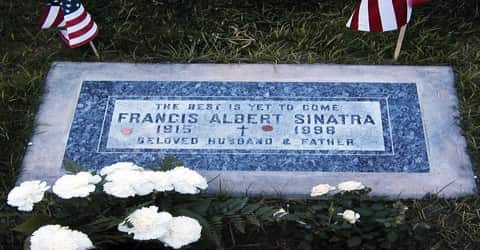 Frank Sinatra lived a long life and suffered some health problems including high blood pressure and bladder cancer during his last years. He died with his wife at his side at Cedars-Sinai Medical Center in Los Angeles on May 14, 1998, aged 82, after a heart attack. He was buried in a blue business suit with mementos from family members cherry-flavored Life Savers, Tootsie Rolls, a bottle of Jack Daniel's, a pack of Camel cigarettes, a Zippo lighter, stuffed toys, a dog biscuit, and a roll of dimes that he always carried next to his parents in section B-8 of Desert Memorial Park in Cathedral City, California.
Sinatra's funeral was held at the Roman Catholic Church of the Good Shepherd in Beverly Hills, California, on May 20, 1998, with 400 mourners in attendance and thousands of fans outside. Gregory Peck, Tony Bennett, and Sinatra's son, Frank Jr., addressed the mourners, who included many notable people from film and entertainment.
His solo debut album, 'The Voice of Frank Sinatra' was a major hit which established him in his solo career. This album consisted of eight songs and reached the No. 1 spot on the Billboard chart. The album 'Frank Sinatra Sings for Only the Lonely' released in 1958 was the one Sinatra considered his personal favorite. A collection of torch songs, it peaked at No. 1 position in the US and was accredited gold.
The audiences who grew up with him and his music were complemented by adoration from younger generations. They have all made "Old Blue Eyes" one of the most outstanding popular singers of the twentieth century.
In 2010, the well-received biography Frank: The Voice was published by Doubleday and penned by James Kaplan. The writer released a sequel to the volume in 2015 Sinatra: The Chairman, marking the musical icon's centennial year.
Information Source: