Maria Sharapova – Russian Professional Tennis Player
Full name: Maria Yuryevna Sharapova
Native name: Мари́я Ю́рьевна Шара́пова
Residence: Bradenton, Florida, United States
Date of birth: April 19, 1987 (age 29)
Place of birth: Nyagan, Russian SFSR, Soviet Union
Height: 1.88 m (6 ft 2 in)
Turned pro: April 19, 2001
Plays: Right-handed (two-handed backhand), born left-handed
Father: Yuri Sharapov
Mother: Yelena Sharapova
Early Life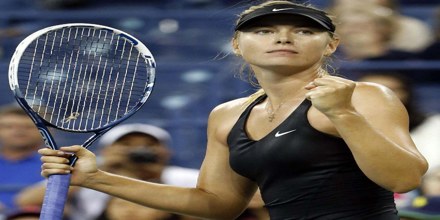 Maria Yuryevna Sharapova was born on April 19, 1987, in Nyagan, Russian SFSR, Soviet Union. She is a world renowned professional tennis player who hails from Russia. She started her professional tennis career at the age of 14 and despite suffering from multiple injuries during the course of her career, Maria Sharapova is one of the few woman tennis players to earn many accolades and retain her position in the sport. Other than sports, she has endorsed multiple brands owing to her popularity and good looks. Maria Sharapova has also supported the United Nations Development Programme. Though a Russian national, she has been residing in Florida, United States of America since 1994. Her performance and accompanied grunts during the game has earned her nicknames like "Screaming Cinderella" and "Siberian Siren" from media and press. Maria Sharapova however admits that screaming aids her in concentrating on the game.
Sharapova has been featured in a number of modeling assignments, including a feature in the Sports Illustrated Swimsuit Issue. She appeared in many advertisements, including those for Nike, Prince, and Canon, being the face of several fashion houses, most notably Cole Haan. Since February 2007, she has been a United Nations Development Programme Goodwill Ambassador, concerned specifically with the Chernobyl Recovery and Development Programme. In June 2011, she was named one of the "30 Legends of Women's Tennis: Past, Present and Future" by Time and in March 2012 was named one of the "100 Greatest of All Time" by Tennis Channel. According to Forbes, she has been named highest paid female athlete in the world for 11 consecutive years and earned US$285 million including prize money since she turned pro in 2001.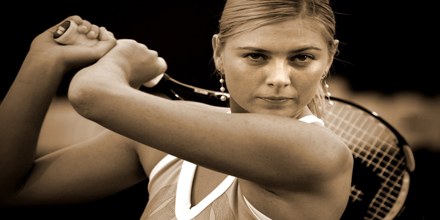 In March 2016, Sharapova revealed she had failed a drug test at the 2016 Australian Open, admitting to testing positive for meldonium, a substance banned by the World Anti-Doping Agency (WADA) at the start of 2016. On June 8, 2016, she was suspended from playing tennis for two years by the International Tennis Federation (ITF). On October 4, 2016, the suspension was reduced to 15 months.
Her interests other than sports are towards music, reading and fashion. Maria Sharapova is also known to have avid interest in collecting stamps. She has her own website and has immense fan following on social media platforms such as twitter, facebook etc.
Childhood and Educational Life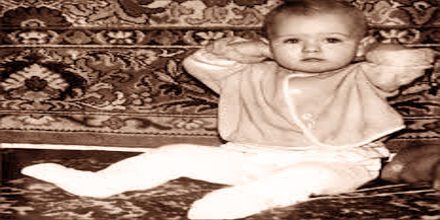 Tennis player Maria Sharapova was born on April 19, 1987, in Nyagan, Siberia, Russia. Her parents, Yuri and Yelena, are from Gomel, Belarussian SSR. Concerned about the regional effects of the 1986 Chernobyl nuclear accident, they left their homeland shortly before Maria was born.
In 1994, she moved from Russia to the United States of America along with her father to enroll at the Nick Bollettieri Tennis Academy in Florida. Her mother had to stay back in Russia as she did not get visa and joined them after two years.
In 1993, at the age of six, Sharapova attended a tennis clinic in Moscow run by Martina Navratilova, who recommended professional training at the IMG Academy in Bradenton, Florida, which had previously trained players such as Andre Agassi, Monica Seles, and Anna Kournikova. Arriving in Florida with savings of US$700, Sharapova's father took various low-paying jobs, including dishwashing, to fund her lessons until she was old enough to be admitted to the academy. Before she entered the IMG business, she trained with Rick Macci, in the Rick Macci Tennis Academy. She then was offered a deal from IMG which forced her to change academies. Originally, she did train with Rick Macci, but after the deal with IMG, she could not see Rick Macci anymore. In 1995, she was signed by IMG, who agreed to pay the annual tuition fee of $35,000 for Sharapova to stay at the Academy, allowing her to finally enroll at the age of 9.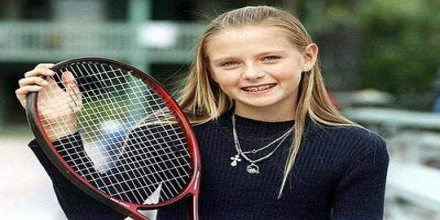 Long-limbed and powerful, Sharapova showed immense promise on the competitive circuit. She turned professional on her 14th birthday but continued to compete among her peers, finishing runner-up at the junior Wimbledon and French Open tournaments in 2002.
Personal Life
In her personal life, Sharapova began a relationship with Slovenian basketball player Sasha Vujacic in 2009. After a year of dating, the couple announced that they were engaged in October 2010. During a post-match conference at the 2012 U.S. Open, Sharapova announced that the engagement was off and that her relationship with Vujacic had ended. Afterward, she dated Bulgarian tennis pro Grigor Dimitrov from 2013 to 2015.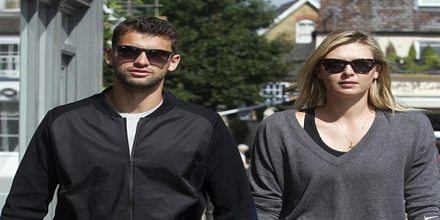 After the March 2016 announcement that Sharapova had failed a drug test, sponsors including TAG Heuer and Porsche suspended their relationships with the tennis star, leaving open the possibility of working with her in the future. Other sponsors like Nike, Evian and the racket manufacturer Head continued their support of Sharapova.
Playing Career
When Maria Sharapova was merely 13 years old, she won the Eddie Herr International Junior Tennis Championships in the girls' 16 division and was then awarded the 'Rising Star' award. She began her professional Tennis career in 2001 and made her first WTA debut at the Pacific Life Open in 2002.
Since she was young, there were restrictions on how many professional events she could play. Therefore, she decided to concentrate on junior tournaments. In 2002, she reached the finals of the girls' singles events at the Australian Open and Wimbledon.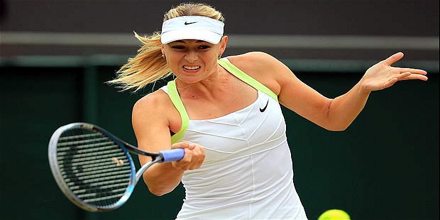 Maria Sharapova claimed her first WTA victory at the 2003 AIG Japan Open and also reached the fourth round at Wimbledon on her first attempt during the same year. Success came in 2004 when she won the singles title there, becoming Russia's first female Wimbledon champion. At the end of 2004, she added a WTA Championships title to her list of achievements. She became the first Russian woman to ascend to the sport's top ranking in 2005, and the following year she claimed her second Grand Slam title with a win at the U.S. Open.
In 2007, she reached the finals of the Australian Open, reached the semifinals of the French Open, lost in the fourth round of the Wimbledon and made a exit in the third round of the U.S. Open. Sharapova was also troubled by the injuries during the year and her ranking fell below top 5.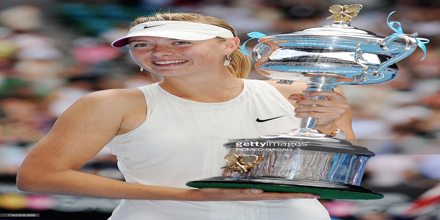 In 2008, she won the third Grand Slam title of her career when she defeated Ana Ivanovic in the finals of the Australian Open. In May 2008, she once again became the No. 1 player but thereafter she experienced a sharp dip in her form; she reached the fourth round of the French Open and lost in the second round of the Wimbledon. Due to a shoulder injury she didn't play in the later part of the year and underwent a corrective surgery.
Sharapova struggled to regain her consistency against the premier women's players, but she was back in the Top 20 by the end of 2009, and finished 2011 ranked No. 4 in the world. In June 2012, Sharapova capped her comeback by defeating Sara Errani in the French Open final. The victory made her just the 10th woman to complete a career Grand Slam (wins at all four major tournaments), and allowed her to regain the world's No. 1 ranking.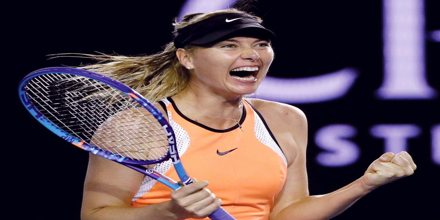 At the 2012 Summer Olympic Games—Sharapova's Olympic debut—she won a silver medal in women's singles, losing the gold to American tennis star Serena Williams. The Russian continued to play well in subsequent majors, finishing runner-up at the 2013 French Open. However, shoulder problems again took a toll, and not long after a disappointing second-round loss at Wimbledon, she withdrew from action for the remainder of the season.
Sharapova had not played since August 2013 due to a recurring shoulder injury and made her comeback at the 2014 Brisbane International. Sharapova advanced to the semi-finals where she was beaten in straight sets by Serena Williams. At the 2014 Australian Open Sharapova, ranked 3rd, was knocked out of the tournament in the 4th round by the 20th seed, and eventual finalist, Dominika Cibulková. Sharapova lost the match in 3 sets. Sharapova then participated in GDF Suez where she was upset in the semifinals to fellow Russian and eventual tournament winner Anastasia Pavlyuchenkova in three sets.
Sharapova was seeded 7th at 2014 French Open and defeated Ksenia Pervak, Tsvetana Pironkova, and Paula Ormaechea in the first 3 rounds, all in straight sets. In the fourth round she defeated Samantha Stosur, reeling off nine straight games from a set and 3–4 down. This marked her 14th win in 16 meetings with the Australian. In the quarters, she defeated Garbiñe Muguruza, again coming back from a set down, to reach the semifinals at the French for the fourth consecutive year. In the semi-finals, she defeated Eugenie Bouchard, once again coming back from a set down, to reach her third consecutive French Open final. In the final, she defeated Simona Halep in three sets to win her second French Open title and fifth overall Major title. She also won the Stuttgart Open, Madrid Open, and China Open that year. Her ranking rose from No. 4 to No. 2 at the end of the year.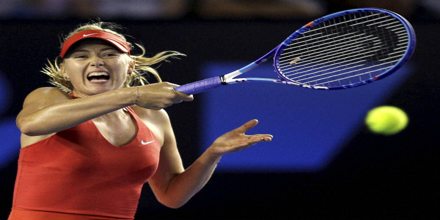 In 2015, she reached the finals of the Australian Open, won the Italian Open, and lost in the semifinals of the Wimbledon. She did not play in the U.S. Open due to injury.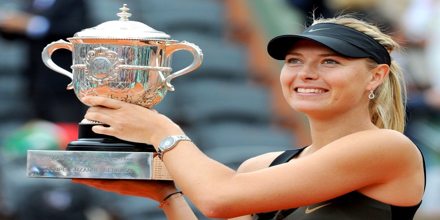 Sharapova is an aggressive baseliner with power, depth, and angles on her forehand and backhand. She is one of the few players on the WTA tour who often use the reverse forehand. Instead of using a traditional volley or overhead smash, she prefers to hit a powerful "swinging" volley when approaching the net or attacking lobs. Sharapova is thought to have good speed around the court, especially considering her height. At the beginning of 2008, some observers noted that Sharapova had developed her game, showing improved movement and footwork and the addition of a drop shot and sliced backhand to her repertoire of shots. Despite her powerful game, Sharapova's greatest asset is considered to be her mental toughness and competitive spirit, with Nick Bollettieri stating that she is "tough as nails". Hall-of-famer John McEnroe said of Sharapova, "she's one of the best competitors in the history of the sport."
Suspension and Injury
Sharapova began her 2016 season at the Brisbane International where she was the defending champion. She would have faced Ekaterina Makarova in the 1st round, but withdrew hours before the match, citing a left forearm injury, and was replaced by Margarita Gasparyan. Citing the left forearm injury sustained at the start of the year, Sharapova withdrew from the Qatar Open, and a week before the BNP Paribas Open, she withdrew from that for the same reason.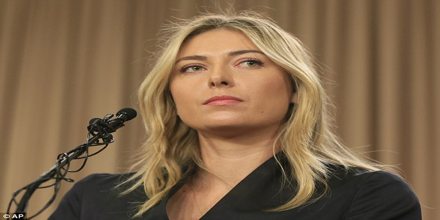 In March 2016, Sharapova announced that she had failed a drug test at the Australian Open in January. At a press conference, the tennis star said that she had tested positive for Mildronate, with an active ingredient of meldonium, which she had been taking for health issues since 2006. The drug was added to the World Anti-Doping Agency's (WADA) prohibited list on January 1, 2016.
On June 8, 2016, an independent tribunal appointed by the International Tennis Federation (ITF) suspended Sharapova from playing for two years because of the failed drug test.
In October 2016, after Sharapova appealed her two-year suspension, the Court of Arbitration for Sport announced that her punishment would be reduced by 15 months, allowing her to return to international competition on April 25, 2017.
Business Interests
Off the court, the photogenic Sharapova has landed major commercial endorsements with companies like Nike, Avon, Evian, TAG Heuer, Porsche and Tiffany & Co., among others. She was the world's highest-paid female athlete for several years, with Forbes estimating her earnings at $29.7 million in 2015.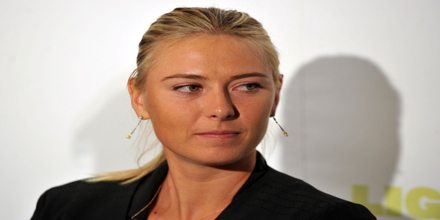 Sharapova's other business ventures include the 2012 launch of the Sugarpova candy line with Jeff Rubin, the founder of IT'SUGAR. A portion of the sales are donated to the Maria Sharapova Foundation to support her charitable causes. "It started when I was a little girl in Russia, and my dad would reward me with a lollipop or chocolate after a long day of practice," she wrote on the Sugarpova website. "It stood out to me then–and still today–that there's no reason why hard work can't be rewarded with a little sweet treat. Because the key to a happy, healthy life for me is this idea of Moderation in Moderation–you can 100% have your cake (or candy) and enjoy it, too."
In February 2016, Sugarpova announced that it had partnered with Polish company Baron Chocolatier to make Sugarpova Premium Chocolates. They are scheduled to arrive in the market in May before the 2016 French Open.
Awards and Honours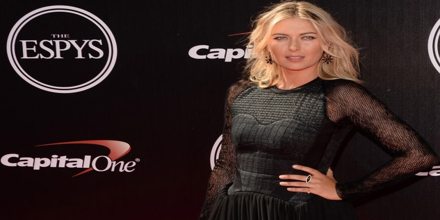 2003
Russian Cup Newcomer of the Year
Women's Tennis Association (WTA) Newcomer of the Year
2004
WTA Player of the Year
WTA Most Improved Player of the Year
2005
ESPY Best Female Tennis Player
Prix de Citron Roland Garros
Russian Cup Female Tennis Player of the Year
2006
Russian Cup Female Tennis Player of the Year
Whirlpool 6th Sense Player of the Year
2007
ESPY Best Female Tennis Player
ESPY Best International Female Athlete
2008
ESPY Best Female Tennis Player
Russian Cup Team of the Year (as part of the Fed Cup team)
2010
WTA Fan Favorite Singles Player
WTA Humanitarian of the Year
WTA Most Fashionable Player (On Court)
WTA Most Fashionable Player (Off Court)
WTA Most Dramatic Expression
2012
ESPY Best Female Tennis Player
Medal of the Order For Merit to the Fatherland 2nd Class (April 28, 2012) – for her philanthropic activity
Medal of the Order For Merit to the Fatherland 1st Class (August 13, 2012) – for her outstanding contribution to the development of physical cultures and sports at the XXX Olympic Games in 2012 in London (Great Britain)
Russian Cup Female Tennis Player of the Year
2016
Order For Merit to the Fatherland (February 5, 2016)