Biography of Rembrandt
Rembrandt – Dutch draughtsman, painter, and printmaker.
Name: Rembrandt Harmenszoon van Rijn
Date of Birth: July 15, 1606
Place of Birth: Leiden, Dutch Republic (now the Netherlands)
Date of Death: October 4, 1669 (aged 63)
Place of Death: Amsterdam, Dutch Republic (now the Netherlands)
Occupation: Painter, Printmaker
Father: Harmen Gerritszoon Van Rijn
Mother: Neeltgen Willemsdochter Van Zuytbrouck
Spouse/Ex: Saskia van Uylenburgh (m. 1634–1642)
Children: 4
Early Life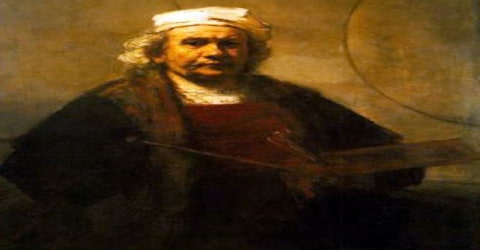 Rembrandt van Rijn, Dutch Baroque painter, and printmaker was born on 15 July 1606 in Leiden, in the Dutch Republic, now the Netherlands, and he was one of the greatest storytellers in the history of art, possessing an exceptional ability to render people in their various moods and dramatic guises. Unlike most Dutch masters of the 17th century, Rembrandt's works depict a wide range of style and subject matter, from portraits and self-portraits to landscapes, genre scenes, allegorical and historical scenes, biblical and mythological themes as well as animal studies. His contributions to art came in a period of great wealth and cultural achievement that historians call the Dutch Golden Age, when Dutch art (especially Dutch painting), although in many ways antithetical to the Baroque style that dominated Europe, was extremely prolific and innovative and gave rise to important new genres. Like many artists of the Dutch Golden Age, such as Jan Vermeer of Delft, Rembrandt was also an avid art collector and dealer.
Having worked during one of the most vibrant periods in Dutch history, Rembrandt rose to fame as a highly creative, sincere, and empathetic artist and is today revered as one of the greatest artists to have ever existed. Born into a well-to-do family in Leiden, he developed an inclination towards art and painting from a young age. As a young boy, he apprenticed with history painter, Jacob van Swanenburgh, and Pieter Lastman, the latter of which lasted for only a short duration but left a significant influence on the would-be artist. After embarking on a career as a professional painter, Rembrandt soon gained considerable fame as a portraitist. He was especially acclaimed for his self-portraits which he created with an outstanding degree of sincerity and an uncompromising realism.
Rembrandt never went abroad, but he was considerably influenced by the work of the Italian masters and Netherlandish artists who had studied in Italy, like Pieter Lastman, the Utrecht Caravaggists, and Flemish Baroque Peter Paul Rubens. Having achieved youthful success as a portrait painter, Rembrandt's later years were marked by personal tragedy and financial hardships. Yet his etchings and paintings were popular throughout his lifetime, his reputation as an artist remained high, and for twenty years he taught many important Dutch painters.
Rembrandt was also renowned for his paintings of biblical scenes and innovative etchings. He mentored a large number of pupils including Hendrick Fromantiou, Aert de Gelder, Samuel Dirksz van Hoogstraten, and Abraham Janssens, who went on to become reputed artists in their own rights.
Rembrandt's portraits of his contemporaries, self-portraits, and illustrations of scenes from the Bible are regarded as his greatest creative triumphs. His self-portraits form a unique and intimate biography, in which the artist surveyed himself without vanity and with the utmost sincerity. Rembrandt's foremost contribution in the history of printmaking was his transformation of the etching process from a relatively new reproductive technique into a true art form, along with Jacques Callot. His reputation as the greatest etcher in the history of the medium was established in his lifetime and never questioned since. Few of his paintings left the Dutch Republic whilst he lived, but his prints were circulated throughout Europe, and his wider reputation was initially based on them alone.
Childhood, Family and Educational Life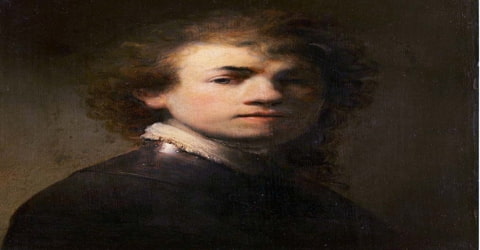 Rembrandt van Rijn, in full Rembrandt Harmenszoon van Rijn, Rembrandt originally spelled Rembrant, was born on 15 July 1606 in Leiden, in the Dutch Republic, now the Netherlands. His parents were Harmen Gerritszoon van Rijn and Neeltgen Willemsdochter van Zuytbrouck, and he was their ninth child. His father worked as a miller and his family was a well-to-do one. His mother was a baker's daughter.
Religion is a central theme in Rembrandt's paintings and the religiously fraught period in which he lived makes his faith a matter of interest. His mother was Roman Catholic, and his father belonged to the Dutch Reformed Church. While his work reveals deep Christian faith, there is no evidence that Rembrandt formally belonged to any church, although he had five of his children christened in Dutch Reformed churches in Amsterdam: four in the Oude Kerk (Old Church) and one, Titus, in the Zuiderkerk (Southern Church).
For seven years Rembrandt was a student at the Latin school, and then, in 1620, he enrolled at Leiden University at the age of thirteen. After only a few months, however, he left to pursue his true passion for painting. He was interested in the arts from an early age and was apprenticed to a Leiden history painter, Jacob van Swanenburgh, who was renowned for his ability to paint fire and illumination. The influence of this early training period can be observed in many of Rembrandt's future paintings.
After training under van Swanenburgh for three years, he apprenticed for six months with the painter Pieter Lastman in Amsterdam. Lastman was a famous history painter and under his tutelage, Rembrandt learned the skill of placing figures from biblical, historical and allegorical scenes in complex settings. Some sources also suggest that he received training from the painter Joris van Schooten too.
Personal Life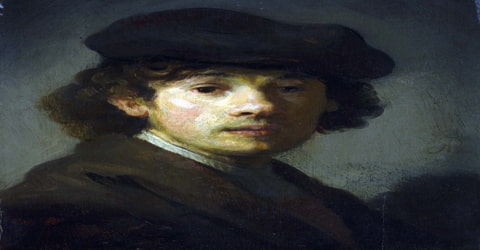 Rembrandt Harmenszoon van Rijn married his friend Hendrick's cousin, Saskia van Uylenburgh, in 1634. His wife was the daughter of a lawyer. His family life was marked with several great personal tragedies. Even though his wife gave birth to four children, only one of them survived infancy. His wife too died young, leaving him devastated.
During Saskia's illness, Geertje Dircx was hired as Titus' caretaker and nurse and also became Rembrandt's lover. She would later charge Rembrandt with breach of promise (a euphemism for seduction under breached promise to marry) and was awarded alimony of 200 guilders a year. Rembrandt worked to have her committed for twelve years to an asylum or poorhouse (called a "bridewell") at Gouda, after learning she had pawned jewelry he had given her that once belonged to Saskia.
Later on, Rembrandt became romantically involved with a much younger woman, Hendrickje Stoffels, who had initially been his maid. This union produced a daughter. Even though the couple did not marry formally, the two were considered legally wed under common law.
In spite of being a successful painter who earned great wealth, Rembrandt was also known for his extravagant and lavish lifestyle which almost drove him to bankruptcy.
Career and Works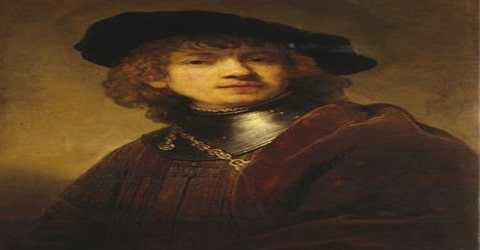 After completing his training, Rembrandt became a professional artist and opened a studio in Leiden in the mid-1620s with the help of a friend and fellow painter, Jan Lievens. He began experimenting with etchings and started painting biblical scenes.
Early in Rembrandt's career and for some time, he painted mainly portraits. Although he continued to paint and etch and, occasionally, draw portraits throughout his career, he did so less frequently over time. Roughly one-tenth of his painted and etched oeuvre consists of studies of his own face as well as more-formal self-portraits, a fact that has led to much speculation.
In 1624 Rembrandt went to Amsterdam to work with Pieter Lastman, a painter of biblical, mythological, and historical scenes. After Lastman's death in 1633, Rembrandt continued to use his teacher's subjects and motifs (dominant themes). It was Lastman's ability to tell a story visually that impressed his youthful pupil. The earliest known works by Rembrandt, beginning with the Stoning of St. Stephen (1625), show an only partially successful imitation of Lastman's style, applied to scenes in which a number of figures are involved in dramatic action.
Rembrandt opened a studio in Leiden in 1624 or 1625, which he shared with friend and colleague Jan Lievens. In 1627, Rembrandt began to accept students, among them Gerrit Dou in 1628.
The core of Rembrandt's oeuvre, however, consists of biblical and to a much lesser extent historical, mythological, and allegorical "history pieces," all of which he painted, etched, or sketched in pen and ink or chalk. Seen over his whole career, the changes in Rembrandt's style are remarkable. His approach to composition and his rendering of space and light like his handling of contour, form, and color, his brushwork, and (in his drawings and etchings) his treatment of line and tone are subject to gradual (or sometimes abrupt) transformation, even within a single work.
Rembrandt developed his own unique style of painting light and illumination that made him very famous. His paintings 'Peter and Paul Disputing' (1628) and 'Judas Repentant and Returning the Pieces of Silver' (1629) are some of the paintings which display his ingenuity in handling the concept of light.
In 1629, Rembrandt was discovered by the statesman Constantijn Huygens (father of the Dutch mathematician and physicist Christiaan Huygens), who procured for Rembrandt important commissions from the court of The Hague. As a result of this connection, Prince Frederik Hendrik continued to purchase paintings from Rembrandt until 1646.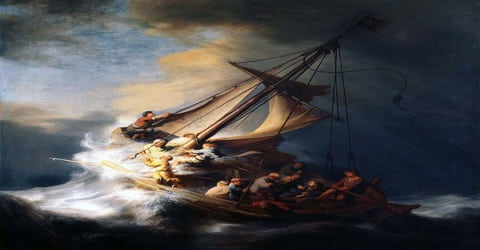 The Storm on the Sea of Galilee, 1633
Rembrandt achieved considerable success within a few years of becoming a professional painter and this attracted numerous aspiring painters to his studio who were eager to be trained by the great master. In the late 1620s, he began accepting students and Gerrit Dou was one of his early pupils. He became acquainted with the statesman Constantijn Huygens which proved to be quite profitable for the artist. Huygens greatly appreciated Rembrandt's paintings and starting from 1629, helped the artist in procuring important commissions from the court of The Hague.
By 1625 Rembrandt was working independently in Leiden. He was closely associated at this time with Jan Lievens (1607–1674), also a student of Lastman's. The two young men worked so similarly that even in their own lifetime there was doubt as to which of them was responsible for a particular painting. They used the same models and even worked on each other's pictures.
Buoyed by his success, Rembrandt moved to Amsterdam in 1631 in order to expand his business. He initially stayed with an art dealer, Hendrick van Uylenburgh, who had a workshop that created portraits and restored paintings. During this time Rembrandt began working as a portraitist for the first time and was praised for the realism in his portraits. His portrait of the Amsterdam merchant Nicolaes Ruts (1631) is an amazing likeness executed with a degree of assurance that makes it clear why its author was in demand as a portraitist (an artist who draws or paints a person, usually the head and shoulders).
During the 1630s Rembrandt also began painting dramatic biblical and mythological scenes in large format. Some of his works from this period include 'The Blinding of Samson' (1636), 'Belshazzar's Feast' (c. 1635), and 'Danaë' (1636).
At age Rembrandt began to sign his work with his first name only, Rembrant (ending only with a -t); from early 1633 onward until his death, he spelled his name Rembrandt (with -dt) and signed his works that way. It has been suggested that he began using his first name as his signature because he considered himself the equal of the great artists of the 15th and 16th centuries; Michelangelo (Michelangelo Buonarroti), Titian (Tiziano Vecellio), and Raphael (Raffaello Sanzio) were also generally known by their first names.
Rembrandt initially stayed with an art dealer, Hendrick van Uylenburgh, and in 1634, married Hendrick's cousin, Saskia van Uylenburgh. Saskia came from a good family: her father had been a lawyer and the burgemeester (mayor) of Leeuwarden. In the same year, Rembrandt became a burgess of Amsterdam and a member of the local guild of painters. He also acquired a number of students, among them Ferdinand Bol and Govert Flinck.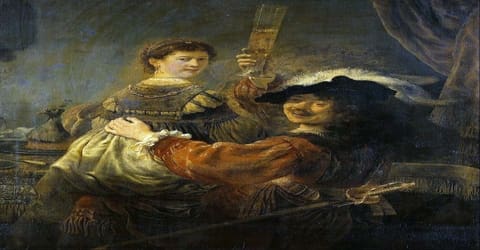 The Prodigal Son in the Tavern, a self-portrait with Saskia, c. 1635
In 1639 the young couple set themselves up in a fine house in the Breestraat, now maintained as a museum, the Rembrandthuis. Like many wealthy men of his time, Rembrandt soon began to collect works of art, armor, costumes, and curiosities (unusual trinkets) from far places. He used some of these objects as props in his paintings and etchings (images that are the result of transferring an image off a metal plate onto paper with the use of chemicals).
The painting known as Night Watch (1640/42) was clearly a turning point in his stylistic development. These changes are not the result of an involuntary evolution; rather they should be seen as documenting a conscious search in pictorial and narrative respects, sometimes in a discussion, as it were, with his great predecessors. Rembrandt quickly achieved renown among Dutch art lovers and an art-buying public for his history paintings and etchings, as well as his portraits and self-portraits. His unusual etchings brought him international fame during his lifetime, and his drawings, which in fact were done as practice exercises or as studies for other works, were also collected by contemporary art lovers.
His style underwent a significant change in the 1640s. His paintings now became less dramatic and more sober in tone. The 1640s also marked a tragic period in his personal life which might have been the reason behind his changed style of painting. During this difficult period, he painted several biblical scenes from the New Testament than the Old Testament.
About 1640 Rembrandt developed a new interest in the landscape which lasted over the next two decades. A series of drawings and etchings show keen observation of nature, great originality in composing, and marvelous economy. The etched View of Amsterdam (c.1640) influenced the landscape paintings of Jacob van Ruisdael (c.1628–1682). The tiny painting Winter Landscape (1646) has all the earmarks of having been painted from life, on the spot. This would be a rare case in seventeenth-century Dutch landscape, which usually was painted in the studio from sketches.
The Abduction of Europa, 1632
Rembrandt's works of the mid-1630s were his most baroque, an elaborate style developed in the sixteenth century; indeed he seemed to be purposefully challenging the enormous reputation of painter Peter Paul Rubens (1577–1640). This is most expressed in the scenes from the Passion of Christ (1633–1639). The etching Angel Appearing to the Shepherds (1634) shows how the same drama and excitement, the combination of fine detail with a grand new sweep based largely on bringing together the composition through light and shadow, and the choice of the crucial moment all characteristic of Rembrandt's baroque style showed in his graphic works as well as his paintings in this period.
The 1650s saw more changes in his style of art. Rembrandt took to painting with more vibrant hues and bolder brushstrokes. His new style departed considerably from his older delicate style and became coarser. The biblical themes in his later paintings shifted to intimate portrait-like figures from the dramatic group scenes he once used to specialize in.
Rembrandt's Self-Portrait (1658) shows the aging artist seated squarely before us, meeting our eyes with a forthright gaze, and wearing a fantastic costume whose sharp horizontals and verticals stress the composition based on right angles that best represents this period. A number of admirable etched portraits also date from this time, as well as etchings of religious subjects, such as the impressive Ecce homo (1655), which reflects an engraving made in 1510 by the great Dutch graphic artist Lucas van Leyden (1494–1533).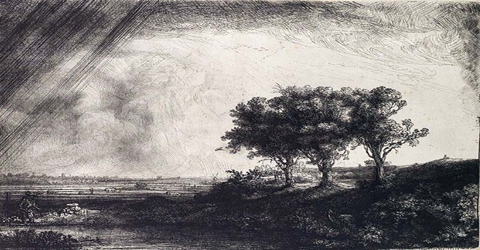 The Three Trees, 1643
In 1661 Rembrandt (or rather the new business) was contracted to complete work for the newly built city hall, but only after Govert Flinck, the artist previously commissioned, died without beginning to paint. The resulting work, The Conspiracy of Claudius Civilis, was rejected and returned to the painter; the surviving fragment is only a fraction of the whole work. It was around this time that Rembrandt took on his last apprentice, Aert de Gelder. In 1662 he was still fulfilling major commissions for portraits and other works. When Cosimo III de' Medici, Grand Duke of Tuscany came to Amsterdam in 1667, he visited Rembrandt at his house.
Earlier-20th-century connoisseurs claimed Rembrandt had produced well over 600 paintings, nearly 400 etchings and 2,000 drawings. More recent scholarship, from the 1960s to the present day (led by the Rembrandt Research Project), often controversially, has winnowed his oeuvre to nearer 300 paintings. His prints, traditionally all called etchings, although many are produced in whole or part by engraving and sometimes drypoint, have a much more stable total of slightly under 300. It is likely Rembrandt made many more drawings in his lifetime than 2,000, but those extant are rarer than presumed. Two experts claim that the number of drawings whose autograph status can be regarded as effectively "certain" is no higher than about 75, although this is disputed. The list was to be unveiled at a scholarly meeting in February 2010.
Death and Legacy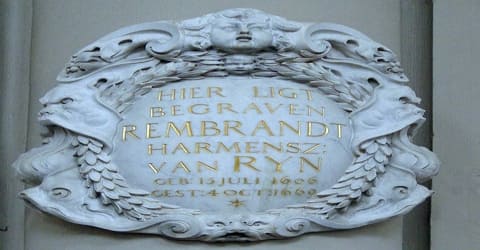 (Rembrandt Memorial Marker Westerkerk Amsterdam)
Rembrandt's last years were very tragic ones as both his common-law wife and his son predeceased the great artist. He died within a year of his son, on 4 October 1669 in Amsterdam, and was buried as a poor man in an unknown grave in the Westerkerk. It was in a numbered 'kerkgraf' (grave owned by the church) somewhere under a tombstone in the church. After twenty years, his remains were taken away and destroyed, as was customary with the remains of poor people at the time. When Rembrandt died, a painting, Simeon with the Christ Child in the Temple, was left unfinished on his easel.
His painting 'The Anatomy Lesson of Dr. Nicolaes Tulp' (1632) is a much-discussed one among the medical fraternity. In the oil painting, he depicted Dr. Nicolaes Tulp, a famous Dutch surgeon, explaining the musculature of the arm to medical professionals.
According to the myth that evolved after his death, Rembrandt died poor and misunderstood. It is true that by the end of his life his realism had been supplanted by Classicism and had become unfashionable in Holland. Nevertheless, his international reputation among connoisseurs and collectors only continued to rise. Certain artists in 18th-century Germany and Venice even adopted his style. He was venerated during the Romantic era and was considered a forerunner of the Romantic movement; from that point, he was regarded as one of the greatest figures in art history. In the Netherlands itself, his fortunes have once again risen, and he has become a symbol of both greatness and Dutch-ness.
In his portraits and self-portraits, he angles the sitter's face in such a way that the ridge of the nose nearly always forms the line of demarcation between brightly illuminated and shadowy areas. A Rembrandt face is a face partially eclipsed; and the nose, bright and obvious, thrusting into the riddle of halftones, serves to focus the viewer's attention upon, and to dramatize, the division between a flood of light an overwhelming clarity and a brooding duskiness.
Rembrandt's 1642 painting, 'The Night Watch' is one of his more ambitious works. Considered to be a world-renowned example of Baroque art, the painting is famous for the effective use of light and shadow, and the perception of motion in what would have traditionally been a static military portrait.
In a number of biblical works, including The Raising of the Cross, Joseph Telling His Dreams and The Stoning of Saint Stephen, Rembrandt painted himself as a character in the crowd. Durham suggests that this was because the Bible was for Rembrandt "a kind of diary, an account of moments in his own life".
Information Source: