Michael Ballack – Football Player
Full name: Michael Ballack
Date of birth: 26 September 1976 (age 40)
Place of birth: Görlitz, East Germany
Height: 1.88 m (6 ft 2 in)
Playing position: Midfielder
Spouse: Simone Lambe (m.2008 – d.2012)
Children: Louis (b.2001), Emilio (b.2002) and Jordi (b.2005)
Early Life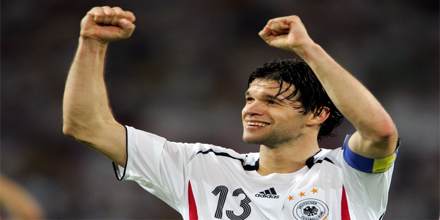 Michael Ballack was born on September 26, 1976, in Görlitz, East Germany, now in Germany. He is a German professional football (soccer player) midfielder who was named the German Footballer of the Year three times (2002, 2003, 2005).
He is among the top goal scorers in the history of the German national team. Ballack wore the number 13 shirt for every team he has played for except for Kaiserslautern. He was selected by Pelé as one of FIFA's 125 Greatest Living Players, and as the UEFA Club Midfielder of the Year in 2002. He won the German Footballer of the Year award three times – in 2002, 2003 and 2005. Ballack was known for his passing range, powerful shot, physical strength and commanding presence in midfield.
He graduated from Chemnitzer FC and was promoted to the first team, where he played until the summer of 1997. Then he joined 1. FC Kaiserslautern, which had just won promotion to the Bundesliga. His spell there was successful because in 1997-98 they won Bundesliga title and in his second season with the team Kaiserslautern reached the quarterfinals of UEFA Champions League.
He became a first team regular in 1998–99 season and also earned his first senior national cap for Germany. He moved to Bayer Leverkusen for €4.1 million in 1999. The 2001–02 season saw him win a slew of runners-up medals: Bayer Leverkusen finished second in the Bundesliga, DFB-Pokal, UEFA Champions League and Germany lost to Brazil in the 2002 World Cup Final.
In 2002 he was bought by Bayern Munich for €12.9 million and helped his side to claim Bundesliga and DFB-Pokal titles in 2002-03, 2004-05 and 2005-06.
In 2006 he joined Chelsea, where he made his debut on 31 July 2006. Throughout his stay Chelsea won Premier League in 2009-10 and twice were league runners-up, in 2006-07 they won League Cup and FA Cup. In 2007-08 the team was Champions League runners-up. Between 2010 and 2012 Michael Ballack played for Bayer Leverkusen and as a part of the team he celebrated the Bundesiga title in 2010-11.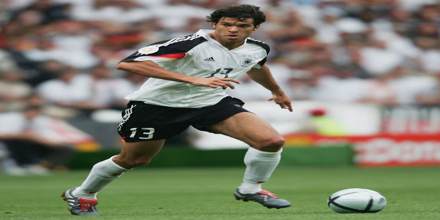 He was called up to play for the Germany national team since 1999 and helped the squad to win FIFA World Cup silver medals in 2002 and bronze medals in 2006. In 2005 they were bronze madals winners in FIFA Confederations Cup and in 2008 Germany finished runners-up in European Football Championship.
Personal Life
Michael Ballack was born on September 26, 1976, in Görlitz, a town in Saxony, Germany, which straddles the Polish border. He is the only child of Stephan Ballack, an engineer, and his wife Karin, a secretary. The family moved to Chemnitz, (then called Karl-Marx-Stadt) when Ballack was very young and it was there that he started to play football.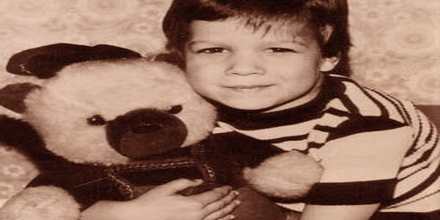 His parents sent him to train with the side when he was seven years old. He later moved on to FC Karl-Marx-Stadt (renamed Chemnitzer FC in 1990). His father had played second-division football himself in Germany. Unusual for his early age was Ballack's ability to use both feet with equal authority.
His surname is of Sorbian origin. He was the only child of father Stephan, an engineer who played third-division football, and mother Karin, a secretary and swimmer.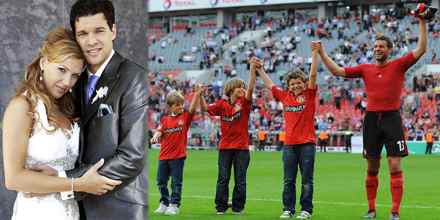 On 14 July 2008, Ballack married his longtime girlfriend Simone Lambe. The couple have three children together – Louis (born 2001), Emilio (born 2002) and Jordi (born 2005). The couple divorced in 2012.
During Euro 2012, the 2014 FIFA World Cup, and Euro 2016, Ballack worked as a studio analyst for ESPN, often alongside Alexi Lalas.
Playing Career
Ballack grew up in Chemnitz in East Germany during the era of a divided Germany. There he played youth football with FC Karl-Marx-Stadt (Chemnitzer FC from 1990). Chemnitz gave him his first professional contract in 1995, and in 1997 he transferred to FC Kaiserslautern, which had just been promoted to the Bundesliga (Germany's top football division).
It was during the seventh game of the 1997–98 season, away to Karlsruhe, that Rehhagel decided to throw Ballack into the Bundesliga for the first time, if only for the final five minutes of the encounter. On 28 March 1998, Ballack made his first-team debut-start against Bayer Leverkusen.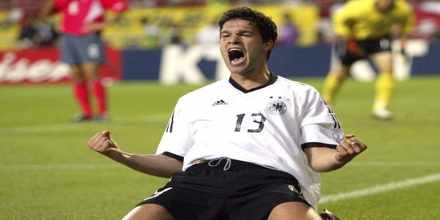 On 1 July 1999, Ballack moved to Bayer 04 Leverkusen at the age of 22, for a transfer fee of €4.1 million.
After playing at Leverkusen for 3 seasons, Ballack was the major player to bring this mid table team into a contender for the title.
Bayern Leverkusen had a run for all three trophies including Champions League, the German Cup and the League Title but would finish runners up in all three competitions earning the name of "Treble Horror".
Following the 2002 World Cup and great display of skill and leadership playing a key role in Germany reaching the final, Ballack transferred to Bayern Munich for reported €12.9 million.
During his time in Bayern Munich he reached his top form scoring 47 goals during 135 matches in all competitions.
Ballack agreed to join English Premier League club Chelsea on a free transfer on 15 May 2006. During his last season as a Bayern player there were rumours of interest from Manchester United, Real Madrid, Internazionale and Milan, but Ballack instead chose to go to Stamford Bridge. Shortly after arriving at Chelsea, Ballack stated that he hoped to end his career at Chelsea.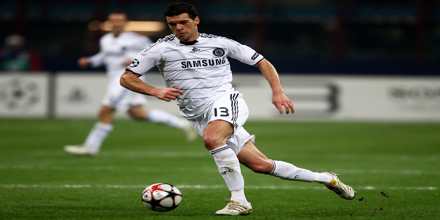 He received the first straight red card of his career in Chelsea's 1–0 win over Liverpool on 17 September 2006, after being judged to have stamped on Mohamed Sissoko's leg.
His first FA Cup goal came in the 109th minute in the semi-final against Blackburn Rovers on 15 April 2007. This goal resulted in Chelsea progressing into the FA Cup final.
On 29 April 2007, Chelsea released a statement on their official website, informing fans that Ballack had undergone ankle surgery in Munich. As a result of the surgery, Ballack did not play in the FA Cup Final against Manchester United, which Chelsea won 1–0 through Didier Drogba's extra time goal. This was Ballack's second trophy this season, his first being the League Cup, the final of which he started.
When his contract ran out in 2010, Chelsea would not renew it and it was time for Ballack to come back to German Bundesliga and Bayern Leverkusen.
After 3 months of arrival to Leverkusen in June, 2010 it was announced that Michael Ballack will retire from both club and international soccer/football due to shin injury.
However Ballack would make a comeback in February, 2011 coming in off the bench for Simon Rofles.
Leverkusen won the match 4–2. Ballack scored his second Europa League goal against Metalist Kharkiv, Leverkusen won 2–0, with 6–0 on aggregate moving on to the last 16. Ballack played the full 90 minutes against Schalke assisting Eren Derdiyok to score, Leverkusen went on to win 2–0.
On 26 March 1996, Ballack debuted for the national U21 team against Denmark, shortly after signing for Chemnitz. In all, he played 19 matches for this side, scoring four goals. Then, following his move to Kaiserslautern, national coach Berti Vogts called him up to the senior team.
Ballack only played 63 minutes at UEFA Euro 2000. In the 2002 FIFA World Cup, he scored in matches against the United States and South Korea during the knockout rounds as Germany reached the final. He was included in the World Cup All Star Team.
Following UEFA Euro 2004, Jürgen Klinsmann replaced Rudi Völler at the helm of the national team and Ballack took over from Oliver Kahn as captain.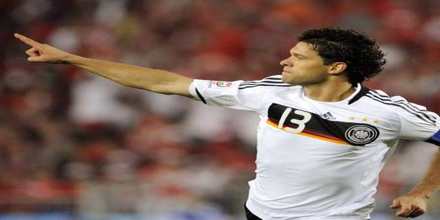 In the 2006 FIFA World Cup, he was unable to start in Germany's first game against Costa Rica due to a calf strain, but appeared in the following five matches.
Ballack started and captained Germany in their first game of the UEFA Euro 2008 championship against Poland. He proved to be an influential figure in the midfield as Germany came back from a shock defeat to Croatia to make it to the final, scoring a free kick against Austria to secure Germany a 1–0 win and a place in the quarter-finals.
Between June 2005 and Ballack's retirement, Germany never lost a game when Ballack scored. He scored 4 goals in the 2010 World Cup qualifiers. However, he missed the 2010 FIFA World Cup following a foul by Kevin-Prince Boateng in the FA Cup Final that caused an ankle injury.
Since the 2010 FIFA World Cup qualifiers, Ballack had not been called up for any international matches. It was reported that Germany coach Joachim Löw was waiting for Ballack to retire from international football after the 2010 World Cup, however Ballack refused to give up despite a rash of injuries suffered in 2010–11. On 16 June 2011, it was announced that Ballack would no longer be a part of the national team. The DFB offered him two friendlies to reach 100 matches for Germany, which he refused, accusing Löw of disrespecting him ever since his injury dating back to March 2010 and calling the invitation to compete in another two games for Germany a "farce".
Ballack announced his retirement on 2 October 2012.
Ballack is considered to be one of the most complete and versatile midfielders of his generation; he played in several midfield positions during his career, and was noted for his powerful shot.
On a technical level, he was a commanding, physically strong and aggressive player, with excellent passing range, who moved the ball efficiently. The technicality and intelligence of his game was extremely high. He started his football career as a sweeper, but when he moved to Leverkusen in 1999, then-coach Christoph Daum moved him to midfield.
Honours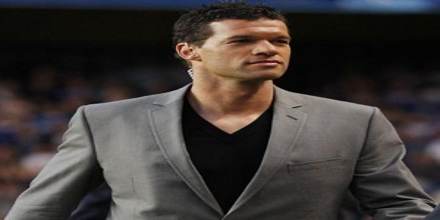 Club
Kaiserslautern
Bayer Leverkusen
Bundesliga Runner-up: 2001–02, 2010–11
DFB-Pokal Runner-up: 2001–02
UEFA Champions League Runner-up: 2001–02
Bayern Munich
Bundesliga: 2002–03, 2004–05, 2005–06
DFB-Pokal: 2002–03, 2004–05, 2005–06
DFB-Ligapokal: 2004
Chelsea
League Cup: 2006–07; Runner-up: 2007–08
FA Cup: 2006–07, 2008–09, 2009–10
UEFA Champions League Runner-up: 2007–08
FA Community Shield: 2009; Runner-up: 2006
Premier League: 2009–10; Runner-up: 2006–07, 2007–08
International
Germany
FIFA World Cup Runner-up: 2002; Third Place: 2006
UEFA European Championship Runner-up: 2008
FIFA Confederations Cup Third Place: 2005
Individual
UEFA Club Midfielder of the Year: 2002
UEFA Team of the Year: 2002
ESM Team of the Year: 2001–02
German Footballer of the Year: 2002, 2003, 2005; Runner-up 2008
kicker Man of the Year (Mann des Jahres): 2002
Most assists in the 2002 FIFA World Cup
FIFA World Cup All-star team: 2002, 2006
FIFA XI: 2002
UEFA Euro Team of the Tournament: 2004, 2008
Bayer Leverkusen Squad of the Century
FIFA 100
FIFA Confederations Cup Silver Shoe Winner: 2005
2008 Goal of the Year in Germany