Biography of Joseph Lister
Joseph Lister – British surgeon and a pioneer of antiseptic surgery.
Name: Joseph Lister
Date of Birth: 5 April 1827
Place of Birth: Upton House, West Ham, England
Date of Death: 10 February 1912 (aged 84)
Place of Death: Walmer, Kent, England
Father: Joseph Jackson Lister
Mother: Isabella Harris
Spouse/Ex-: Agnes Lister (nee Syme)
Fields: Medicine
Awards: Royal Medal (1880), Albert Medal (1894), Copley Medal (1902)
Early Life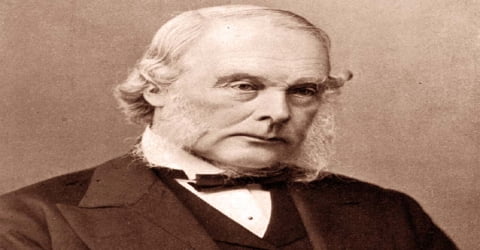 Joseph Lister, 1st Baron Lister, OM PC PRS FRS, known between 1883 and 1897 as Sir Joseph Lister, Bt., was a British surgeon who was the founder of antiseptic medicine and a pioneer in preventive medicine. He promoted the idea of sterile surgery while working at the Glasgow Royal Infirmary. Lister successfully introduced carbolic acid (now known as phenol) to sterilize surgical instruments and to clean wounds.
Joseph Lister was born in Upton, Essex, England, on April 5, 1827, the fourth of Joseph Jackson Lister and Isabella Harris Lister's seven children. His father was a wealthy wine merchant and student of Latin and mathematics who also developed an achromatic (possessing no color) lens for the microscope. As a child, Lister studied fish and small animals. He also did microscopic research, and his later acceptance of Louis Pasteur's (1822–1895) work may be related to his understanding of the process of fermentation (the chemical breakdown of a compound) in relation to the making of wine.
Lister knew at a young age that he wanted to be a surgeon, but his father made sure he completed his formal education first, just in case. As a teenager Lister attended schools at Hitchin and Tottenham, England, studying mathematics, natural science, and languages. In 1844 he entered University College in London, England, to study medicine. After graduating in 1852, he began a surgical career in Edinburgh, Scotland. In 1860 he became a professor of surgery at the Royal Infirmary in Glasgow, Scotland.
Applying Louis Pasteur's advances in microbiology, Lister championed the use of carbolic acid as an antiseptic, so that it became the first widely used antiseptic in surgery. He first suspected it would prove an adequate disinfectant because it was used to ease the stench from fields irrigated with sewage waste. He presumed it was safe because fields treated with carbolic acid produced no apparent ill-effects on the livestock that later grazed upon them.
He set about trying to find an effective method of eliminating the micro-organisms by exposing them to strong chemicals. After extensive experimentation, he found an effective antiseptic in carbolic acid. He treated the surgical instruments and wounds of patients with the chemical and discovered that when the solution was swabbed on wounds, it remarkably reduced the incidence of gangrene. Excited by his findings, he published his results in 'The Lancet'. He instructed other surgeons to wash their hands and instruments with 5% carbolic acid solutions before operations, and this dramatically brought down the mortality rates from infection. Hailed a hero for his significant discoveries, Lister won worldwide acclaim and was made a baron by Queen Victoria.
Lister's work led to a reduction in post-operative infections and made surgery safer for patients, distinguishing him as the "father of modern surgery".
Major Works – Joseph Lister was a pioneer in antiseptic surgical methods which became popular following the publication of his paper, 'Antiseptic Principle of the Practice of Surgery' in 1867. He advocated the use of carbolic acid to kill the germs present in surgical instruments and on the hands of surgeons before any surgery was performed.
Childhood, Family and Educational Life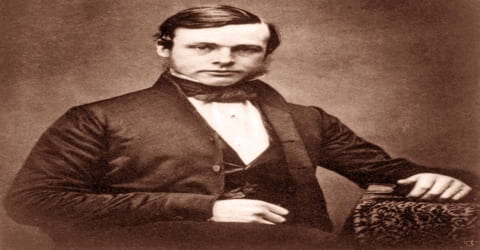 Joseph Lister was born on 5 April 1827, in West Ham, England, to Joseph Jackson Lister, an amateur British opticist and physicist and his wife Isabella Harris, as one of their seven children. His father was a pioneer of achromatic object lenses for the compound microscope.
Bright and curious as a young child, he studied fish and small animals. It did not take him long to realize that he was meant to be a surgeon when he grew up.
At school, he became a fluent reader of French and German. A young Joseph Lister attended Benjamin Abbott's Isaac Brown Academy, a Quaker school in Hitchin in Hertfordshire (since converted into the "Lord Lister" public house). As a teenager, Lister attended Grove House School in Tottenham, studying mathematics, natural science, and languages.
He attended University College, London, one of only a few institutions which accepted Quakers at that time. He initially studied botany and obtained a Bachelor of Arts degree in 1847. He then registered as a medical student at the same college and graduated with a bachelor of medicine with honors in 1852. He became a fellow of the Royal College of Surgeons and house surgeon at University College Hospital the same year. In 1854, Lister became both first assistant to and friend of surgeon James Syme at the University of Edinburgh, Edinburgh Royal Infirmary in Scotland. There he joined the Royal Medical Society and presented two dissertations, in 1855 and 1871, which are still in the possession of the Society today.
Personal Life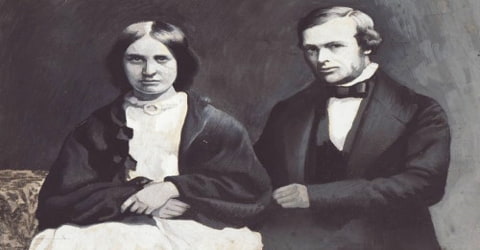 Lister married his mentor James Syme's daughter, Agnes. His wife was very supportive of his medical research and the two had a happy marriage. The couple did not have any children. On their honeymoon, they spent 3 months visiting leading medical institutes (hospitals and universities) in France and Germany. By this time, Agnes was enamored of medical research and was Lister's partner in the laboratory for the rest of her life.
Lister's wife had long helped him in research and after her death in Italy in 1893 (during one of the few holidays they allowed themselves) he retired from practice.
Career and Works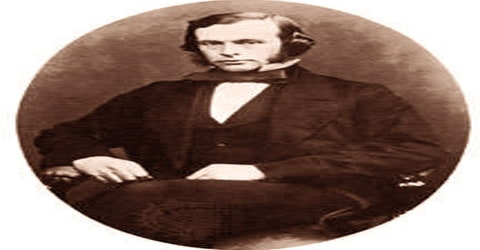 Lister went to Edinburgh, Scotland, in the fall of 1853 and became acquainted with James Syme, the greatest surgical teacher of his day. The following year, Lister became an assistant to Syme at the University of Edinburgh, Edinburgh Royal Infirmary. He was appointed a surgeon at the infirmary in 1856 and became a professor of surgery at the Royal Infirmary in Glasgow in 1860.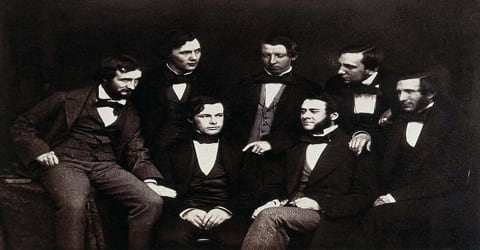 (Lister is in the front row with his hands clasped)
Before Lister's studies of surgery, most people believed that chemical damage from exposure to bad air was responsible for infections in wounds. Hospital wards were occasionally aired out at midday as a precaution against the spread of infection via miasma, but facilities for washing hands or a patient's wounds were not available. A surgeon was not required to wash his hands before seeing a patient because such practices were not considered necessary to avoid infection. Despite the work of Ignaz Semmelweis and Oliver Wendell Holmes Sr., hospitals practiced surgery under unsanitary conditions. Surgeons of the time referred to the "good old surgical stink" and took pride in the stains on their unwashed operating gowns as a display of their experience.
In 1864, Lister read a paper published by the French chemist, Louis Pasteur, which showed that fermentation and food spoilage could be caused by the presence of micro-organisms. Pasteur had also given three possible methods of eliminating micro-organisms—filtration, exposure to heat, or exposure to chemical solutions.
Intrigued by Pasteur's findings, Lister conducted his own experiments which confirmed the Frenchman's discoveries. Lister was now motivated to develop "antiseptic" techniques for wounds.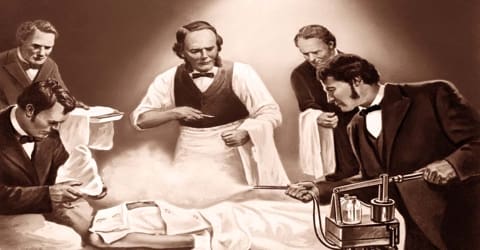 That same year Lister read in the newspaper that the treatment of sewage (liquid waste matter from sewers) with a chemical called carbolic acid had led to a reduction of diseases among the people of Carlisle, England, and among the cattle grazing on sewage-treated fields. In 1865 he developed a successful method of applying carbolic acid to wounds. The technique of spraying the air in the operating room with carbolic acid was used only briefly, as it was recognized that germs in the air were not the main problem. Lister perfected the details of the antiseptic method and continued his research. He developed the surgical use of a sterile (germ-free) thread for closing wounds and introduced gauze dressings. Antisepsis became a basic principle for the development of surgery. Amputations became less frequent, as did death from infections. Now new operations could be planned and executed safely.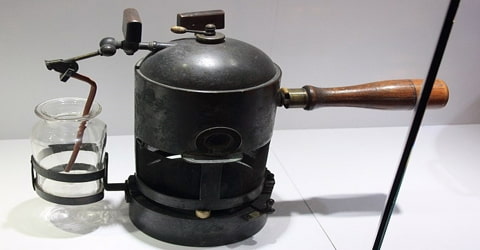 In August 1865, Lister applied a piece of lint dipped in carbolic acid solution onto the wound of a seven-year-old boy at Glasgow Infirmary, who had sustained a compound fracture after a cartwheel had passed over his leg. After four days, he renewed the pad and discovered that no infection had developed, and after a total of six weeks he was amazed to discover that the boy's bones had fused back together, without the danger of suppuration. He subsequently published his results in The Lancet in a series of six articles, running from March through July 1867.
Lister returned to Edinburgh in 1869 as successor to Syme as Professor of Surgery at the University of Edinburgh. There he continued to work on developing improved methods of antisepsis and asepsis. Famous by now, hundreds of people flocked to hear him speak and the "germ theory of disease" became more widely accepted.
Lister moved from Scotland to King's College Hospital, in London. In 1881 he was elected President of the Clinical Society of London. He also developed a method of repairing kneecaps with metal wire and improved the technique of mastectomy. He also served as the president of the Royal Society between 1895 and 1900.
Awards and Achievements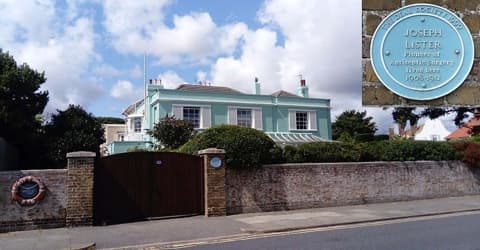 He was bestowed with the Royal Medal in 1880 and the Albert Medal in 1894.
In 1883, Queen Victoria made him a Baronet, of Park Crescent in the Parish of St Marylebone in the County of Middlesex and raised him to the peerage as Baron Lister, of Lyme Regis in the County of Dorset in 1897.
He won the Copley Medal in 1902 "In recognition of the value of his physiological and pathological researches in regard to their influence on the modern practice of surgery".
He was also the recipient of Prussia´s highest order of merit, the Pour le mérite.
Death and Legacy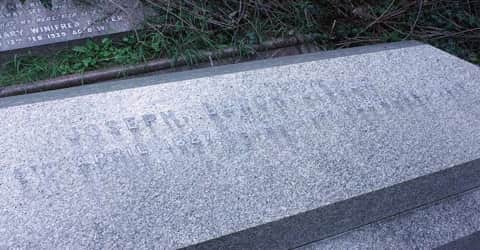 Lister died on 10 February 1912 at his country home (now known as Coast House) in Walmer, Kent at the age of 84. After a funeral service at Westminster Abbey, he was buried at West Hampstead Cemetery, London in a plot to the south-east of the central chapel. Both the baronetcy and barony became extinct on his death.
In 1879, Listerine mouthwash was named after him for his work in antisepsis. Two postage stamps were issued in 1965 to honor Lister's contributions to antiseptic surgery.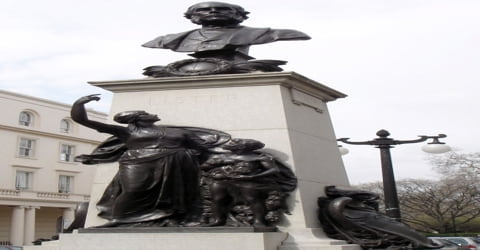 Lister was president of the Royal Society between 1895 and 1900. Following his death, a memorial fund led to the founding of the Lister Medal, seen as the most prestigious prize that could be awarded to a surgeon.
Information Source: