Biography of George Carlin
George Carlin – American stand-up comedian, actor, author, and social critic.
Name: George Denis Patrick Carlin
Date of Birth: May 12, 1937
Place of Birth: Manhattan, New York, U.S.
Date of Death: June 22, 2008 (aged 71)
Place of Death: Santa Monica, California, U.S.
Occupation: Author, Actor
Father: Patrick John Carlin
Mother: Mary Carlin (née Bearey)
Spouse/Ex: Brenda Hosbrook (m. 1961; died 1997), Sally Wade (m. 1998)
Early Life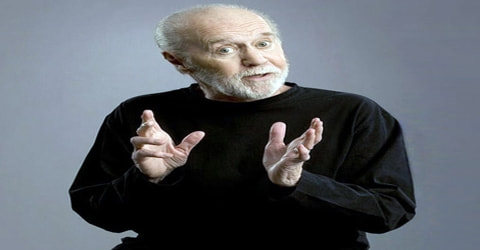 American actor, writer, and comedian George Carlin was born on May 12, 1937, in Manhattan, New York, the younger son of secretary Mary Carlin (née Bearey) and The Sun's advertising manager Patrick John Carlin. He was an American comedian whose "Seven Words You Can Never Say on Television" routine led to a U.S. Supreme Court ruling that gave the Federal Communications Commission (FCC) the right to determine when to censor radio and TV broadcasts. He was known for his stand-up routines as well as TV appearances and roles in such films as 1987's Outrageous Fortune.
Carlin was noted for his black comedy and reflections on politics, the English language, psychology, religion, and various taboo subjects. He and his "seven dirty words" comedy routine were central to the 1978 U.S. Supreme Court case F.C.C. v. Pacifica Foundation, in which a 5–4 decision affirmed the government's power to regulate indecent material on the public airwaves. He is widely regarded as one of the most important and influential stand-up comics; one newspaper called Carlin "the dean of counterculture comedians". In April 2004, he placed second on the Comedy Central list of "Top 10 Comedians of US Audiences".
After dropping out of high school and enlisting in the Air Force, Carlin began taking radio jobs, eventually (with partner Jack Burns) attracting the attention of Lenny Bruce, who helped get them appearances on The Tonight Show with Jack Paar. Carlin went on to become a popular stand-up comedian, author, and film and television actor.
His final HBO special, It's Bad for Ya, was filmed less than four months before his death. In 2008, he was posthumously awarded the Mark Twain Prize for American Humor. In 2017, Rolling Stone magazine ranked him second (behind Richard Pryor) on its list of the 50 best stand-up comics of all time.
Childhood, Family and Educational Life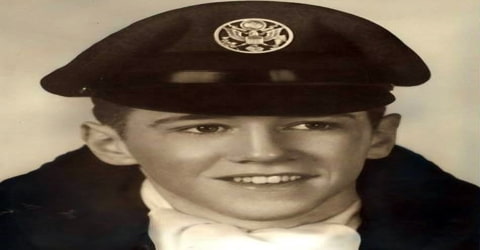 George Carlin, in full George Denis Patrick Carlin, was born May 12, 1937, in the Bronx, New York. He was the younger son of secretary Mary Carlin (née Bearey) and The Sun's advertising manager, Patrick John Carlin. His father was an Irish immigrant from County Donegal, while his mother was an Irish-American.
Carlin's maternal grandfather, Dennis Bearey, was an Irish immigrant who worked as an NYPD officer. Carlin recalled that his grandmother's maiden name was O'Grady, but it was changed to Grady before she reached the U.S. He joked that they "dropped the O in the ocean on the way here". He named his character on The George Carlin Show O'Grady as an act of homage to her. Although born to a Catholic family, Carlin rejected religion. His parents separated when he was two months old because of his father's alcoholism. Mary raised Carlin and his older brother, Patrick Jr., on her own.
Carlin attended parochial school and much of his negative religious sentiment stems from his experience as a Roman Catholic altar boy. Carlin completed two years of high school before dropping out in the ninth grade. He briefly attended Bishop Dubois High School in Harlem and the Salesian High School in Goshen, New York. He spent many summers at Camp Notre Dame on Spofford Lake in Spofford, New Hampshire, and regularly won the camp's drama award. Much later in life, he requested that a portion of his ashes be spread at the lake after his death.
In 1954, at age 17, Carlin enlisted in the U.S. Air Force as a radar technician and was stationed at Shreveport, Louisiana. Over the next three years, Carlin earned his high school equivalency and moonlighted as a disc jockey at a local radio station. He also received three courts-martial and numerous disciplinary punishments, according to his official Web site. After a general discharge in 1957, he took radio jobs in Boston and Fort Worth, Texas.
Personal Life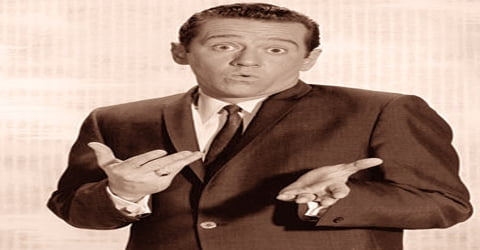 George Carlin met Brenda Hosbrook in August 1960 while touring with Burns and Carlin in Dayton, Ohio. They were married at her parents' home in Dayton on June 3, 1961. The couple's only child, Kelly, was born on June 15, 1963. In 1971, they renewed their wedding vows in Las Vegas. Hosbrook died of liver cancer on May 11, 1997, the day before Carlin's 60th birthday.
In November 1997, Carlin met Sally Wade, a comedy writer based in Hollywood; Carlin described it as "love at first sight", but was hesitant to act on his feelings so soon after his wife's death. They eventually married on June 24, 1998, in a private, unregistered ceremony. The marriage lasted until Carlin's death in 2008, two days before their tenth anniversary.
In a 2008 interview, George Carlin stated that using cannabis, LSD, and mescaline helped him in his personal life.
Career and Works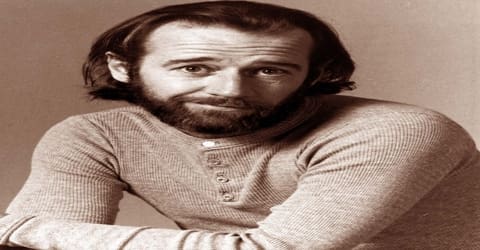 In 1959, Carlin teamed up with Texas newscaster, Jack Burns. The pair collaborated on a morning radio show in Fort Worth before relocating to Hollywood, where they attracted the attention of the legendary Lenny Bruce. Bruce helped Burns and Carlin secure appearances on The Tonight Show with Jack Paar (Carlin would make a total of 130 appearances on The Tonight Show).
Within weeks of arriving in California, Burns and Carlin put together an audition tape and created The Wright Brothers, a morning show on KDAY in Hollywood. During their tenure at KDAY, they honed their material in beatnik coffeehouses at night. Years later when he was honored with a star on the Hollywood Walk of Fame, Carlin requested that it be placed in front of the KDAY studios near the corner of Sunset Boulevard and Vine Street. Burns and Carlin recorded their only album, Burns and Carlin at the Playboy Club Tonight, in May 1960 at Cosmo Alley in Hollywood. After two years together as a team, they parted to pursue individual careers, but "remained the best of friends".
Burns and Carlin eventually split up, and over the next few years, Carlin continued to make numerous appearances on The Tonight Show with Johnny Carson, as well as 29 appearances on The Merv Griffin Show.
Carlin began working in the late 1950s as a wisecracking radio disc jockey and low-key stand-up comedian known for such whimsical routines as "Wonderful WINO" and the "Hippy Dippy Weatherman." Beginning in the 1970s, however, he transformed himself into a provocative and incisive antiestablishment comic icon. Carlin was most closely identified with the monologue "Seven Words You Can Never Say on Television," in which he satirically analyzed the use and misuse of seven of the raunchiest obscenities in the English language.
In the early 1960s, Carlin got his start as a stand-up comic by performing on the Las Vegas circuit and entertaining TV audiences. Carlin enjoyed moderate success until the mid-70s when he re-invented his image and adopted a less conventional, somewhat vulgar comedy routine. Carlin's scripted monologues began to represent his disillusioned attitude toward the world in which explored the highly sensitive issues of Vietnam, politics, religion, American culture, drugs, the demise of humanity and the right to free speech.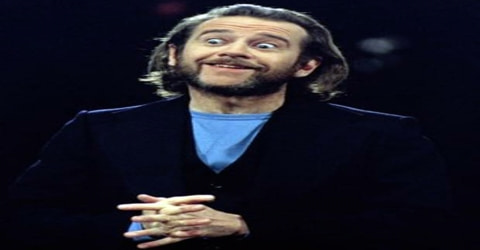 Carlin was also cast in Away We Go, a 1967 comedy show that aired on CBS. His material during his early career and his appearance, which consisted of suits and short-cropped hair, had been seen as "conventional", particularly when contrasted with his later anti-establishment material.
He was arrested in July of 1972 for performing the monologue onstage, but a judge dismissed the case. In 1973 New York City radio station WBAI-FM triggered a lawsuit by the FCC after it aired a recorded version of the routine called "Filthy Words." The landmark "Carlin case" was finally settled in 1978 by the U.S. Supreme Court: in a 5–4 ruling, it gave the FCC the ability to censor offensive content in radio and TV broadcasts.
In the late 1960s, Carlin was making about $250,000 annually. As a tax shelter, he bought a private jet – a twin-engine Aero Commander 1121 Jet Commander. Carlin hired pilots to fly him to various tour dates.
In 1973, a man complained to the Federal Communications Commission after listening with his son to a similar routine, "Filthy Words", from Occupation: Foole, broadcast one afternoon over WBAI, a Pacifica Foundation FM radio station in New York City. Pacifica received a citation from the FCC for violating regulations that prohibit broadcasting "obscene" material. The U.S. Supreme Court upheld the FCC action by a vote of 5 to 4, ruling that the routine was "indecent but not obscene" and that the FCC had authority to prohibit such broadcasts during hours when children were likely to be among the audience (F.C.C. v. Pacifica Foundation, 438 U.S. 726 (1978); the court documents contain a complete transcript of the routine).
When a radio station played a recording of Carlin's "Seven Words" routine, it sparked a legal case over obscenity regulations. In 1978, the U.S. Supreme Court upheld the government's right to penalize stations that broadcast such material on public airwaves during hours (6 a.m. and 10 p.m.) when young people may typically tune in.
Carlin hosted the premiere broadcast of NBC's Saturday Night Live, on October 11, 1975, the only episode to date in which the host did not appear (at his request) in sketches. The following season, 1976–77, he appeared regularly on CBS Television's Tony Orlando & Dawn variety series. He was unexpectedly stopped performing regularly in 1976 when his career appeared to be at its height. For the next five years he rarely performed stand-up, although it was at this time that he began doing specials for HBO as part of it's On Location series; doing 14 specials, including 2008's It's Bad For Ya! He later revealed that he had suffered the first of three heart attacks during this layoff period. His first two HBO specials aired in 1977 and 1978.
In 1990, Carlin compiled a multi-CD set that highlighted his work from the 70s, titled George Carlin: The Little David Years (1971-'77) (1990). The collection included the albums: FM & AM, Class Clown, Occupation: Foole, Toledo Window Box, An Evening With Wally Londo Featuring Slaszo, and On the Road. Carlin received two Grammy Awards for FM & AM (1990) and Jammin' in New York (1992), for which he won a Grammy. You Are All Diseased (1999) is abundant with his trademark satire and profanity about American family life.
In 1993, Carlin began a weekly Fox sitcom, The George Carlin Show, playing New York City taxicab driver George O'Grady. The show, created and written by The Simpsons co-creator Sam Simon, ran 27 episodes through December 1995. In his final book, the posthumously published Last Words, Carlin said about The George Carlin Show, "I had a great time. I never laughed so much, so often, so hard as I did with cast members Alex Rocco, Chris Rich, Tony Starke. There was a very strange, very good sense of humor on that stage … but I was incredibly happy when the show was canceled. I was frustrated that it had taken me away from my true work."
Carlin published Brain Droppings in 1997. The book included his comedic take on life, society, and politics. It spent 18 weeks on the New York Times' best-seller list. Two years later, syndicated columnist Mike Barnicle was suspended from the Boston Globe, after he had plagiarized passages from Carlin's book. To Carlin's benefit, the widely publicized controversy led to an increase in book sales.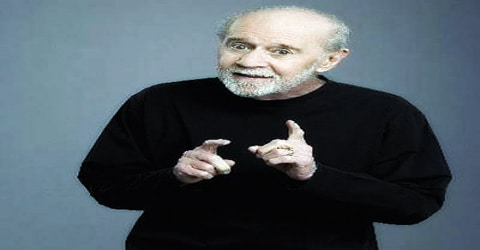 Carlin criticized elections as an illusion of choice. In a 2004 interview, Carlin stated the last time he voted was in 1972 for George McGovern, who ran for President against Richard Nixon. He also criticized religion and mocked traditional oath affirmations on the Bible as "bullshit", "make believe", and "kid stuff". However, he warned, "Be happy, don't be proud, there's too much pride as it is. 'Pride goeth before the fall' never forget Proverbs." Carlin repeatedly joked that he worshipped the sun because he could see it, and prayed to Joe Pesci because he "looks like a guy who could get things done".
Throughout his career, Carlin took on a number of comedic roles in films such as 1987's Outrageous Fortune and as Rufus, an emissary from the future, in 1990's Bill & Ted's Bogus Journey. He took a more dramatic turn in The Prince of Tides (1991). He also was featured in Kevin Smith's film Dogma (1999), in which he played Cardinal Glick, a fame-seeking religious figure. In 2006, he provided the voice of Fillmore, a hippie Volkswagen bus, in the animated Cars.
Awards and Honor
George Carlin was honored with a star on the Hollywood Walk of Fame in 1987.
Carlin was honored at the 1997 Aspen Comedy Festival with a retrospective, George Carlin: 40 Years of Comedy, hosted by Jon Stewart. His first hardcover book, Brain Droppings (1997), sold nearly 900,000 copies and spent 40 weeks on the New York Times best-seller list.
In 2004 the cable television network Comedy Central ranked Carlin second on its list of the "100 Greatest Stand-Ups of All Time," behind African American actor-comedian Richard Pryor and just ahead of the legendary Lenny Bruce.
Carlin was honored with the American Comedy Awards' Lifetime Achievement Award (2001) and the Mark Twain Prize for American Humor (2008).
His final HBO special, It's Bad for Ya, aired just months before his death, and it won the Grammy Award for the best comedy album in 2009.
Death and Legacy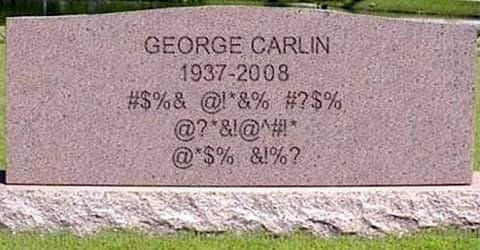 George Carlin died on June 22, 2008, at Saint John's Health Center in Santa Monica, California, of cardiac arrest at age 71. His death occurred one week after his last performance at The Orleans Hotel and Casino in Las Vegas. In accordance with his wishes, his body was cremated, and the ashes were scattered in front of various nightclubs he played in New York City and over Spofford Lake, in Chesterfield, New Hampshire, where he attended summer camp as an adolescent.
George Carlin released more than 20 comedy albums and starred in 14 HBO television specials. As an actor, he usually played a character inspired by his own comic persona (as in the short-lived situation comedy The George Carlin Show-1994), with the notable exception of his stint in the 1990s as the amiable narrator (and onscreen host, Mr. Conductor) of the children's programs Thomas the Tank Engine and Friends and Shining Time Station. His memoir, Last Words, was published later that year.
Four days before Carlin's death, the John F. Kennedy Center for the Performing Arts had named him its 2008 Mark Twain Prize for American Humor honoree. He became its first posthumous recipient on November 10 in Washington, D.C. Comedians honoring him at the ceremony included Jon Stewart, Bill Maher, Lily Tomlin (a past Twain Humor Prize winner), Lewis Black, Denis Leary, Joan Rivers, and Margaret Cho. Louis C.K. dedicated his stand-up special Chewed Up to Carlin, and Lewis Black dedicated the second season of Root of All Evil to him.
In addition to his acting, writing, and recording, Carlin continued to perform about 150 dates a year on the road. In 2004, he placed second behind Richard Pryor on Comedy Central's list of "Top 100 Comics of All Time."
Information Source: