Biography of Gioachino Rossini
Gioachino Rossini – Italian composer.
Name: Gioachino Antonio Rossini
Date of Birth: February 29, 1792
Place of Birth: Pesaro, Italy
Date of Death: November 13, 1868
Place of Death: Passy, Paris, France
Occupation: Composer
Father: Giuseppe Rossini
Mother: Anna Guidarini
Spouse/Ex: Olympe Pélissier (m. 1846–1868), Isabella Colbran (m. 1822–1845)
Early Life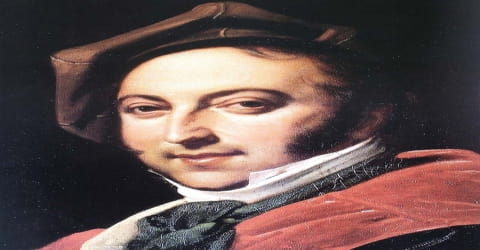 Gioachino Rossini, Italian composer noted for his operas, particularly his comic operas, was born on February 29, 1792, Pesaro, the Papal States in Italy. He was an Italian composer who gained fame for his 39 operas, although he also wrote many songs, some chamber music and piano pieces, and some works of sacred music. He set new standards for both comic and serious opera before retiring from large-scale composition while still in his thirties, at the height of his fame.
His parents were both working musicians. His father played the horn and taught at the prestigious Accademia Filharmonica in Bologna, and his mother, although not formally trained, was a soprano. Rossini was taught and encouraged at home until he eventually enrolled at the Liceo Musicale in Bologna. After graduation from that institution, the young musician was commissioned by the Venetian Teatro San Moise to compose La cambiale di Matrimonio, a comedy in one act. In 1812, Rossini wrote La Pietra del paragone, for La Scala theater in Milan and was already, at the tender age of 20, Italy's most prominent composer.
Rossini composed his first opera, "La cambiale di Matrimonio", at the age of 18. He produced some exceptional operas, like "La Pietra del paragone and Il Signor Bruschino", which were notable for their musical excellence. "The Barber of Seville", which immortalized him in the minds of music aspirants all over the world, is considered as his masterpiece. He was a fast composer and inexhaustible too! His 'The Barber of Seville' is said to have been composed in just twelve days. His compositions demanded dexterity of the opera singers of his time. He was known to be innovative and influenced generations of opera composers.
His withdrawal from opera for the last 40 years of his life has never been fully explained; contributary factors may have been ill-health, the wealth which his success had brought him, and the rise of spectacular Grand Opera under composers such as Giacomo Meyerbeer. From the early 1830s to 1855, when he left Paris and was based in Bologna, he wrote relatively little. On his return to Paris in 1855 he became renowned for his musical salons on Saturdays, regularly attended by musicians and the artistic and fashionable circles of Paris, for which he wrote the entertaining pieces Péchés de vieillesse. Guests included Franz Liszt, Anton Rubinstein, Giuseppe Verdi, Meyerbeer, and Joseph Joachim. Rossini's last major composition was his Petite messe solennelle (1864). He died in Paris in 1868.
Childhood, Family and Educational Life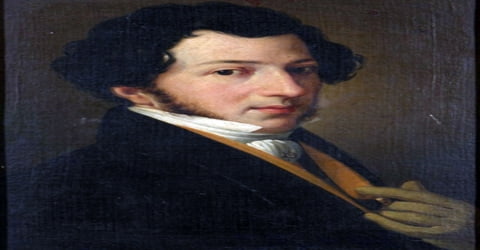 Gioachino Rossini, in full Gioachino Antonio Rossini (Italian: dʒoaˈkiːno anˈtɔːnjo rosˈsiːni), was born in Pesaro, Italy on February 29, 1792. His father, Giuseppe was a famous trumpeter of the town and also worked as an inspector of slaughterhouses while his mother was a singer. Thus, Rossini spent his entire childhood in the theatre. Though a lazy student, the young Rossini found it easy to learn to sing and play.
At age 14 he entered Bologna's Philharmonic School (now the G.B. Martini State Conservatory of Music) and composed his first opera seria Demetrio e Polibio (1806; staged in 1812) for the Mombelli, a family of singers. At 15 he had learned the violin, horn, and harpsichord and had often sung in public, even in the theatre, to earn some money.
In 1807, Rossini was enrolled in the counterpoint class of Padre P.S. Mattei, and then, he learned cello from Cavedagni, in Bologna. He learned cello with ease but did not like the strictness with which he was taught counterpoint by Mattei. Rossini was called 'il Tedeschino', meaning 'the little German', owing to his devotion to Mozart.
In 1810, without knowing the plot of the piece, Rossini worked piecemeal and completed his first operatic score, a two-act operatic dramma serio, Demetrio e Polibio. It was publicly staged in 1812, after the composer's first successes. Rossini and his parents concluded that his future lay in composing operas. The main operatic center in northeastern Italy was Venice; under the tutelage of the composer Giovanni Morandi, a family friend, Rossini moved there in late 1810, when he was eighteen.
Personal Life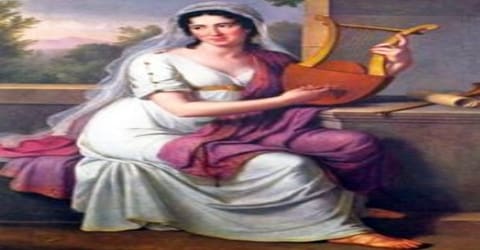 (Isabella Colbran)
In 1822, Rossini married the distinguished opera singer Isabella Colbran and moved to Vienna from Italy. The bride was thirty-seven, the groom thirty. In 1845 Colbran became seriously ill, and in September Rossini traveled to visit her; a month later she died.
Rossini married Olympe Pélissier on 16 August 1846. He left Bologna in 1848, owing to political turbulence, and went to Florence. Finally, he settled in Paris in 1855. Rossini was a foodie and also an amateur chef and, after his retirement, he took up cooking passionately. Even today, there are a number of dishes named after him, with suffices like "alla Rossini".
Gioachino Rossini kept his personal life as private as possible, but he was known for his susceptibility to singers in the companies he worked with. Among his lovers in his early years were Ester Mombelli (Domenico's daughter) and Maria Marcolini of the Bologna company. By far the most important of these relationships both personal and professional was with Isabella Colbran, prima donna of the Teatro San Carlo (and former mistress of Barbaia). He had heard her sing in Bologna in 1807, and when he moved to Naples he wrote a succession of important roles for her in opere serie.
Career and Works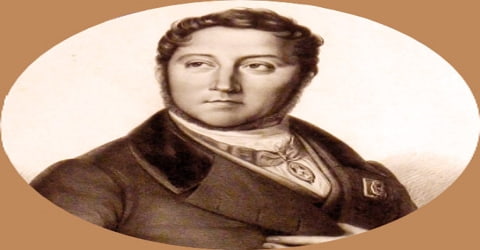 Rossini's first ever opera, 'La Cambiale di Matrimonio' (The Marriage Contract), was produced in Venice in 1810. During 1810-1813, he produced a number of operas while traveling through different countries like Bologna, Rome, Venice, and Milan. His career as a composer gained new heights with the success of his opera, 'Tancerdi' in 1813. 'Tancerdi' and 'L'Italiana in Algeri' brought him international fame at a young age of twenty.
When his voice broke and he was unable to continue singing, Rossini became an accompanist and then a conductor. He had already realized the importance of the German school of composition, perceiving the new elements by which Joseph Haydn and Wolfgang Amadeus Mozart had enriched music. These influences can be found in the early cantata he wrote for the Philharmonic School, performed there in 1808. During the next 20 years (from 1808) this genial lazybones was to compose more than 40 operas.
Back in Bologna again, Rossini gave the cantata La Morte di Didone (1811; The Death of Dido) in homage to the Mombelli family, who had helped him so much, and he scored a triumph with the two-act opera buffa L'equivoca stravagante (1811; The Extravagant Misunderstanding). The following year, two more of his comic operas were produced in Venice.
Rossini followed the success of his first piece with three more farses for the house: L'inganno Felice (1812), La scala di seta (1812), and Il Signor Bruschino (1813). In mid-1812 he received a commission from La Scala, Milan, where his two-act comedy La Pietra del paragone ran for fifty-three performances, a remarkable run for the time, which brought him not only financial benefits, but exemption from military service and the title of maestro di cartello a composer whose name on advertising posters guaranteed a full house. The following year his first opera seria, Tancredi, did well at La Fenice in Venice, and even better at Ferrara, with a rewritten, tragic ending. The success of Tancredi made Rossini's name known internationally; productions of the opera followed in London (1820) and New York (1825). Within weeks of Tancredi, Rossini had another box-office success with his comedy L'italiana in Algeri, composed in great haste and premiered in May 1813.
The success of L'Italiana in Algeri (1813; The Italian Girl in Algiers) followed, showing further refinements in his reforms of opera buffa. These two successes opened wide the doors of La Scala. With Aureliano in Palmira (1814) the composer affirmed his authority over the singers; he decided to prescribe and write the ornaments for his arias, but the work was not a success. After L'Italiana he wrote Il Turco in Italia (1814; The Turk in Italy) for the Milanese and a cantata for Princess Belgioioso, "one of the most likable of protectresses," as the French novelist Stendhal referred to her. Rossini's next work, Sigismundo (1814), was a failure.
In 1815, Rossini accepted a contract to work for the theaters in Naples, where he would remain until 1822, composing prolifically in comfort. He composed 19 operas during this tenure, focusing his attention on opera seria and creating one of his most famous serious works, Otello, for the Teatro San Carlos. While he served in this capacity, Rossini met and courted Isabella Colbran, a local soprano whom he would eventually marry. Other cities, too, clamored for Rossini's works, and it was for Roman audiences that he composed the sparkling comedies Il Barbiere di Siviglia (The Barber of Seville, 1816) and La Cenerentola (Cinderella, 1817).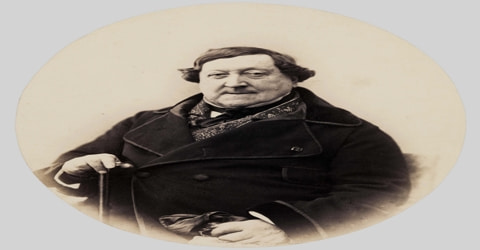 He was an established opera composer in Italy and continued to write operas both for Milan and Venice. However, the success of 'Tancerdi' set high expectations among his listeners which affected his success. So, he decided to go back to Bologna in 1815. He signed a contract with Domenico Barbaia, the manager of the Naples theatre, as the director of 'Teatro di San Carlo' and the 'Teatro Del Fondo'. As per the contract, Rossini was supposed to compose one opera each year and the remuneration was 200 ducats per month. He also had a share in the gambling tables set in the theatre, which summed up to about 1000 ducats per annum.
In 1816, for the Teatro Argentina in Rome, he composed the opera that was to become his best-known: The Barber of Seville (Il Barbiere di Siviglia). There was already a popular opera of that title by Paisiello, and Rossini's version was originally given the same title as its hero, Almaviva. After unsuccessful opening night, with mishaps on stage and many pro-Paisiello and anti-Rossini audience members, the opera quickly became a success, and by the time of its first revival, in Bologna a few months later, it was billed by its now-familiar title, and rapidly eclipsed Paisiello's setting.
Rossini composed about twenty operas between 1815 and 1823, of which 'Otello' is well-known for its compositional excellence. Unlike his typical comic operas, this was a serious one. There were ups and downs in his career with 'La Cenerentola' and 'Le Barbier de Séville' being great successes while 'Mosè in Egitto' being a big flop.
In 1822, Rossini left Naples and embarked on a European tour. The Italian musician was received enthusiastically, to say the least and enjoyed fame and acclaim everywhere. Even Beethoven, at the opposite stylistic pole in the musical scene of the day, praised him. The following year, Rossini was commissioned to write Semiramide, a serious opera, for La Fenice, a theater in Venice. This work was less successful in its own day than some of his previous efforts but spawned several arias that remain part of any vocalist's songbook.
His operas in Vienna were widely accepted. He returned to Bologna on invitation from Prince Metternich to "assist in the general re-establishment of harmony". In 1823, Rossini moved to England on advice from the manager of the 'King's Theatre' in London. He was already renowned in Paris and became the musical director of 'Theatre des Italiens' there, the very next year, with a salary of £800 per annum. His rising popularity brought him a contract from Charles X, to compose five new operas in the span of a year.
His Otello (1816) provoked Lord Byron to write, "They have been crucifying Othello into an opera: music good, but lugubrious but as for the words!" Nonetheless, the piece proved generally popular and held the stage infrequent revivals until it was overshadowed by Verdi's version, seven decades later. Among his other works for the house were Mosè in Egitto, based on the biblical story of Moses and the Exodus from Egypt (1818), and La donna del Lago, from Sir Walter Scott's poem The Lady of the Lake (1819). For La Scala, he wrote the opera semiseria La Gazza ladra (1817), and for Rome his version of the Cinderella story, La Cenerentola (1817). In 1817 came the first performance of one of his operas (L'Italiana) at the Theâtre-Italien in Paris; its success led to others of his operas being staged there, and eventually to his contract in Paris from 1824–1830.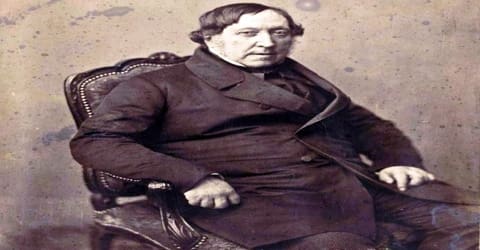 In 1824, Rossini traveled, via London, to Paris where he would live for five years and serve as the music director at the Théâtre Italien from 1824 to 1826. The composer gained commissions from other opera houses in France, including the Paris Opéra. Rossini composed his final opera, Guillaume Tell (1829), before retiring from the composition in that genre at the age of 37. Its overture is not only a concert favorite but an unmistakable reflection and continuation of Beethoven's heroic ideal. The catalog of work Rossini had written at the time of his retirement included 32 operas, two symphonies, numerous cantatas, and a handful of oratorios and chamber music pieces. After moving back to Italy, Rossini became a widower in 1845.
Between 1824 and 1829, Rossini composed two comic operas, 'Le Comte Ory', and 'Guillaume Tell', of which, the latter is considered to be the last of his operatic career. This was a breakthrough from his conventional way of composing. 'Guillaume Tell', also called 'The Overture' or 'William Tell Overture', was an instrumental introduction to the world of opera and served as a model for the romantic overtures throughout the 19th century.
For a long while, Rossini hoped to modify his style: to replace the comparative artificiality and coldness of florid opera coloratura with declamatory and lofty singing that is, with truth and intensity. In order to do that, he also had to reform the orchestra and give more importance to the chorus. Thus appeared Le Siège de Corinthe (The Siege of Corinth, 1826), a revision of the earlier Maometto II (1820), which was saluted by the prominent composer Hector Berlioz. Le Siège was followed by Moïse (Moses, 1827) and Le Comte Ory (Count Ory, 1828), an adaptation of opera buffa style to French opera.
In 1828 Rossini wrote Le Comte Ory, his only French-language comic opera. His determination to reuse music from Il Viaggio a Reims caused problems for his librettists, who had to adapt their original plot and write French words to fit existing Italian numbers, but the opera was a success and was seen in London within six months of the Paris premiere, and in New York in 1831. The following year Rossini wrote his long-awaited French grand opera, Guillaume Tell, based on Friedrich Schiller's 1804 play Wilhelm Tell which drew on the William Tell legend.
Rossini's final opera, Guillaume Tell (William Tell), is on the noble themes of nationalism and liberty, and his music is worthy of the elevated subject. The Parisian public gave him an ovation, and, in a single work, he had responded to all the critics in the most elegant manner. Then he decided, at age 37, not to write again for the theatre. Tell was to have been the first of five operas for the Opéra, but the new government following the Revolution of 1830 set aside Rossini's contract.
In 1855, Rossini, along with his new bride, moved once again, this time settling in Passy, a suburb of Paris. He spent the remaining years of his life writing sacred music as well as delectable miniatures for both piano and voice (some of which he called "sins of my old age"). He was revered from the time he was a teenager until his death.
After 'Guillaume Tell', Rossini took a semi-retirement from operas but, continued to write cantatas and other songs. After the death of his mother in 1827, he wanted to be with his father, which led him back to Bologna in 1829. However, in 1830, he returned to Paris to work for an opera. In 1832, he wrote the first six movements of his 'Stabat Mater' and the rest six were composed by Giovanni Tadolin, another musician, at the request of Rossini himself. It was as great a success as his previous operas.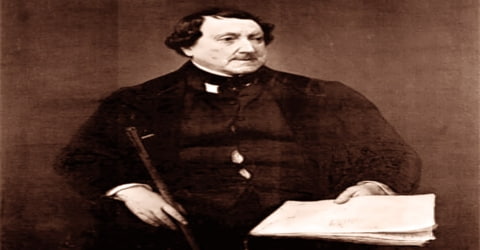 During his retirement he had written, returning to his first love, some religious pieces: the Stabat Mater (1832) and Petite messe solennelle (1864). He also wrote a few songs and piano pieces but never agreed to their publication.
In a 2003 biography of the composer, Gaia Servadio comments that Rossini and England were not made for each other. He was prostrated by the Channel crossing and was unlikely to be enthused by the English weather or English cooking. Although his stay in London was financially rewarding the British press reported disapprovingly that he had earned over £30,000 he was happy to sign a contract at the French embassy in London to return to Paris, where he had felt much more comfortable.
Death and Legacy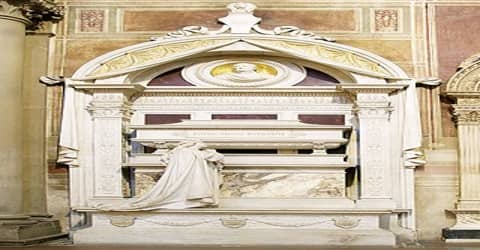 By the early 1850s, Rossini's mental and physical health had deteriorated to the point where his wife and friends feared for his sanity or his life. By the middle of the decade, it was clear that he needed to return to Paris for the most advanced medical care then available. In April 1855 the Rossini's set off for their final journey from Italy to France. Rossini returned to Paris aged sixty-three and made it his home for the rest of his life.
Gioachino Antonio Rossini succumbed to pneumonia at the age of 76, at his house in Passy, on 13 November 1868. He left Olympe a life interest in his estate, which after her death, ten years later, passed to the Commune of Pesaro for the establishment of a Liceo Musicale, and funded home for retired opera singers in Paris. After a funeral service attended by more than four thousand people. His burial took place in 'Père Lachaise Cemetery' in Paris. In 1887, Rossini's grave was transferred from Paris to Santa Croce, in Florence, in a ceremony attended by more than 6,000 admirers.
Rossini's chief legacy remains his extraordinary contribution to the operatic repertoire. His comedic masterpieces, including L'Italiana in Algeri, La Gazza ladra, and perhaps his most famous work, Il Barbiere di Siviglia, are regarded as cornerstones of the genre along with works by Wolfgang Amadeus Mozart and Giuseppe Verdi.
In 1860 the renowned German composer Richard Wagner visited him, and their fascinating conversation was recorded by Wagner in his essay "Eine Erinnerung a Rossini" ("A Memory of Rossini"). For years Rossini was known virtually only by the omnipresent Barber of Seville and an occasional revival of William Tell. From the 1950s more and more of his operas were revived, particularly at festivals, and nearly always with public and critical acclaim.
In the 21st century, the Rossini repertoire of opera houses around the world remains dominated by The Barber of Seville, with La Cenerentola the second most popular. Several other operas are regularly produced, including Le Comte Ory, La donna del Lago, La Gazza ladra, Guillaume Tell, L'italiana in Algeri, La scala di seta, Il Turco in Italia and Il Viaggio a Reims. Other Rossini pieces in the current international repertory, given from time to time, include Adina, Armida, Elisabetta Regina d'Inghilterra, Ermione, Mosé in Egitto and Tancredi. The Rossini in Wildbad festival specializes in producing the rarer works. The Operabase performance-listing website records 2,319 performances of 532 productions of Rossini operas in 255 venues across the world in the three years 2017–2019. All of Rossini's operas have been recorded.
Information Source: