Zinc Chromate (ZnCrO4) is a yellowish, crystalline inorganic compound that when heated emits toxic chromium fumes. It is a chemical compound containing the chromate anion that appears as odorless yellow powder or yellow-green crystals, but pigments are frequently added when used in coatings.
It was developed by the Ford Motor Company in the 1920s and is now used in chromate conversion coatings. It is extremely corrosive and a strong oxidizer. This substance is used in paints, varnishes, and oil colors as a corrosion inhibitor and metal conditioner.
Properties
Zinc chromate is a chemical compound that contains the anion chromate. It is used in chromate conversion coatings in industry. Its use as a corrosion-resistant agent was first applied to aluminum alloy parts in commercial aircraft, then to military aircraft. It is highly toxic and is rarely used in art nowadays.
Chemical formula: ZnCrO4
Molar mass: 181.403 g/mol
Appearance: yellow-green crystals; yellow powder
Density: 3.43 g/cm3
Melting point: 316 °C (601 °F; 589 K)
Boiling point: 732 °C (1,350 °F; 1,005 K)
Solubility in water: insoluble
Because it is a highly oxidizing compound, it can react with reducing agents to produce heat. Organic compounds, such as cyanides, esters, and thiocyanates, are among those with which it can react. Some metals can also be attacked by it.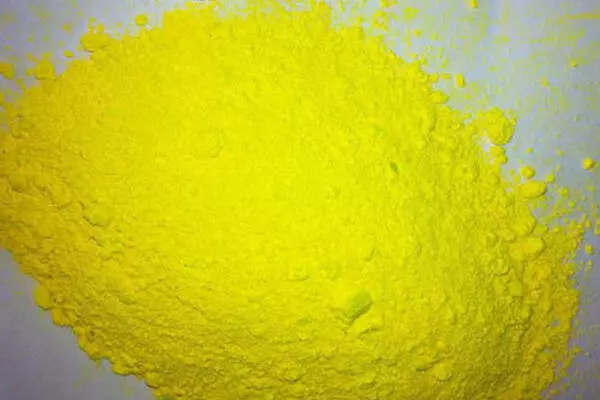 Production
The Cronak process is used to create zinc chromate for industrial use. This is accomplished by immersing zinc or a zinc-plated metal for a few seconds in a solution of sodium dichromate and sulfuric acid. Zinc chromate can also be made by precipitating neutral potassium chromate (K2CrO4) and zinc sulfate (ZnSO4).
K2CrO4 + ZnSO4 → ZnCrO4 + K2SO4
It can be produced by reacting an aqueous zinc oxide or hydroxide sludge with a dissolved chromate salt and then neutralizing.
Industrially, the Cronak process is used, in which zinc metal is immersed in a solution of sodium dichromate (Na2Cr2O7) and sulfuric acid (H2SO4).
Uses
The primary application of zinc chromate is in industrial painting as a coating over iron or aluminum materials. The US military used it extensively on aircraft, particularly during the 1930s and 1940s. It's also found in paint coatings for the aerospace and automotive industries. Its use as a corrosion-resistant agent was first applied to aluminum alloy parts in commercial aircraft, then to military aircraft.
Zinc chromate is also used in spray paints, artist's paints, varnish pigments, and the production of linoleum. It is also used in decorative and protective finishes achieved by coating various objects such as tools with other chromates and acids. It also helps metal parts retain their electrical conductivity.
Toxicity
Zinc chromate primarily affects the lungs, causing shortness of breath, bronchitis, pneumonia, and asthma, but it can also harm the digestive tract, liver, kidneys, and immune system. This substance is a known human carcinogen and has been linked to an increased risk of developing lung cancer and sinonasal cavity cancer. Recent research has revealed that zinc chromate is not only highly toxic, but it is also a carcinogen. Zinc chromate exposure can result in tissue ulceration and cancer.