Executive Summery
During my internship period in Habib Bank Ltd I have tried my best to go deep in daily operation and describe precisely. I highlight the following areas:
Introduction
General banking
Foreign trade
In introduction I discuss about overall identity of Habib Bank Ltd Ltd. Here I highlight Introduction. Slogan, values, mission of Habib Bank, Product mix of Habib Bank. Performance of Habib Bank. Organogram of Habib Bank Motijheel branch-At a glance.
In general banking operation I discuss about customer service operation and other daily operations. I highlight Introduction, Account opening, rules and regulation regarding Cheque issue and cancel, Remittance, Telegraphic transfer (TT), Clearing, Collection.
In Foreign trade is the most important section in any bank. I have completed my internship with emphasizing on Foreign Trade. Here I highlight: Habib bank-Foreign Trade.
At last I go through SWOT (Strength, weakness, opportunities, threats) analysis of Habib Bank Ltd and recommended against SWOT analysis.
OBJECTIVES OF THE INTERNSHIP WORK AND THE REPORT
The world is changing specially business world. New technologies are invented continuously and introduce in banking sector. The policies, strategies are also changing. So business world is become more competitive and globalize. The Internship is as a part of our education. So that, we can know the present situation of our Banks are available around us. And we can adopt ourselves with changing .Its another objectives is to establish permanent relation with Banking operations. The third objective is to increase over all skill so that we can be more modern and challenging to manage our future business.
The main objective of this study is to compare my Banking knowledge from CSE courses with the actual Banking activities and also get some experience. Moreover there are some other objectives. All objectives could be pointed out as follows:
To be apprehended about real banking operations.
To find out deviations from theories and reasons of deviation.
To understand Foreign Trade process with its prospects and problems.
The rules and regulations of private commercial Banks
To know the background of the HBL
To know the Overall Banking system of HBL
To have the idea about the communication between the branch office and Head office.
   To better understand about the foreign exchange activities.
   To learn the Banking Laws.
To make SWOT analysis and recommend if necessary.
To be apprehended in organizational environment, behaviors, cultures and intra-relationship
RESEARCH OF METHODOLOGY
Internship report preparing is not so easy task. It is the comparative study between theoretical knowledge and practical knowledge. After getting permission from the Habib Bank I have completed my internship for three months. I asked questions to officers about their respective areas and get materials for report.
Methods used are:
Analysis of Secondary data (Books, Annual reports, forms, files & documents)
Personal observations & Practical experience.
Scope of Internship
The key functional area of any Bank company is Corporate Banking, Personal Banking, International Trade & Foreign Exchange, Lease Finance, Capital Market Services, marketing, and personnel. There are also various operations, which have to be performed to run a Bank successfully. It will over view of all sectors in a resize form. In my report I like to touch all area of General Banking operations in Habib Bank-An emphasis on Foreign Trade.
Introduction
Bangladesh economy has been experiencing a rapid growth since the '90s. Industrial and agricultural development, international trade, inflow of expatriate Bangladeshi workers' remittance, local and foreign investments in construction, communication, power, food processing and service enterprises ushered in an era of economic activities. Urbanization and lifestyle changes concurrent with the economic development created a demand for Banking products and services to support the new initiatives as well as to channel's consumer investments in a profitable manner. A group of highly acclaimed businessmen of the country grouped together to responded to this need.
The Bank was incorporated as a public limited company under the Companies Act. 1994. The Bank started its commercial operation on July 05, 1995 with an authorized capital of Tk. 1,000 million and paid up capital of Tk. 100 million. The paid up capital of the Bank stood at Tk. 303.46 million as on 31 December 2001. The total equity (capital and reserves) of the Bank as on 31 December 2001 stood at Taka 771.53 million including the sponsor's capital of Tk.1.43 million.             .
The Bank has 19 branches across the country and a wide network of correspondents all over the world. The Bank has plans to open more branches in the current fiscal year to expand the network.
The Bank offers the full range of Banking and investment services for personal and corporate customers, backed by the latest technology and a team of highly motivate office and staff.
In our effort to provide Excellence in Banking services, the Bank has launched fully automated Phone Banking service, joined a countrywide-shared ATM network and has introduced a co-branded credit card. A process is also underway to provide e-business facility to the Bank's clientele through Online and Home Banking solutions.
Habib Bank Ltd. is the preferred choice in Banking for friendly and personalized services, cutting edge technology, tailored solutions for business needs, global reach in trade and commerce and high yield on Backed by the latest technology and a team of highly motivated officers and staff, the Bank offers full range of Banking and investment services for personal and corporate customers.
Some of the corporate Banking products of the Bank include Letter of credit, guarantee Import and Export Finance Syndicated loan, Project Financing Leasing, working capital financing.
Under its capital market service, Habib Bank provides undertaking of initial public offering, advising & safe custody of share for the investors etc.
Banks in Bangladesh can be classified into the following categories.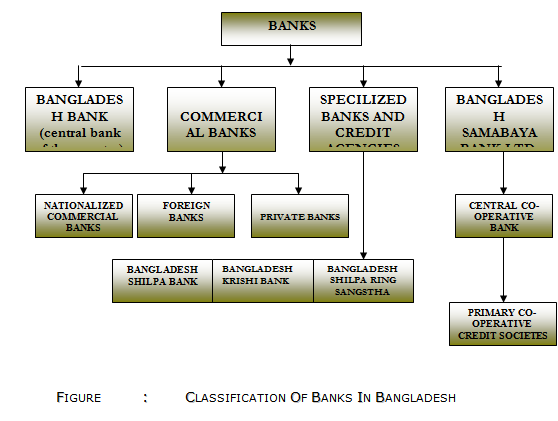 Values of Habib Bank Limited:
Customer focus
Integrity  
Team work
Respect for the individual
Quality
Responsible citizen
Mission of Habib Bank: 
To be the premier financial institution in the country providing high quality products & services backed by latest technology & a team of highly motivated personnel to deliver Excellence in Banking.
Products mix of Habib Bank Ltd.
Deposit product line:
  Current account
  Saving account
  FDR
  STD
  Special note deposit
  Education saving scheme
  Pension saving scheme
  Marriage saving scheme
  Savers benefit deposit
Loan product line:
  Credit card
  House building loan
  Commercial loan
  Loan against import
  Working capital
  Large / medium scale loan
  Bank overdraft
  Agricultural loan
Other product line:
  On line Banking system
Management  of HABIB BANK Ltd.
Organization Chart of Habib Bank Limited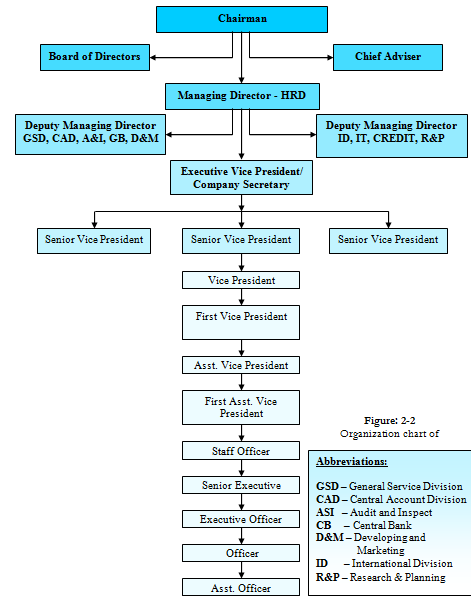 General Banking operations In Habib Bank Ltd.
Introduction
General banking creates a vital link between customer and bank. It's really crucial department for the progression of the bank. It is the introductory department of the bank to its customer. The Habib bank Motijheel branch has all the required section of general banking. Every day it receives deposits   from customer and meets their demand for cash by honoring instruments. General banking department is that department which is mostly exposed to the maximum number of bank customer.
 Habib bank Motijheel branch has the full-fledged arrangement for providing general banking facilities and has the major following section:
Account opening section
Cash (receive and disbursement) section
Clearing and collection section
Remittance section
Outlook of general banking:
General banking:

¨Account opening:
A person is treated as a client when he/ she opens an account on the bank. Then it becomes a contractual relationship between bank and client. The account opening section of Dhaka bank ltd Agrabad branch is very important section. This section takes care of all the relevant duties related to the opening of account. There are different types of account facilities provided by this branch. These are:
Account opening process
| | |
| --- | --- |
| 01 | Current deposit (CD) |
| 02 | Saving deposit (SB) |
| 03 | Fixed deposit (FDR) |
| 04 | Short term deposit (STD) |
| 05 | Pension Saving Scheme (PSS) |
| 06 | Education Saving Scheme (ESS) |
| 07 | Marriage Saving Scheme (MSS) |
| 08 | Bearer certificate deposit (BCD) |
| | |
| --- | --- |
| Step 1 | Receiving filled up app. Form in bank's prescribed form monitoring what type of a/c is desired to open. |
| Step 2 | App. form is filled up by the applicant himself /herself. Two copies of passport size photograph from individual are taken, in case of firm photo of all partners are taken. |
Application must submit with required document.
Introducer must sign application.
Card must bear specimen signature.Step 3Authorized officer accepts the application.Step 4Minimum balance is deposited-only cash is accepted.Step 5Account is opened and a cheque book and pay-in-slip book is given.
General condition of governing accounts:
The law rules and regulation of Bangladesh usual custom and procedures common to Banks in Bangladesh will apply to and govern the conduct of account opened with the Bank.
Any person opening an account will be deemed to have read, understood and accepted the rules governing the account. Minimum balance to be maintained in current A/C.Tk. 10,000/-and in savings A/C Tk. 5,000/-
A suitable introduction by an introducer acceptable to the Bank is required prior to opening of any account. Recent photographs of the account openers duly attested by the introducer must be produced.
Each account will be given one account number. This number is to be properly quoted on all letters and/or documents addressed to the Bank and on all deposit slips. The Bank will not responsible for any loss or damage occurring as a result of wrong quotation of account number.
Interest / commission / service or maintenance of account charge will be levied by the Bank as determined by the Bank from time to time and as per Bangladesh Bank regulation.
The funds available in any of the account holders account (the customer) with the Bank will be considered by the Bank to be a security for any commitment(s) and / or obligation(s) present and / or future of the customer to the Bank. In the event of dishonor or unfulfilment of such obligation(s) and / or commitment, the Bank is entitled without giving prior notice to the customer to utilize such funds against the obligation(s) and / or commitment of the customer to the Bank.
Any statement of account dispatched to the customer will be considered as approved unless discrepancy (ies) is notified in writing to the Bank within 15 days from the date of dispatch. The Bank is not responsible for the delays or non-delivery due to mail problems. Statement of accounts to be
picked- up will be considered as approved even if not pick-up 15 days after the date they are produced. Statements of accounts are not produced when there is no operation during the Month. Those can be obtained on special request.
Account holders must provide maximum security to the cheque books in there permission and the Bank is not responsible for any loss or misuse must be immediately reported to the Bank and confirmed in writing without delay.
When cheques deposited are payable by other Banks or outstation they are available after clearing or collection only. Service charge will be charged @ Tk. 100/- in current account and Tk.50/-in savings account yearly or as charge by the Bank from tome to time as and when required.
The Bank reserves the right to close the any account without giving prior notice if the conduct of the account is unsatisfactory in the pinion of the Bank or for any other reason(s) whatsoever.
The balance in the account(s) is payable solely at Dhaka Bank Ltd and shall be govern by and subject to laws in effect in Bangladesh. As used herein "Laws" will includes Bank circulars, Modification, regulation and order of the government and Bangladesh Bank including practice in Banking.
The Bank reserve the right to amend the present rules at any time in any manner with or without giving prior notice to the account holder(s) separately of to the public. The cheque book will not be issued unless and until all the required formalities are completes.
Business people for their convenience generally open a current account. This Account Facilitates to deposit and withdrawn money at any time. Usually no banks allow any interest against this account. People prefer to deposit money on current account mainly for the following reason….
Overdraft Facility and
Other facilities like collection of cheque transfer of money and rendering agency and general utility services.
General Characteristics;
CD Accounts are unproductive in nature as banks loan able fund is concerned. Sufficient fund has to be kept in liquid form, as current deposits are demand liability.
This huge portion of this fund becomes non-performing. For this reason banks do not pay any interest to CD account holders.
There is no restriction on the number and the amount of withdraws from a current account.
Service charge and incidental charge are recovered from the depositors since the bank make payment and collect the bills, drafts, cheques, for any number of times daily.
Businessman and companies are the main customers of these products.
The Banks through current accounts grant the loans and advances.
Initial deposit:
It requires a minimum amount of TK. 10,000/- to open a current account in the local office but under special cases it could be to taka. 5,000/-. Here we can see some essential requirement for different type of CD A/C (Current Account).
Individual CD A/C
  Introducer who is having CD A/C with the same branch. SB A/C holder Cannot be the introducer of a CD A/C.
  Signature card with three-specimen signature.
  Full address.
  Account must be opened only in cash
  Two Copy Color passport size Photographs attested by the introducer.
Sole proprietorship:
  Introducer (current account holder)
 Two Copy Color passport size Photographs.
  Account agreement form.
  Trade license.
  Rubber stamp impression.
  Specimen Signature card.
III. Partnership firm:
  Introducer.
  Registered partnership deed.
  Memorandum.
  Photographs attested by other partners.
  Specimen signature card.
 IV.        Club Society & Association:
  Registration certificate.
  Copy of the rules and constitutions.
  Authentic copy of the resolution.
  List of the executive committee.
  2 Passport Size photographs attested by the introducer.
  Specimen signature card.
  Account agreement form.
V.Public/ Private limited company:
 Introducer.
 Certificate true copy of the memorandum and articles of association of the company.
 Certificate true copy of the resolution of the board of directors.
 Certificate list containing names and signatures of the directors.
 Certificate of commencement of business (public limited)
 Acts/ Ordinance / resolution circulars.
 Specimen signature card.
 Passport size photographs attested by introducer.
¨ Short-term deposit account (STD):
The deposit held in STD A/C are payable on short notice for 7 days of 30 days. The interest rate of STD in is 4.5% Different big organization; companies and other Govt. departments maintain STD A/C
General Characteristics:
Customers deposit money for a shorter period of time.
STD account can be treated as semi-term deposit.
STD should be kept for at least seven days to get interest.
The interest offered for STD is less than that of savings deposit.
Volume of STD A/C is generally high. In HBL various big accounts.
Frequent withdrawal is discouraged and requires prior notice.
Requirements:
Account opening agreement form is used for CDA
Account opening agreement form is used for CDA.
Specimen Signature card.
The Approval of the manager.
¨ Saving Bank Accounts (SB):
This Type of deposit is intended for primarily small-scale saver. It carries an interest of 6%. A depositor is allowed to withdraw up to 25% of the balance per week. In case of 25% of the balance withdrawal in a week 7 or 10 days notice to be given to the bank. Saving account may be opened either individually or jointly.
SAVINGS DEPOST ACCOUNT
General Characteristics:
As per BB instruction 90% of SB deposits are treated as liability and 10% of it's as demand liability.
Interest is paid on this account. HBL offers a reasonable rate of interest for SB A/C.
Generally, banks require a 7-day prior notice of the total amount of one or more withdrawals on any date exceeds 25% of the balance of the account unless is given.
But in DBL there is no restriction about drawing money form savings account. Any time Account holders may draw money of any amount without prior notice.
The number of withdrawals over period of time is limited. Only two withdrawals are made in a week. No interest will be paid on rest amount for that month.
Generally householders, individuals and other small-scale savers are the clients of this account.
Minimum Balance of TK.5000/- is to be maintained.
Interest will be counted on the minimum balance form the date 1-6 of a month.
HBL gives no interest if the balance is below TK 2000.
No service charge as it is and interest bearing account.
¨ Fixed deposit account (FDR):
Fixed deposit is that kind of account that is repayable after the expiry of a predetermined period fixed by the customer himself. It is popularly known as time deposit. Offers different size of period varies from 3 months to 3 years or above. Interests on fixed deposit accounts are paid at rates fixed by the head office from time to timer depending on their period of maturity.
Different FD rates:
Table: Showing different FD rates:
| | | | |
| --- | --- | --- | --- |
| Periods | 3 Month | 6 Month | 12 Month & Above |
| Interest rates | 8.5% | 8.75% |             9% |
Requirements:
Account agreement form
Amount and period of deposit must be mentioned clearly.
The approval of manager.
Photograph.
Introducing is not required.
Specimen signature.
  Encashment of FDR:
In case of pre-matured FDR, is not bound to accept surrender of the deposit before its maturity date. In order to deter such tendency, the interest on such as fixed deposit is being cut on a certain percentage less than agreed rate.
Loss of FDR:
Incase of a lost FDR the customer is asked to record a general diary in the nearest police station. After that the customer has to furnish and indemnity bond to the branch. A duplicate FDR is than issued top the customer by the bank.
¨ Bearer certificate of deposit (BCD):
The bearer certificate deposit is a document of title similar to tome deposit received issued by the bank. The document is bearer documents hence readily negotiable, whoever present it to the bank has the right to get the money. To open bearer certificate of deposit the following processes are maintained….
i. No 'Account Opening Form' on specimen signature card is required to open BCD
ii. A credit voucher crediting BCD with the full amount shall be prepared.
iii. Serial Number of BCD, date of issue, date of Encashment, rate of interest, will be recorded in the BCD register.
¨ Closing of an account:
A customer may close out his/her account at any time by submitting an application to the branch. The customer should be asked to draw the final cheque for the amount standing to the credit of his account less the amount of closing (Tk.-50/- in DBL) and other incidental charges and surrender the unused leaves of the chequebook. In case of joint account all the joint account holders should signed in the application for closing the account. On receipt of the application the following steps are taken:
a) The signature of the account is verified.
b) The number unused leaves of the chequebook shall be noted thereon.
c) The manager will approve the application.
d) Incidental charge should be debited the account.
e) The account holder is advised to draw the remaining balance from the a/c
¨ Cheque:
A cheque is treated as an important document in the branch. Cheque is an instrument in printed from containing an unconditional order signed by the a/c holder directing a certain person to pay a certain amount of money only to or to the order of a certain person or to the b bearer of the instant.
Issue of a cheque book:
  The in charge of the department stock of the chequebook will get to know and to allow entering the DCBIR (Department cheque book issued register)
  Separate folios of the register are allotted for CD A/C of cheque book of 100 leaves and 10,15,25.50 for SB A/c
  At the time of opening an A/C the customer is required to sign a cheque book requisition slip (No.S.F. -73) if the A/c opening form is found complete in all respect a   cheque book is issued to the client.
  The account number is written in each page of the cheque book and its requisition slip.
   The name and account number of the client is also entered in the CBIR
    The requisition slip should be preserved as voucher.
Loose cheque:
Loose cheque is the customer in that situation requires an instrument that is delivery by the banker when he might on be having his original cheque book with him. Loose cheques are issued to the customer form a new full cheque book reserved by the department for this purpose. Before issuing the loose cheques entries are made in the CBR (Cheque book requisition) and in the computer as well with the concerned officer's initial.
Loose cheque is issued if…
  The party requires a loose cheque has the loose check requisition slip supplied to him by the bank.
  An officer who personally knows him attests the requisition slip.
  The officer in charge deposit department verifies the signature of the account holder.
  The approval of the manager has been obtained to issue that loose cheque.
  The name of the account holder, his account number, date of the loose cheque issued and the amount to be drawn is written of the cheque and its counterfoil.
  A stamp bearing the bearing the title LOOSE CHEQUE is affixed on the face of the cheque at top under authorized signature.
¨ Remittance section:
Remittance means transfer of money from one place to another. In banks it is done in the form of DD (Demand Draft), TT (Telegraphic Transfer) or pay order. The details are as Follows…
Demand Draft (D.D.)
Demand draft is that kind of instrument which is payable on demand. A branch issues it to another branch containing and order to pay a certain amount of money to ascertain person. To issue a D.D. the sender of the D.D should have and A/C With that Issuing Branch. D.D. can be send from one branch to another by cash or cheque. Every bank charges a certain amount as commission for issuing a D.D. the commission is 15% of the worth of DD+VAT (commission*15%) +Telex-Taka 40
The Flow chart of the total procedure of issuing Demand Draft is as follows: –

Some More Parts-
Report on General Banking Operations in Habib Bank Limited (Part-1)
 Report on General Banking Operations in Habib Bank Limited (Part-2)
Report on General Banking Operations in Habib Bank Limited (Part-3)