1.1 Introduction
Financial Institutions have historically have been distinguished by the types of services they provide. In recent years Financial Institutions have diversified their services by creating new subsidiaries that perform additional services or by merging with other types of financial institutions. The result has been the creation of financial conglomerates, composed of various units offering specialized services. Diversification also offers benefits to financial institutions.
The United Commercial Bank Limited was incorporated in Bangladesh as a banking company. I worked in the General Banking (account opening, clearing, transfer, deposit and cash), loan department, and LC department of this bank. This gives me the opportunity to know more on different aspects of the company. So, I prepare my intern report on general banking and financial performance of United Commercial Bank Limited.
1.2   Background of the report
United Commercial Bank is the largest local commercial bank operating in Bangladesh. They have a huge customer base that is ever growing. United Commercial Bank is mainly providing two types of service.
1) Corporate Financial Services
2) Consumer Financial Services.
Consumer financial services include account opening, card services, loan facilities, and so on. General Banking is one of the parts of customer financial service. General banking consists of account opening for various types of deposit and saving scheme, card issue, chequebook issue, receiving foreign remittance, and such which will be discussed on the following chapters.
1.3   Origin of the report
The BBA internship program is a mandatory requirement for the students who are graduating from the BBA programme of UttaraUniversity, Department of Business Administration.
In the internship program, I was attached to a host organization named ' United Commercial Bank Ltd.' Savar branch for 12 weeks. During this period I learned how the host organization works with the help of the internal supervisor. As a result I have decided to make a report on "General Banking and Financial Performance of UCBL".
1.3.1. Primary data:
The primary data of this report is the information, which is gathered from UCBL while I worked with them.
1.3.2. Secondary data:
The secondary data of this report are collected from UCBL Annual report, and also some reports from which I got idea about the way of writing a report.
Secondary Sources: Secondary data are collected in the following ways:
Data gathered within the organization itself.
Data gathered from Texts
Internet sources.
General reports.
Annual reports
Official documents
Credit manual and foreign exchange manual of the bank.
1.4   Objective of the report
The objective of this study is to have a clear concept and some practical experience about Financial Statement Analysis Systems of an organization. However, we had some textbook knowledge but had little in real life, practice so ever.
This report is designed to know more about the overall banking Systems of the United Commercial Bank Limited and analyze the ratio of this organization and identify the financial condition of this organization. In addition, the study seeks to achieve the following objectives:
a.      To identify the level of customer satisfaction of UCBL.
b.      To recommend ways of improving the service standard that accommodates a rapidly growing customer volume.
c.      To find out what are the major factors that hamper satisfaction among General banking service in UCBL.
d.    To examine the activities of the loans and advanced department.
e.      To see if inclusion of some necessary product or documentation feature that is currently absent, or improvement of some existing facility can act to increase customer satisfaction.
To evaluate the performance of United Commercial Bank.
1.5   Scope of the study
The report will be limited to the level of customer satisfaction in the General banking service of UCBL. The focus of this report will be only on General banking and financial performance analysis of UCBL. The report is developed on the basis of my work in general banking with UCBL, Savar Branch. In spite of limitation I also got some facility to complete my internship report. The employees whose held a responsible post in the entire department helped me lot. They gave me all essential data and conversation with me. My university internship supervisor also helped me a lot. He gave me a guidelines how to prepare my report more attractive and perfect. This bank has given me the opportunity to observe the banking environment for the first time indeed. I got an opportunity to gather experience by working in the different departments of the branch under the supervision of different departmental heads.
1.6   Methodology of the study
I have got all the relevant information from my working experience with UCBL, their Annual report, some circular, various brochures, UCBL web site and such. Some information is taken from some of my friends.
1.7   Benefit of the report
As a student, I have learned about a bank; I also have learned the report writing, as a great deal of theory is included in this report. It will be also benefited for the people who are interested to know about UCBL.
1.8 Limitations of the study
The main limitation for conducting this report is time limitation and resources. Three months is not enough to understand all the activities of a bank and how they handle their clients. Lack of experience has also acted a constraint for the exploration of the topic.
Following are the Limitations:
1.     Limitation of time was one of the most important factors to collect data. A longer time period would have ensured a much better result for the study findings.
2.     Every organization has its own secrecy that is not revealed to others. While collecting data i.e. interviewing the credit officials they did not discuss much information for the sake of confidentiality of the Bank.
3.     Due to lack of experience, there is a chance of having some mistake in the report though best effort has been applied to avoid any kind of mistake.    
2.1    UCB background
In Bangladesh, first commercial banks started business back in 1983. United Commercial Bank Ltd. (UCB) is one of   the first five private commercial banks started operation in Bangladesh. United Commercial Bank Limited incorporated on 26 June 1983 as a public company with limited liability under the Company Act 1994. The Bank obtained permission to commerce business with effect from 26 June 1983 and started banking operations on 29 June 1983 with an authorized capital of Tk 100 million ordinary shares of TK 100 each. The paid up capital was Tk 35.5 million but now 119.8 crore. Later, both authorized and paid up capital were increased several times and on 31 December 200, they stood at Tk 1,000 million and Tk 230.16 million respectively. Of the total paid up capital, Tk 101.56 million was paid by its 37 sponsors; 3,048 members of general public shareholder paid Tk 114.54 million and the remaining Tk 14.06 million were subscribed by the government of the People's Republic of Bangladesh. Reserve funds if the bank comprised statutory reserves and general reserves if Tk 334.78 million in 1999 as against Tk 85.88 million in 1990. The bank is listed with Dhaka and Citation Stock Exchange.
The management of the bank is vested in a 22-member board of director with the managing director as the chief executive. The bank carries out almost all types of commercial banking activities. Hundred branches covering all major cities of Bangladesh.
The Company started its banking operation and entitled to carry out the following types of banking business
a.   All types of commercial banking activities including Money Market operations.
b.      Investment in Merchant Banking activities.
c.      Investment in Company activities.
d.      Financiers, Promoters, Capitalists etc.
e.      Financial Intermediary Services.
f.       Any related Financial Services.
The Company (Bank) operates through its Head Office at Dhaka and 100th branches. The Company/Bank carries out international business through a Global Network of Foreign Correspondent Banks. The Registered Office of the Bank is: Plot: CWS (A)-1, Road: 34 Gulshan Avenue, Dhaka, Bangladesh. PABX: +88-02-8852500.    E-Mail: info@ucbl.com. Web site:  http://www.ucbl.com/.
S.W.I.F.T: UCBLBDDH
2.2    Mission & Vision?
We aspire to be the most admired financial institution in the country, recognized as a dynamic, innovative and client focused company that offers an array of products and services in the search for excellence and to create an impressive economic value.
To be the bank of 1st choice by creating exceptional value for our clients, investors and employees.
2.3    UCB Branches
UCBL is operating all over the country with 107th branches. Most of branches are in Dhaka but they have braches in all main city like- Chittagong, Sylhet, Khulna, Pabna, Jessore and Rajshahi, Comilla, Barishal, Bogra etc.
2.4 Information Technology of UCB  
In today's financial services environments, technology is not an option but a necessity. United Commercial Bank is amongst the pioneer in banking industry to provide sophisticated On-line banking services to its customers through the network of all 110 branches. Moreover, UCB has entered into an agreement with Dutch Bangla Bank Ltd. for sharing ATM facilities with them to extend a wide range of banking service to its valued customers.
In 2007 the bank invested substantially in improving its IT facilities for ensuring seamless, faster and secure banking transactions.
The data center of the bank has been equipped with the state of the art modern servers and network equipment from world renowned vendors. A Dell Cluster Server based on EMC SAN storage system ensures 24´7 data access facility providing maximum fault tolerance capability. A CISCO PIX firewall ensures the safety network from any attempt of instruction. During the year the bank has also launched services like Tele-Banking, Debit Card facilities for its customers. UCB also introduced UCB Corporate Intranet system for quick distribution of information amongst its branches.
2.5     UCB Online Banking the Service
United Commercial Bank is playing a pioneering role among its competitors in providing real time online banking facilities to its customers. United Commercial Bank online banking offers a customer to deposit or withdraw any sum of money from any branch anywhere. Any account holder having a checking account with the bank can avail this service.
2.6     UCB Consumer Product & Services
UCB Multi Millionaire
UCB Money Maximizer
UCB Earning Plus
UCB DPS Plus
Western Union Money Transfer
SMS Banking Service
Online Service
Credit Card
One Stop Service
Time Deposit Scheme
Monthly Savings Scheme
Deposit Insurance Scheme
Inward & Outward Remittances
Travelers Cheques
Import Finance
Export Finance
Working Capital Finance
Loan Syndication
Underwriting and Bridge Financing
Trade Finance
Industrial Finance
Foreign Currency Deposit A/C
NFCD ( Non Resident Foreign Currency Deposit Account )
RFCD ( Resident Foreign Currency Deposit Account )
Consumer Credit Scheme
Locker Service
2.7 Organogram of UC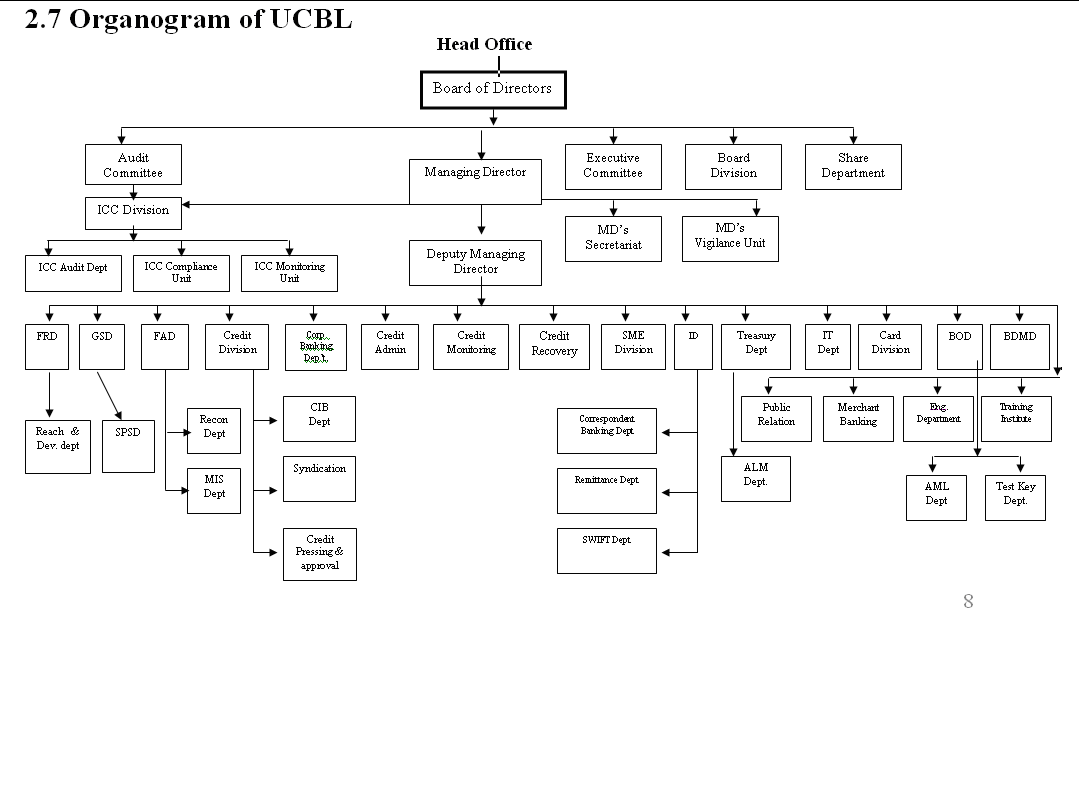 2.8    UCB Management hierarchy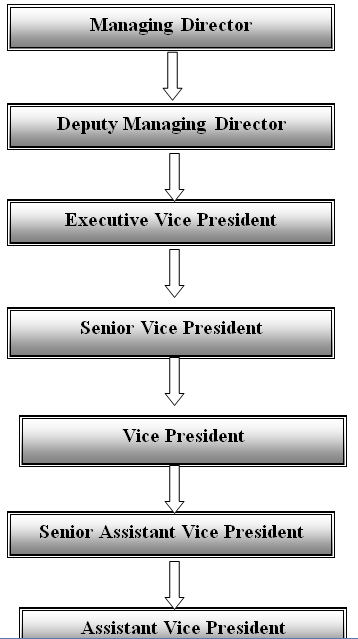 2.9 Organization Hierarchy of United Commercial Bank Ltd.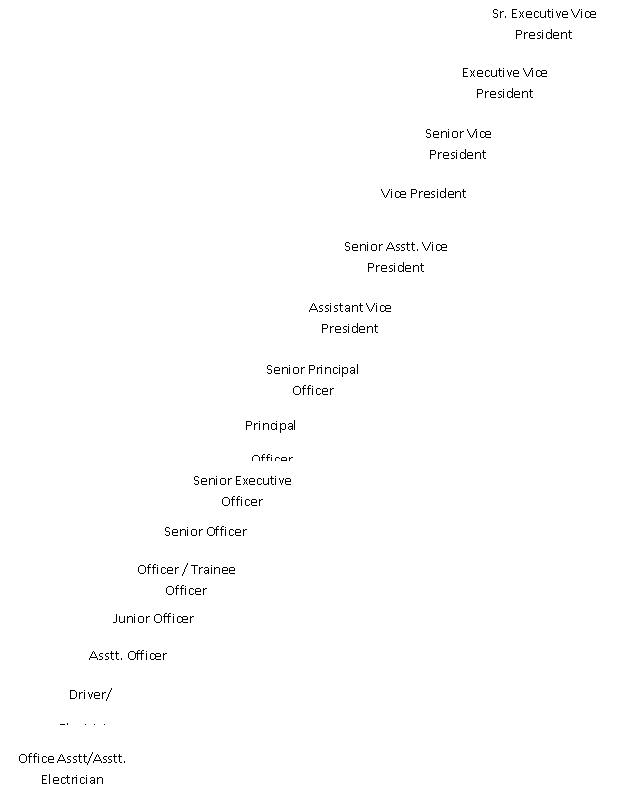 2.10 Typical Structure of a Branch