Business Installment Loan in SME banking
of Standard Chartered Bank
This report governs around the performance and procedure of BIL product in Credit unit of Standard Chartered Bank. Standard Charter Bank is one of the leading multinational banks of Bangladesh. They have several effective SME products. Among them BIL presently practiced in SME Credit Control Department under SME Banking, Credit & Collection Unit, Consumer Banking Division of Standard Chartered Bank.
In this report the details of this BIL product, procedure of approval, purpose has been explained to get a clear understanding of its whole procedure. However this report also addresses all credit approval issue & requirements and efficient delivery systems of Standard Chartered Bank while not compromising any credit risk issues and policy parameters.
Moreover, the details of BIL performance and analysis of its important criteria also discuss in this report. What are problem they are actually facing with this product and how they can able to recover that issue with effective action also has been explained.
The purpose of this study was to represent the scenario of whole aspect of BIL product of SME banking and how it can huge contribution on Standard charted revenue and well being for the society.
Objective of the Study
SME Credit Control Unit represents the execution aspect of the BIL Credit approval management process for the business. It defines practices in terms of process, competency, productivity, Accuracy, benchmarking and control for a business to ensure that the standards are met and complied with. The primary and specific objectives of this study are as following:
Primary Objective
The prime objective of this study is to get an overall idea of Business installment product of Standard Chartered Bank including its Performance, Target customer & focusing Industry.
Specific Objectives
To get the idea on Standard Chartered Bank, their product & services.
To know the details information on Business installment loan with purpose, criteria and credit approval process.
To analyze the performance of BIL product and represents the whole scenario to gain the knowledge practically.
Methodology of the study
In order to meet the needs of fulfilling the objectives of the report, both primary and secondary data are required. The study was conducted using the participatory method. To know the indepth information, the topic was discussed with the expert professionals related to the company for several times and other related secondary information.
Data Collection
Data have been collected from two sources. These are as under:
Primary source:
Secondary source
Official website
Operational Manual
Different database & report developed by credit unit.
Organizational Overview
The Standard Chartered Bank PLC is an international banking group that is incorporated in the United Kingdom, with its headquarters in London. The group focuses its activities in Asia, Africa and the Middle East and its operation is segmented under six regions: UK & US, Middle East and South Asia (MESA), South East Asia, North East Asia, India and Africa. Globally, the key resources of Standard Chartered Bank include:
A network of over 600 offices in 48 countries
A staff of about 25,000 people managing assets of around 47 billion pounds
Standard Chartered Bank's international businesses in Personal Banking, Corporate Banking and Standard Chartered Markets are its special strengths.
Standard Chartered Bank also maintains correspondent relationship with over 600 banks in 157 countries around the world
Historical Background
Standard Chartered Bank has a history of about 150 years. The name "Standard stems from the two original banks from which it was founded – the "Chartered Bank" of India, Australia and China and the "Standard Bank" of British South Africa.
History of Standard Bank
The "Standard Bank" was founded by another Scot, John Paterson in 1862. He immigrated to Cape Province in South Africa and became a successful merchant before founding "The Eastern Province Herald" which is still published today. Coming from a similar background as Wilson, he also saw great trading possibilities between Europe and his adopted country, and together with local business interest he founded the bank.
History of Chartered Bank
The "Chartered Bank" was established in 1853 by a Royal Charter granted by Queen Victoria of England. The main person behind the Chartered Bank was a Scot, James Wilson who had also started "The Economist" still one of the most eminent publications today. He foresaw the Business Installment Loan in SME banking Of Standard Chartered Bank advantages of financing the growing trade links with the areas in the east, which no other financial in was doing at that time.
Standard Chartered Bank: The Merger
The two banks expanded and prospered with time and decided to merge in 1969. On January30, 1970 the new shares of the Standard and Chartered Banking Group Limited were listed in the London Stock Exchange. The original building of the Chartered Bank at 38 Bishop Gate was demolished in June 1980 and new headquarters of the Standard Chartered Bank PLC was opened on the same site by Queen Elizabeth II on March 20, 1986. Becoming stronger after the merger, Standard Chartered Bank embarked upon serious expansion in Europe and the United States, The Standard Chartered Merchant Bank was built up from a number of acquisitions made during the 1990s. In the last thirty years, Standard Chartered Bank has experienced continuous growth, which led to its becoming one of the top 100 listed banks in the world. It was also judged the best bank in the Asia-Pacific region in 1993 and 1994 for its rate and excellent service.
SME Banking in Standard Chartered Bank
Standard Chartered Bank started financing in the SME segment in September 2003. It was known as Business Financial Services (BFS). Under BFS, several products were offered – installment loan, which later became known as Business Installment Loan (BIL), Loan against Properties.
Types of products of small business offered by STANDARD CHARTERED BANK
Business Installment Loan
Loan against Property
Orjon
Purpose for Business Installment Loan (BIL)
Business Installment Loan can serve the customer with following purposes:
Long term working capital finance
Assets Finance(Plant & Machinery)
Business Expansion
Office Premises Renovation
Purpose of medical equipments& office equipments
Eligibility Criteria for BIL
Business or self employed Professional not within the exclusion or restricted list of Standard Chartered Bank
Annual Turnover (sales) 1 crore 20 lack
Net income from the business more than BDT 56000 per month (reflected on the bank statement)
At least 3 years of business or professional experience in the same business
Business should be in its own or rented premises for 3 years and they can change once their premises within last two years
Business and proprietor's residence must have land phone
Age of proprietors or major share holder should not be less than 25 and not more than 60 years
Debt Burden Ratio should exceed 60%
Required loan amount should be between 10 lack to 1 corer.
30% cash security required for 12 month borrowing relationship customer and 50% for new to bank customer
Two top –up allowed for a BIL and each of them should be given after 12 months of last approval
Maximum Unsecured portion of loan for a single customer under consumer banking is 30 lacks for new bank customer and 40 lack for 12 months borrowing relationship customer except credit card limit.
Exception
Some criteria can be flexible for some specific purpose. But those applications are approved under level 2 or level 3. SME product development document allowed some deviation and if the loan is approved under the limit of those deviations, then it is called level 2 approvals. But if the issue goes beyond the range of allowable deviation, then it is called level 3 approvals. Only higher authorities can approve level 2 and level 3. Performance of level 2 and level 3 is closely observed on regular basis.
BIL process in Standard Chartered Bank
Sourcing: BIL applications can be sourced by both braches and sales people. Branch people mainly target the existing customers where as sales people go door to door to find new customer for BIL. Although Standard Chartered Bank has four sales team but their area of operations is not limited by geographic area. Any sales people can source customer from any area who met minimum requirements for the loan. While analyzing BIL application credit worthiness has to be more careful about the loan, which is sourced by sales people, as there is a chance of miss selling.
Initializing: Before submitting the loan to credit support, Sales Team Manager or Branches Sales & Service manager is responsible to check whether the documents are in order or not. If the documents are in order, they send the file to credit support & upload information in loan locator.
Credit Support: After receiving the application in credit support, support staffs update loan locator and calculate the bank statement. They keep note if any discrepancy observed in the bank statement. They also maintain MIS for further information of an application.
Credit: Then the application sends to credit. In credit all the documents checked very carefully. Credit also talks to customer to get further comfort about the nature of business and profit margin. If the document found in order, credit calculates Debt Burden Ratio (DBR). If DBR supports loan, credit send the file for verification. If further documents required clarifying the business or any other information required, credit deferred the application. If DBR don't support loan or analyst has doubt about the loan Applicants ability, they can decline the loan. In both deferred and decline cases, source can appeal. But in case of declined loan, source has to appeal to higher authorities. In deferred cases, when the application resubmitted with proper documents, credits re-examine the loan and send for verification. Credit has to keep several MIS to measure portfolio performance and keep track of application. Credit also has to update Loan Locator so that any authorized staff can know the current status of application from any computer of STANDARD CHARTRED BANK. Mostly once the application is declined it rarely can be applied for further process.
Verification: Verification process is done by the external agencies. In this process agency verified the customer information and provide a summary. Agency people verify bank statement and collect credit report from other concern banks. CIB report also collected from Bangladesh Bank to identify all the existing credit facilities availed by the customer. If all the report found in order, then approval checklist is prepared by credit. Otherwise the loan application can be deferred or decline again. De-duplication check is done by credit so that the customer can't take more than one loan at a same time. To clarify the business condition of the client to the credit department, the verification agencies take photographs of business premises and send them with the customer information summary.
Approval: If all the documents have positive results, than approval checklist is prepared by credit, which include summery of all reports and all calculation. Then include the checklist at the top of the file. All other documents are also including in the file. Afterwards the person prepared the checklist and signs it. Then another credit officer checks & signs the documents to support it. Then a senior officer with proper credit approval authority signs the document to approve the loan. The applications, which have some deviation from the Standard Chartered Bank can be approved under level 2 or level 3 depending of degree of variation.
Disbursement: After approval the application is send to Assets Operation Department for disbursement of loan. Sometimes some condition may be included in approval checklist. Assets operations check all the documents and fulfill all the condition of approval and finally disburse the loan to customer account. They update customer information about the loan in company database.
Analysis & Finding
(1) Type of Small Business Products Owned by Customers: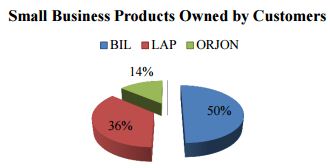 Finding: This Graph represents that under the small business of SME, 50% are Business installment loan and 36 % are Loan against Property loan and 14% are Orjon. So, from the findings it can be said that among all the Small Business products, BIL is disbursed most (50%) to the Small Business customers.
So, most of the BIL customers monthly income are (26%) in between tk. 160000-250000.
(2) Analysis of Business Pattern of BIL Customers: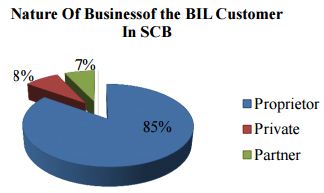 Finding: This Graph represents that 85% BIL customer are sole proprietorship, 7% partnership & 8% are from Private Company. So, Standard Chartered Bank is mostly providing the loan to sole proprietor most.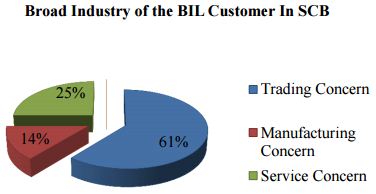 Finding: Among the BIL customer business 61% are Trading Concern, 25% Service Concern & 14% are Manufacturing Concern. So, in Standard Chartered Bank most of the loans are in trading concern industry holder.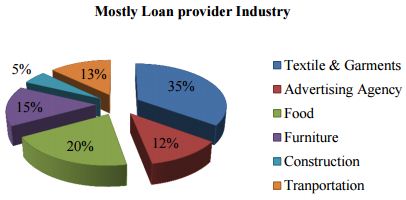 Finding: This graph represents that among the BIL customer business 35% are from Textile & Garments, 12% are from Advertising Agency, 20% are from Food Industry,15% are the manufacturer of furniture, 5% are from Construction Business & 13 % are from Transportation Business.
Analysis on Customer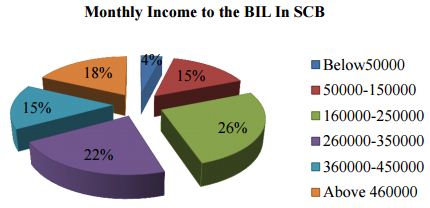 Finding: From the graph it is found that, 4% of the respondents are earning monthly below Tk 50000, 15% are earning monthly in between Tk 50000-150000, 26% are earning in between tk160000-250000, 22% are earning monthly in between Tk 260000-350000, 15% are earning in between Tk 360000-450000 and SME customers earning more than Tk 450000 is 18%.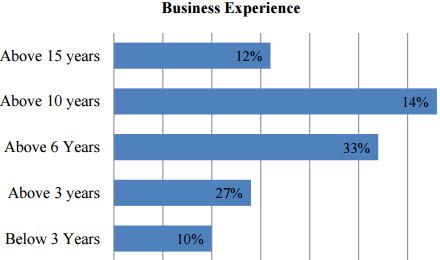 Finding: This Graph represents that 10% of BIL customer has less than 3 years experience,27% has above 3 years experience, 33% has above 6 years experience, 14% has above 10 years experience& 12 % has Above 15 years experience.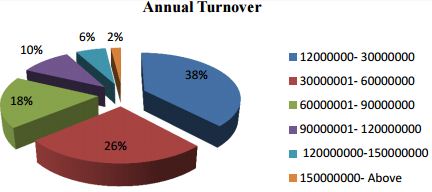 Finding: This graph shows that highest number of respective customer's annual turnover is between 1corer 20 lacks to 3 corers. Than 26% are between 3 corer to 6 corer, 18% between 6 corer to 9 corer, 10% between 9 corer to 12 corer, 6% between 12 corer to 15 corer & 2% above 15 corer.
Problems of BIL Products of STANDARD CHARTERED BANK
Higher amount of Security as collaterals: According to the policy of Standard Chartered Bank 30%-50% securities are required for any loan amount. However sometimes it becomes very difficult for the applicants to fulfill. So they divert their decision to other financial institution.
Higher interest rate: The interest rate of Standard Chartered Bank is pity high compare to other financial institution. That's why the number of BIL customer is decreasing. So recently credit policy has been changed. Now the interest rate is 17%. Before it was 19.5%.
Higher Loan processing fee: The loan processing fees of Standard Chartered Bank is 1.5% of total loan size +VAT. But the processing fees for most of the financial institution is 1% of total loan size +VAT .So loan processing fees are higher in Standard Chartered Bank.
Extra time for Verification & CIB: Verification team sometimes takes more time to submit report which makes the process longer. However delay submission of CIB report another cause of making the process longer.
Relevant Document: Very few applicants come with all relevant documents at the first submission. Sometimes Fraud and Negative listing applicants become very high.
Training Programs: No formal training programs are given to the credit employees. New employee takes more time to understand the work process and loan process become slower.
SME unit: Standard Chartered Bank has no SME unit for BIL. Only 26 Branches working for all type of product.
Strict Documentation Procedure: Strict documentation procedure makes the approval amount lower. So disbursement amount will be low. Performance of BIL becomes decreasing.
Recommendation
Business Installment Loan of Standard Chartered Bank has some threats and weaknesses that will turn down the operation of this bank to a great extent. It is been seen that customer complaint has increased recently than before for this reason it is high time that the employees are trained up more to avoid future mishaps. Some recommendations are proposed below.
According to the analysis on BIL, as it's a very demanding product of Standard Chartered Bank, they should decrease their interest rate and loan processing charges in order to prevent the loss of customer.
Analysis shows that they are more focusing on trading concern. But it is a very riskiest industry. So they should more focus on financing to manufacturing and service concern business.
The most business experience customer groups are from above 6 years, which is very less. It's make the loan more risky. So, Standard chartered bank should try to finance higher business experience customer.
More training programs should be given to sales people and credit support employees so that they can ensure quality submission. In that way they can decrease their deferred amount of applicants. Also the credit process will be efficient.
The minimum loan amount loan should be less than 10 lacks to attract more BIL Business more effectively.
However they are more financing the textile & garments industry. Targeting only one industry makes the business more risky and target customer will be low. So they should finance more other industry.
The performance of verification agency should be monitored tightly in order to reduce verification time.
They should finance those customers who has higher turnover so that they can ensure the payments of loan
They should appoint more employees in SME department. As number of the employees against the loan application is very low. So it makes the loan processing system slower.
Conclusion:
In this new era of business environment, information accessibility and its efficient utilization is vital to any business entity. With new tools and sophisticated but easy use technology, businesses can gain enormously and streamline its operation to capture untapped markets.
Standard Chartered Bank has been set their standards as biggest foreign bank in Bangladesh. SME growth in Bangladesh offer bright prospects for creating large-scale employment and income earning opportunities at relatively low cost for the unemployed. To strengthen the efforts and sustained economic growth Standard Chartered Bank should enhance their focus more on BIL product. Based on their research results some innovative idea can make their BIL product more appealing to their customer as it is generating 30% revenue in consumer banking.
Through supporting the innovative activities of the entrepreneurs, bank is ensuring the progress of society as well as the diversification of credit portfolio. Therefore it can be said that, Standard Chartered Bank will bring progress not only of the bank but also of the society through their BIL product. So, Standard Chartered Bank should disburse the BIL credit to potential customers for ensuring growth of the bank and society.