INTRODUCTION
History: Bangladesh liberated from Pakistan in the year of 1971. As of we are a developing country the main development issue is on building the infrastructure to enhance the economic growth as well as achieve the economic freedom. Bangladesh ever since the independence has focused on constructing roads & highways. In last three decades transportation sector & construction of roads has been the top priority of government. International monetary organizations Like ADB, IMF, WORLD BANK all of the organizations have invested in this sector. Estimated US $ 40 billion have been invested. Government invested 90% of the total allocation in transportation sector to construct roads.
Current situation: In 1971 total network of roads were 3764 km & in 2006 it expanded to 270,711 km. Among this 50,736 km of paved road. National Land transport policy which has been approved in 2005 which has plans to expand the roads even further.
Transportation Business: Transportation sector business is a profitable business. Ever since independence this sector has been dominated by private owners. After liberation sheikh Mujib ordered 20 trucks & 20 buses from India to restore the national transport system which was broken during the war for liberation. This procurement was done under GOVERNMENT OF BANGLADESH for Bangladesh road transport corporation (BRTC). But on the other hand private owners kept on investing to enhance the rate of acceleration in this specific sector. But more emphasis was given in transportation of passengers rather than goods. Many of the bridges were reconstructed to ramify mobilization of vehicles across the country. Today around 1500 private companies have began operation & many more have started registering to enter the market.
Development of Bangladesh's Roads & Highways
Statistics: In this part it is a representation of graphical charts & statistics that shows so far progress made in the sector.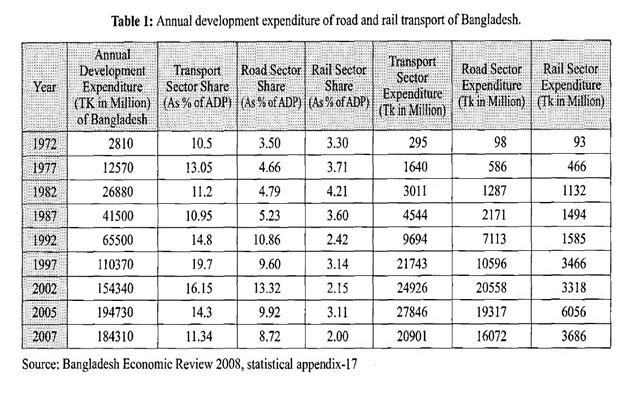 This chart will represent the number of vehicle registered from 1997 till 2007.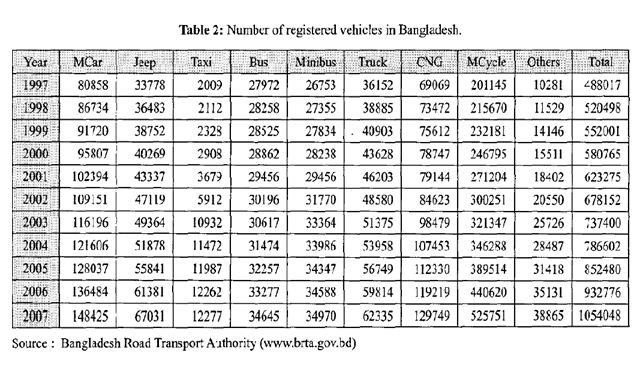 Construction of roads: As per as Roads & highways total 50,000 km of paved roads have been constructed. New national roads & transport policy describes more 10,000 km of roads to be constructed to join ASIAN highway which will connect Bangladesh with India on the eastern Side & Myanmar on the west part of Bangladesh.  Government has already taken initiatives to construct two more lanes in Dhaka to chittagong road & build couple of bridges on the southern region of Bangladesh. This system of constructing roads will create new by passes which will not touch the city points of the Nations Capital Currently Dhaka.
Construction of Bridges: Government has build many major bridges across the country such as Meghna Bridge, China Bangladesh friendship Bridge 1,2 & 3, Jamuna bridge one of the largest bridges of world, Pakshi Bridge, Karnofuli Bridge 1 & 2 . These bridges have enabled to commute goods & passengers faster then before as well as helped the economic progress.
On going projects: There are two major projects now one is the Padma Bridge & National highway N1 & N2 to be constructed as four lane highway for joining ASIAN highways. More projects are Dhaka to Sylhet rail line to be constructed as two way line, Reconstruction of Voirob Rail Bridge & renovation of Jamuna Bridge.
                 Contribution in Economy
GDP growth: The GDP growth rate of the country has been pushed by the sector wise development in transport sector. This includes RAIL WAYS, ROADS & HIGHWAYS, and WATER WAYS & AIR WAYS. Most of the Budget allocated for Ministry of Transportation & communication is spend on land route of transportation. Below char shows number of passengers & goods are delivered by the water, road & rail ways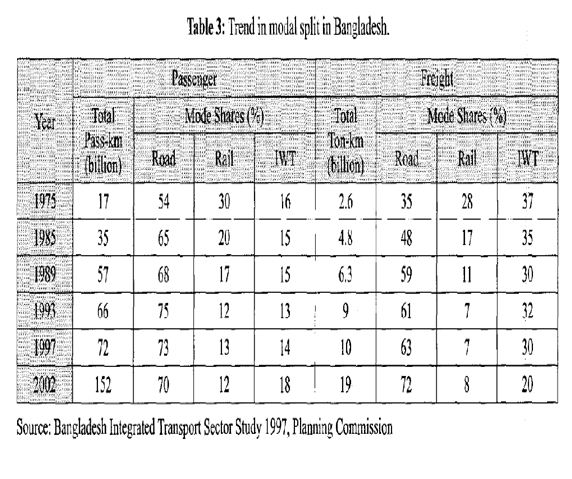 Rail road in comparison with land road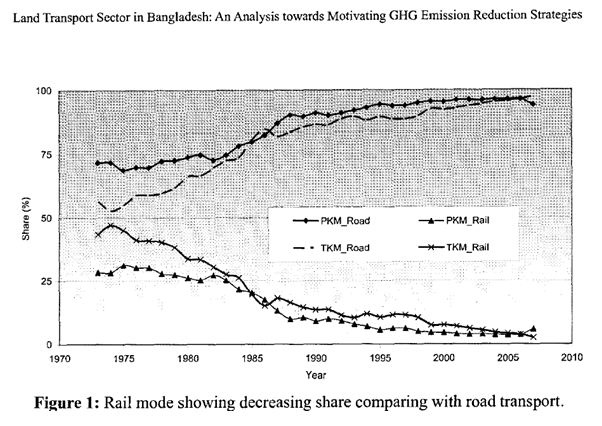 This figure shows how the rate of transporting goods through rail roads has decreased in comparison to roads and highways.
Economic growth: As far today we have seen the significant impact of newly constructed roads, bridges and railways on our GDP resulting in increasing economic growth. Major indicators of economic growth resulting from new constructed infrastructure include transportation of goods within the country and also in and out of the country. We can take Banghabandhu Bridge (formerly known as Jamuna Bridge) as a prime example as it not only connected the north Bengal region but also given a bypass to entry to India Sirajgong –Bogra  enhancing export import from India.
                                            CONCLUSION
Problems in implication: Today it is open that some of the biggest problem of implementing any projects in Bangladesh is corruption, bureaucracy and inefficient state workforce. More over research have shown Bangladesh as the list topper of the most corrupted country consecutively from the year 2003 to 2006 and as of this year 2010 it is rated at number 12.In addition the government workforce has been rated the most inefficient workforce in the world which is having a substantial negative impact on building new infrastructure across the country.
Mismanagement: History has shown us many events of stopping or revising projects just before its implication simply because of the change of ruling government. This causes severe disruption on the development of roads, bridges and as well as railways resulting interference in overall even development of the country.
Suggestions: There can be many points given to solve the problems but out of many few of them if implemented than the total progress in this sector will enhance.
Such as _
E-tendering system
Efficient Bureaucracy
Open Competition among the companies
Change in Policy development & implementation system
Strategic development system for 5to 10 years
Separate Ministry for RAILWAYS
Forming a council of expertise & economist to analyze the projects